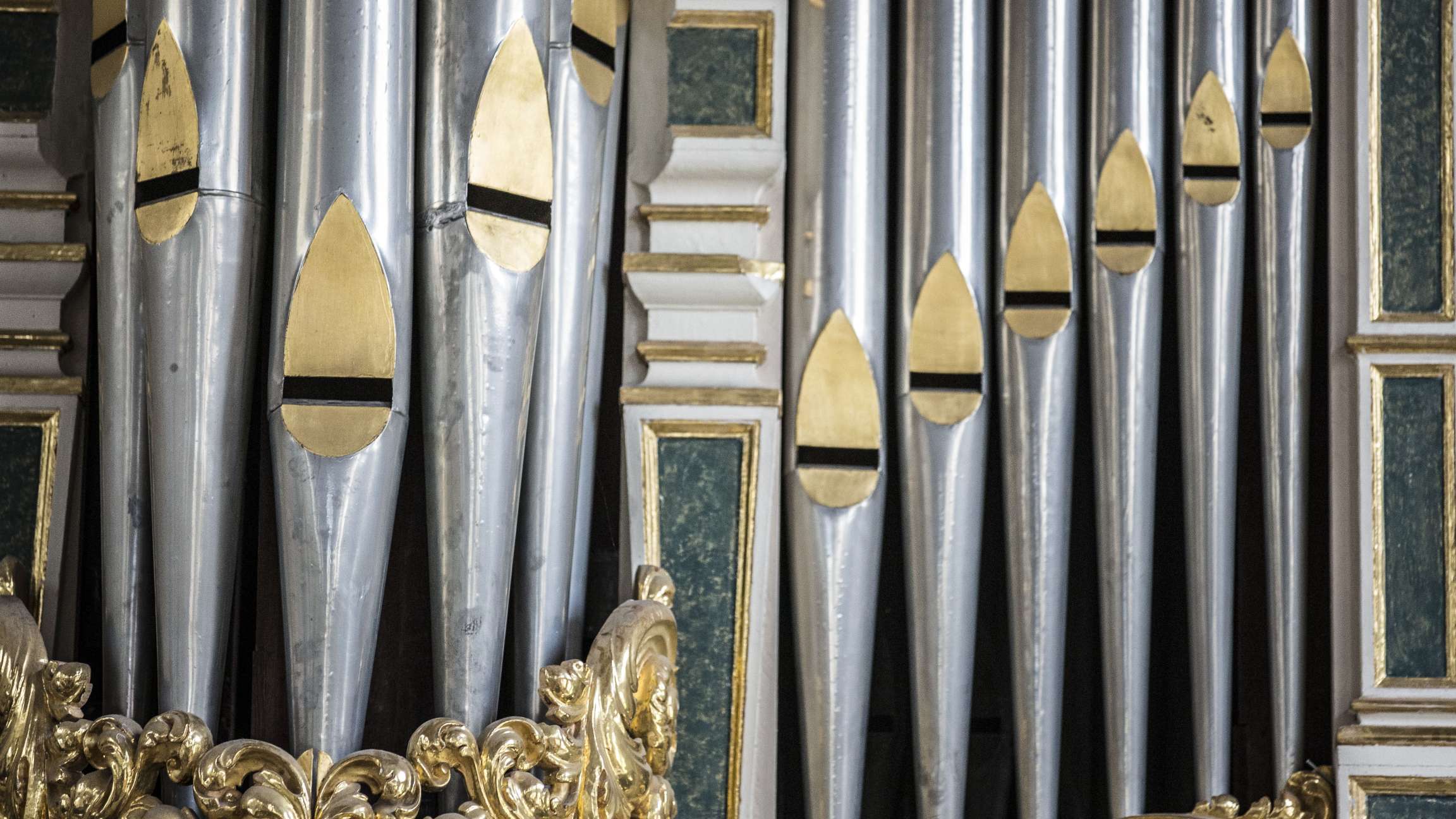 Trio super:Nun komm, der Heiden Heiland
BWV 660 performed by Leo van Doeselaar
Walloon Church, Amsterdam
Story
Extra videos
Credits
Crosses in Advent
How a distinctive chorale arrangement links the birth and Passion of Jesus.
Many a preacher remarks at Christmas time how the Passion – the Christian promise of redemption – could never have come about without the birth of Jesus. The two poles are closely connected, and Luther refers to this in Nun komm, der Heiden Heiland with the contrast between light and dark. In his turn, Bach also leaves us in no doubt about it in BWV 660. The whole sombre work is pervaded with symbols of the cross.
In any case, this compact work leaves room for interpretation. The two well-matched bass parts are probably arrangements of viola da gamba and cello parts (the big chords at the end of each phrase are typical of gamba music), but at the same time they could symbolise God as the foundation, or even a duet between God and Jesus – equal yet different. In the curious ending, some people hear how God leaves his son, while others interpret the difficult harmonies as representing Jesus' descent into hell, foretold in the Advent chorale, and the fulfilling of God's commandment.
But it is the cross motifs that are easiest to hear. They begin in the bass lines, which in this performance are almost identical and therefore continually in one another's register. Reading along in the score, you also discover the refined way in which Bach begins the melody – not in one part, but divided over both. And by slightly raising the third note of the melody (on the word 'der'), the interval to 'Heiden' becomes smaller and dissonant. It is no coincidence that this is the same interval as in Lass' Ihn kreuzigen and Komm süsses Kreuz in the St Matthew Passion.
18 Choräle/Leipziger Choräle, BWV 651-668
In the last ten years of his life, Bach gathered together and completed a series of chorale arrangements, presumably planning to have them published, just like the third part of the Clavier-Übung in 1739. It concerns a selection of his compositions from much earlier years, when he was working as an organist in Weimar, Arnstadt and Mühlhausen. The collection became known as the 18 Choräle or Leipziger Choräle. Incidentally, 18 Choräle is a misleading title, as the set originally comprised 17 pieces. The eighteenth, Vor deinen Thron tret ich (BWV 668), was added to Bach's manuscript later on.
BWV

660

Title

Trio super: Nun komm, der Heiden Heiland

Instrument

organ

Genre

organ works

Serie

18 Choräle (organ)

Year

first version 1711-13, manuscript 1739-42

City

Weimar/Leipzig

Special notes

This chorale arrangement exists in three versions: BWV 660, 660a and 660b. BWV 660a is an earlier version with a less embellished upper part and more indications that it may be a transcription of a cantata movement that has now been lost. BWV 660b was probably not transcribed by Bach himself. It has the bass parts in the left and right hand, and the chorale (without ornaments) in the pedal.
Extra videos
Credits
Release date

9 January 2015

Recording date

23 June 2013

Location

Walloon Church, Amsterdam

Organist

Leo van Doeselaar

Organ

Christian Müller, 1734

Producer

Frank van der Weij

Film director

Jan Van den Bossche

Directors of photography

Sal Kroonenberg, Ruben van den Broeke

Grip

Antoine Petiet

Music production, editing and mix

Holger Schlegel

Film editor

Dylan Glyn Jones

Colorist

Jef Grosfeld

Production assistants

Marco Meijdam, Zoë de Wilde
Help us to complete All of Bach
There are still many recordings to be made before the whole of Bach's oeuvre is online. And we can't complete the task without the financial support of our patrons. Please help us to complete the musical heritage of Bach, by supporting us with a donation!