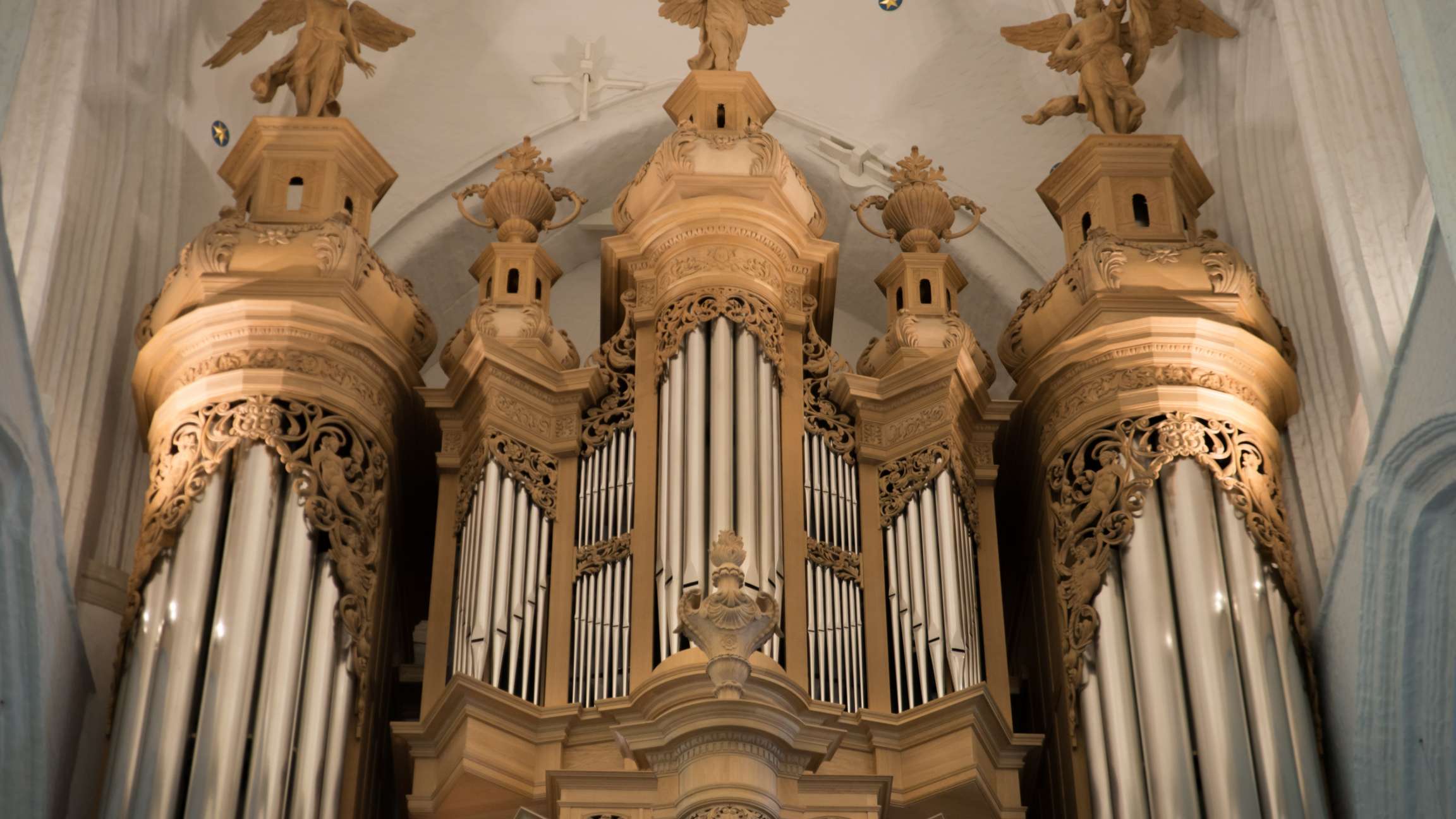 Jesus Christus, unser Heiland
BWV 665 performed by Leo van Doeselaar
St. Catherine's Church, Hamburg
Story
Extra videos
Credits
Suffering for the sacrificial bread
Bach was clearly inspired by the words 'bitter Leiden' (bitter suffering), which Luther added to a mediaeval hymn.
In 1524, Martin Luther based the words and melody of the chorale 'Jesus Christus unser Heiland', as he often did, on an older hymn. In this case, he chose the fifteenth-century hymn 'Jesus Christus nostra salus', which was then attributed to Jan Hus, a Bohemian forerunner of the Reformation. 'Jesus Christus unser Heiland' is a Eucharist hymn, intended to be sung during Holy Communion. The words underline the transformation of Christ's body and blood into bread and wine for the salvation of Christians. The specification 'sub communione' for BWV 665 confirms that Bach's arrangement was also used in the celebration of Holy Communion. In this setting – originally composed in Weimar and later adapted slightly in Leipzig – each of the four lines of the chorale melody is heard four times: twice with ornamentation but clearly recognisable in the upper parts, then once straightforwardly in the pedal and finally once again with ornamentation in the top part.
While the first strophe of the Latin hymn speaks of Christ giving himself to us as sacrificial bread, Luther rewrote it more colourfully, adding that he did so 'through his bitter suffering' ('durch das bitter Leiden sein'). It was clearly this line – the third one – that Bach wanted to emphasise here. In doing so, he wears himself out in criss-crossing chromatic lines that run from up to down and from down to up again. So as the congregations in Weimar and Leipzig received the bread and wine, they were able to hear Christ's bitter suffering.
18 Choräle/Leipziger Choräle, BWV 651-668
In the last ten years of his life, Bach gathered together and completed a series of chorale arrangements, presumably planning to have them published, just like the third part of the Clavier-Übung in 1739. It concerns a selection of his compositions from much earlier years, when he was working as an organist in Weimar, Arnstadt and Mühlhausen. The collection became known as the 18 Choräle or Leipziger Choräle. Incidentally, 18 Choräle is a misleading title, as the set originally comprised 17 pieces. The eighteenth, Vor deinen Thron tret ich (BWV 668), was added to Bach's manuscript later on.
BWV

665

Title

Jesus Christus, unser Heiland

Instrument

organ

Genre

organ works

Serie

18 Choräle (organ)

Year

1708-1717/1739-1742

City

Weimar/Leipzig

Special notes

Part of a manuscript containing 17 chorale arrangements, BWV 651-667, which Bach collected in the 1740s, and of which the earliest versions sometimes originated in his Weimar period.
Extra videos
Credits
Release date

20 November 2015

Recording date

22 October 2014

Location

St. Catherine's Church, Hamburg

Organist

Leo van Doeselaar

Organ

Various builders between the 15th and 19th century. Restoration: Flentrop 2013

Producer

Frank van der Weij

Film director

Jan Van den Bossche

Director of photography

Sal Kroonenberg

Camera assistants

Andreas Grotevent, Lucas Lütz

Music production, editing and mix

Holger Schlegel

Interview

Onno van Ameijde

Production assistant

Hanna Schreuders

Acknowledgements

Vadim Dukart, Andreas Fischer
Help us to complete All of Bach
There are still many recordings to be made before the whole of Bach's oeuvre is online. And we can't complete the task without the financial support of our patrons. Please help us to complete the musical heritage of Bach, by supporting us with a donation!