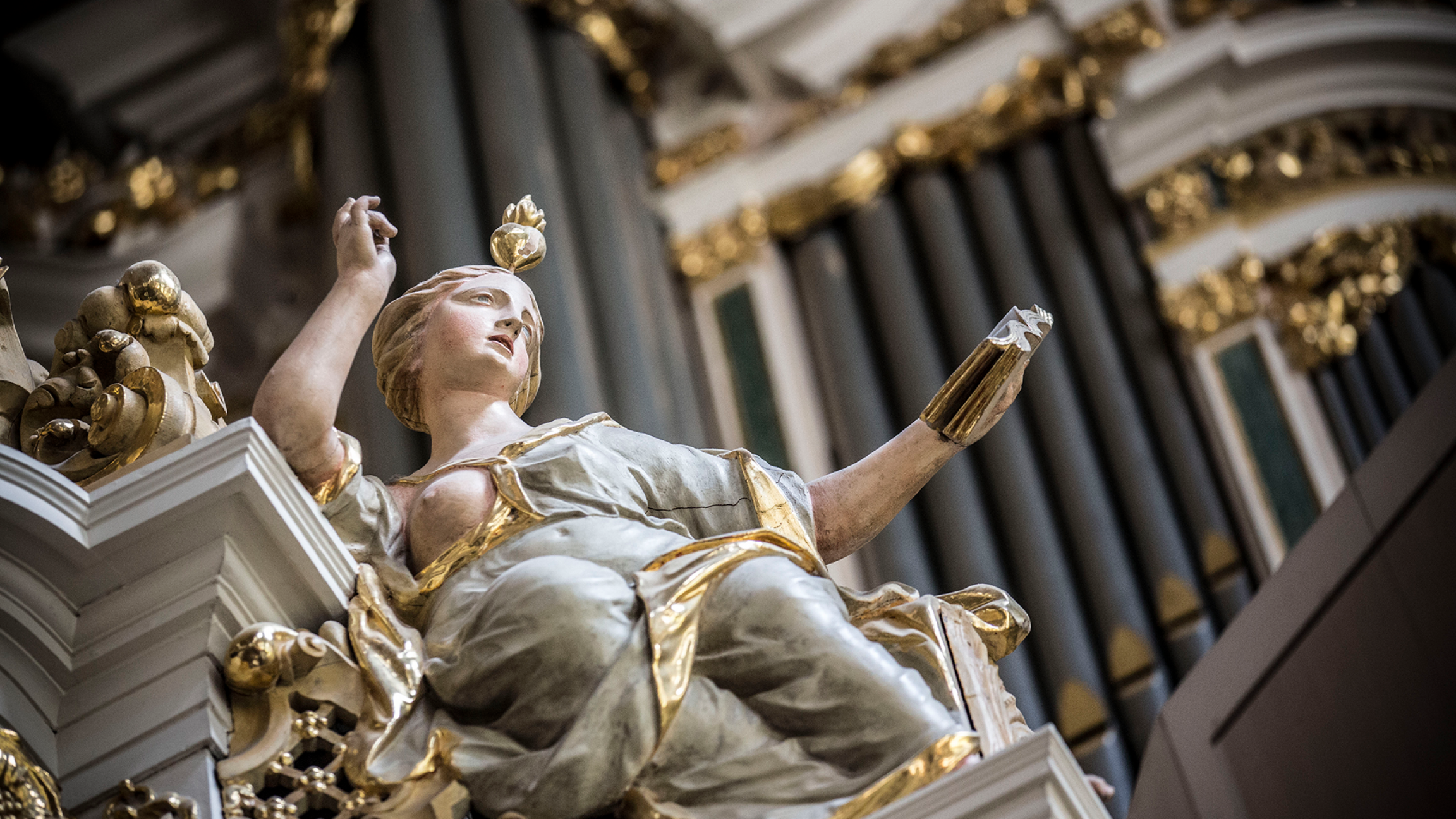 Jesus Christus, unser Heiland
BWV 666 performed by Leo van Doeselaar
Walloon Church, Amsterdam
Story
Extra videos
Credits
Free association
In this chorale arrangement, Bach almost seems to be improvising.
Unlike Bach's other organ arrangement of Jesus Christus, unser Heiland (BWV 665), this version is sometimes almost improvisational in character. There is little overt interpretation of the words of this Communion hymn about the salutary effect of the body and blood of Christ. Maybe Bach's main concern here was the development of musical ideas. For instance, the series of fast notes that introduces the second line of the chorale melody with a flourish becomes a continually streaming cascade in the third and fourth lines. As Bach's own interpretation of the text is less clear in this arrangement, BWV 666 allows more scope for personal and place-related associations, both in Bach's day and today.
At the end, for example, there is an upward spiral movement that descends again towards the close, harmonically grating against a sustained low note in the pedal. It appears to be a musical decoration, like a pen flourish at the end of an eighteenth-century letter. Or could it be an expression of the conviction that God will release us from the 'torments of hell', as the words of the first stanza tell us? Or maybe on hearing this big musical arc at the end of the piece, the listeners in the church in Weimar instinctively thought of Lucas Cranach's striking altarpiece there. A similar arc on the painting depicts a spurt of blood from Christ's side landing on the head of the painter's self-portrait.
18 Choräle/Leipziger Choräle, BWV 651-668
In the last ten years of his life, Bach gathered together and completed a series of chorale arrangements, presumably planning to have them published, just like the third part of the Clavier-Übung in 1739. It concerns a selection of his compositions from much earlier years, when he was working as an organist in Weimar, Arnstadt and Mühlhausen. The collection became known as the 18 Choräle or Leipziger Choräle. Incidentally, 18 Choräle is a misleading title, as the set originally comprised 17 pieces. The eighteenth, Vor deinen Thron tret ich (BWV 668), was added to Bach's manuscript later on.
BWV

666

Title

Jesus Christus, unser Heiland

Instrument

organ

Genre

organ works

Serie

18 Choräle (organ)

Year

1708-1717/1739-1742

City

Weimar/Leipzig

Special notes

Part of a manuscript containing 17 chorale arrangements, BWV 651-667, which Bach collected in the 1740s, and of which the earliest versions sometimes originated in his Weimar period.
Extra videos
Credits
Release date

31 July 2015

Recording date

24 June 2014

Location

Walloon Church, Amsterdam

Organist

Leo van Doeselaar

Organ

Christian Müller, 1734

Producer

Frank van der Weij

Film director

Jan Van den Bossche

Directors of photography

Sal Kroonenberg, Ruben van den Broeke

Grip

Antoine Petiet

Music production, editing and mix

Holger Schlegel

Film editor

Dylan Glyn Jones

Colorist

Jef Grosfeld

Production assistants

Marco Meijdam, Zoë de Wilde

Interview

Onno van Ameijde
Help us to complete All of Bach
There are still many recordings to be made before the whole of Bach's oeuvre is online. And we can't complete the task without the financial support of our patrons. Please help us to complete the musical heritage of Bach, by supporting us with a donation!