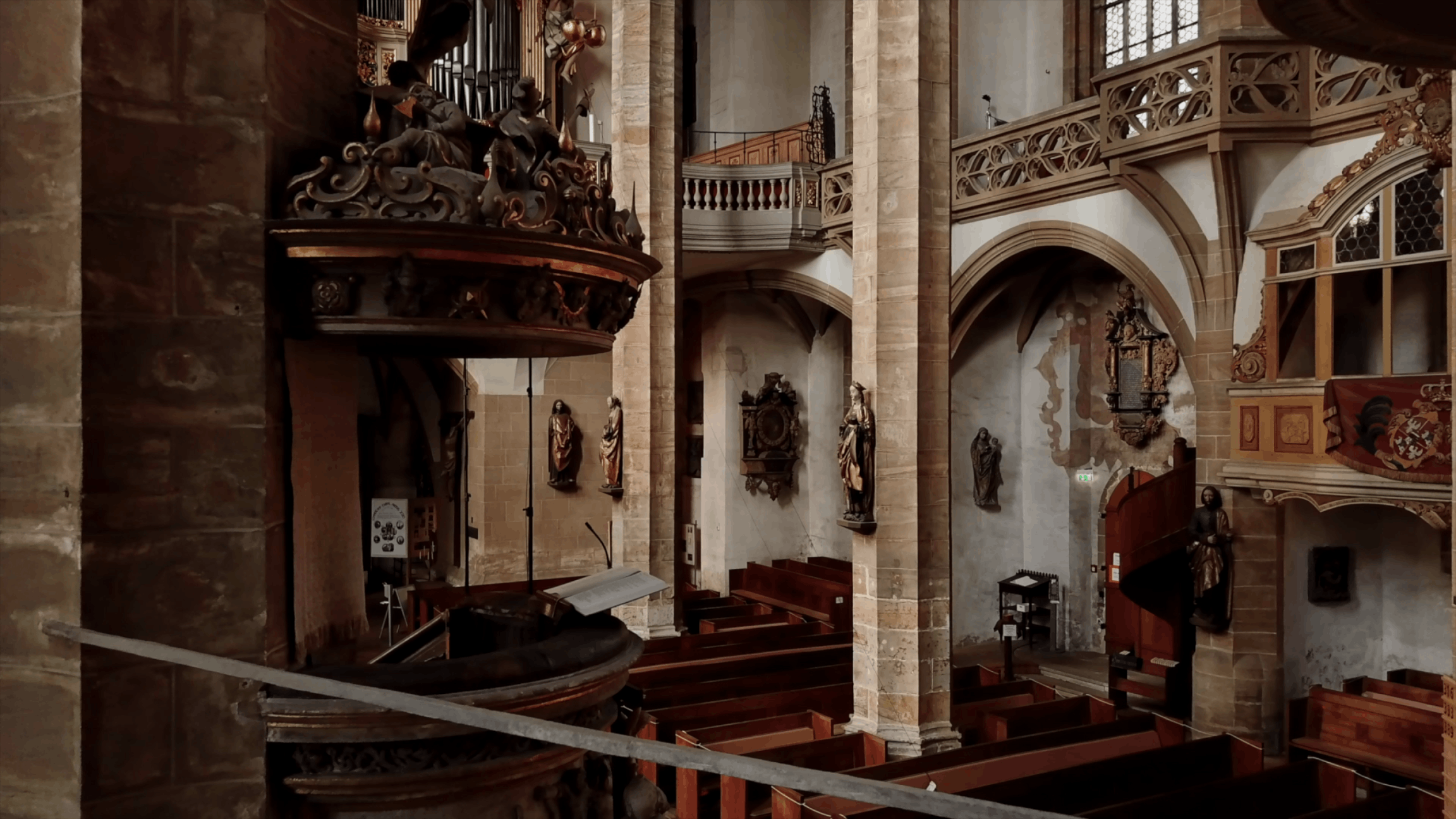 Kyrie, Gott Vater in Ewigkeit
BWV 669 performed by Leo van Doeselaar
Freiberger Dom Sankt Marien, Freiberg, Germany
Story
Extra videos
Credits
Respect for the past
Bach's 'great' Kyrie is surprisingly strict.
Clavier-Übung III, from 1739, gives musical expression to the two main Sunday church services in Leipzig: the Mass according to the shortened Lutheran liturgy with a Kyrie and Gloria, followed later in the day by the catechism. Bach's 'small' Kyrie from this series, BWV 672-674 for organ without pedal, caresses the ear with parallel thirds and sixths, and a subtle style. For the 'great' Kyrie, with pedal, BWV 669-671, Bach used an extremely lofty, rather dull style, most probably to show off his perfect command of any style whatsoever. Proud as he was of his recent appointment as Saxon court musician, Bach expressly harked back to old-school polyphony, like in his Mass in B minor, BWV 232, for example. In Bach's publication, the Kyrie, Christe and Kyrie BWV 669-671 were clearly intended for the 'experts', i.e. professional organists, as they are incredibly difficult to play.
The three pieces are composed around the long melodies of a 'trope': a standard hymn with extra texts, so in this case 'Kyrie/Christe/Kyrie […] eleison'. Each piece is devoted to one facet of the Trinity, whereby Bach gives a symbolic place to the cantus firmus (the existing melody): first to God the Father in the soprano; then to God the Son among the voices in the tenor, and finally to God the Holy Ghost in the pedal bass.
It is striking how strictly Bach keeps to the musical rules, i.e. the counterpoint of the Renaissance; an old style he was familiar with through Frescobaldi, for example. The many dissonant passages thus appear to be mainly 'chance' clashes arising from the taut interplay of lines, rather than a specially applied effect. The notation in long note values shows that the music should sound very solemn, while Bach also fills nearly the whole time with notes. In other words, the fugues are exceptionally strict with hardly any harmonic breaks. The key, or rather the original mediaeval Phrygian mode of G, also refers to times gone by.
Clavier-Übung
In Leipzig, between 1731 and 1741, Bach published four parts of Clavier-Übung, a title used previously by Johann Kuhnau, his predecessor as cantor at the Thomasschule, for similar collections of works for organ and harpsichord. The compositions are very varied in nature and, although the title suggests otherwise, were difficult to play. Bach addresses all the styles, genres and techniques for harpsichord and organ that were prevalent at the time, but then in the superior form to which only he had the patent.
Clavier-Übung I (1731) contains the six partitas, BWV 825-830; Clavier-Übung II (1735) the Concerto nach italienischen Gusto, BWV 971 and the Ouverture nach französischer Art, BWV 831; and Clavier-Übung IV (1741) the Goldberg Variations, BWV 988. The largest part, Clavier-Übung III (1739), is the only one devoted to organ, containing mostly chorale arrangements, or organ preludes based on Lutheran hymns. Bach made two versions of each chorale: one for great organ and one for a smaller type of organ. Most of the chorales refer to the six parts of the catechism. It is unclear whether Bach also played them during the services, or whether he developed his musical ideas in them for his own use, with no intention of performing them in public.
BWV

669

Title

Kyrie, Gott Vater in Ewigkeit

Instrument

Organ

Genre

organ works

Serie

Clavier-Übung III

Year

1739

City

Leipzig
Thanks to
Extra videos
Credits
Release date

29 June 2023

Recording date

18 September 2020

Location

Freiberger Dom Sankt Marien, Freiberg, Germany

Organist

Leo van Doeselaar

Organ

Gottfried Silbermann, 1711-1714

Director and editor

Robin van Erven Dorens

Music recording

Guido Tichelman, Bastiaan Kuijt

Music edit and mix

Guido Tichelman

Camera

Robin van Erven Dorens, Onno van der Wal

Lights

Ernst-Jan Thieme

Assistant music recording

Marloes Biermans

Interview

Robin van Erven Dorens, Marloes Biermans

Producer

Jessie Verbrugh

Supported by

MWH4impact
Help us to complete All of Bach
There are still many recordings to be made before the whole of Bach's oeuvre is online. And we can't complete the task without the financial support of our patrons. Please help us to complete the musical heritage of Bach, by supporting us with a donation!