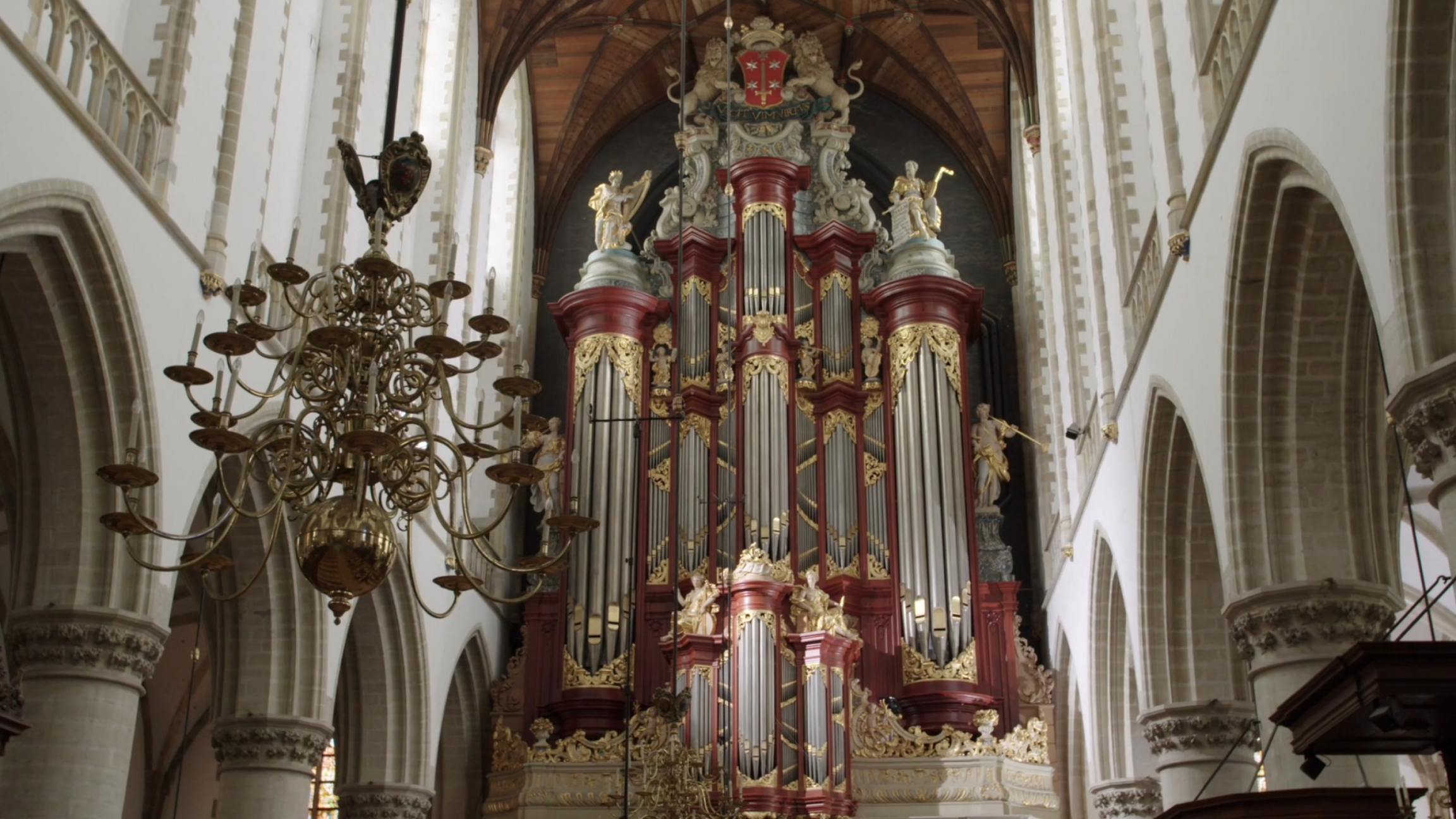 Fughetta: Daß Jesulein soll doch mein Trost
BWV 702 performed by Bart Jacobs
St.-Bavokerk, Haarlem
Story
Extra videos
Credits
The master's hand?
Little fugue, little Jesus, big questions.
The term 'fughetta' may be charming, but it is rather vague. Do we mean a short fugue, a simple fugue, or maybe even a quasi-fugue? In Bach's case, it could be all of the above! In this Fughetta we hear an ultra-compact arrangement of the first two chorale verses of the hymn Daß Jesulein soll doch mein Trost. The first, descending line is the subject or main theme, and the second line is the answering counter-theme. Bach gradually adds quick runs to the fairly lively rhythm of the stately New Year chorale, as figuration. Towards the end, the little work becomes broader, as it were, to the extent that the last line can only be played on an organ with pedal, as the lowest notes are simply missing on manuals.
But then… intrigue! Because the so-called Kirnberger Collection– and particularly this piece – was in the bad books for a long time. Albert Schweitzer thought the setting was 'unbeholfen und geistlos', and if it was a Bach work at all, then it was one from his youth at best. This held true until 2000, when Pieter Dirksen not only confirmed the Fughetta as a real Bach, but also dated it in his latter period and even identified it as part of a major cycle for the Christmas period. In this interpretation, BWV 702 forms a magnificent ending to a series of eight fughettas, which explains the extra 'breadth' of the closing phrase. (For those interested in the numbers: the order according to Dirksen is 704, 703, 698, 699, 701, 696, 697, all without pedal, and then 702).
So why the earlier, somewhat harsh rejection of this piece? Was it down to the nineteenth and early twentieth-century publishers and their sometimes rather too radical 'corrections'? Did the specialists not yet have access to all the sources? Without a manuscript by Johann Sebastian himself, it remains a question of interpretation. However, organist Bart Jacobs is in no doubt whatsoever. He believes this piece was simply written by Bach.
Kirnbergerschen Sammlung, BWV 690-713
Bach cherished a great many of his compositions, ensuring that they were collected or recycled, and – if at all possible – published. But there are also pieces that missed the boat, such as the twenty-four early organ compositions now known as the Kirnbergerschen Sammlung. We owe the survival of these works to Bach's pupil Johann Kirnberger, who collected twenty-four organ compositions, among other pieces, following the death of his master. The most striking thing about this collection is its lack of cohesion. The only similarity between the works is that they probably all date from the period before 1710.
Organ
This recording was made on the famous Müller organ in the Great or St. Bavo Church, in Haarlem. It is a very special instrument from 1738. Both Georg Friedrich Händel and Wolfgang Amadeus Mozart travelled to Haarlem to play this organ! Händel was particularly delighted by the unusual Vox Humana register. The organ has over 5000 pipes, divided over 64 registers, with three manuals and a pedal.
BWV

702

Title

Fughetta: Daß Jesulein soll doch mein Trost

Instrument

organ

Genre

organ works

Serie

Kirnbergerschen Sammlung (organ)

Year

before 1710, or after Clavier-Übung III (1739) depending on the interpretation
Credits
Release date

28 December 2018

Recording date

22 September 2016

Location

St Bavo's Church, Haarlem

Organist

Bart Jacobs

Organ

Christian Müller, 1738

Director

Bas Wielenga

Music recording

Guido Tichelman, Bastiaan Kuijt

Music edit and mix

Guido Tichelman

Camera

Bas Wielenga, Jeroen Simons

Lights

Gregoor van de Kamp

Interview

Onno van Ameijde, Marloes Biermans

Producer

Jessie Verbrugh
Help us to complete All of Bach
There are still many recordings to be made before the whole of Bach's oeuvre is online. And we can't complete the task without the financial support of our patrons. Please help us to complete the musical heritage of Bach, by supporting us with a donation!