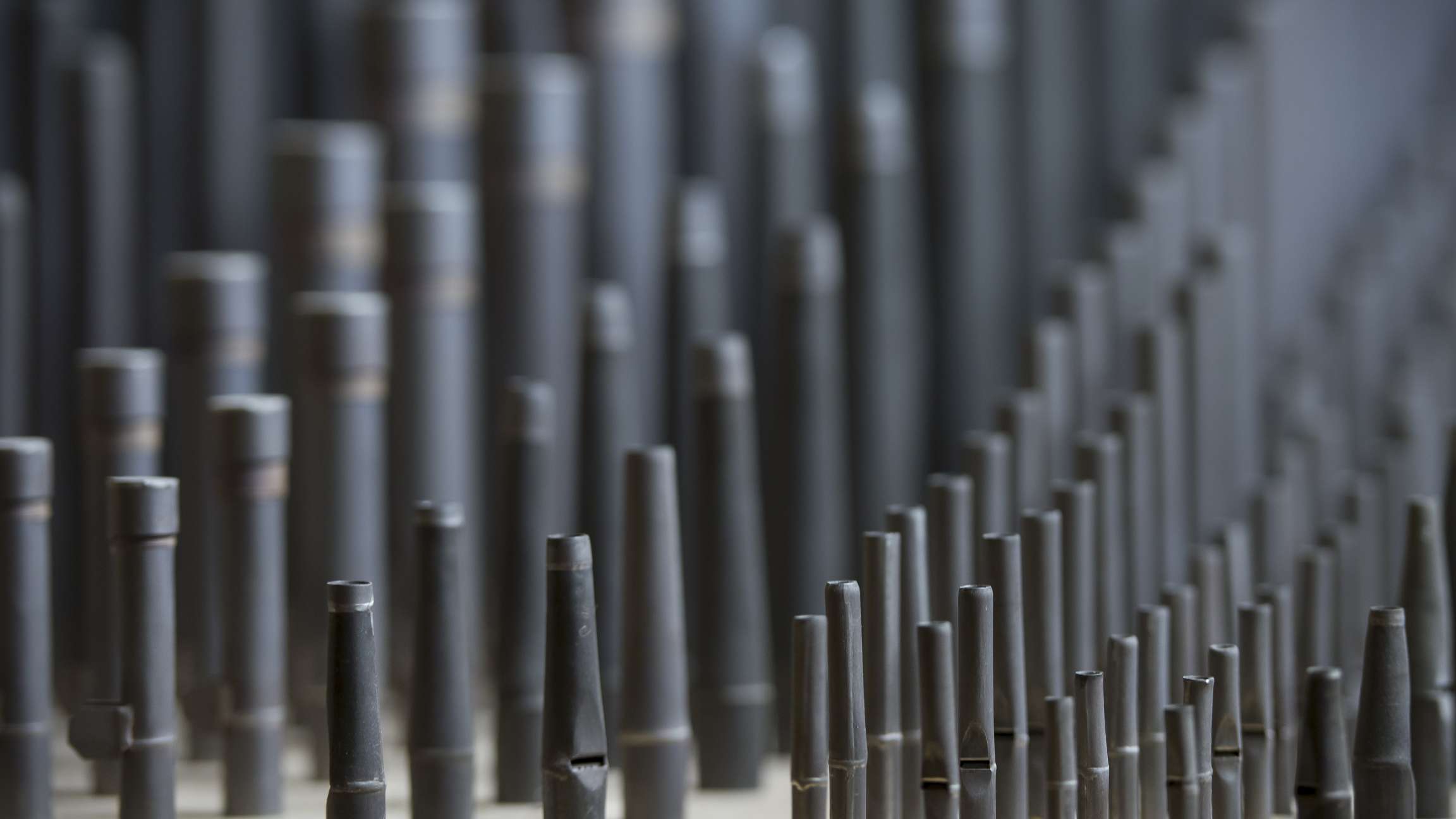 Toccata, adagio and fugue in C major
BWV 564 performed by Reitze Smits
St Jacob's Church, Leeuwarden
Menu
Toccata
Adagio
Fugue
Story
Extra videos
Credits
Bach's better legwork
Fresh inspiration from Buxtehude led to a wonderful work – complete with impressive pedal solo
Bach's hike from Arnstadt to Lübeck in 1705 is a well-known story. We know that he extended his leave far too long, maybe to look for a job or to get married. And we can assume that he went to study with one of the greatest organists of the day: Dietrich Buxtehude. It was surely no coincidence that a few years later Bach based the athletic pedal solo in this Toccata on Buxtehude's Prelude, BuxWV 137 - a work that incidentally is only known to us from Bach's copy.
Of course Bach would not be Bach if he had not tried to outdo his great example: the solo is longer and more complex, thus exploring the whole instrument. In addition, the work opens with a solo that is almost equally amazing and which uses all the registers of the keyboard. Maybe Bach used it for testing new organs, as he often did in his Weimar period? Whatever the case, he must have impressed his audience with it. After so many fireworks, Bach's audience are given no respite whatsoever. The first movement races on with two infectious, alternating themes. Towards the end, Bach revisits all the octaves, this time in a minor key.
The excitement also continues to the end of the second movement, which is a drawn-out solo for the right hand, with continuo accompaniment from the other limbs. In the section marked 'grave', Bach indulges in durezze: overlapping clusters of chords in dissonant combinations. This is a technique that was also in fashion in Germany in Bach's time, thanks to publications of the music of composer Frescobaldi.
The exuberant closing fugue is remarkable for its length and for the light-hearted combination of a jumpy theme with 'gaps' and a flowing counter-theme that fills in those gaps, which is quite unique for Bach. There is no manuscript source, so we will never know whether Bach actually intended the final chord to be so brief and the pedal to fall silent a couple of bars before the end. This curiosity has inspired some organists to open up all the registers again. Not in this performance for All of Bach, however, which follows one of the early copies to a rather abrupt and quiet ending.
BWV

564

Title

Toccata, adagio and fugue in C major

Instrument

organ

Genre

organ works

Year

First copies in ca. 1719 and 1726/27

City

Weimar?
Extra videos
Credits
Release date

8 May 2015

Recording date

15 September 2014

Location

St Jacob's Church, Leeuwarden

Organist

Reitze Smits

Organ registration

Mayuko Banno

Organ

Christian Müller, 1727

Film director

Jan Van den Bossche

Directors of photography

Diderik Evers, Ruben van den Broeke

Music production, edition and mix

Holger Schlegel

Film editor

Dylan Glyn Jones

Interview

Onno van Ameijde

Colorist

Jef Grosfeld

Producer

Frank van der Weij

Production assistant

Hanna Schreuders

Acknowledgement

Rob Tigchelaar
Help us to complete All of Bach
There are still many recordings to be made before the whole of Bach's oeuvre is online. And we can't complete the task without the financial support of our patrons. Please help us to complete the musical heritage of Bach, by supporting us with a donation!