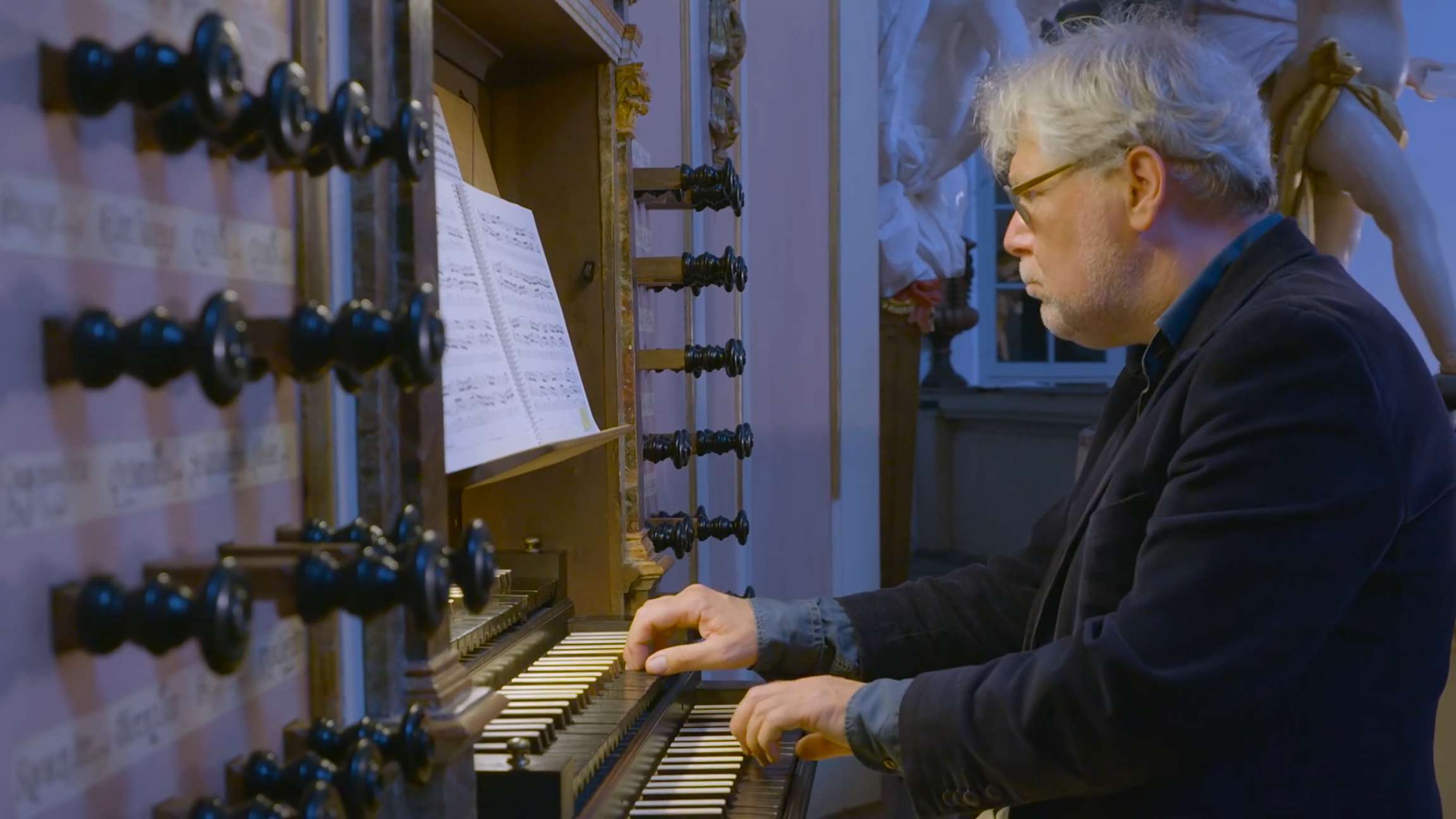 Wir Christenleut
BWV 710 performed by Theo Jellema
Stiftskirche St. Georg, Goslar-Grauhof
Story
Extra videos
Credits
Two worlds
The dejected chorale melody takes the edge off the joy.
"Less jolly than the text might lead one to expect", is how Peter Williams, author of the unsurpassed book The Organ Music of J.S. Bach, described this arrangement of a Christmas carol. And it is only too true. But what is it that bothers him exactly? To start with, the old chorale melody to which the Saxon court preacher Kaspar Füger wrote his joyful words at the end of the sixteenth century is in a minor key. And neither is it a very adventurous melody, as the somewhat dejected tune spans no more than five consecutive notes. In this arrangement, the tune is in the pedal. The happiness is restricted to the two richly ornamented upper parts, although their lively babble does lend them the advantage for a while in the intermittent silences of the pedal. But that is only for a moment each time, and the two worlds do not get any closer to one another. And Bach is not a champion of repetition of moves. After two minutes, he has said what he had to say.
Kirnbergerschen Sammlung, BWV 690-713
Bach cherished a great many of his compositions, ensuring that they were collected or recycled, and – if at all possible – published. But there are also pieces that missed the boat, such as the twenty-four early organ compositions now known as the Kirnbergerschen Sammlung. We owe the survival of these works to Bach's pupil Johann Kirnberger, who collected twenty-four organ compositions, among other pieces, following the death of his master. The most striking thing about this collection is its lack of cohesion. The only similarity between the works is that they probably all date from the period before 1710.
BWV

710

Title

Wir Christenleut

Instrument

organ

Genre

organ works

Serie

Kirnbergerschen Sammlung (organ)

Year

before 1710

City

Mühlhausen or Weimar
Credits
Release date

24 December 2016

Recording date

24 August 2015

Location

Stiftskirche St. Georg, Goslar-Grauhof

Organist

Theo Jellema

Organ

Christoph Treutmann, 1731

Director and editor

Onno van Ameijde

Music recording, edit and mix

Holger Schlegel

Camera

Maarten van Rossem, Onno van Ameijde

Interview

Onno van Ameijde

Producer

Jessie Verbrugh
Help us to complete All of Bach
There are still many recordings to be made before the whole of Bach's oeuvre is online. And we can't complete the task without the financial support of our patrons. Please help us to complete the musical heritage of Bach, by supporting us with a donation!