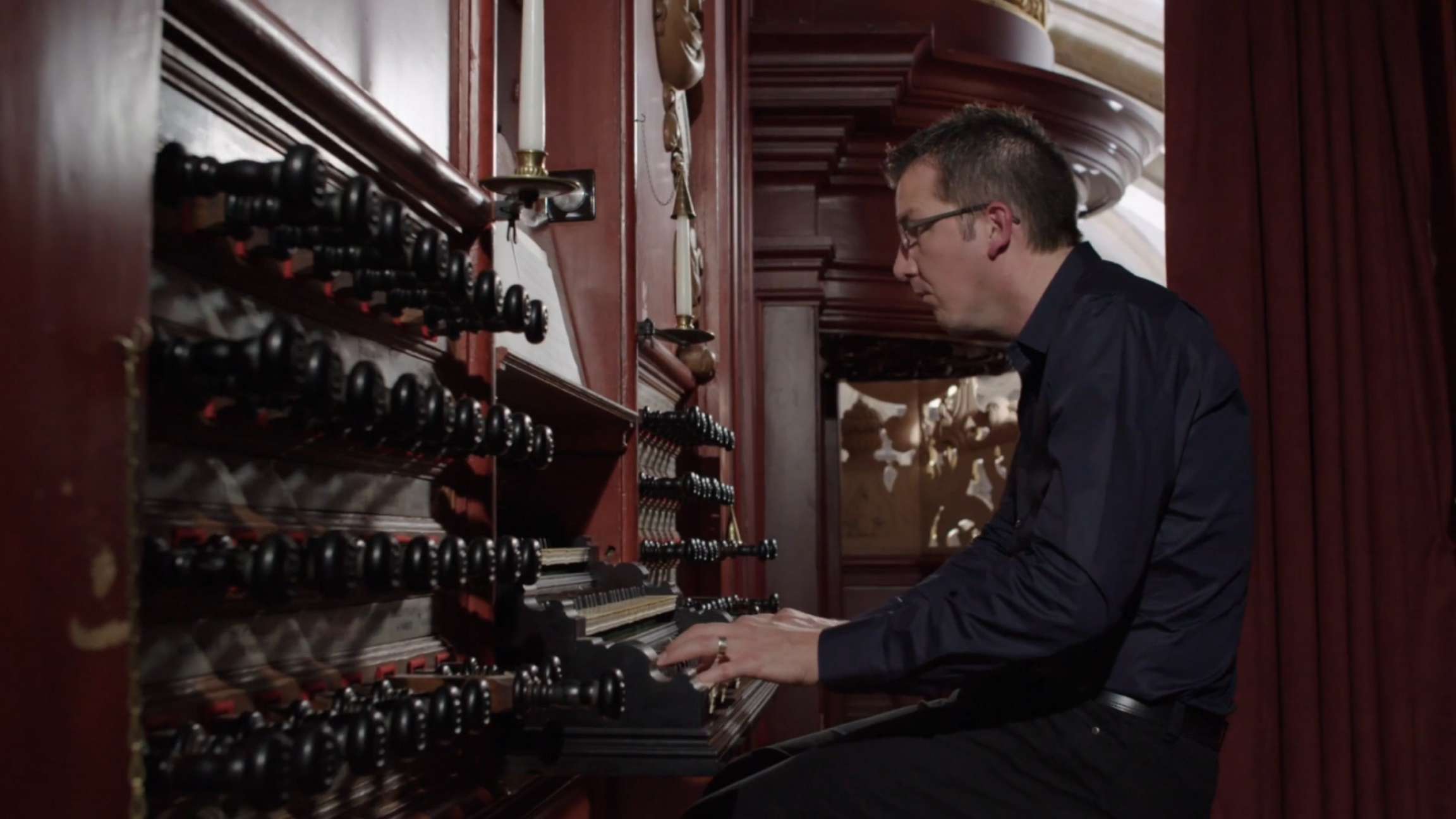 Vater unser im Himmelreich
BWV 737 performed by Bart Jacobs
St. Bavo's Church, Haarlem
Story
Extra videos
Credits
Subdued and timeless
The stop used by Bart Jacobs emphasises the vocal character.
Vater unser im Himmelreich is Luther's interpretation of Our Father: the only prayer that came directly from Jesus himself and which has thus always had a special place in Christianity. In Bach's day, besides being used as a hymn during Communion, Vater unser im Himmelreich was also linked to Rogation Sunday, the fifth Sunday after Easter, which is therefore also the Sunday before Ascension Day, when there were traditional processions through the fields.
Of the various organ arrangements Bach made of this chorale, this is the most subdued and timeless. The piece is written in stile antico – the 'ancient', vocal, polyphonic composition style of the sixteenth century.
Here, Bart Jacobs emphasises this archaic character with the cornet stop. Its name and timbre refer to the cornetto, a sixteenth-century wind instrument. The stop makes the organ sound like a brass ensemble from the Renaissance.
And that suits this piece really well, as Bach may have used the 'ancient style' here to emphasise the fact that Vater unser im Himmelreich is a prayer. And a prayer implies words and thoughts, either spoken or sung. In fact, this arrangement is a four-part motet in the ancient style and you could easily perform the whole piece in song. Occasionally, there is a slightly more daring harmony, which is all that betrays the fact that this piece is not really a motet from Luther's day.
Organ
This recording was made on the famous Müller organ in the Great or St. Bavo Church, in Haarlem. It is a very special instrument from 1738. Both Georg Friedrich Händel and Wolfgang Amadeus Mozart travelled to Haarlem to play this organ! Händel was particularly delighted by the unusual Vox Humana register. The organ has over 5000 pipes, divided over 64 registers, with three manuals and a pedal.
BWV

737

Title

Vater unser im Himmelreich

Instrument

Organ

Genre

organ works

Year

unknown

City

Arnstadt?/Weimar?
Extra videos
Credits
Publication date

24 March 2017

Recording date

22 September 2016

Location

St Bavo's Church, Haarlem

Organist

Bart Jacobs

Organ

Christian Müller, 1738

Director

Bas Wielenga

Music recording

Guido Tichelman, Bastiaan Kuijt

Music edit and mix

Guido Tichelman

Camera

Bas Wielenga, Jeroen Simons

Lights

Gregoor van de Kamp

Producer

Jessie Verbrugh

Interview

Onno van Ameijde
Help us to complete All of Bach
There are still many recordings to be made before the whole of Bach's oeuvre is online. And we can't complete the task without the financial support of our patrons. Please help us to complete the musical heritage of Bach, by supporting us with a donation!