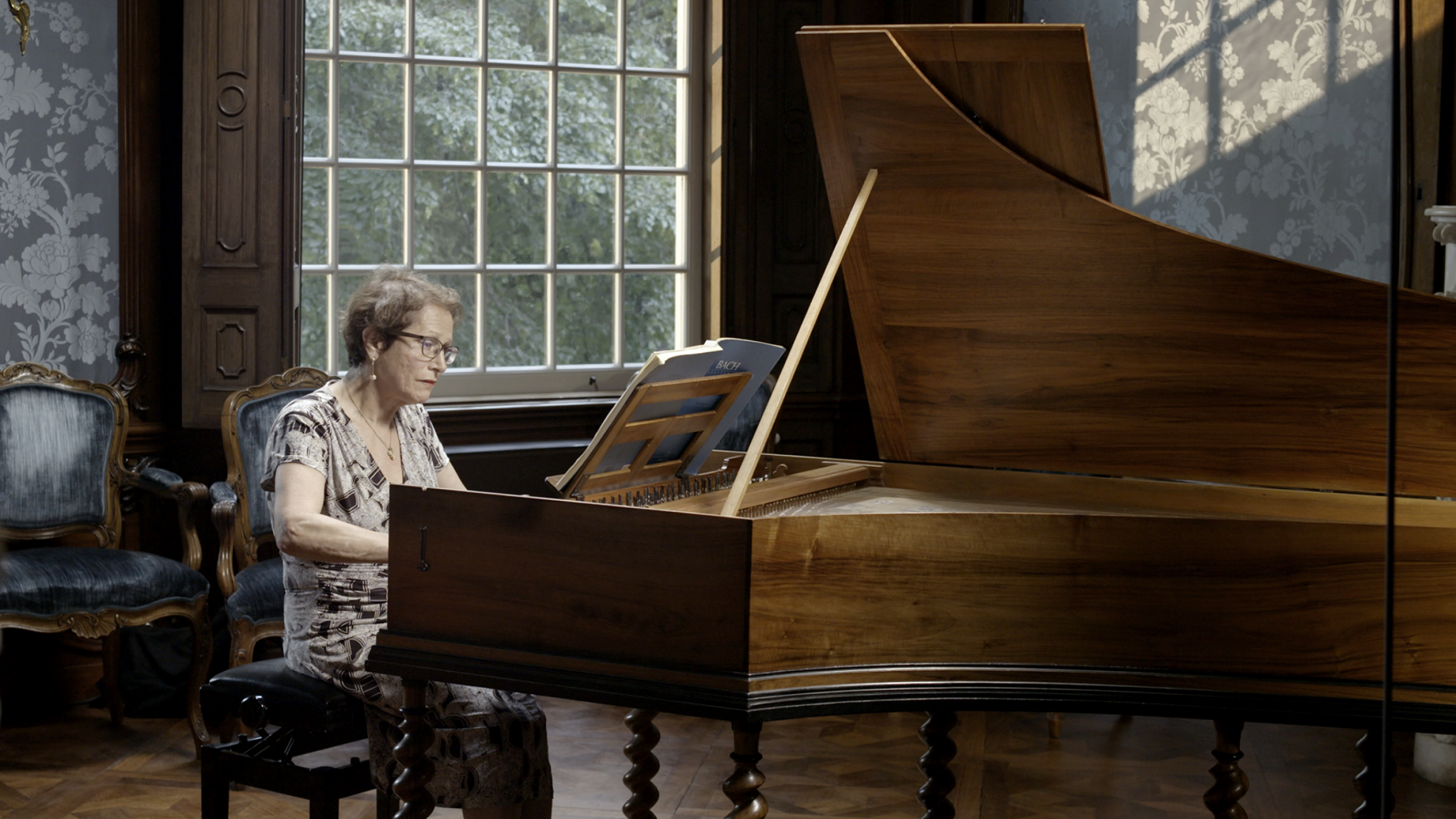 'English' Suite no. 1 in A major
BWV 806 performed by Aline Zylberajch
at the Bartolotti House, Amsterdam
Menu
1. Prelude
2. Allemande
3. Courante 1
4. Courante 2
5. Double 1
6. Double 2
7. Sarabande
8. Bourrée 1
9. Bourrée 2
10. Gigue
Story
Extra videos
Credits
The joy of playing
A boundless succession of short sections.
The quasi-improvised flourish that opens this Suite in A major – and thus the whole set of six 'English' suites – sounds like an enthusiastic welcome and invitation. Compared to other sets of keyboard music by Bach that clearly functioned as teaching material for his children and students, or which demonstrated his mastery of composition, the 'English' suites appear to be mainly about the joy of playing.
This is shown most clearly in the first of the suites. Bach starts off with a relatively short prelude that does not develop into a large-scale concerto, as in the other suites. It is followed by a boundless succession of short sections (ten in total, which is more than the other suites). One courante? No, two ! One double? No, two again! One bourrée then? Another two! This was a deliberate decision.
An earlier version of the suite tells us that one of the two doubles (variations) of the second courante and the second bourrée were only added by Bach later on. It is no coincidence that this second bourrée is the only section in a minor key. Towards the end of the suite, Bach thus adds a dash of darker contrast to what is otherwise a radiant whole.
So it is not surprising that we know of over thirty other written eighteenth-century sources of the so-called 'English' suites, besides Bach's own manuscript. Some belonged to Bach's younger colleagues, such as Johann Agricola (1720-1774), Johann Kirnberger (1721-1783) and Carl Fasch (1736-1800), etc. Other manuscripts belonged to Mozart's son Franz Xaver Mozart and the Dutch music-lover and diplomat in the imperial service Gottfried van Swieten (1733-1803). Robert Schumann and Johannes Brahms also knew, played and studied the 'English' suites, which never disappeared from the repertoire of both professionals and amateurs.
Nowadays, too, sheet music of the 'English' suites is found on many a music shelf. The opening of the first 'English' suite is still always an invitation: to play, to listen to and to discover even more Bach…
'English' suites, BWV 806-811
The six 'English' suites were probably composed between 1710 and 1720, and in any case before the 'French' suites and the partitas. It remains rather unclear as to why they are called 'English'. According to the first Bach biographer, Forkel, they were dedicated to an English aristocrat whose name is not given. They are also stylistically linked to the six harpsichord suites by the French composer Charles Dieupart, who lived in London. And the title page of the copy belonging to Bach's youngest son, Johann Christian, who also lived in London, states 'fait pour les anglois'.
But just like Bach's other surviving suites for keyboard, the English suites are predominantly a synthesis of German, Italian and French style elements. To a certain extent, they are more French than the so-called 'French' suites. All six begin with an extensive prelude, following the example of French lute suites. The prelude is followed by the classic series of stylised dances: allemande, courante, sarabande and gigue, with a free choice of gavotte, bourrée, passepied or minuet in between the latter two set dances.
The Bartolotti House
We made this recording at The Bartolotti House, at Herengracht 170 and 172. The house at the back of no. 170 was occupied by harpsichordist, organist and conductor Gustav Leonhardt from 1974 to his death in 2012. Leonhardt was one of the pioneers of early music in the Netherlands. As a teacher and performer, he was a source of inspiration to many harpsichord players around the world.
It is one of the most impressive buildings in the old centre of Amsterdam. It was built around 1620 as a residence, on commission from the wealthy businessman Willem van den Heuvel, who had inherited a lot of money from a childless uncle by marriage, called Giovanni Battista Bartolotti, who came from Bologna. The Dutch Renaissance-style design was probably done by the Amsterdam city architect Hendrick de Keyser.
Over the centuries, the house has been split up and has undergone several modernisations. You can still see many wonderful historical decorative features from the various renovations. The two parts of the Bartolotti House came into the possession of Vereniging Hendrick de Keyser, which now has its office there.
BWV

806

Title

Suite in A major

Epithet

'English' Suite no. 1

Instrument

harpsichord

Genre

harpsichord works

Serie

English Suites (clavier)

Year

1710-1720

City

Cöthen?
Extra videos
Credits
Release date

18 February 2021

Recording date

5 July 2019

Location

Bartolotti House, Amsterdam

Harpsichordist

Aline Zylberajch

Harpsichord

Bruce Kennedy, 1989 after Michael Mietke

Director, camera and lights

Gijs Besseling

Music recording

Guido Tichelman, Bastiaan Kuijt

Music edit and mix

Guido Tichelman

Camera, lights

Danny Noordanus

Data handling, camera and lighting assistant

Eline Eestermans

Producer

Jessie Verbrugh, Marco Meijdam

Acknowledgement

Vereniging Hendrick de Keyser
Help us to complete All of Bach
There are still many recordings to be made before the whole of Bach's oeuvre is online. And we can't complete the task without the financial support of our patrons. Please help us to complete the musical heritage of Bach, by supporting us with a donation!