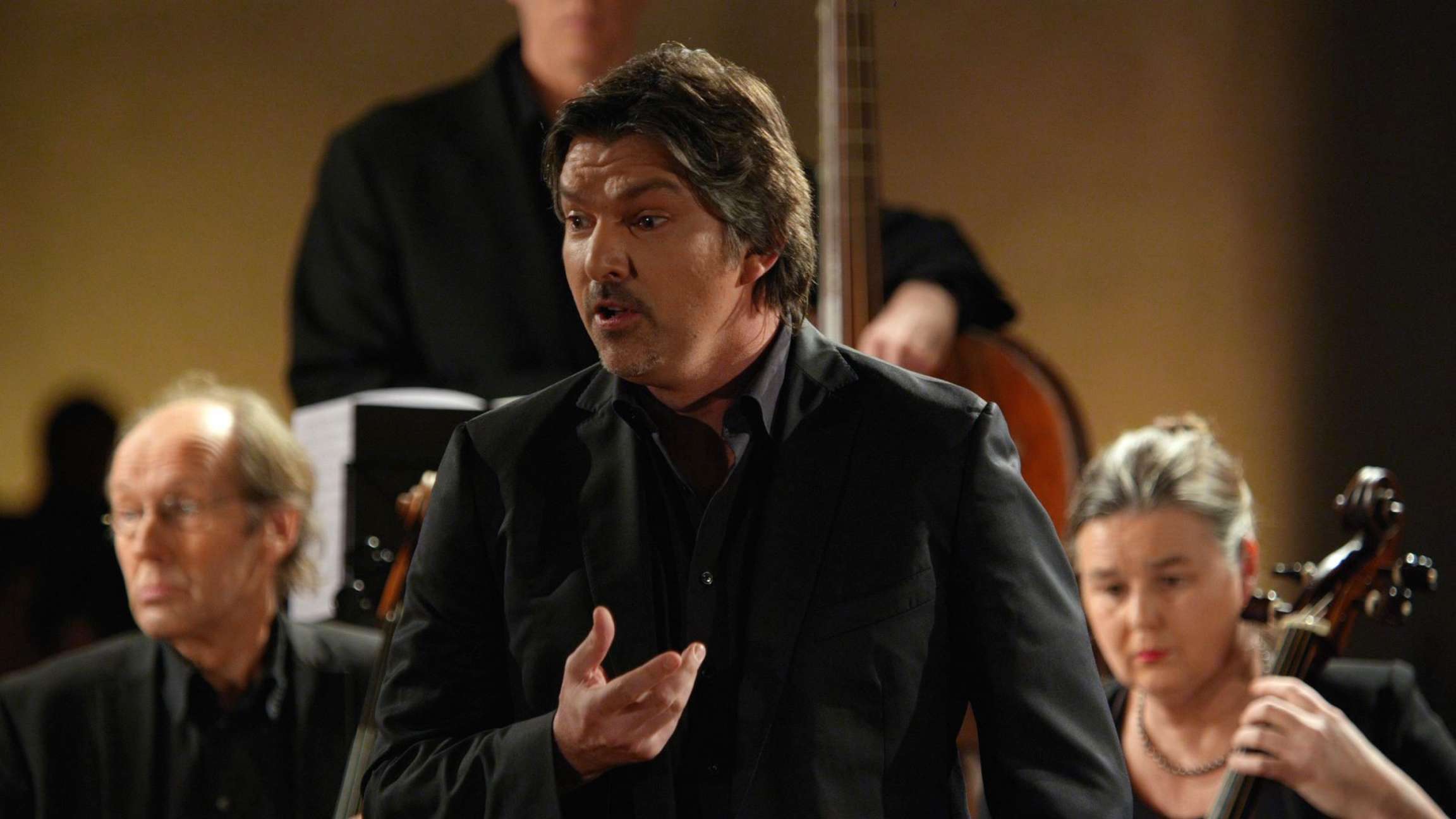 Ich habe genung
BWV 82 performed by Thomas Bauer and the Netherlands Bach Society
conducted by Lars Ulrik Mortensen
Geertekerk, Utrecht
Menu
1. Ich habe genung (Aria)
2. Ich habe genung (Recitative)
3. Schlummert ein (Aria)
4. Mein Gott! (Recitative)
5. Ich freue mich (Aria)
Story
Extra videos
Texts
Credits
The lullaby for eternal sleep
Bach's work does not get much more intimate than this solo cantata.
The Feast of the Purification for which it was composed commemorates the traditional purification sacrifice made by Mary forty days after the birth of Jesus. On this day, she met the old man Simeon, who immediately recognised the tiny Jesus as the Messiah and burst into a song of praise, singing 'Now I have seen my Saviour, I can die in peace'. Simeon's Song of Praise – also known as the Nunc Dimittis – was not only sung at the Feast of the Purification on 2 February, but was also given a regular place in the daily Mass at the close of day in monasteries. With the words of the Light of the World in mind, people could go to sleep in peace.
The way that mortality was viewed in the eighteenth century is expressed wonderfully in Ich habe genung. Death was seen as a deliverance from the earthly vale of tears, and as a chance to unite with your creator. So rather than being heart-rending, the music exudes a subdued melancholy. The first aria gives a more or less literal interpretation of Simeon's emotions. The oboe opens with a plaintive upward leap (a minor sixth). This interval plays an important role throughout the aria.
Then comes the aria that Bach's biographer Albert Schweitzer called 'the lullaby for eternal sleep': Schlummert ein, ihr matten Augen. It invites the listener to slip away from daily cares, gently but forever. And finally, a cheerful dance rhythm celebrates the approaching end. Throughout the cantata, the contribution of the solo wind instrument is crucial. Initially plaintive, then mellow and finally full of optimistic joy, the oboe drives the bass onwards.
BWV

82

Title

Ich habe genung

Instrument

Bass, Oboe

Genre

cantatas

Year

1727

City

Leipzig

Lyricist

unknown

Occasion

the Purification (2 February)

First performance

2 February 1727

Special notes

Arranged in 1731 for soprano and with transverse flute instead of oboe (has not survived intact), in 1735 for mezzo-soprano, in 1747 for bass or mezzo with the addition of oboe da caccia and organ. . There is also a version for organ (BWV Anh. 55) entitled 'Herr Christ der einig Gotts Sohn.
Extra videos
Vocal texs
Original
1. Arie
Ich habe genung,
ich habe den Heiland,
das Hoffen der Frommen,
auf meine begierigen Arme genommen;
ich habe genung!
Ich hab ihn erblickt,
Mein Glaube hat Jesum ans Herze gedrückt;
nun wünsch ich, noch heute mit Freuden
von hinnen zu scheiden.

2. Rezitativ
Ich habe genung.
Mein Trost ist nur allein,
dass Jesus mein
und ich sein eigen möchte sein.
Im Glauben halt ich ihn,
da seh ich auch mit Simeon
die Freude jenes Lebens schon.
Lasst uns mit diesem Manne ziehn!
Ach! möchte mich von meines Leibes Ketten
der Herr erretten;
ach! wäre doch mein Abschied hier,
mit Freuden sagt ich, Welt, zu dir:
ich habe genung.

3. Arie
Schlummert ein, ihr matten Augen,
fallet sanft und selig zu!
Welt, ich bleibe nicht mehr hier,
hab ich doch kein Teil an dir,
das der Seele könnte taugen.
Hier muss ich das Elend bauen,
aber dort, dort werd ich schauen
süssen Frieden, stille Ruh.

4. Rezitativ
Mein Gott! wenn kömmt das schöne: Nun!
Da ich im Friede fahren werde
und in dem Sande kühler Erde
und dort bei dir im Schosse ruhn?
Der Abschied ist gemacht,
Welt, gute Nacht!

5. Arie
Ich freue mich auf meinen Tod,
ach, hätt' er sich schon eingefunden.
Da entkomm ich aller Not,
die mich noch auf der Welt gebunden.
Translation
1. Aria
It is enough.
I have taken the Saviour,
the hope of the devout,
into my longing arms;
it is enough!
I have gazed on Him,
my faith has pressed Jesus
to my heart; I would now, even today,
gladly leave this world.

2. Recitative
It is enough.
My hope is this alone:
that Jesus should be mine
and I His.
In faith I cling to Him,
and like Simeon, I already see
the joy of that life beyond.
Let us go with this man!
Ah! If the Lord would only free me
from the bondage of my body;
ah! if only my departure were nigh,
with joy I'd say to you, O world:
It is enough.

3. Aria
Close in sleep, you weary eyes,
fall soft and blissfully to!
World, I shall dwell no longer here,
since I have no share in you?
that might avail my soul.
Here it is misery that I must tend,
but there, there I shall behold
sweet peace, silent repose.

4. Recitative
My God, when wilt Thou
utter fair word: Now!
When shall I journey in peace?
and rest in the soil of cool earth
and there at your bosom too?
My leave is taken, world, good night!

5. Aria
I look forward to my death,
ah, would that it were already here.
Then shall I escape all the affliction
that confined me here on earth.
Credits
Release date

2 May 2014

Recording date

1 February 2014

Location

Geertekerk, Utrecht

Harpsichord and direction

Lars Ulrik Mortensen

Bass

Thomas Bauer

Violin 1

Shunske Sato, Sayuri Yamagata, Anneke van Haaften

Violin 2

Pieter Affourtit, Paulien Kostense, Annelies van der Vegt

Viola

Staas Swierstra, Femke Huizinga

Cello

Lucia Swarts, Richte van der Meer

Double bass

Robert Franenberg

Oboe

Martin Stadler

Positive organ

Siebe Henstra

Concert production

Marco Meijdam, Imke Deters

Producer

Frank van der Weij

Film director

Lucas van Woerkum

Director of photography

Sal Kroonenberg

Camera

Robert Berger, Jorrit Garretsen, Benjamin Sparschuh

Film editor

Lucas van Woerkum & Frank van der Weij

Music recording producer

Leo de Klerk

Gaffer

Roel Ypma

Best boy

Chris Uitenwijk

Production assistant

Zoë de Wilde

Score reader

Jan Van den Bossche

Make up

Marloes Bovenlander, Jamila el Bouch

Trainees camera

Izak de Dreu, Indy Hamid

Music producer's assistant

Mieneke van der Velden

Music recording assistants

Jaap Firet, Gilius Kreiken, Jaap van Stenis

Data handler

Joep Bannenberg

Music edit & mix

Leo de Klerk, Frank van der Weij

Music edit & mix assistant

Martijn Snoeren

Colorist

Geert van Schoot

Acknowledgements

Rob van Stek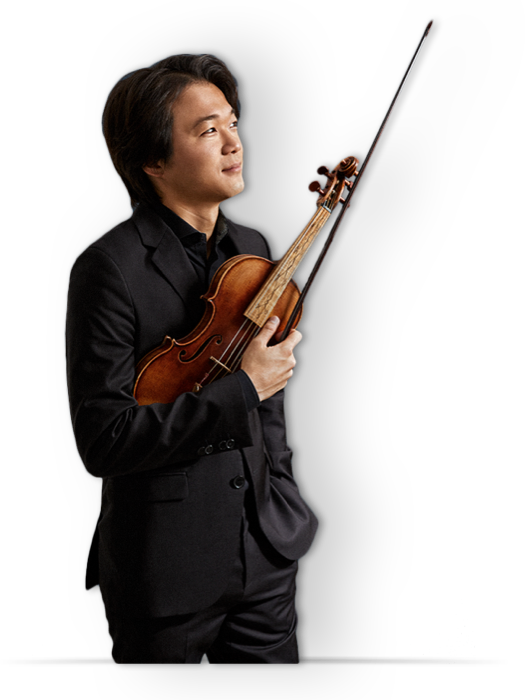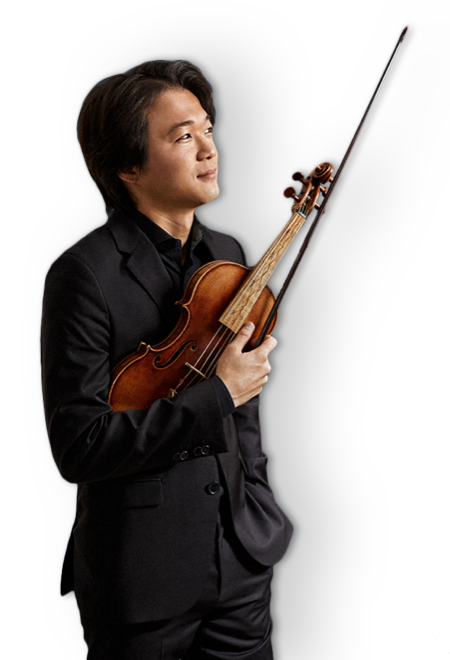 Help us to complete All of Bach
There are still many recordings to be made before the whole of Bach's oeuvre is online. And we can't complete the task without the financial support of our patrons. Please help us to complete the musical heritage of Bach, by supporting us with a donation!