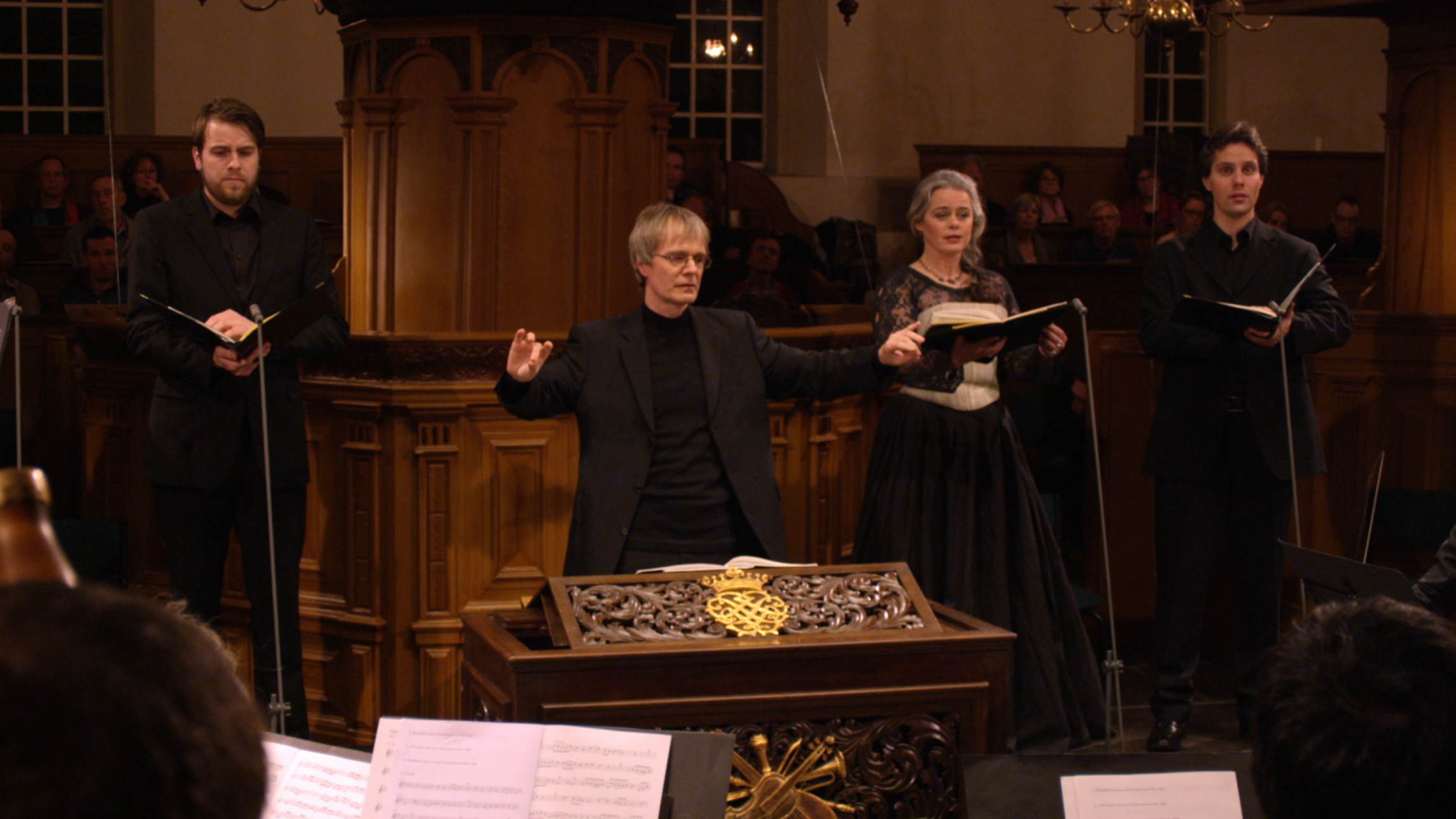 Ich will den Kreuzstab gerne tragen
BWVV 56 performed by the Netherlands Bach Society
conducted by Fabio Bonizzoni
Walloon Church, Amsterdam
Menu
1. Ich will den Kreuzstab (Aria)
2. Mein Wandel auf der Welt (Recitative)
3. Endlich (Aria)
4. Ich stehe fertig und bereit (Recitative)
5. Komm, o Tod (Chorale)
Story
Extra videos
Texts
Credits
Augenmusik
Words can be illustrated by music in many ways. The illustration is usually audible, but sometimes you need to actually see the score as well.
This is one of the few cantatas that Bach actually called a cantata himself, writing 'Cantata a Voce Sola e Stromenti' on the score, even though it is not a real solo cantata, as four singers sing one of Bach's most beautiful chorales at the end. However, the main role is clearly played by the bass. Bach probably wrote the difficult solo part for the law student Johann Christoph Samuel Lipsius, for whom he later composed the cantata Ich habe genung.
The words – by an unknown writer – are very expressive, and compare life's trials to carrying a cross and to sailing on rough seas, which is right up Bach's street. He set the words to fitting music, for which you sometimes need to use your eyes as well as your ears. The first aria, for instance, opens with a rising motif, as if the singer is actually lifting the cross. But there is a catch to it. Exactly on the first syllable of the word 'Kreuzstab', Bach deviates from the initially easy to sing line. Suddenly there is an unexpected C sharp (the German name for the sharp sign translates as 'cross') – which is real 'Augenmusik', especially as Bach also wrote the word 'Kreuzstab' as 'Xstab'.
Bach underlines the image of a ship on rough seas with an undulating cello part, which calms down as the waves subside. This is followed by a cheerful aria – actually a duet between the oboe and the bass – which expresses the certainty that the suffering will come to an end sometime. The lines here are long and virtuoso. Perseverance is necessary before the yoke is removed. Before the simple yet perfect closing chorale, the essence of the first aria returns:
"Then [when in the promised land] into my grave shall I place all my grief, than shall my Saviour wipe the tears from my eyes".
BWV

56

Title

Ich will den Kreuzstab gerne tragen

Instrument

bass

Genre

cantatas

Year

1726

City

Leipzig

Text

unknown

Occasion

nineteenth Sunday after Trinity

First performance

27 October 1726
Extra videos
Vocal texts
Original
1. Arie
Ich will den Kreuzstab gerne tragen,
er kömmt von Gottes lieber Hand,
der führet mich nach meinen Plagen
zu Gott, in das gelobte Land.
Da leg ich den Kummer
auf einmal ins Grab,
da wischt mir die Tränen
mein Heiland selbst ab.

2. Rezitativ
Mein Wandel auf der Welt
ist einer Schiffahrt gleich:
betrübnis, Kreuz und Not
sind Wellen, welche mich bedecken
und auf den Tod
mich täglich schrecken;
mein Anker aber, der mich hält,
ist die Barmherzigkeit,
womit mein Gott mich oft erfreut.
Der rufet so zu mir:
ich bin bei dir,
ich will dich nicht verlassen
noch versäumen!
Und wenn das wütenvolle Schäumen
sein Ende hat,
so tret ich aus dem Schiff in meine Stadt,
die ist das Himmelreich,
wohin ich mit den Frommen
aus vielem Trübsal werde kommen.

3. Arie
Endlich, endlich wird mein Joch
wieder von mir weichen müssen.
Da krieg ich in dem Herren Kraft,
da hab ich Adlers Eigenschaft,
da fahr ich auf von dieser Erden
und laufe sonder matt zu werden.
O gescheh es heute noch!

4. Rezitativ
Ich stehe fertig und bereit,
das Erbe meiner Seligkeit
mit Sehnen und Verlangen
von Jesus Händen zu empfangen.
Wie wohl wird mir geschehn,
wenn ich den Port der Ruhe werde sehn.
Da leg ich den Kummer
auf einmal ins Grab,
da wischt mir die Tränen
mein Heiland selbst ab.

5. Choral
Komm, o Tod, du Schlafes Bruder,
komm und führe mich nur fort;
löse meines Schiffleins Ruder,
bringe mich an sichern Port!
Es mag, wer da will, dich scheuen,
du kannst mich vielmehr erfreuen;
denn durch dich komm ich herein
zu dem schönsten Jesulein.



Translation
1. Aria
Gladly shall I bear the cross;
it comes from God's beloved hand,
and leads me, after my torments,
to God, into the promised land.
Then into my grave
shall I place all my grief,
that shall my Saviour
wipe the tears from my eyes.

2. Recitative
My life on earth
is like a voyage at sea:
sorrow, affliction and distress
engulf me like waves
and daily frighten me
to death;
my anchor, though, which sustains me,
is God's mercy,
with which He often gladdens my heart.
He calls out to me:
I am with you,
I shall never leave you
nor forsake you!
And when at length the raging
foam is calmed,
I shall step from my ship into my own city,
which is the kingdom of Heaven,
where I with all the righteous
shall enter out of so great tribulation.

3. Aria
At last, at last my yoke
shall fall from me again.
Then shall I find strength in the Lord,
then shall I, like an eagle,
rise up from this earth without
ever growing weary.
O may it come to pass today!

4. Recitative
I stand here ready and prepared,
to receive my heritage of bliss
with yearning and desire
from the hands of Jesus.
How happy I shall be,
when I behold the harbour of rest.
Then into my grave
shall I place all my grief,
than shall my Saviour wipe the tears
from my eyes.

5. Chorale
Come, O death, brother of sleep,
come now and lead me away;
loosen now my small bark's rudder,
bring me safely into port.
Let them who wish to, shun you;
you can all the more delight me.
For it is through you that I shall enter,
to be with my sweetest Jesus.



Credits
Release date

1 May 2015

Recording date

17 January 2015

Location

Walloon Church, Amsterdam

Conductor and organ

Fabio Bonizzoni

Bass

Matthias Winckhler

Soprano

Maria Keohane

Alto

Barnabás Hegyi

Tenor

Robert Buckland

Violin 1

Shunske Sato, Pieter Affourtit, Anneke van Haaften

Violin 2

Sayuri Yamagata, Paulien Kostense, Annelies van der Vegt

Viola

Staas Swierstra, Jan Willem Vis

Cello

Lucia Swarts, Richte van der Meer

Double bass

Robert Franenberg

Oboe

Martin Stadler, Peter Frankenberg, Yongcheon Shin

Bassoon

Benny Aghassi

Church organ

Leo van Doeselaar

Concert production

Erik van Lith, Marco Meijdam

Producer

Frank van der Weij

Film director

Joost Honselaar

Director of photography

Simon Aarden

Camera

Simon Aarden, Ruben van den Broeke, Jorrit Garretsen, Benjamin Sparschuh, Indy Hamid

Film editor

Joost Honselaar

Music recording producer

Leo de Klerk

Gaffer

Zen Bloot

Production assistant

Zoë de Wilde

Score reader

Niek Wijns

Make up

Marloes Bovenlander, Jamila el Bouch

Camera assistant

Izak de Dreu

Best boy

Jur Oster

Music recording assistants

Jaap Firet, Jaap van Stenis, Bobby Verbakel

Music edit and mix

Leo de Klerk, Frank van der Weij

Music edit and mix assistant

Nina Kraszewska

Colorist

Jef Grosfeld

Interview

Gijs Besseling, Kasper Koudenburg

Acknowledgements

Nienke Meuleman
Help us to complete All of Bach
There are still many recordings to be made before the whole of Bach's oeuvre is online. And we can't complete the task without the financial support of our patrons. Please help us to complete the musical heritage of Bach, by supporting us with a donation!