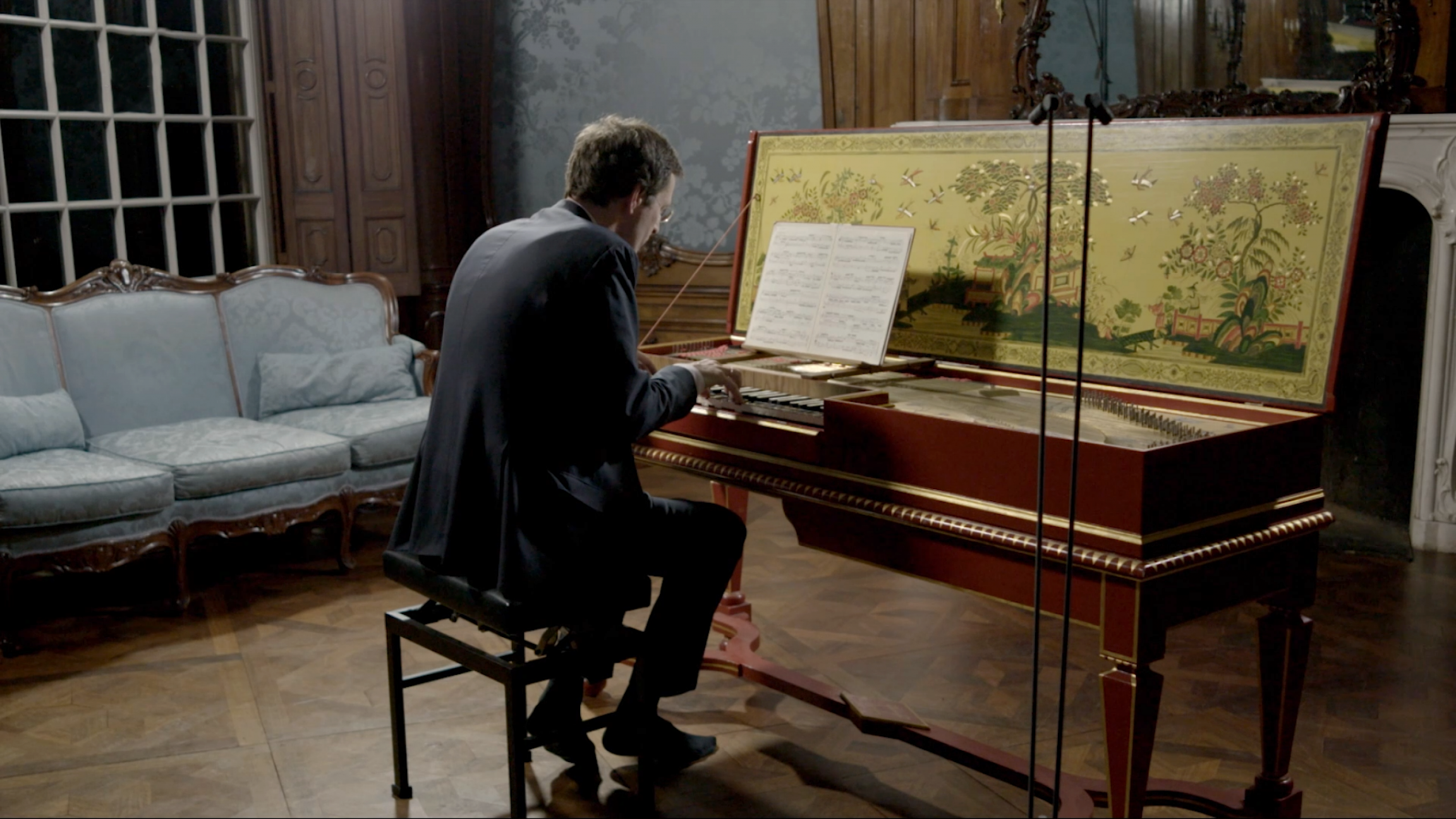 Partita no. 3 in A minor
BWV 827 performed by Menno van Delft
at the Bartolotti House, Amsterdam
Menu
1. Fantasia
2. Allemande
3. Corrente
4. Sarabande
5. Burlesca
6. Scherzo
7. Gigue
Story
Extra videos
Credits
Light-hearted
From the living room out into the world.
In his essay on playing keyboard instruments, Johann Sebastian's son Carl Philipp Emanuel also wrote about the clavichord. The large wing-shaped harpsichord was "usually used for loud music", whereas the clavichord was for "playing alone". One of the characteristics of a good clavichord was that it should allow people "both to press the keys firmly and to stroke them, so as to produce all sorts of forte and piano sounds clearly and distinctly".
The origins of this Partita in A minor lie in "playing alone" in a homely setting, as it is the opening work of the second book of music Bach compiled for his wife Anna Magdalena, in 1725. It is the ideal context for a clavichord. The music itself is also looser in form than usual. Not only does the work begin with a Fantasia, but later on there is an unusual Burlesca (from the Italian bulare: making fun of, mocking), with big leaps for the left hand, which is followed by a Scherzo (from the Italian scherzare: fooling around, joking). So, light-hearted fun for at home.
Later, the Partita in A minor, BWV 827, was published as the third of Bach's set of six partitas (another word for suites). The second and third partita had already been announced in an advertisement in a Leipzig newspaper, in September 1727. Copies could be bought not just from Bach himself, but also from fellow musicians in Dresden, Halle, Lüneburg, Wolfenbüttel, Neurenberg and Augsburg. So it was not just music for his own living room, but also work he wanted to present to the wider world.
Thanks to modern recording technology, the clavichord has gained a new role. Menno van Delft – performing in Huis Bartolotti with no audience – can play as softly as he wants and still reach a wide audience. So although the clavichord may still be mainly for "playing alone", nowadays we can all listen in from our own living rooms.
BWV

827

Title

Partita no. 3 in A minor

Instrument

clavichord

Genre

harpsichord works

Serie

Notenbüchlein für Anna Magdalena Bach, Clavier-Übung I, II, IV, Six keyboard partitas

Year

1725-1731 (but earlier, as it is in Notenbüchlein)

City

Leipzig
With support from
Stichting Elise Mathilde Fonds
Extra videos
Credits
Release date

7 October 2021

Recording date

12 May 2018

Location

Bartolotti House, Amsterdam

Harpsichordist

Menno van Delft

Director, camera and lights

Gijs Besseling

Music recording

Guido Tichelman, Bastiaan Kuijt

Music edit and mix

Guido Tichelman

Camera, lights

Nina Badoux

Camera and lighting assistant

Eline Eestermans

Interview

Onno van Ameijde, Marloes Biermans

Producer

Jessie Verbrugh

With support from

Stichting Elise Mathilde Fonds
Help us to complete All of Bach
There are still many recordings to be made before the whole of Bach's oeuvre is online. And we can't complete the task without the financial support of our patrons. Please help us to complete the musical heritage of Bach, by supporting us with a donation!