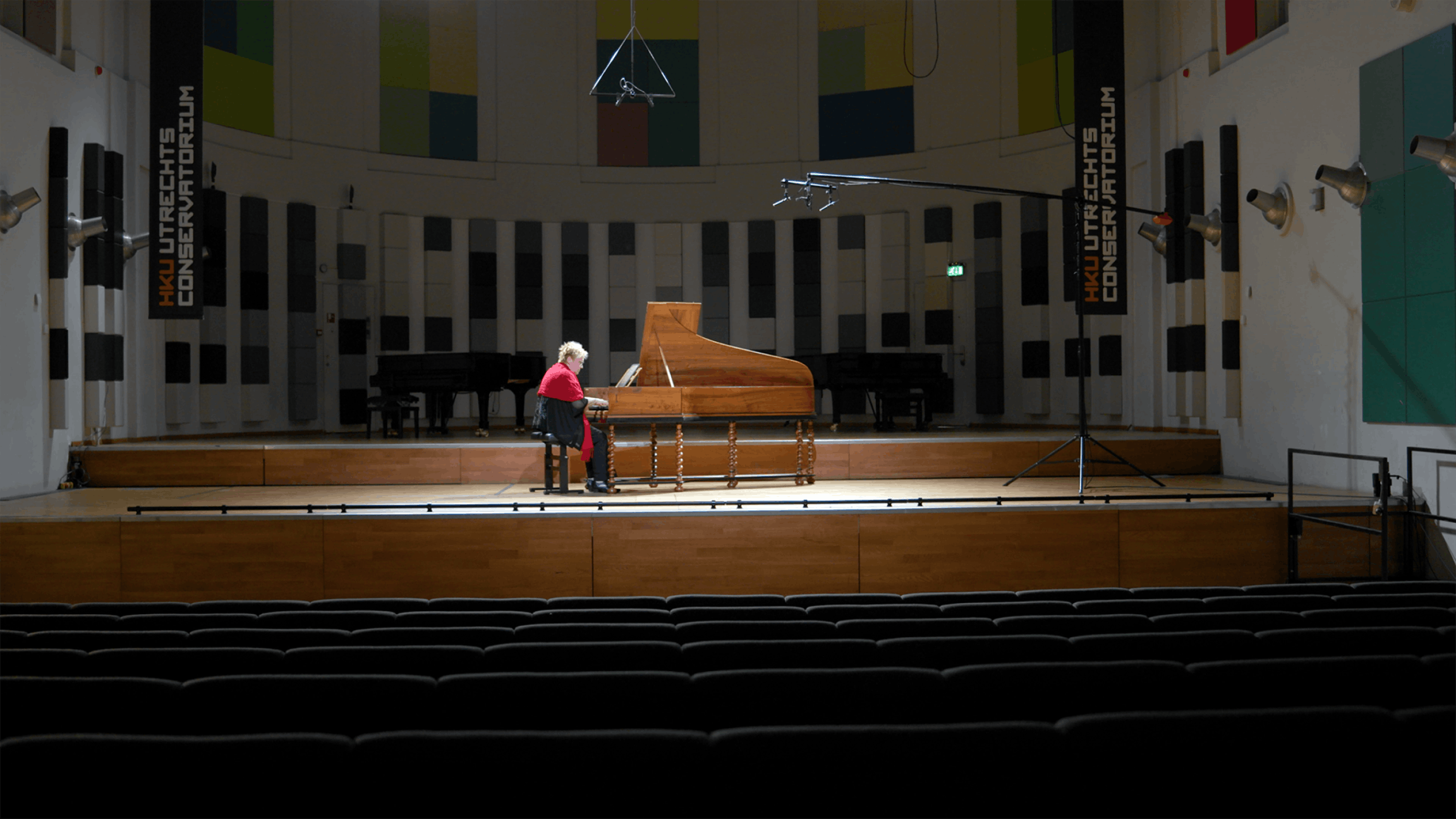 The Well-Tempered Clavier II no. 18 in G-sharp minor
BWV 887 performed by Christine Schornsheim
at HKU Utrechts Conservatorium, Utrecht
Story
Extra videos
Credits
Bachian thoroughness
Tricky key is more than worthwhile.
Let's be honest – G-sharp minor is annoying. The five sharps of the key continually tie your fingers in knots. This prelude therefore belongs irrevocably in the domain of advanced musicians, whereas if it had been written in G minor, for example, it could clearly have been a hit with the masses. Because although Bach's ideas are actually quite obvious – simple leaps in the left hand and elegant little sighs in the right – he succeeds in creating maximum effect. Nothing is lost, and each fragment leads its own life. The keyword is 'contrast', which Bach emphasises here (and nowhere else in the Wohltemperirte Clavier) through his only notation of the dynamic indicators piano and forte. This points to a work for a harpsichord with two manuals, which can also be put to use in the fugue.
On first hearing, this fugue sounds almost too simple. Each of the two themes has its own full exposition. First there is a gigue motif, which calmly hurtles along in the same rhythm. Then just before the halfway mark comes a second theme that descends just as calmly in semitones and then returns to the starting note. Not terribly exciting, but that isn't Bach's plan here. He wrote his themes and counterthemes in a way that they all fit together neatly – not immediately evident to the listener, but the fugue is full of re-introductions where the parts are shuffled around. Moreover, Bach planned the theme entrances in such a way that they are mirrored throughout the whole fugue. First, the parts gradually take over the whole keyboard, until by way of a climax the highest entrance is directly followed by the lowest. On the return journey, when both themes are heard together in brotherly fashion, this movement is literally inverted: first low, then high, followed by a surprising entrance in major, and finally two entrances on the fundamental.
In the midst of this subtle web of notes, Bach then places a striking motif of a descending fifth, which points the way to the next entrance like a flashing neon arrow. Does this create a spectacular effect? Hardly, but it does show Bach at his most architectural and most contrapuntal. It's old-school Baroque, and nobody should forget who its master was!
WTC II
We recorded Bach's first book of Preludes and Fugues in all the keys at the homes of 24 different musicians. For this second part, performed in its entirety by Christine Schornsheim, we chose 12 very different locations in Utrecht, to celebrate the 900th anniversary of our home city.
Das Wohltemperirte Clavier, BWV 846-893
Composing 48 keyboard pieces in all 24 keys was the sort of challenge Bach enjoyed. In each of the two parts of the Wohltemperirte Clavier, he brought together the musical couple prelude and fugue 24 times; twelve in minor keys and twelve in major. In the preludes, he gave free rein to his imagination, and demonstrated mathematical tours de force in the fugues. In contrast to the iron discipline Bach had to apply to his church compositions, here he could abandon himself to intellectual Spielerei without worrying about deadlines.
The first part of the Wohltemperirte Clavier dates from 1722, although it contains some music that was written in the preceding five years. There is less clarity about the history of part two. Bach compiled this second manuscript only around 1740, although once again some of the preludes and fugues it contains date from a much earlier period. Bach described the target group for this collection of pieces as follows: 'Zum Nutzen und Gebrauch der Lehr-begierigen Musicalischen Jugend, als auch dere in diesem studio schon habil seyenden besonderem ZeitVertreib' (For both the education of the industrious musical youngster and the enjoyment of those well-versed in this material').
BWV

887

Title

Prelude and fugue in G-flat minor

Epithet

no. 18 from the Well-Tempered Clavier II

Instrument

Harpsichord

Genre

harpsichord works

Serie

Das Wohltemperirte Clavier II

Year

1741

City

Leipzig
Extra videos
Credits
Release date

20 April 2023

Recording date

11 September 2022

Location

HKU Utrechts Conservatorium, Utrecht

Harpsichordist

Christine Schornsheim

Harpsichord

Bruce Kennedy, 1989 after Michael Mietke

Director, camera and lights

Gijs Besseling

Music recording

Guido Tichelman, Pim van der Lee

Music edit and mix

Guido Tichelman

Camera, lights

David Koster

Data handling

Marieke de Blaay

Producer

Marieke de Blaay
Help us to complete All of Bach
There are still many recordings to be made before the whole of Bach's oeuvre is online. And we can't complete the task without the financial support of our patrons. Please help us to complete the musical heritage of Bach, by supporting us with a donation!