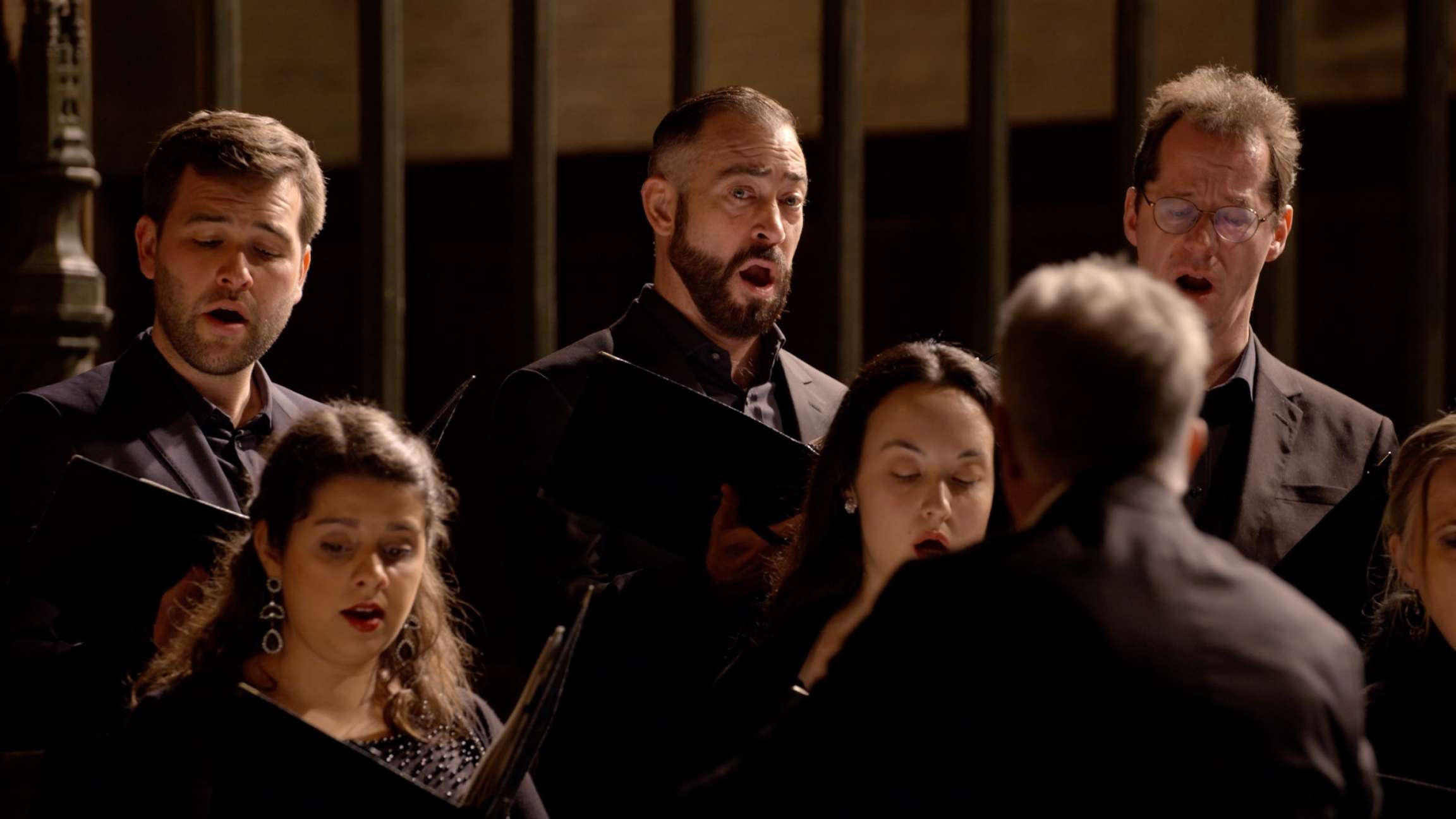 Ich bin ja, Herr, in deiner Macht
BWV 345 performed by the Netherlands Bach Society
conducted by Christoph Prégardien
Grote Kerk, Alkmaar
Plenty of movement in upper part
Bach may also have written the chorale melody himself.
After Bach's death, his four-part chorale settings remained the best known. As early as the 1760's, two sets of a hundred four-part chorales each were printed, with the inscription "collected by Carl Philipp Emanuel Bach". But in fact Carl Philipp had nothing to do with this publication. In a letter sent to a Hamburg newspaper, he even criticised the edition for its errors and incorrect attributions. Between 1784 and 1787, he was involved in a more reliable edition of his father's chorale settings for the music publisher Breitkopf. The four Breitkopf collections contain no fewer than 348 different harmonisations of chorale melodies without text. These settings are notated on two staves, like a keyboard score. So they formed an inexhaustible series of examples of how to endlessly harmonise creative chorale melodies (giving them a four-part accompaniment).
The chorale Ich bin ja, Herr, in deiner Macht is found in part three of the edition. There is plenty of movement in the upper part. So the soprano part does not sound like a typical chorale melody, which are usually a bit older. This melody dates from 1735. The only source is a manuscript from Bach's circle – and it is possible that Bach wrote it himself. Whether he had Simon Dach's text Ich bin ja, Herr, in deiner Macht in mind for it is not certain. Although the text does fit the upper part well, it is not such a good match for the lower parts. Moreover, in Bach's day this text was usually sung to a melody by Heinrich Albert from 1648. Bach also made his own four-part harmonisation of this better-known melody (BWV 464).
BWV

345

Title

Ich bin ja, Herr, in deiner Macht

Genre

chorales

Year

unknown

Lyricist

Simon Dach
Vocal texts
Original
Ich bin ja, Herr, in deiner Macht
Du hast mich an das Licht gebracht
Und du erhältst mir auch das Leben,
Du kennest meiner Monden Zahl,
Weisst wann ich diesem Jammerthal
Auch wieder gute Nacht soll geben.
Wo, wie und wann ich sterben soll,
Das weisst du, Vater, mehr als wohl.
Translation
O Lord, you hold me in your might
It's you who gave me life and light
And you who gives me all my living.
You know the number of my years
You know when to this vale of tears
My last goodnight I'm giving.
When I shall die, and where and how
You know, my Father, here and now.

translation © Ruth van Baak Griffioen, 2019
Credits
Release date

23 January 2020

Recording date

28 February 2019

Location

Grote Kerk, Alkmaar

Conductor

Christoph Prégardien

Soprano

Lucia Caihuela, Maria Valdmaa, Klaartje van Veldhoven, Lauren Armishaw, Orlanda Velez Isidro, Marjon Strijk

Alto

Marine Fribourg, Elsbeth Gerritsen, Eimi Witmer, Inga Schneider, Bart Uvyn, Laura Lopes

Tenor

Guy Cutting, Immo Schröder, David Lee, Adriaan de Koster, Yves Van Handenhove, Diederik Rooker

Bass

Drew Santini, Matthew Baker, Martijn de Graaf Bierbrauwer, Donald Bentvelsen, Michiel Meijer, Joep van Geffen

Organ

Siebe Henstra

Director and editor

Bas Wielenga

Music recording

Guido Tichelman, Bastiaan Kuijt, Pim van der Lee

Music edit and mix

Guido Tichelman

Camera

Martin Struijf, Jesper Blok, Wesley Schipper

Lights

Zen Bloot, Patrick Galvin, Fiona Verkleij, Henry Rodgers

Assistant director

Stefan Ebels

Video engineer

Justin Mutsaers

Project manager team

Ron Vermeulen

Producer concert

Imke Deters, Marco Meijdam

Producer film

Jessie Verbrugh
Help us to complete All of Bach
There are still many recordings to be made before the whole of Bach's oeuvre is online. And we can't complete the task without the financial support of our patrons. Please help us to complete the musical heritage of Bach, by supporting us with a donation!