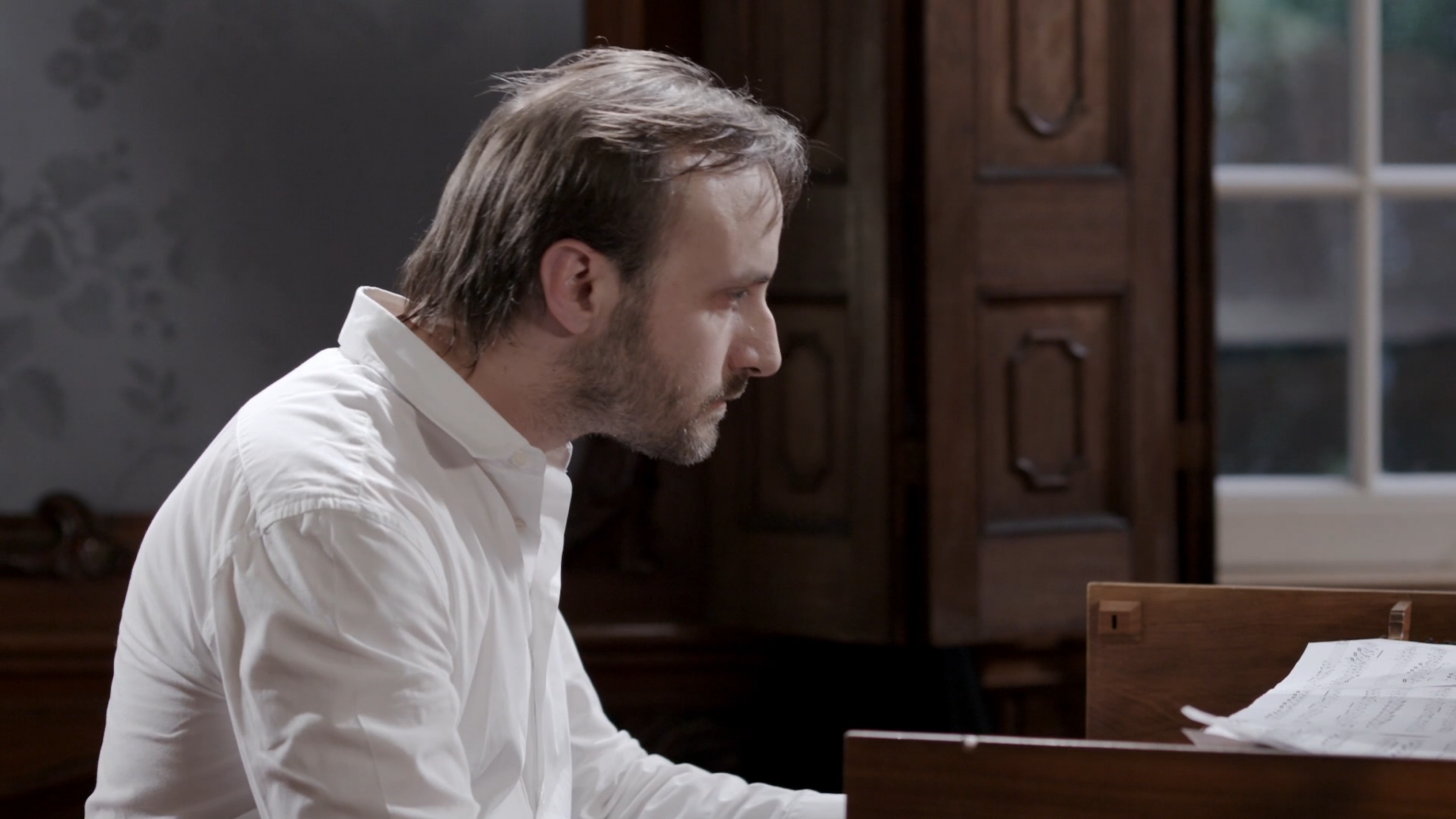 Toccata in D major
BWV 912 performed by Bertrand Cuiller
at the Bartolotti House, Amsterdam
Menu
1. Presto
2. Allegro
2. Adagio
4. Fugue
Story
Extra videos
Credits
Extremely electric
Bach experiments with the Italian keyboard tradition
This Toccata in D major is the most popular of Bach's seven toccatas. Bertrand Cuiller, too, has played it very often in the past. "The piece is very theatrical", he says. "It is extremely 'electric'". The powerful opening, which feels very improvised, is followed by a more well-thought-out section, in which various themes enter into dialogue. An expressive recitative forms the transition to an adagio in the unusual key of F-sharp minor. The adagio is conceived as a fugue, but according to Cuiller it is also a bit like a lamento.
Bach builds the dramatic tension up again in a second recitative and eventually lets rip with 'fireworks'. The toccata closes with a wild dance that is strongly reminiscent of a gigue. Based on a fairly simple idea, Bach uses every possible key in rapid tempo. This sort of piece really shows the tempestuous side of Bach, thinks Cuiller. "It was not only in his mind".
In such works from his youth, Bach transgresses every harmonic limit imaginable. As there is no surviving manuscript by Bach, editions must be based on later sources, and we know that Bach's music was 'cleaned up' by some publishers. Partwriting and chromaticism that did not comply with the 'rules' (which Bach himself did not follow) were regularly corrected – also among versions of this Toccata. Who knows what gems of inventiveness lie in wait somewhere in a faraway archive?
Seven toccatas, BWV 910-916
The seven toccatas by Bach can be regarded as a conclusion to his early period as a keyboard composer. He did not conceive of them as a collection himself; that only happened after his death. Yet they do show a clear relationship, with regard to both form and style. They are extensive works with multiple sections. But unlike the later suites and partitas, the sections flow more or less seamlessly into one another. Here, Bach still has one foot firmly in the seventeenth century.
BWV

912

Title

Toccata in D major

Instrument

harpsichord

Genre

harpsichord works

Serie

Seven Toccatas (clavier)

Year

1705-1708

City

Weimar?

Special notes

BWV 912a is an early version, probably intended for organ
Extra videos
Credits
Release date

13 April 2018

Recording date

27 May 2017

Location

Bartolotti House

Harpsichordist

Bertrand Cuiller

Harpsichord

Bruce Kennedy, 1989 after Michael Mietke

Director, camera en editor

Gijs Besseling

Music recording

Guido Tichelman, Pim van der Lee

Music edit and mix

Guido Tichelman

Camera and lights

Danny Noordanus

Data handling

Eline Eestermans

Interview

Jan Van den Bossche

Producer concert

Marco Meijdam

Producer film

Jessie Verbrugh

Acknowledgement

Vereniging Hendrick de Keyser
Help us to complete All of Bach
There are still many recordings to be made before the whole of Bach's oeuvre is online. And we can't complete the task without the financial support of our patrons. Please help us to complete the musical heritage of Bach, by supporting us with a donation!