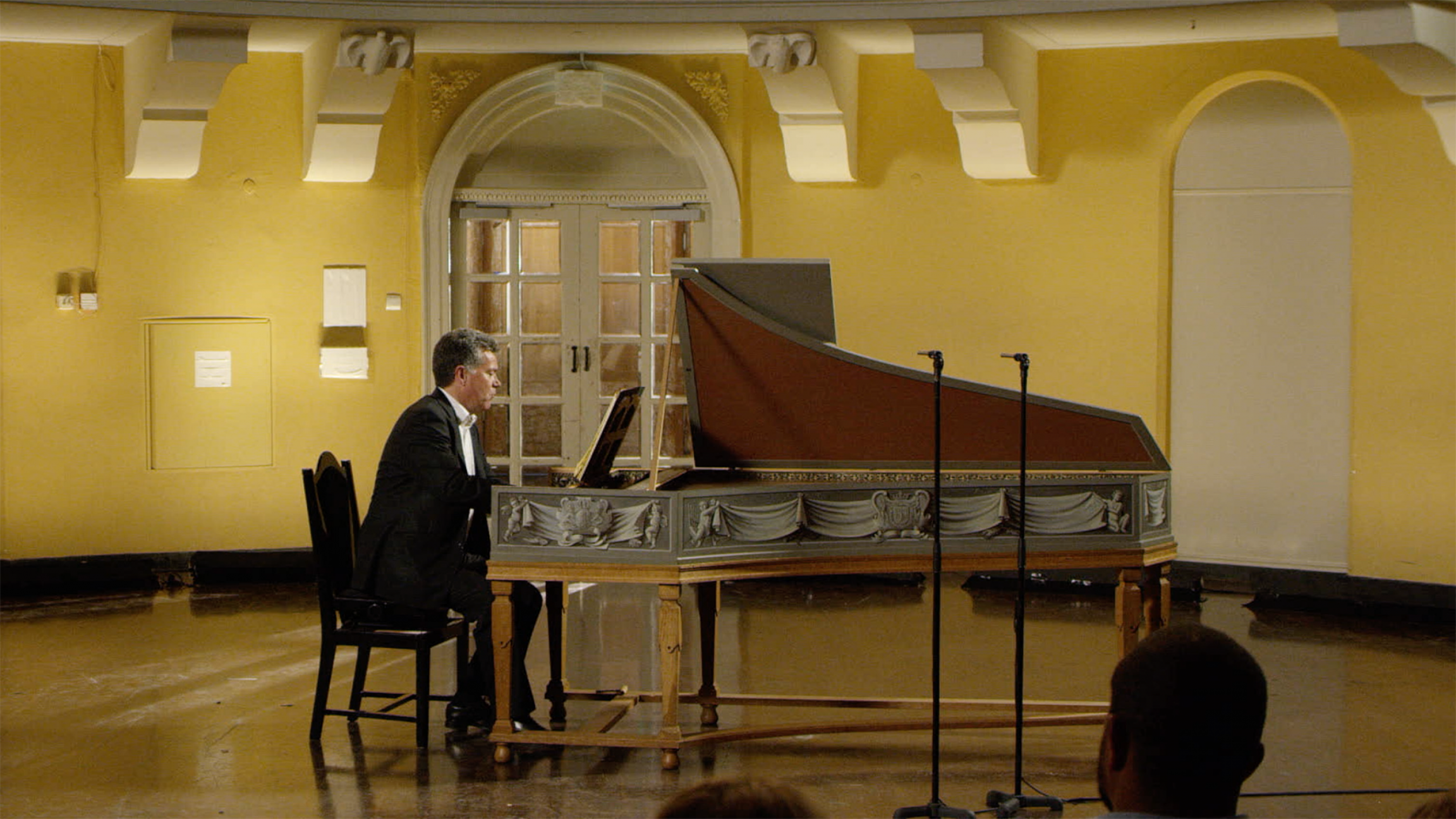 Toccata in D minor
BWV 913 performed by Siebe Henstra
Felix Meritis, Amsterdam
Menu
1. [...]
2. Presto
3. Adagio
4. Allegro
Story
Extra videos
Credits
Capricious and reckless
Buxtehude inspired Bach to seek out the limits of his musical possibilities.
Virtuoso, inventive and moving, but also capricious to the point of recklessness. This is how you could describe this work by Bach, which may be his earliest toccata for harpsichord. Although no autograph has survived, the work must have been composed shortly after Bach's return from a journey to Lübeck. He had heard the famous Buxtehude playing there and was so impressed that he stayed longer than the couple of weeks' leave his employer had given him. So on his return at the beginning of 1706, he got a severe reprimand from the church council in Arnstadt.
Bach had to face a whole tirade of complaints. The many curious variationes in his chorale preludes and strange notes he incorporated in them confused the congregation time and time again. And when he was accused of playing preludes that were too long, he responded defiantly by playing them far too short. All of which led to disgraceful hilarity among the choir pupils in the organ gallery.
When listening to this harpsichord toccata, however, one thing is crystal clear. These reprimands certainly did nothing to diminish Bach's tendency to seek out the limits of his musical possibilities and those of his audiences. On the contrary, he gives free rein to his inspiration for over twelve minutes. An increasingly adventurous prelude gives rise to two ingenious fugues, which he interrupts with a languorous adagio. It must have been around this time that Bach started to realise that he needed to shake off more than just a compositional straitjacket if he wanted to develop further. A year later, he saw his opportunity and successfully applied for the post of organist at Blasiuskirche in Mühlhausen.
Seven toccatas, BWV 910-916
The seven toccatas by Bach can be regarded as a conclusion to his early period as a keyboard composer. He did not conceive of them as a collection himself; that only happened after his death. Yet they do show a clear relationship, with regard to both form and style. They are extensive works with multiple sections. But unlike the later suites and partitas, the sections flow more or less seamlessly into one another. Here, Bach still has one foot firmly in the seventeenth century.
BWV

913

Title

Toccata in D minor

Instrument

Harpsichord

Genre

harpsichord works

Serie

Seven Toccatas (clavier)

Year

1706?

City

Arnstadt

Special notes

There are two versions. The eldest was published in 1801.
Extra videos
Credits
Release date

6 November 2015

Recording date

19 May 2015

Location

Felix Meritis, Amsterdam

Harpsichordist

Siebe Henstra

Harpsichord

Titus Crijnen (1992) after Johannes Ruckers, 1638

Film director and editor

Lucas van Woerkum

Music recording producers

Guido Tichelman, Bastiaan Kuijt

Camera

Robert Berger, Simon Aarden, Maarten van Rossem

Gaffer

Zen Bloot, Patrick Galvin

Camera assistant

Uriel Matahelumual

Concert production

Erik van Lith

Producer

Jessie Verbrugh

Interview

Onno van Ameijde

Acknowledgements

Bach fund of the Netherlands Bach Society, Felix Meritis
Help us to complete All of Bach
There are still many recordings to be made before the whole of Bach's oeuvre is online. And we can't complete the task without the financial support of our patrons. Please help us to complete the musical heritage of Bach, by supporting us with a donation!