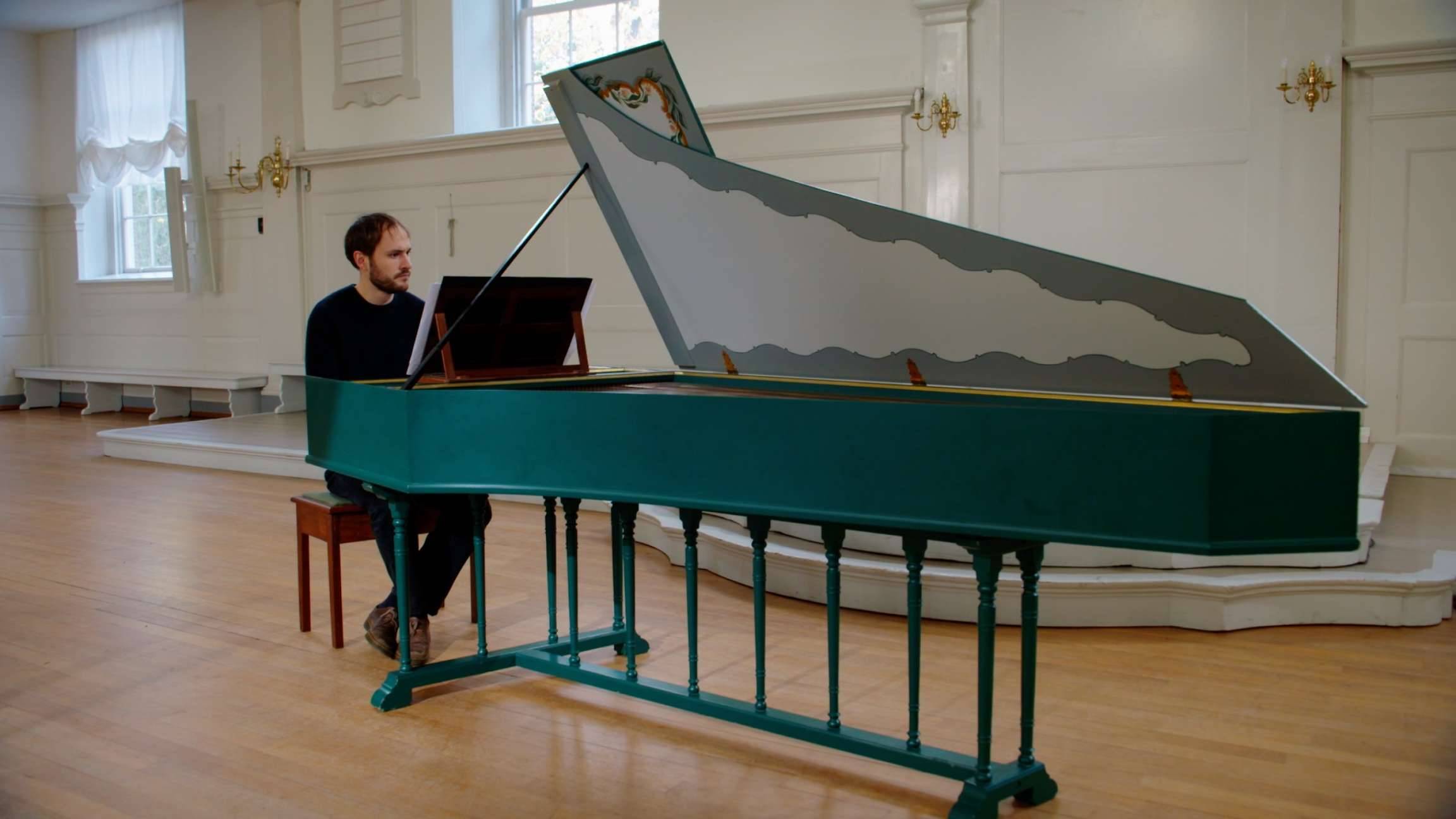 Fantasia and fugue in A minor
BWV 944 performed by Emmanuel Frankenberg
at Broedergemeente, Zeist
Menu
1. Fantasia
2. Fugue
What is actually the proper way?
A keyboard work in which Bach leaves scope for the musician.
As a composer, how much should you set in stone and what should you leave up to the musicians themselves? That is a question raised by this Fantasia and Fugue in A minor (BWV 944). Right from the start in the prelude – in this case a fantasia – only the chords are written out, with the annotation 'arpeggio' [a broken chord]. Here, Bach has set the harmonic progression, but the keyboard player has to make their own choices about the sort of arpeggio, the tempo and other improvisations on the series of chords.
For centuries, keyboard players have been making such choices, as BWV 944 already gained popularity fairly soon after Bach's death. This was partly because the piano teacher Carl Czerny included the fugue in his Kunst des Fingersatzes auf dem Piano-Forte, in 1822. As the title suggests, this publication was exceptional in its day for the fact that Czerny gave the fingering for each piece. Franz Liszt was also familiar with the fugue. In 1843, he had collaborated on part 5 of a Mustersammlung Classischer Praeludien, Fugen, und so weiter, once again "mit genauer Bezeichnung des Fingersatzes". Part 5 included BWV 944, this time with fingering by Liszt himself.
Such editions with fingering started to determine how pianists should place their fingers. And the tempo began to be prescribed as well. Liszt's publication gave a breakneck 'allegro molto' tempo of 152 crotchets per minute for the fugue – nearly twice as fast as this performance by Emmanuel Frankenberg. The influence of such editions persisted for a long time: on YouTube you can hear how the fifteen-year-old Maurizio Pollini plays the fugue almost at Liszt's tempo, in 1957. Nowadays, music editions often dispense with giving such instructions, as we do not need to set down in hindsight what Bach did not prescribe himself at the time.
BWV

944

Title

Fantasia and fugue in A minor

Instrument

harpsichord

Genre

harpsichord works

Year

circa 1713

City

Weimar
Credits
Release date

9 November 2023

Recording date

7 December 2021

Location

Broedergemeente, Zeist

Harpsichord

Emmanuel Frankenberg

Instrument

Nico van der Waals, 1977 after J.D. Dulcken

Director and camera

Bas Wielenga

Music recording

Guido Tichelman

Music recording, edit and mix

Pim van der Lee

Camera

Onno van Ameijde

Lights

Ernst-Jan Thieme

Lighting assistant

Patrick Galvin

Assistant music recording

Marloes Biermans

Producer

Stefan Ebels, Marco Meijdam
Help us to complete All of Bach
There are still many recordings to be made before the whole of Bach's oeuvre is online. And we can't complete the task without the financial support of our patrons. Please help us to complete the musical heritage of Bach, by supporting us with a donation!