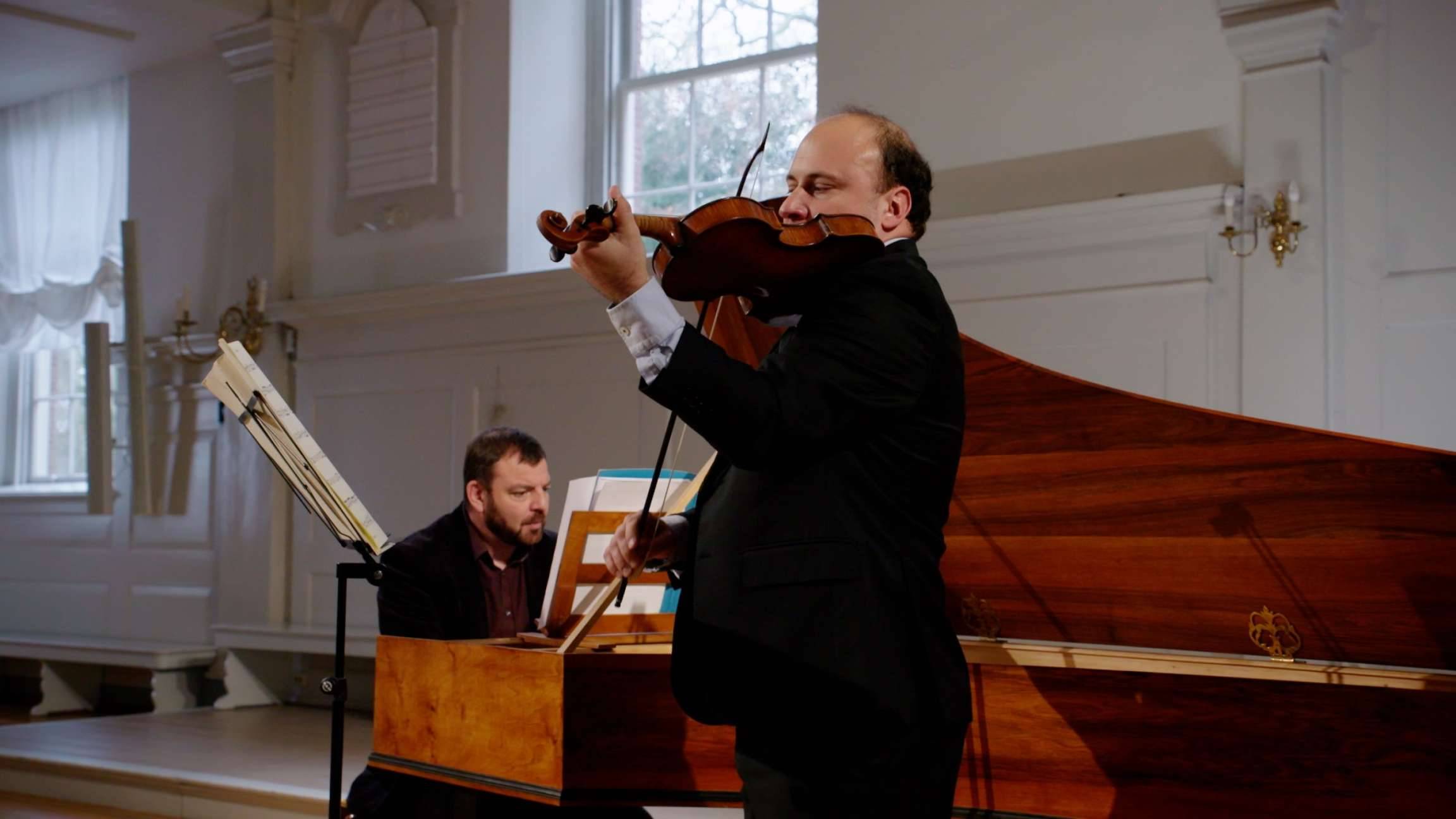 Sonata for violin and harpsichord no. 2 in A major
BWV 1015 performed by Bojan Cicic and Steven Devine
Broedergemeente, Zeist
Menu
1. [Andante]
2. Allegro
3. Andante un poco
4. Allegro
Not a cloud in the sky
Bach played harpsichord himself for this cheering sonata
Bach wrote this second of six sonatas for violin and harpsichord in Köthen, where he was Kapellmeister between 1717 and 1723. He was chiefly responsible for the chamber music there, so most of Bach's chamber music dates from his period in Köthen. At the court of Prince Leopold of Anhalt-Köthen, Bach had the privilege of working with a world-class court chapel. Many of the works he wrote there are exceptionally difficult and are unparalleled in Baroque music.
The six sonatas for violin and keyboard stand out from other Baroque violin sonatas on one point in particular. Usually, the keyboard functions as the basso continuo. But Bach also gives the harpsichord melodies to play, so that it becomes an equal partner of the violin. The reason for this is easy to guess: Bach – undoubtedly the best keyboard player at Leopold's court – was playing the harpsichord part himself. It would have piqued his pride to restrict himself to a simple accompaniment.
Musically speaking, this work is everything that its predecessor is not. BWV 1014 is in the poignant key of B minor and is dominated by a melancholy tone and many expressive dissonants. BWV 1015, on the other hand, is in the radiant A major, a key that says there's not a cloud in the sky, as it were. The first movement is pastoral and dreamy in nature, and the quick movements are airy. Only in the third movement do the skies cloud over briefly. It is written in F-sharp minor – a key that chafes. Here, the melancholy of the previous sonata returns in full – but not for long, as the final movement puts everything to rights again.
BWV

1015

Title

Sonata in A major

Epithet

Sonata for violin and harpsichord no. 2

Instrument

Harpsichord, Violin

Genre

chamber music

Serie

Six sonatas (violin and harpsichord)

Year

1717-1723

City

Köthen
Credits
Release date

22 May 2023

Recording date

6 December 2021

Location

Broedergemeente, Zeist

Violin

Bojan Čičić

Harpsichordist

Steven Devine

Harpsichord

Jan Kalsbeek after Michael Mietke

Director and camera

Bas Wielenga

Camera

Onno van Ameijde

Lights

Ernst-Jan Thieme

Lighting assistant

Patrick Galvin

Music recording

Guido Tichelman

Music recording, edit and mix

Pim van der Lee

Assistant music recording

Marloes Biermans

Producer

Stefan Ebels, Marco Meijdam
Help us to complete All of Bach
There are still many recordings to be made before the whole of Bach's oeuvre is online. And we can't complete the task without the financial support of our patrons. Please help us to complete the musical heritage of Bach, by supporting us with a donation!