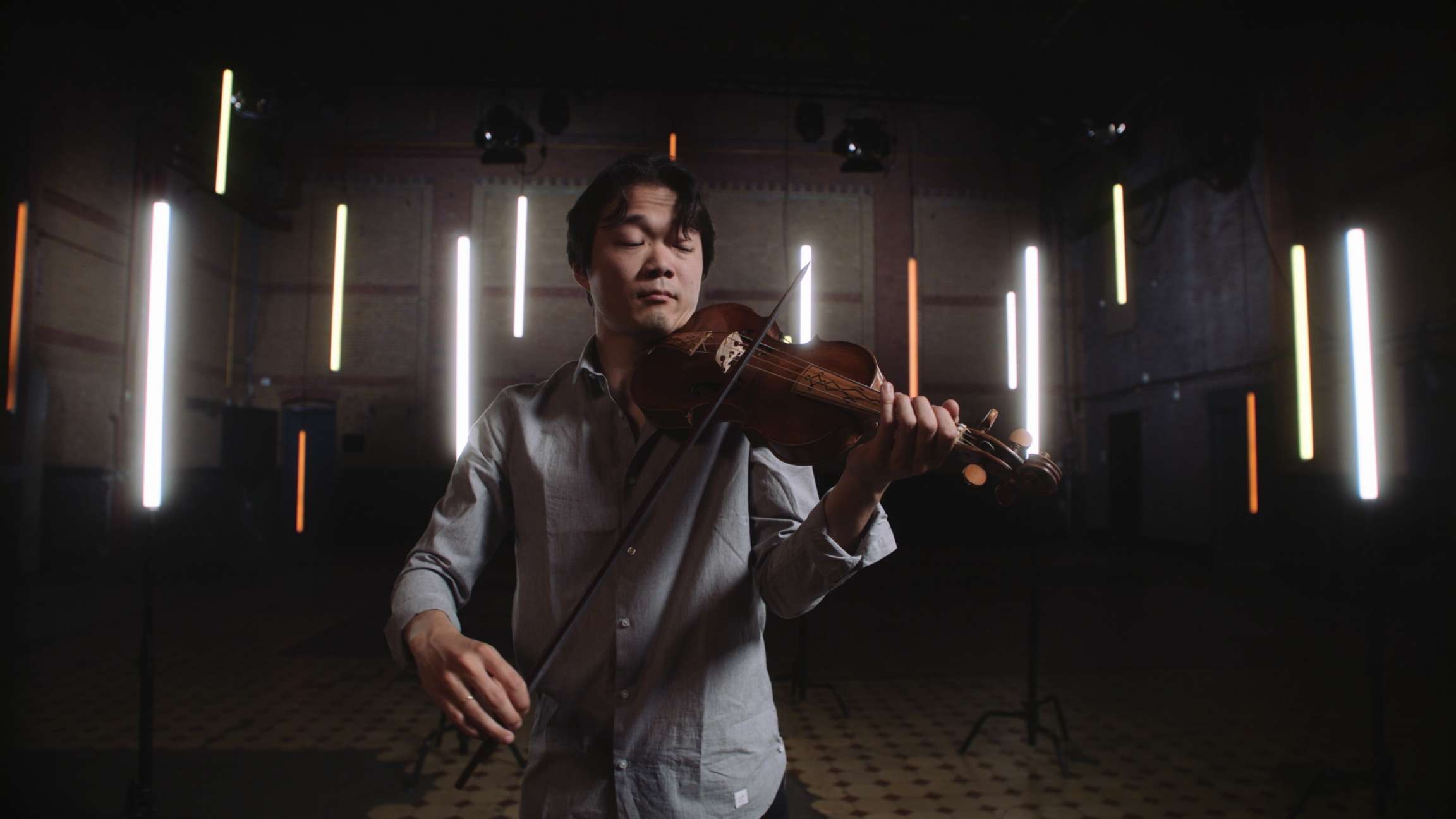 Violin Sonata no. 3 in C major
BWV 1005 performed by Shunske Sato
Lichtfabriek, Haarlem
Menu
1. Adagio
2. Fuga
3. Largo
4. Allegro assai
Story
Extra videos
Credits
Italian inspiration
A fugue full of contrapuntal tricks.
Often, Bach's solo works for violin are placed only in the German tradition, but there are more traces of Italian influence than you might expect. The set of six solos was probably created during Bach's time in Köthen or Weimar, where he was very preoccupied with his Italian contemporaries. For example, his organ and harpsichord arrangements of concertos by Vivaldi (BWV 593 and 596) stem from his period in Weimar.
In this sonata, too, Bach appears to have been looking to Italy for inspiration. The mysterious first Adagio, for instance, seems just like the opening of the Adagio of the oboe concerto by Alessandro Marcello. Both pieces have bar after bar of slow, stacked notes, from which a melody then unfolds. In his time in Weimar, Bach arranged Marcello's Oboe Concerto for harpsichord (BWV 974). Listening to the Adagio from BWV 974 alongside the Adagio from this sonata, there is an unmistakable similarity.
The fugues in the sonatas definitely appear to originate from the German tradition. Yet here too, Bach may have taken more inspiration from Italian music than you might think at first. For example, Bach's fugues certainly display similarities to Arcangelo Corelli's famous Sonatas for violin and basso continuo, opus 5, from 1700. In these sonatas, the violinist starts out alone in various movements, and Corelli suggests a fugue. But what is merely suggested by Corelli is rigorously carried out by Bach: real fugues for a single violinist.
The most impressive result is the monumental Fugue in this Sonata no. 3, which is full of contrapuntal tricks. First, the subject is combined with a chromatically descending line. Then it appears in stretto (statements of the subject that succeed one another 'too rapidly'). And about halfway through the Fugue, the subject is inverted (ascending steps become descending steps, and vice versa). Afterwards, everything is combined. Although not exactly Italian, it has no German equivalent either.
Six sonatas and partitas for solo violin, BWV 1001-1006
At the top of his manuscript of six solo works for violin, Bach wrote 'Sei solo'. But did he mean six solos (which is 'Sei soli' in correct Italian), or did he really mean 'Sei solo'… you are on your own? In the days before spellchecks, spelling was more a question of feeling, especially in another language. It could be that Bach deliberately did not write 'Sei soli' above his six violin solos, choosing rather to warn his soloists before sending them off to perform with just a bow, four strings and a few of his most difficult pieces.
Bach's solo works are in line with the wonderful tradition of Westhoff, Biber, Matteis, Schop and others, although Bach aims not so much for virtuosity, but for interiority, playing a theoretical game with the impossibility of true polyphony on a single melody instrument. Bach understood perfectly well how our brain naturally makes music out of sounds. He was also aware of the importance of his work, calling the autograph manuscript of the sonatas and partitas from 1720 'Book 1'. He may have had the Cello Suites and the now solitary Flute Partita in mind as carefully planned sequels for the future. Polyphony on your own – you can hardly get your head around it.
We recorded these six sonatas in a former power station in Haarlem, which used to supply the city with power and light. This explains its nickname 'Lichtfabriek' (Light Factory). Inspired by this special setting, the director chose to give lighting a prominent role in the performance.
BWV

1005

Title

Violin Sonata no. 3 in C major

Instrument

Violin

Genre

chamber music

Serie

Six partitas and sonatas for violin

Year

ca. 1720

City

Köthen, Weimar
Extra videos
Credits
Release date

21 November 2019

Recording date

22 June 2019

Location

Lichtfabriek, Haarlem

Violinist

Shunske Sato

Violin

Cornelius Kleynman, ca. 1684

Director and editor

Onno van Ameijde

Music recording

Guido Tichelman, Bastiaan Kuijt

Music edit and mix

Guido Tichelman

Camera

Jeroen Simons, Marijn Zurburg

Lights

Zen Bloot

Grip

Jasper Leeman

Data handling

Eline Eestermans

Interview

Onno van Ameijde, Marloes Biermans

Producer

Jessie Verbrugh

Acknowledgement

Frans Wytema, for making the Cornelius Kleynman violin available to Shunske Sato.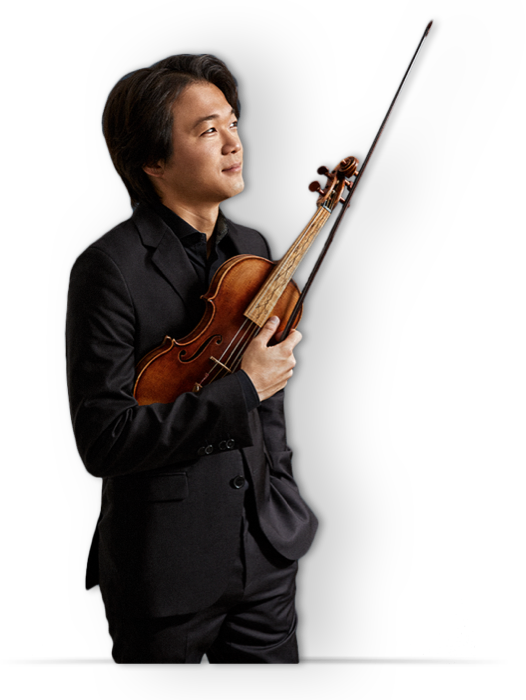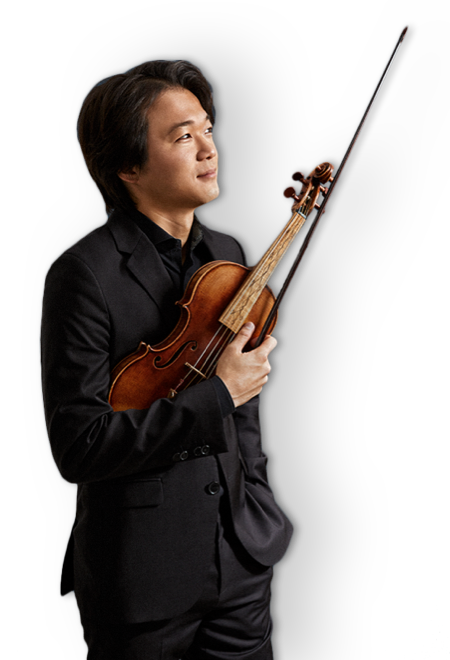 Help us to complete All of Bach
There are still many recordings to be made before the whole of Bach's oeuvre is online. And we can't complete the task without the financial support of our patrons. Please help us to complete the musical heritage of Bach, by supporting us with a donation!