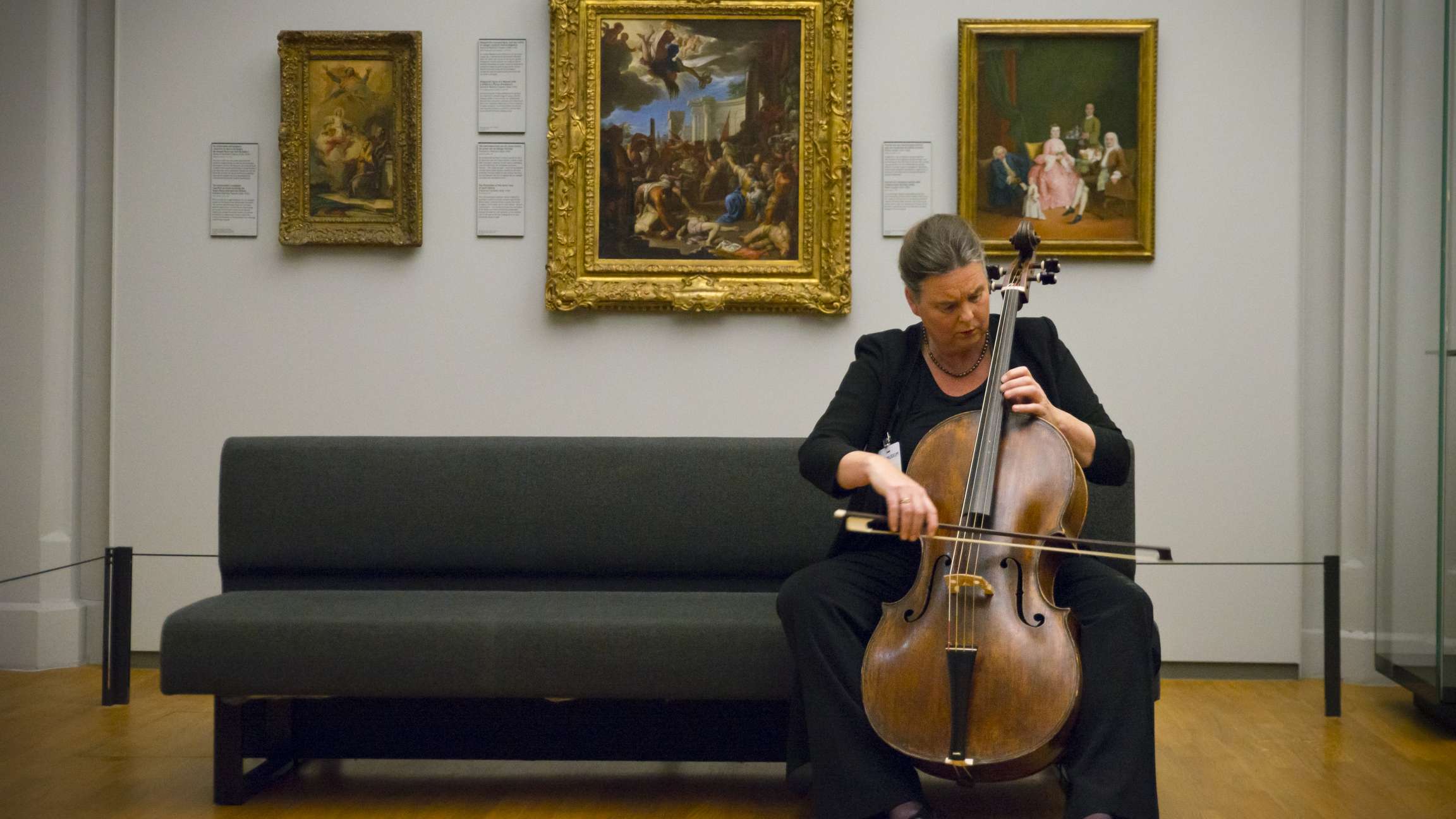 Cello Suite No. 1 in G major
BWV 1007 performed by Lucia Swarts
Rijksmuseum, Amsterdam
Menu
1. Prelude
2. Allemande
3. Courante
4. Sarabande
5. Minuet I & II
6. Gigue
Story
Extra videos
Credits
Apparent inconsistency
The six cello suites have been handed down in a beautiful manuscript by Bach's wife Anna Magdalena, which raises many questions.
Bach's first cello suite became his most famous one. The cellist begins the well-known, comforting prelude in a gentle, radiant G major. The first bars are dominated by the single G, D and A strings, resulting in great resonance. This most friendly of suites is suitable for beginners and amateurs, even though it presents challenges to professionals as well. For instance, do you build up the climax leading to the end of the prelude tempestuously or with an even flow? And how should the bowing be done? The Anna Magdalena Bach manuscript in which these suites have been handed down notates the slurs above and below the notes very freely and with apparent inconsistency. Is this a question of sloppiness, or did the composer actually want the maximum variation in the note groupings?
The pattern of the suite is the one largely followed in the subsequent suites: a free prelude, followed by a fast Allemande and Courante, a contemplative Sarabande, a Minuet that makes an excursion into a minor key, and a speedy closing Gigue.
Six Cello Suites, BWV 1007-1012
The Six Cello Suites by Johann Sebastian Bach are part of the Old Testament of cello literature. Every cellist who looks at the music senses immediately how naturally the notes are arranged around the strings of the instrument. Yet there are many questions and discussions about these 'Suites a Violoncello Solo senza Basso'. Did Bach really write the music for cello, or for cello alone? When did he write this music – at the court of Cöthen or earlier? Even the authorship is called into question sometimes, although claims that Anna Magdalena Bach (who notated the only surviving manuscript) could be the author herself cannot be taken very seriously. The suites take a route from simplicity to increasing virtuosity: from the usually open strings of the first three suites, via the more complex key of E-flat major of the enigmatic Suite no. 4 to the dark Suite no. 5, which requires the cellist to tune the highest string one tone lower. Suite no. 6 is the most unusual, as it requires a five-stringed instrument – probably the viola pomposa, or otherwise the cello piccolo.
BWV

1007

Title

Suite No. 1 in G major

Instrument

Cello

Genre

chamber music

Serie

Six cello suites

Year

between 1717 and 1723

City

Köthen
Extra videos
Cellist Lucia Swarts about her instrument
"Without having seen it, Lucia Swarts bought her cello, a Pieter Rombouts from 1705. She tells about the search for the perfect sound of her 'fat lady'."
Cellist Lucia Swarts on the first cello suite
"It's very temperamental. Very emotional. On the other hand it's very transparent and perhaps courtly."
Credits
Release date

28 November 2014

Recording date

30 June 2014

Location

Rijksmuseum, Amsterdam

Cellist

Lucia Swarts

Cello

Pieter Rombouts, 1710

Producer

Frank van der Weij

Film director

Margien Rogaar

Director of photography

Sal Kroonenberg

Gaffer

Nicholas Burrough

Grip

Antoine Petiet

Music recording producer

Leo de Klerk

Film editor

Michiel Boesveldt

Make up and hair

Trudy Buren

Production assistant

Judith Hulsbosch

Camera assistant

Suzanne Bakker

Best boys

Alban Riphagen, Sam Du Pon

Music edit and mix

Leo de Klerk, Frank van der Weij

Colorist

Rachel Stone

Interviews

Onno van Ameijde

Acknowledgements

Mark Colly, Henk Hermanns, Janina Bleekemolen, Jasper Verkaart, Rijksmuseum