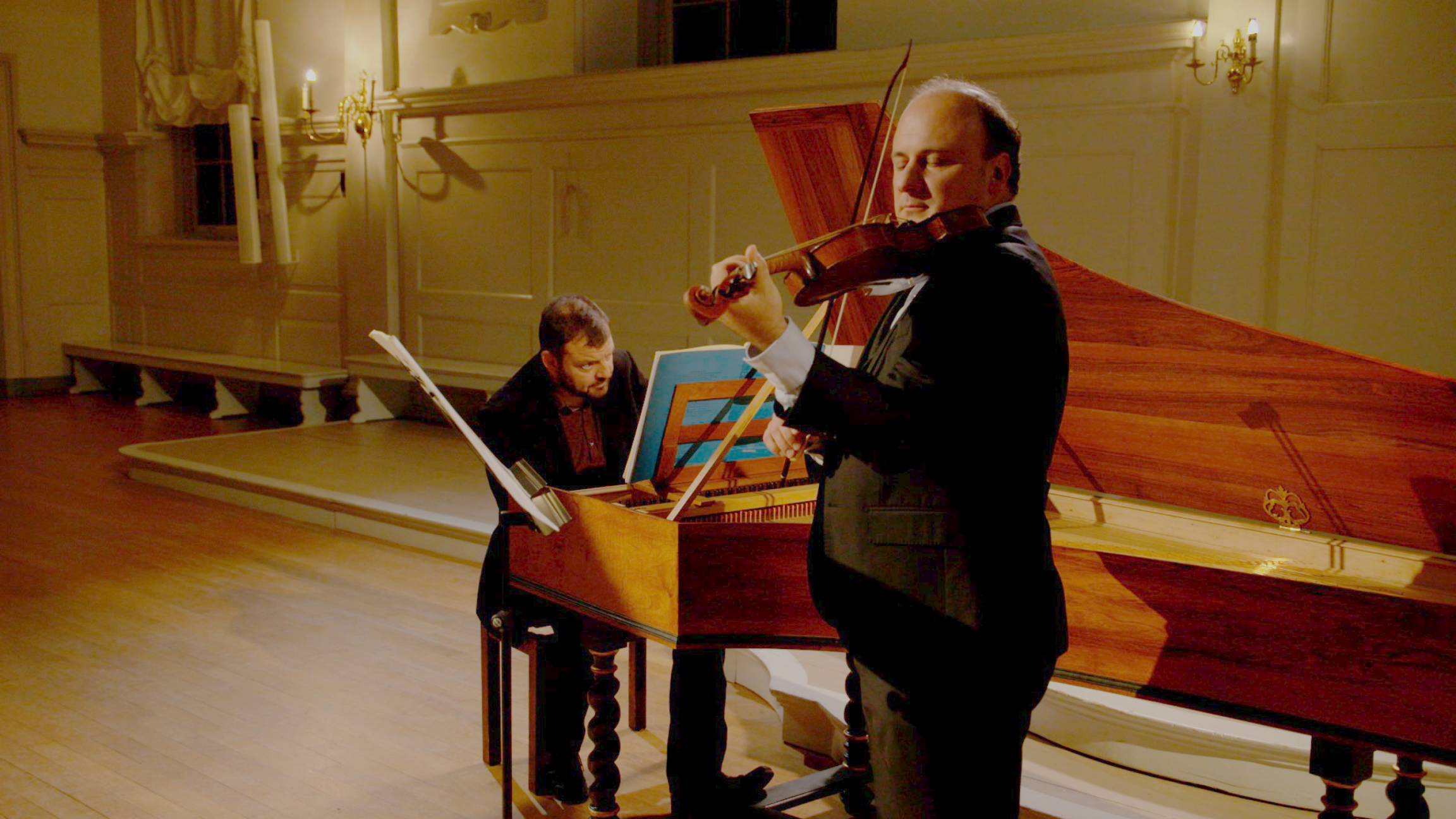 Sonata for violin and harpsichord no. 1 in B minor
BWV 1014 performed by Bojan Cicic and Steven Devine
at Broedergemeente, Zeist
Menu
1. Adagio
2. Allegro
3. Andante
4. Allegro
Bach at his most expressive
"I was stark staring mad to hear Sebastian's sonatas."
This sonata for violin and harpsichord is the first in a set of six that Bach probably wrote during his years in Köthen. The slow opening section (Adagio) immediately shows Bach's ambitions for the whole set. He reveals himself at his most expressive, and there is also room for virtuosity and complexity. For instance, after the melancholic introduction by the harpsichord, the violin enters in a lament with a long motionless note and proceeds to descend in a resigned garland of notes. A little later, the violin even becomes two-part, creating a five-part interaction between the two instruments.

It is precisely this combination of expressiveness, virtuosity and compositional mastery that explains why these sonatas have not fallen into oblivion. It is hard to ignore their musical quality. So it is no wonder that Bach kept the pieces in the repertoire in Leipzig. Later on, the sonatas were praised by Carl Philip Emmanuel, and that was just the beginning. The English music historian Charles Burney was "stark staring mad to hear Sebastian's sonatas" at the start of the nineteenth century, when they were still being played in Germany and France as well.

This first sonata becomes considerably lighter in tone after the Adagio, with a dancy Allegro followed by a pleasant Andante, which is the only movement in a major key. In the closing section, Bach returns to B minor. Here, the violin begins with a note that is repeated five times, which sounds like a reference to the (same) note that started the Adagio – now not as a protracted lament, but chopped up and transformed into the springboard for an animated ending.
BWV

1014

Title

Sonata in B minor

Epithet

Sonata for violin and harpsichord no. 1

Instrument

harpsichord, violin

Genre

chamber music

Serie

Six sonatas (violin and harpsichord)

Year

1717-1723

City

Köthen
Credits
Release date

29 September 2022

Recording date

6 December 2021

Location

Broedergemeente, Zeist

Violin

Bojan Čičić

Harpsichord

Steven Devine

Instrument

Jan Kalsbeek after Michael Mietke

Director and camera

Bas Wielenga

Camera

Onno van Ameijde

Lights

Ernst-Jan Thieme

Lighting assistant

Patrick Galvin

Music recording

Guido Tichelman

Music recording, edit and mix

Pim van der Lee

Assistant music recording

Marloes Biermans

Producer

Stefan Ebels, Marco Meijdam
Help us to complete All of Bach
There are still many recordings to be made before the whole of Bach's oeuvre is online. And we can't complete the task without the financial support of our patrons. Please help us to complete the musical heritage of Bach, by supporting us with a donation!