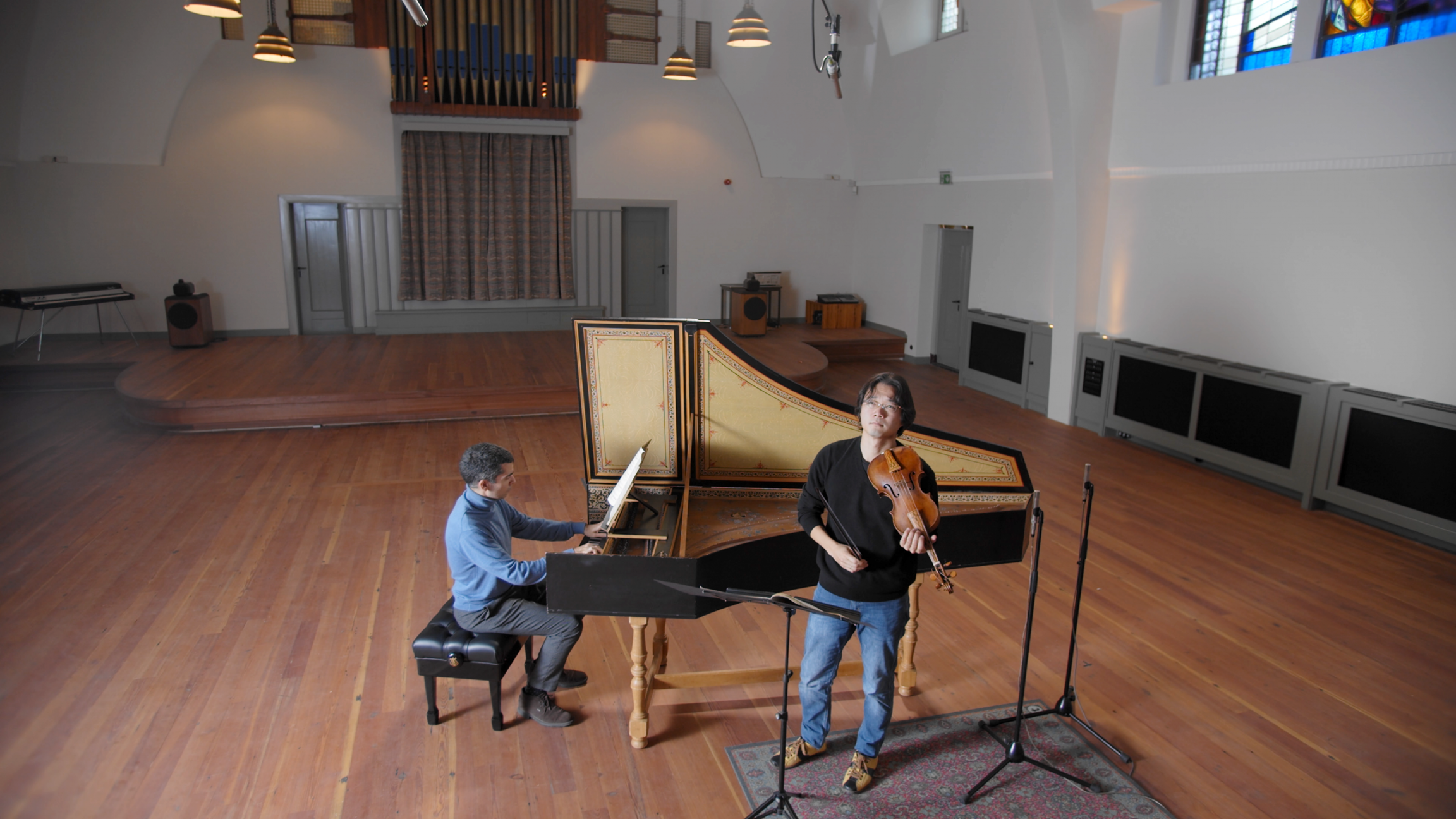 Sonata for violin and harpsichord no. 5 in F minor
BWV 1018 performed by Shunske Sato and Diego Ares
at Studio 150 - Bethlehemchurch, Amsterdam
Menu
1. Largo
2. Allegro
3. Adagio
4. Vivace
Story
Extra videos
Credits
Singable sonatas
Bach looks ahead to Mozart and looks back on Corelli.
In 1774, Carl Philipp Emanuel Bach remarked on his father's sonatas for violin and harpsichord that they were still very enjoyable "despite being more than 50 years old". In his day, it was definitely not taken for granted that music would still be played half a century later. As suggested by Carl Philipp's remark, Bach probably wrote these sonatas in his time in Köthen, around 1717-1723. However, he kept on fine-tuning them his whole life: a clear sign that he, too, thought these works were a success.
Another thing that helped retain the attractiveness of these sonatas was their instrumentation. Instead of the trio sonatas for two violins and basso continuo that were prevalent at the beginning of the eighteenth century (e.g. Corelli), these sonatas were for keyboard instrument and one violin. So they also suited the times of Carl Philipp and later (take Mozart's sonatas for piano and violin, for example). Yet in some movements, the older trio sonata form is still just under the surface. In the second movement of this sonata, you could also imagine the notes of the right hand of the keyboard being played on a second violin.
Carl Philipp wrote that his father's sonatas contained "some adagios that people today would not be able to write more melodiously [sangbarer]". And indeed, it is often the slower movements that move us most directly (both in Carl Philipp's day and nowadays). This sonata is an example of that, as well. The first movement is actually a melancholic aria for violin – and it doesn't get much more 'singable' than that.
BWV

1018

Title

Sonata in F minor

Epithet

Sonata for violin and harpsichord no. 5 in F minor

Instrument

Harpsichord, Violin

Genre

chamber music

Serie

Six sonatas (violin and harpsichord)

Year

1717-1723

City

Köthen
Extra videos
Credits
Release date

9 December 2021

Recording date

4 November 2020

Location

Studio 150 - former Bethlehemchurch, Amsterdam

Violin

Shunske Sato

Harpsichord

Diego Ares

Instrument

Joel Katzman, 1991 after Ruckers, 1638

Director, camera and lights

Gijs Besseling

Music recording

Guido Tichelman, Joeri Saal

Music edit and mix

Guido Tichelman

Camera, lights

Danny Noordanus

Data handling

Stefan Ebels

Assistant music recording

Marloes Biermans

Producer

Jessie Verbrugh

Supported by

Bert Terpstra and Hisako Morioka
Help us to complete All of Bach
There are still many recordings to be made before the whole of Bach's oeuvre is online. And we can't complete the task without the financial support of our patrons. Please help us to complete the musical heritage of Bach, by supporting us with a donation!