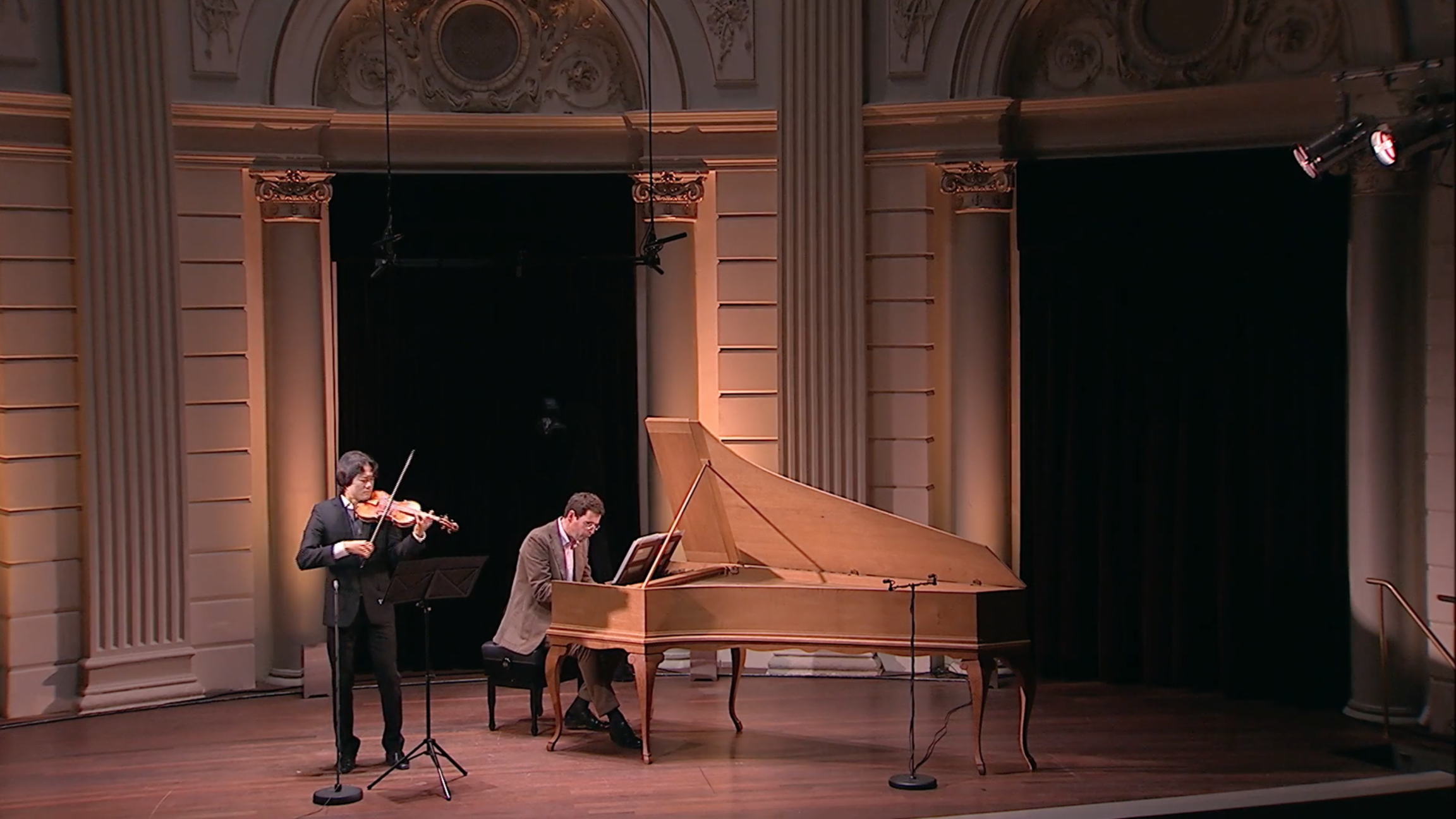 Sonata for violin and harpsichord no. 3 in E major
BWV 1016 performed by Shunske Sato and Menno van Delft
Concertgebouw, Amsterdam
Menu
1. Adagio
2. Allegro
3. Adagio ma non tanto
4. Allegro
Story
Extra videos
Credits
A love duet
Bach fans the flames between harpsichord and violin
"Sie machen mir viel Vergnügen, ohngeacht sie über 50 Jahre alt sind", said Bach's son Carl Philipp Emanuel in 1774. He was sending Bach's six sonatas for violin and harpsichord, BWV 1014-1019, to Johann Nikolaus Forkel, who was writing a biography of father Bach. Carl Philipp Emanuel continued, "es sind einige Adagii darin, die man heut zu Tage nicht sangbarer setzen kann". If any Adagio deserves the label 'melodious', then it is the third movement of the Sonata in E major. Incidentally, Carl Philipp Emanuel referred to Bach's six sonatas as "Clavier trios", as the violin and the right hand of the harpsichord are equal partners, while the left hand plays a separate bass part – so they are real trio sonatas.
Apparently, Bach himself also derived great pleasure from the collection of six, as he kept tinkering with them from his Köthen years (1717-1723) right up to his death, even when he was making chamber music with his Collegium Musicum in Leipzig.
In the slow opening section of the Sonata in E major, the harpsichord still has an accompanying role (although a very beautiful one, full of elegant modulations), but in the Allegro the players are already exchanging thematic material enthusiastically. The deservedly famous Adagio could almost be a classical passacaglia, if it were not for the fact that the violin soon takes on the 'accompanying' chords and leaves plenty of room for the harpsichord. This makes the musical entanglement complete, and the musical partners curve sensually around one another. The exuberant last movement gives a display based on two themes: at the beginning and end a flashy roller coaster of quick runs, and in the middle a more lyrical line of swaying triplets.
BWV

1016

Title

Sonata in E major

Epithet

Sonata for violin and harpsichord no. 3 in E major

Instrument

harpsichord, violin

Genre

chamber music

Serie

Six sonatas (violin and harpsichord)

Year

1717-1723

City

Köthen
Extra videos
Credits
Release date

15 July 2016

Recording date

17 October 2015

Location

Concertgebouw, Amsterdam

Violin

Shunske Sato

Harpsichordist

Menno van Delft

Harpichord

Geert Karman naar J.H. Gräbner, 1774

Film director and editor

Dick Kuijs

Music production, editing and mix

Everett Porter

Camera

Martine Rozema, Caroline Nutbey

Studio assistent

Marijn Kooy

Gaffer

Tim Groot

Interview

Gijs Besseling, Kasper Koudenburg

Producer concert

Imke Deters

Producer film

Jessie Verbrugh
Help us to complete All of Bach
There are still many recordings to be made before the whole of Bach's oeuvre is online. And we can't complete the task without the financial support of our patrons. Please help us to complete the musical heritage of Bach, by supporting us with a donation!