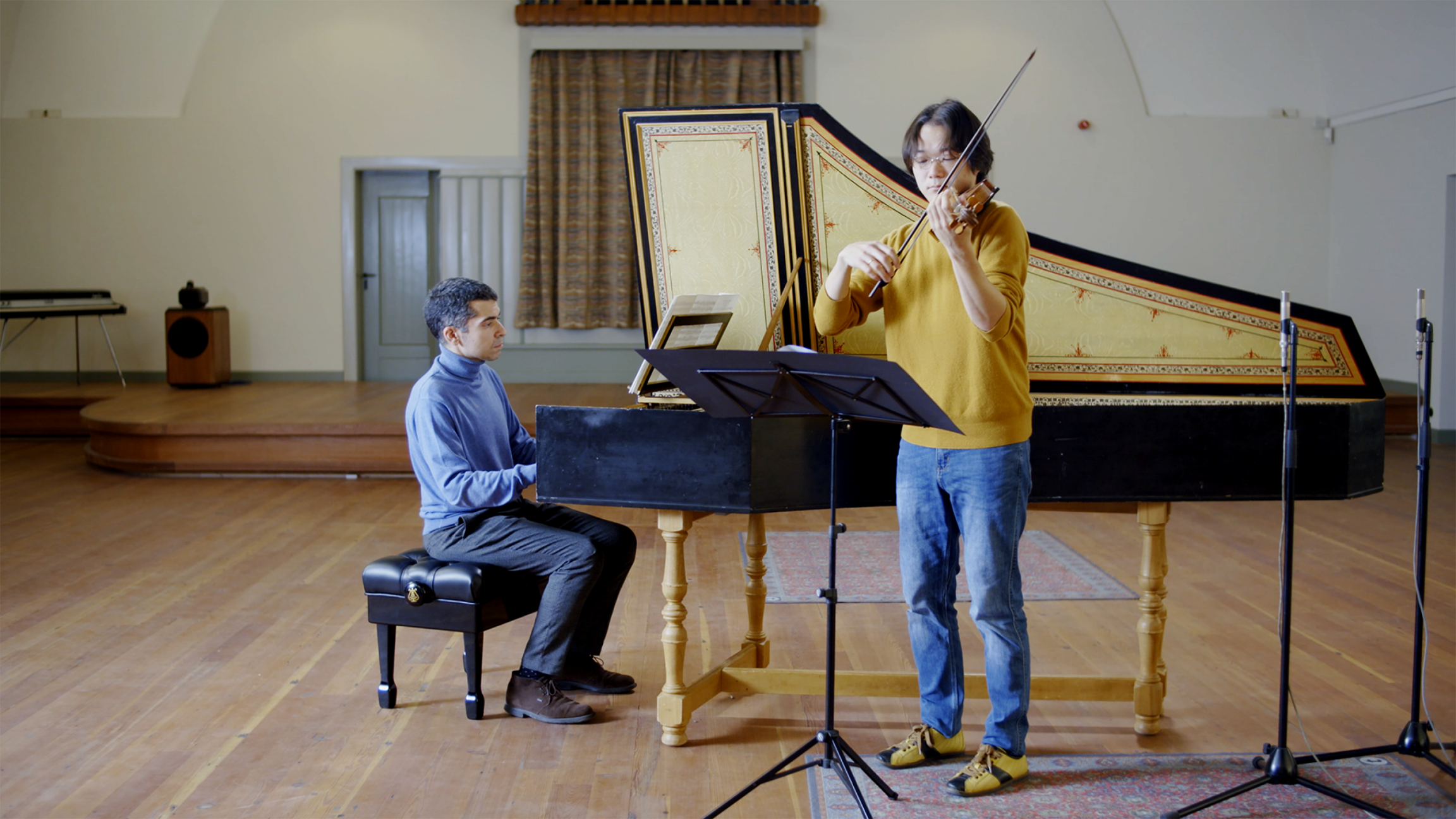 Violin sonata in F major
BWV 1022 performed by Shunske Sato and Diego Ares
at Studio 150 - Bethlehemchurch, Amsterdam
Menu
1. [...]
2. Allegro e presto
3. Adagio
4. Presto
Story
Extra videos
Credits
Exercise or mastery?
An arrangement with a frustratingly vague provenance.
Although we're very grateful that so many of Bach's works have stood the test of time, we still give a deep sigh once in a while. Couldn't all those hands over the centuries have taken a little more care of the material? Or maybe made more meticulous notes about this and that? Then at least we might have had a better idea of where to place this violin sonata.
We'll start by telling what we do know. Around 1732, Johann Sebastian Bach himself wrote the Violin Sonata in G major, BWV 1021, a work that is linked to the brilliant violinist Pisendel, from Dresden. The bass part of this sonata turns up, practically intact, in a trio sonata for flute, violin and continuo, BWV 1038, but with a completely new melody. Despite its impressive catalogue number, some believe that this work is not by Bach (but maybe by one of his sons or another pupil?). Reusing such a 'bass structure' was by no means unusual, as it saved time or was useful as a composition exercise in lessons.
And so, almost drowning in a sea of uncertainty, we come to this Sonata in F major, BWV 1022, in a manuscript dating from around 1800. It is an almost literal reduction (by whom – Carl Philipp Emanuel Bach?) of the Trio Sonata, once again with the original bass – now not 'figured' or in code indicating the harmony, but written out in full – and with the violin part intact. The flute part has moved to the right hand of the harpsichord and gained a profusion of ornaments. There is even a bit of new music, in galant style with the harpsichord in the main role, as the Vivace has been expanded by several bars into a section with repetition. The sonata is a tone lower than the original, as the highest note of the flute was not yet on the keyboard of the harpsichord.
It is interesting to note that just as in BWV 1038, the violin plays in scordatura, with the strings tuned differently to usual. Once again, this is not strictly necessary, as the lowest note in the newly composed bars of the Vivace would also have been playable in normal tuning. Might the author have had a weakness for the slightly softer sound of the retuned violin? Until more sources are discovered, we can only let the music speak for itself.
BWV

1022

Title

Sonata in F major

Instrument

harpsichord, violin

Genre

chamber music

Year

after 1734

Special notes

It is not certain whether Bach wrote this piece. The sonata has the same bass line as BWV 1021 and BWV 1038.
In honor of
the 80th birthday of Sibylle Pretzer
Extra videos
Credits
Release date

19 August 2021

Recording date

4 November 2020

Location

Studio 150 - former Bethlehemchurch, Amsterdam

Violin

Shunske Sato

Harpsichord

Diego Ares

Instrument

Joel Katzman, 1991 after Ruckers, 1638

Director, camera and lights

Gijs Besseling

Music recording

Guido Tichelman, Joeri Saal

Music edit and mix

Guido Tichelman

Camera, lights

Danny Noordanus

Data handling

Stefan Ebels

Assistant music recording

Marloes Biermans

Producer

Jessie Verbrugh

In honor of

the 80th birthday of Sibylle Pretzer
Help us to complete All of Bach
There are still many recordings to be made before the whole of Bach's oeuvre is online. And we can't complete the task without the financial support of our patrons. Please help us to complete the musical heritage of Bach, by supporting us with a donation!