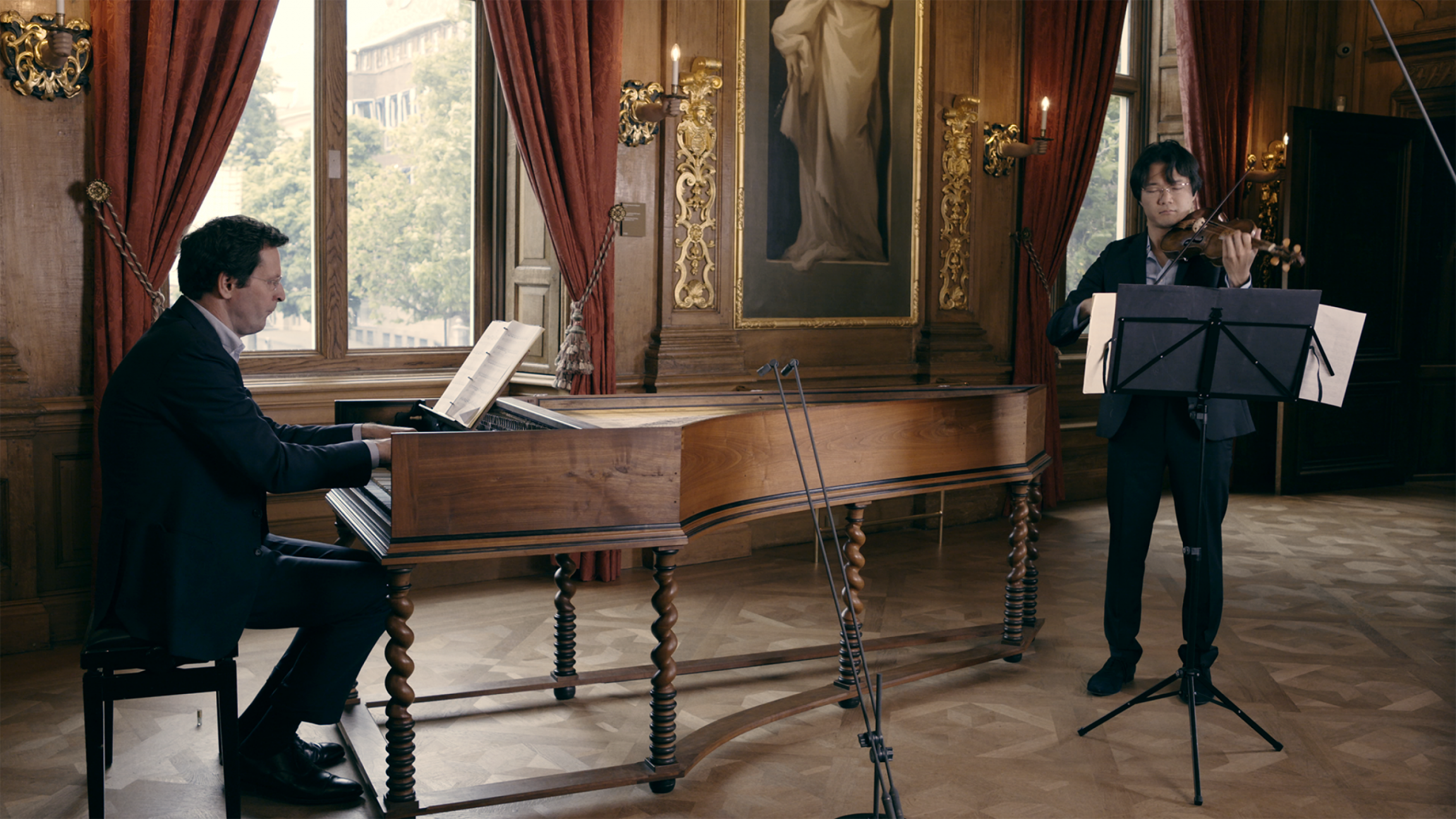 Violin Sonata in E minor
BWV 1023 performed by Shunske Sato and Menno van Delft
Mauritshuis, The Hague
Menu
1. [...]
2. Adagio ma non tanto
3. Allemande
4. Gigue
Shapes and colours
A young Bach puts his virtuoso stamp on the Italian sonata da chiesa.
The violin gets straight down to business with a whirlwind of semiquavers. It's clear that one instrument is in the spotlight here, and it isn't the harpsichord, as is often the case in Bach's other surviving sonatas for violin and harpsichord (which we often refer to confusingly as violin sonatas).
This four-part work with virtuoso violin part immediately raises the question of who Bach actually wrote it for. He is a candidate himself, as the violin was his very first instrument. Or could it have been written for Johann Georg Pisendel, the leading violinist of Central Germany at the time. The two men got to know each other in 1709, following which they had a long professional relationship, and were probably friends too, even when Bach settled in Leipzig and Pisendel was celebrating his triumph at the court in Dresden. Today, that is the home of the only source of this Violin Sonata in E minor; a few full pages written in the neat hand of Pisendel's copyist.
Not only did Pisendel reveal new perspectives on violin technique to Bach, but he also brought the latest Italian and French music with him. This sonata is a nice synthesis of both styles, precisely in accordance with German fashions, but with a Bachian twist of harmonies that are extra colourful. The second movement, Adagio ma non tanto, is particularly adventurous for the ear: little sighs, elegant triplets, exciting ties, unexpected twists, and leaps over the whole range of the violin. These well-wrought Italian sections are followed by an Allemande and a Gigue, with which Bach dutifully served his distinguished patrons in Weimar. Court dances in French style, a status symbol for the aristocracy, were considered an essential part of chamber music.
Incidentally, this sonata is sometimes performed in a trio with the cello. The only source has just two lines: the violin plus a figured bass line that can be given to any instrument. Using this coded chord notation, Baroque composers offered the keyboard player maximum scope for entering into a duet with the violin, in the right hand. A bowed bass instrument can then provide extra support.
BWV

1023

Title

Violin Sonata in E minor

Instrument

Harpsichord, Violin

Genre

chamber music

Year

1714-1717 or 1723?

City

Weimar or Leipzig
Credits
Release date

17 February 2022

Recording date

22 May 2020

Location

Mauritshuis, The Hague

Violin

Shunske Sato

Instrument

Cornelius Kleynman, ca. 1684

Harpsichord

Menno van Delft

Instrument

Bernd Fischer, 1984 after Claude Labrèche

Director and editor

Gijs Besseling

Music recording

Daan van Aalst, Bastiaan Kuijt, Pim van der Lee

Music edit and mix

Guido Tichelman

Camera, lights

Danny Noordanus

Assistant music recording

Marloes Biermans

Producer

Jessie Verbrugh

Acknowledgement

Deloitte and the Mauritshuis
Help us to complete All of Bach
There are still many recordings to be made before the whole of Bach's oeuvre is online. And we can't complete the task without the financial support of our patrons. Please help us to complete the musical heritage of Bach, by supporting us with a donation!