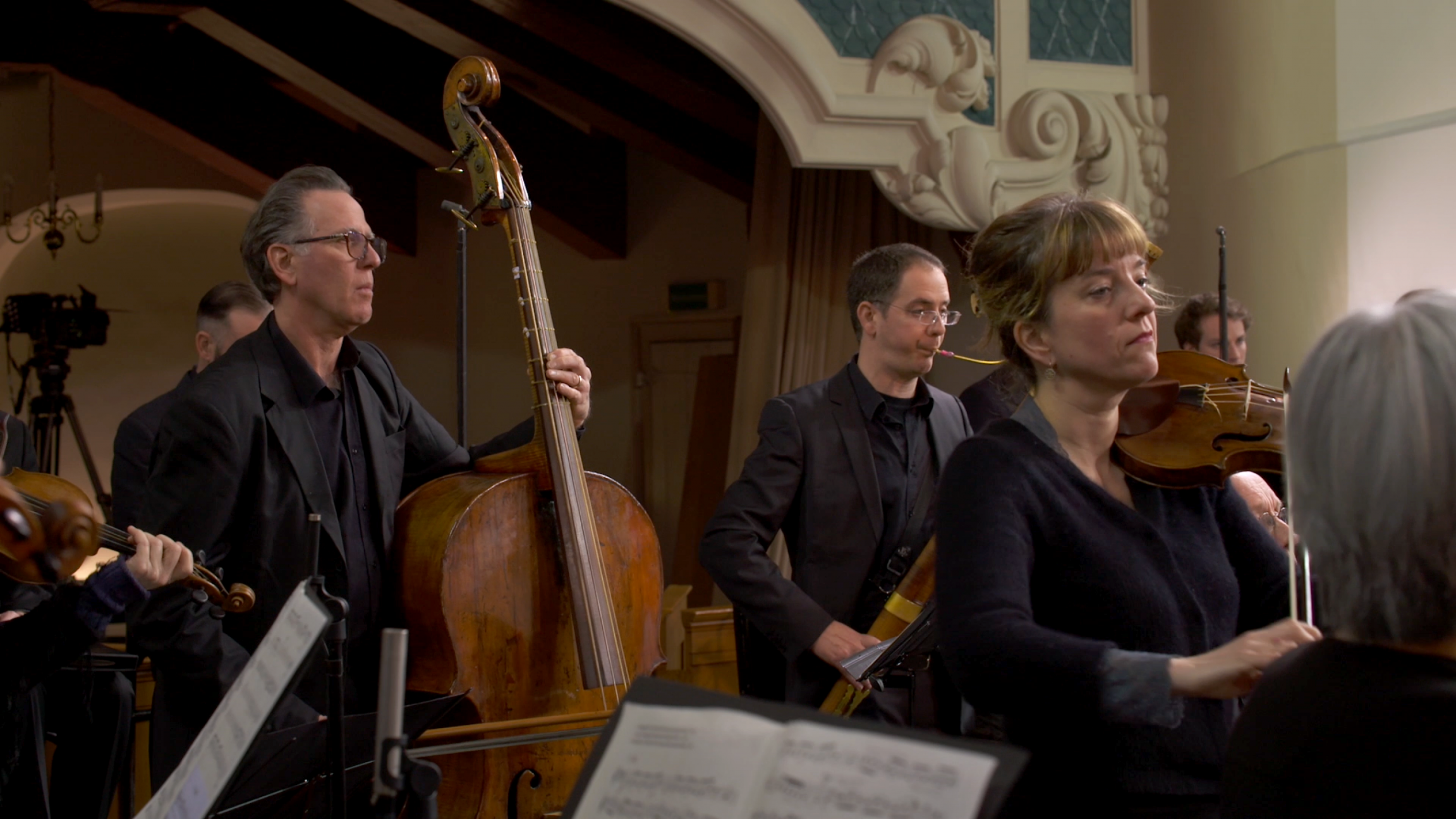 Du Hirte Israel, höre
BWV 104 performed by the Netherlands Bach Society
conducted by Jos van Veldhoven
Walloon Church, Amsterdam
Menu
1. Du Hirte Israel (Chor)
2. Der höchste Hirte (Rezitativ)
3. Verbirgt mein Hirte (Arie)
4. Ja, dieses Wort (Rezitativ)
5. Beglückte Herde (Arie)
6. Der Herr ist mein getreuer Hirt (Choral)
Story
Extra videos
Texts
Credits
Counting sheep
Innocence, childlike trust and the end of time.
Baroque composers had no difficulty combining 'low' and 'high' art. They eagerly transposed folk dances for sumptuous ballrooms and cathedrals; modifying rhythms, toning down instruments and adding an air of élégance. And Bach was no exception. Take, for instance, his numerous suite sections, many of which originate from folk traditions.
Like the Christmas Oratorio, for example, the moving cantata Du Hirte Israël, höre! is filled with what sounded to eighteenth-century ears like pastoral music. Besides being a question of style, this was mainly a liturgical choice, as Sunday 23 April 1724 was Bach's first 'Misercordias Domini Sunday' in Leipzig. This was the second Sunday after Easter, when the risen Christ is presented as the good shepherd. The best-known psalm on that theme, The Lord is my shepherd, rings out clearly in the words of the final chorus. But for those in the know, the symbolism goes even further. While the lilting opening section still begs for the coming of God the shepherd (psalm 80), the bass give an affirmative answer in his aria – again to a pleasant pastoral rhythm – by making a direct link between the Old and New Testaments. Because Jesus, God's blessed Son, has transformed the world into a heaven on earth, through his sacrifice. Furthermore, the pastoral theme can be interpreted as simple, sincere and contented, as opposed to the worldly reality of warring rulers, power politics and a hard life. You can find out more about this in the interviews with Matthew Brooks and Jos van Veldhoven.
But how exactly does Bach lend a pastoral air to his music? Listen to the sustained bass notes in the opening chorus. Don't you think they sound a bit like bagpipes? And aren't the two oboe d'amores reminiscent of shawms (the ultimate shepherd's instrument)? Bach, however, simply cannot resist interrupting the simplicity on two occasions, through a fugue to the words 'der du Joseph hütest wie die Schafe'. Other remarkable moments are the biblical quote 'Gott ist getreu' in the following recitative, in a sparkling arioso setting, the harmonic adventures to 'allzu bange' in the tenor aria, and a typically 'hanging' chord when the bass sings about 'sanften Todesschlaf'.
BWV

104

Title

Du Hirte Israel, höre

Instrument

bass, tenor

Genre

cantatas

Year

1724

City

Leipzig

Lyricist

unknown, psalm 80:2, final chorus by Cornelius Becker (1598)

Occasion

Misericordias Domini (2nd Sunday after Easter)

First performance

23 April 1724
Extra videos
Vocal texts
Original
1. Chor
Du Hirte Israel, höre,
der du Joseph hütest
wie der Schafe, erscheine,
der du sitzest über Cherubim.

2. Rezitativ (Tenor)
Der höchste Hirte sorgt vor mich,
was nützen meine Sorgen?
Es wird ja alle Morgen
des Hirtens Güte neu.
Mein Herz, so fasse dich,
Gott ist getreu.

3. Arie (Tenor)
Verbirgt mein Hirte sich zu lange,
macht mir die Wüste allzu bange,
mein schwacher Schritt eilt dennoch fort.
Mein Mund schreit nach dir,
und du, mein Hirte, wirkst in mir
ein gläubig Abba durch dein Wort.

4. Rezitativ (Bass)
Ja, dieses Wort ist meiner Seelen Speise,
ein Labsal meiner Brust,
die Weide, die ich meine Lust,
des Himmels Vorschmack,
ja, mein alles heisse.
Ach! sammle nur, o guter Hirte,
uns Arme und Verirrte;
ach lass den Weg nur bald geendet sein
Und führe uns in deinen Schafstall ein!

5. Arie (Bass)
Beglückte Herde, Jesu Schafe,
Die Welt ist euch ein Himmelreich.
Hier schmeckt ihr Jesu Güte schon
und hoffet noch des Glaubens Lohn
nach einem sanften Todesschlafe.

6. Choral
Der Herr ist mein getreuer Hirt,
dem ich mich ganz vertraue;
zur Weid er mich, sein Schäflein,
führt, auf schöner grünen Aue;
zum frischen Wasser leit' er mich,
mein Seel zu laben kräftiglich
durchs selig Wort der Gnaden.


Translation
1. Chorus
Give ear, O Shepherd of Israel,
Thou that leadest Joseph like a flock;
Thou that dwellest between
the Cherubims, shine forth.

2. Recitative
The highest shepherd provides for me,
what use is all my sorrow?
For the shepherd's goodness
is new every morning.
And so, my heart, compose yourself,
God is faithful.

3. Aria
Though my shepherd hides too long,
though the desert frightens me,
my feeble steps still hasten on.
I cry to Thee,
and Thy Word, my shepherd, doth cause me
to utter a faithful Abba.

4. Recitative
Yea, this word is food to my soul
and balm to my breast,
the pasture, which I call my delight,
a foretaste of heaven,
yea my all.
Ah, gather together, O good Shepherd,
us poor and bewildered creatures;
ah, bring us soon to the end of our journey
and lead us into Thy fold!

5. Aria
Happy flock, sheep of Jesus,
the world for you is a heavenly kingdom.
Here already you taste Jesus' goodness,
and also hope for faith's reward
after death's gentle slumber.

6. Chorale
The Lord is my faithful shepherd,
in whom I put all my trust,
He leads me, His little lamb, to graze
on beautiful green pastures,
He leads me to fresh waters,
to refresh and nourish my soul
through His blessed word of Grace.




Credits
Release date

1 October 2020

Recording date

10 February 2018

Location

Walloon Church, Amsterdam

Conductor

Jos van Veldhoven

Tenor

Daniel Johannsen

Bass

Matthew Brook

Ripieno soprano

Maria Keohane, Marjon Strijk, Hilde Van Ruymbeke

Ripieno alto

Tim Mead, Barnabás Hegyi, Marleene Goldstein

Ripieno tenor

Kevin Skelton, Guy Cutting

Ripieno bas

Matthew Baker, Drew Santini

Violin 1

Shunske Sato, Anneke van Haaften, Pieter Affourtit

Violin 2

Sayuri Yamagata, Lidewij van der Voort, Paulien Kostense

Viola

Staas Swierstra, Jan Willem Vis

Cello

Lucia Swarts, Richte van der Meer

Double bass

Robert Franenberg

Oboe

Martin Stadler, Peter Frankenberg

Oboe da caccia

Yongcheon Shin

Bassoon

Benny Aghassi

Organ

Leo van Doeselaar

Harpsichord

Siebe Henstra

Director and editor

Bas Wielenga

Music recording

Guido Tichelman, Bastiaan Kuijt, Pim van der Lee

Music edit and mix

Guido Tichelman

Camera

Merijn Vrieling, Ivo Palmen, Martin Struijf, Bjorn Tiebout

Lights

Zen Bloot, Henry Rodgers, Patrick Galvin

Assistant director

Ferenc Soeteman

Video engineer

Vincent Nugteren

Set technique

Dennis van Hoek

Data handling

Jesper Blok

Project manager nep

Peter Ribbens

Interview

Onno van Ameijde, Marloes Biermans

Producer concert

Imke Deters

Producer film

Jessie Verbrugh

In memory of

Joost Mulder (1 October 1978 – 2 February 2020)

>

Joost was an ardent lover of early music and, above all, he loved the performances by The Netherlands Bach Society, which he liked to visit together with Cissy Pater.
Help us to complete All of Bach
There are still many recordings to be made before the whole of Bach's oeuvre is online. And we can't complete the task without the financial support of our patrons. Please help us to complete the musical heritage of Bach, by supporting us with a donation!