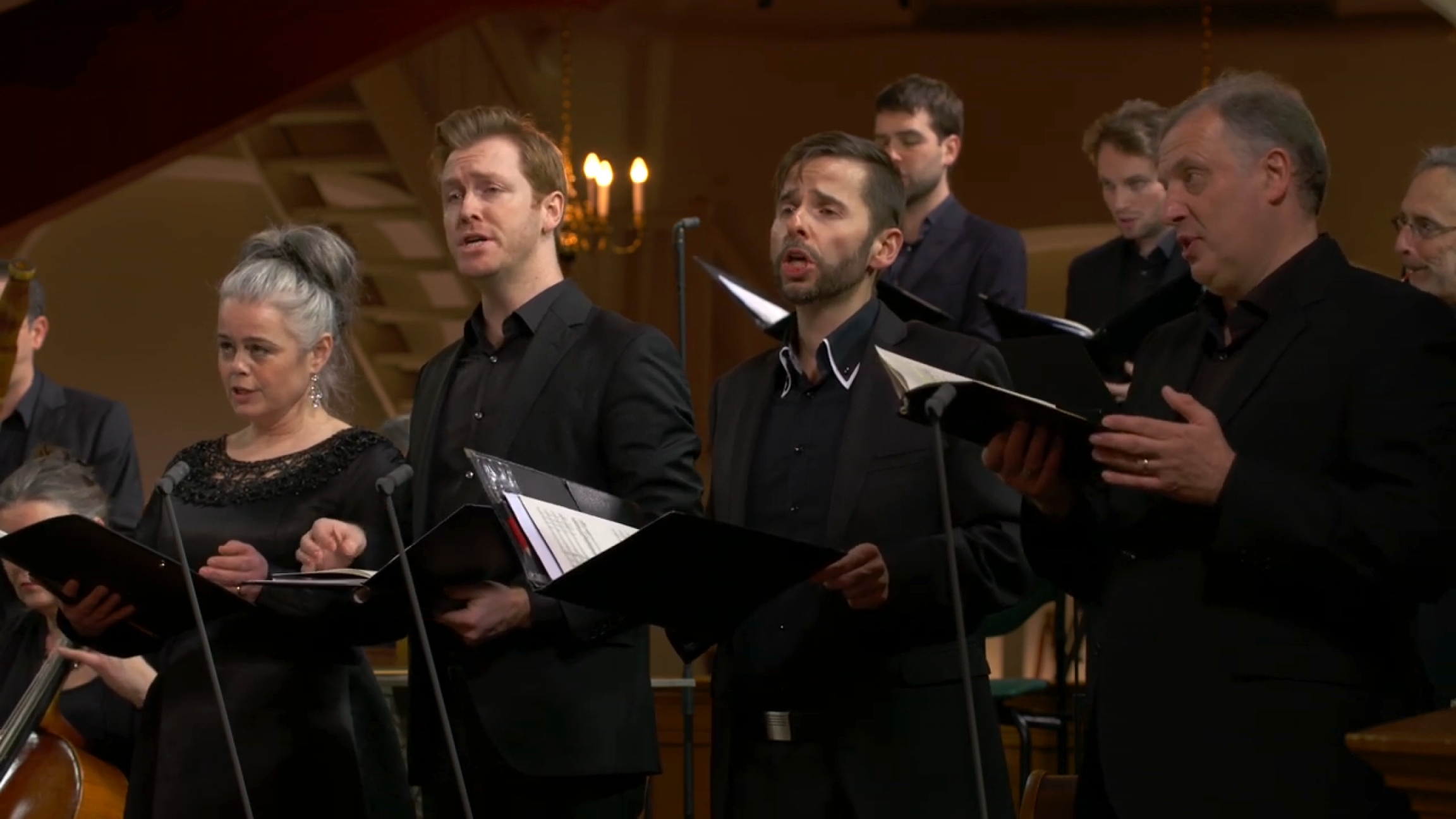 Herr, gehe nicht ins Gericht
BWV 105 performed by the Netherlands Bach Society
conducted by Jos van Veldhoven
Walloon Church, Amsterdam
Menu
1. Herr, gehe nicht ins Gericht (Chor)
2. Mein Gott (Rezitativ)
3. Wie zittern (Arie)
4. Wohl aber dem (Rezitativ)
5. Kann ich nur (Arie)
6. Nun, ich weiss (Choral)
Story
Extra videos
Texts
Credits
Firm ground
The string parts are significant in this cantata.
The special slide trumpet steals the show in this cantata from Bach's first year in Leipzig – rather unjustly. It is actually the strings in this cantata that appear to lend extra emphasis to the message of the text. Although it is not immediately apparent, in the first half of the opening chorus all four of the string parts (partially doubled by the oboes and the trumpet) retain their independence from the singing parts. In this type of piece, the instruments usually support the vocal parts now and then, but this cantata is different. Even when everyone is singing and playing together, the cello and double bass play slightly differently to the basses in the choir, and the violas and first and second violins are also independent from the tenors, altos and sopranos.
In the soprano aria, the role of the strings is even more important, as Bach leaves out the basso continuo. In his day, the continuo was the foundation of the musical system. If it is left out, there is always something unusual going on, as the music then has no firm ground underfoot. The oboe is plaintive, the violins tremble and the balance is precarious. Everything is poised on the narrow base of the violas. Stability returns to the piece only gradually. In the bass recitative, the cello and double bass do no more than pluck. At the same time, the other strings spin a mysterious aura around the singing voice, which somehow appears to say more than a thousand words.
It is not until the lively tenor aria that everything apparently returns to normal, with a strong bass line once again. But actually, here too the first violins are rather lacking in direction, circling busily around themselves. Just like the tenor, they seem to be mainly plucking up courage. And indeed the trembling uncertainty and the qualms of remorse return immediately afterwards in the final chorus. But now the believer knows that Jesus will calm the pangs of conscience. In a masterly musical stroke, which is both simple and effective, Bach gradually slows the trembling of the strings to a halt. Peace descends at last.
BWV

105

Title

Herr, gehe nicht ins Gericht

Genre

cantatas

Year

1723

City

Leipzig

Lyricist

unknown

Occasion

Ninth Sunday after Trinity

First performance

25 July 1723

Special notes

Bach uses a special instrument - the corno da tirarsi
Extra videos
Vocal texts
Original
1. Chor
Herr, gehe nicht ins Gericht
mit deinem Knecht.
Denn vor dir wird
kein Lebendiger gerecht.

2. Rezitativ (Alt)
Mein Gott, verwirf mich nicht,
indem ich mich in Demut vor dir beuge,
von deinem Angesicht.
Ich weiss, wie groß dein Zorn
und mein Verbrechen ist,
dass du zugleich ein schneller Zeuge
und ein gerechter Richter bist.
Ich lege dir ein frei Bekenntnis dar
und stürze mich nicht in Gefahr,
die Fehler meiner Seelen
zu leugnen, zu verhehlen!

3. Aria (Sopran)
Wie zittern und wanken
der Sünder Gedanken,
indem sie sich untereinander verklagen
Und wiederum sich
zu entschuldigen wagen.
So wird ein geängstigt Gewissen
durch eigene Folter zerrissen.

4. Rezitativ (Bass)
Wohl aber dem,
der seinen Bürgen weiss,
der alle Schuld ersetzet,
so wird die
Handschrift ausgetan,
wenn Jesus sie
mit Blute netzet.
Er heftet sie ans Kreuze selber an,
er wird von deinen Gütern,
Leib und Leben,
wenn deine Sterbestunde schlägt,
dem Vater selbst
die Rechnung übergeben.
So mag man deinen Leib,
den man zum Grabe trägt,
mit Sand und Staub beschütten,
dein Heiland öffnet dir
die ewgen Hütten.

5. Aria (Tenor)
Kann ich nur Jesum mir
zum Freunde machen,
So gilt der Mammon nichts bei mir.
Ich finde kein Vergnügen hier
bei dieser eitlen Welt
und irdschen Sachen.

6. Choral
Nun, ich weiss, du wirst mir stillen
mein Gewissen, das mich plagt.
Es wird deine Treu erfüllen,
Was du selber hast gesagt: dass auf dieser
weiten Erden keiner soll verloren werden,
sondern ewig leben soll, wenn er nur ist
Glaubens voll.




Translation
1. Chorus
Enter not into judgement
with Thy servant, O Lord;
for in Thy sight shall
no man living be justified.

2. Recitative
My God, cast me not,
when I humbly bow before Thee,
away from Thy countenance.
I know how great Thine anger
and my transgressions are,
and that Thou art a swift witness
and a righteous judge.
I freely acknowledge my guilt before Thee,
and do not run the risk
of denying or concealing
the errors of my soul!

3. Aria
How the thoughts of sinners
tremble and reel
as they accuse
and then dare
to excuse one another.
Thus is the anguished conscience
torn asunder by its own torture.

4. Recitative
Fortunate though is he
who knows his guarantor,
who redeems all his debts.
Thus will the
handwriting of ordinances
be blotted out,
if Jesus sprinkles it
with His blood.
He Himself then nails it to the cross.
He will, at your death knell,
Himself hand to His father
the record of your goods,
body and life,
and though your body
be carried to the grave
and be covered with sand and dust,
your Saviour will open for you
the everlasting mansions.

5. Aria
I only have to make
Jesus my friend,
and Mammon will mean nothing to me.
I shall find not pleasure here
amid this empty world
and earthly objects.

6. Chorale
Now, I know, Thou shalt quiet
my conscience that torments me.
Thy good faith will fulfil
what Thou Thyself has said: that throughout this
wide world no single person shall be lost,
but shall instead enjoy eternal life,
provided he be full of faith.




Credits
Release date

14 June 2019

Recording date

10 February 2018

Location

Walloon Church, Amsterdam

Conductor

Jos van Veldhoven

Soprano

Maria Keohane

Alto

Tim Mead

Tenor

Daniel Johannsen

Bass

Matthew Brook

Ripieno soprano

Marjon Strijk, Hilde Van Ruymbeke

Ripieno alto

Barnabás Hegyi, Marleene Goldstein

Ripieno tenor

Kevin Skelton, Guy Cutting

Ripieno bas

Matthew Baker, Drew Santini

Violin 1

Shunske Sato, Anneke van Haaften, Pieter Affourtit

Violin 2

Sayuri Yamagata, Lidewij van der Voort, Paulien Kostense

Viola

Staas Swierstra, Jan Willem Vis

Cello

Lucia Swarts, Richte van der Meer

Double bass

Robert Franenberg

Oboe

Martin Stadler, Peter Frankenberg

Bassoon

Benny Aghassi

Corno da tirarsi

Robert Vanryne

Organ

Leo van Doeselaar

Harpsichord

Siebe Henstra

Director and editor

Bas Wielenga

Music recording

Guido Tichelman, Bastiaan Kuijt, Pim van der Lee

Music edit and mix

Guido Tichelman

Camera

Merijn Vrieling, Ivo Palmen, Martin Struijf, Bjorn Tiebout

Lights

Zen Bloot, Henry Rodgers, Patrick Galvin

Assistant director

Ferenc Soeteman

Video engineer

Vincent Nugteren

Set technique

Dennis van Hoek

Data handling

Jesper Blok

Project manager nep

Peter Ribbens

Interview

Onno van Ameijde, Marloes Biermans

Producer concert

Imke Deters

Producer film

Jessie Verbrugh
Help us to complete All of Bach
There are still many recordings to be made before the whole of Bach's oeuvre is online. And we can't complete the task without the financial support of our patrons. Please help us to complete the musical heritage of Bach, by supporting us with a donation!