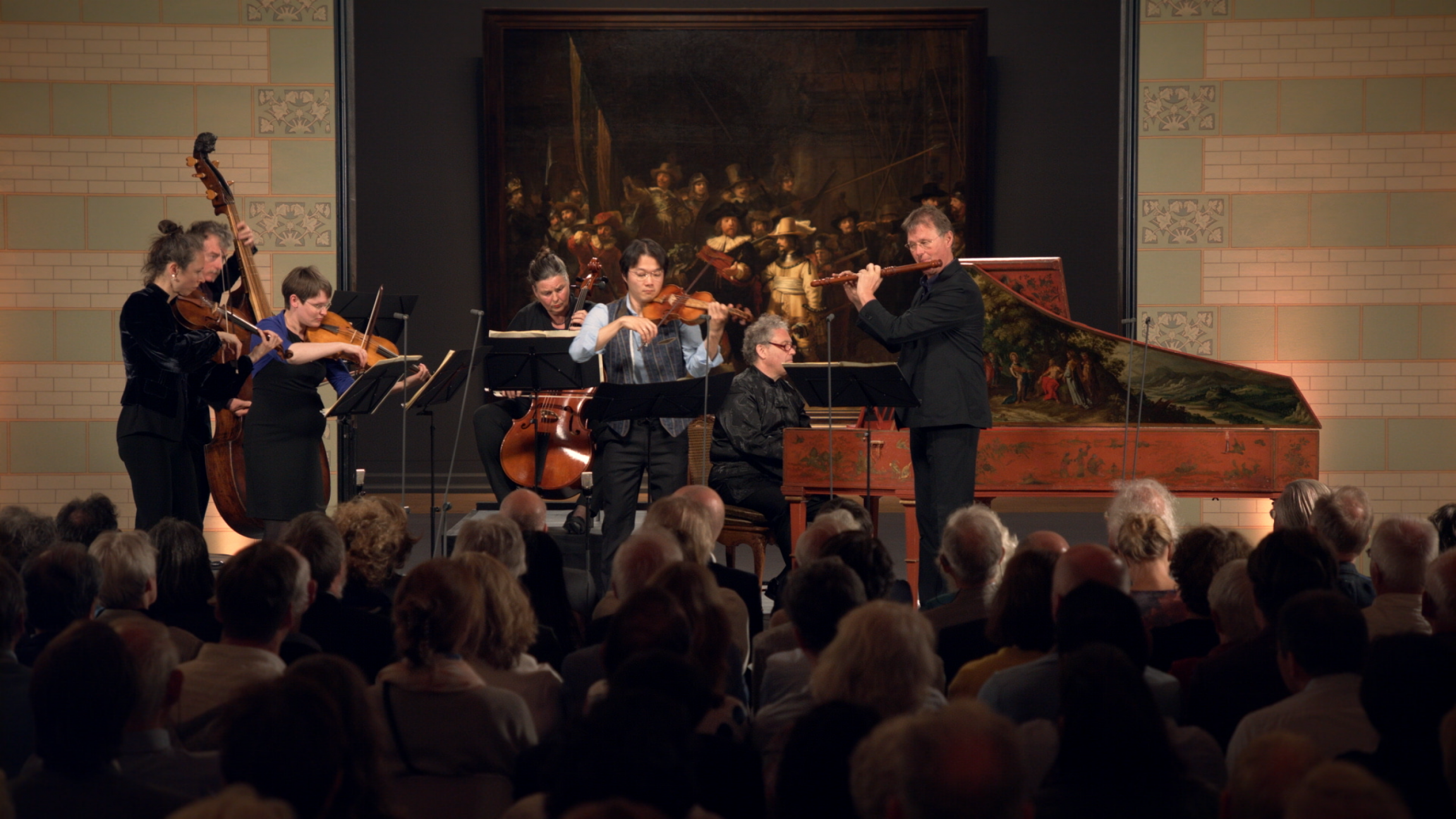 'Brandenburg' Concerto No. 5 in D major
BWV 1050 performed by the Netherlands Bach Society
conducted by Shunske Sato
Rijksmuseum, Amsterdam
Menu
1. Allegro
2. Adagio (affettuoso)
3. Allegro
Story
Extra videos
Credits
Bach in the Rijksmuseum
The harpsichord emerges as a solo instrument.
For this recording, we were guests at the Gallery of Honour at the Rijksmuseum, in Amsterdam. We were invited to come and perform Bach's unusual 'Brandenburg' Concerto no. 5 – in which the harpsichord emerges as a soloist rather than an accompanying instrument – in order to celebrate the loan of an exceptional harpsichord to the museum. For the recording, the original instrument, built by Johannes Ruckers in 1640, was played by harpsichordist Richard Egarr.
Bach and Rembrandt
Bach himself never went to Amsterdam, and Rembrandt never went to Leipzig or Berlin. Yet there were many ties between the Republic of the Netherlands and Bach's employers. For many young German princes, the Netherlands was a regular destination for a tour or a period of study. Johann Ernst of Saxen-Weimar, for whom Bach was working when he wrote the first versions of the 'Brandenburg' concertos, studied for a couple of years in Utrecht, and Christian Ludwig of Brandenburg-Schwedt, to whom he later dedicated these concertos, also studied for a while in Leiden.

Rembrandt's Night Watch had been hanging since 1642 in Amsterdam in the Kloveniersdoelen, the building of the civic guard depicted on the painting. In 1700, and between 1704 and 1705, Christian's step-brother Friedrich Wilhelm of Brandenburg, visited the Netherlands. On his second trip, as a young man of sixteen, he visited "everything there was to see". Might he also have been to the Kloveniersdoelen? In any case, later as the king of Prussia, he based all sorts of things on the Dutch model: painters, carillons, canals and even a 'Dutch' hunting lodge, and in the 1730's a Dutch district in Potsdam.

In 1715, the Night Watch moved to the town hall on Dam Square, and part of it was cut off so it would fit between two doors. The manuscript of Bach's 'Brandenburg' concertos was treated with similar disregard. After Christian Ludwig's death in 1734, it was sold off for a meagre 24 groschen. Nowadays, both Rembrandt's paintings and Bach's music are regarded as icons of European art, and here they are presented as a unique combination for eye and ear.
'Brandenburg' concertos, BWV 1046-1051
In March 1721, Bach sent a manuscript from Köthen to Berlin entitled 'Six concertos with several instruments' (Six concerts avec plusieurs instruments), dedicated to Christian Ludwig (1677-1734), Margrave of Brandenburg-Schwedt. In the preface, Bach stated that he had played for the margrave 'a couple of years ago' (il y a une couple d'années) and had promised to send him 'some of his compositions' (quelques pieces de ma composition). That was probably during a visit to Berlin in March 1719, when Bach had travelled to the Prussian capital to take receipt of a new harpsichord for the court in Köthen. The music that he sent to the margrave a couple of years later (which subsequently became known as the Brandenburg Concertos) was Bach's ultimate view of the most important large-scale instrumental genre of his day: the concerto.

A concerto nearly always involves a solo instrument (or combination of solo instruments) and an ensemble. The key idea is the alternation between one or more soloists and the whole ensemble, in a sort of light-hearted competition. In the six Brandenburg Concertos, Bach explores every facet of this genre, with regard to both instrumentation and the way in which he handles the form. All the traditionally used string and wind instruments and the harpsichord appear as soloists, the musical forms range from court dances to near-fugues, and the relationship between the solos and tutti instruments is always shifting. Together, the six concertos thus form a virtuoso sample sheet of the Baroque concerto.
Background noise in recording
In this recording, you hear a harpsichord that is over 350 years old: a Johannes Ruckers from 1640. During the concert, the jackrail (the rail above the jacks with plectrums that pluck the strings when the keys are pressed) started to rattle. The tapping you can hear comes from this loose jackrail.
BWV

1050

Title

Concerto in D major

Epithet

'Brandenburg' Concerto no. 5

Instrument

harpsichord, traverso, violin

Genre

orchestral works

Serie

Brandenburg concertos

Year

1719-1720

City

Köthen (but possibly earlier in Weimar)

Occasion

Dedicated in 1721 to Margrave Christian Ludwig of Brandenburg
Extra videos
Credits
Release date

21 September 2018

Recording date

11 May 2018

Location

Rijksmuseum, Amsterdam

Harpsichord

Johannes Ruckers, 1640

Violin and direction

Shunske Sato

Harpsichordist

Richard Egarr

Traverso

Marten Root

Violin 2

Anneke van Haaften

Viola

Femke Huizinga

Cello

Lucia Swarts

Double bass

James Munro

Director and editor

Bas Wielenga

Music recording

Guido Tichelman, Bastiaan Kuijt, Pim van der Lee

Music edit and mix

Guido Tichelman

Camera

Ramon de Boer, Tim van der Voort, Bart Krimp

Lights

Zen Bloot, Henry Rodgers

Camera-assistant/grip

Robin Noort

Assistant director

Ferenc Soeteman

Set technique

Alex de Gier

Data handling

Kira Falticeau

Project manager videobrix

Peter Hazenberg

Interview

Onno van Ameijde, Marloes Biermans

Producer concert

Imke Deters

Producer film

Jessie Verbrugh
'Brandenburg' Concerto no. 5 in D major
Two versions of 'Brandenburg' Concerto no. 5 have been recorded. An earlier version (BWV 1050a) and a later version (BWV 1050). You can view both recordings here.
Help us to complete All of Bach
There are still many recordings to be made before the whole of Bach's oeuvre is online. And we can't complete the task without the financial support of our patrons. Please help us to complete the musical heritage of Bach, by supporting us with a donation!