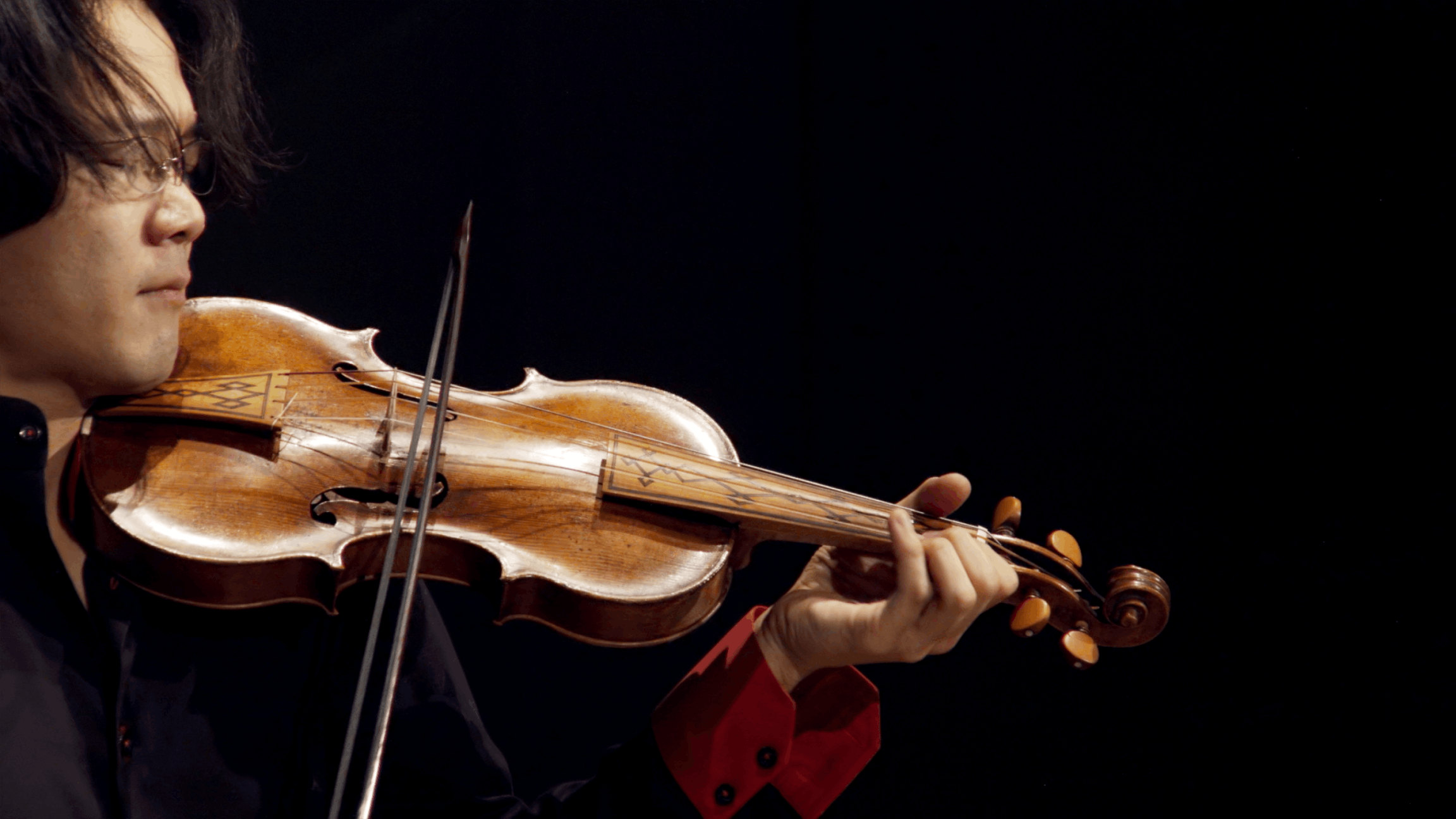 Violin Concerto for D minor
BWV 1052r performed by the Netherlands Bach Society
conducted by Shunske Sato
Stadsgehoorzaal, Leiden
Menu
1. Allegro
2. Adagio
3. Allegro
Story
Extra videos
Credits
The many lives of a masterpiece
Back in time to the source of a harpsichord concerto.
Just imagine Bach's excitement when Vivaldi's famous violin concertos eventually reached Thüringen. As a violinist himself, and apparently one of the better ones, he must intuitively have recognised the potential of the fashionable genre. He decided to experiment with it himself and to astonish people. This violin marvel – the Violin Concerto in D minor – immediately became such a technical challenge that few soloists were able to tackle it. Too few, probably, as not a shred of it has survived. The concerto played here is a modern reconstruction, based on a harpsichord concerto written much later by Bach, but which is presumed to originate from a violin concerto. Maybe Bach's children and students, who were keyboard players, had no interest in an 'unplayable' violin piece.
Always up-to-the-minute, the practicl Bach adapted easily to his circumstances and sometimes rewrote successes from the past, if possible. Ideas abound as to how a challenging violin concerto became a harpsichord concerto. What first springs to mind might be the Leipziger Collegium Musicum, where Bach often played harpsichord solos, or maybe a visit to Dresden, where he undoubtedly wanted to make a musical impression. Musicologist Christoph Wolff suspects there was also an organ version, which Bach may have played in Dresden, in 1724. This could explain how some parts of this concerto turn up a few years later in cantatas BWV 146 and BWV 188. And there are even those who voice the opinion that the arrangement (or even the work itself) is not by Bach's hand!

Whatever the case, Bach was clearly proud of this music. The final keyboard version from 1738, which survives in a score written by Bach himself, opens a set of concertos. This manuscript follows the same lines as all the keyboard collections compiled by Bach in the autumn of his life. They were intended to preserve his work for posterity and may also have been made with the market in mind.
BWV

1052r-II

Title

Violin Concerto in D minor (reconstruction)

Instrument

violin

Genre

orchestral works

Year

unknown

City

unknown

Special notes

This is a reconstruction of the presumed original form of the harpsichord concerto in D minor, BWV 1052. Bach also used the first and second movement of this concerto in the cantata Wir müssen durch viel Trübsal, BWV 146.
Credits
Release date

13 April 2023

Recording date

6 December 2019

Location

Stadsgehoorzaal, Leiden

Violin and direction

Shunske Sato

Violin 1

Anneke van Haaften

Violin 2

Pieter Affourtit

Viola

Manuel Visser

Cello

Lucia Swarts

Double bass

Hen Goldsobel

Harpsichord

Siebe Henstra

Director

Gerbrand van Oudenaarden

Music recording

Guido Tichelman, Bastiaan Kuijt, Pim van der Lee

Music edit and mix

Guido Tichelman

Camera

Alex de Waal, Dagmar Scheeres, Martin van den Brink

Lights

Zen Bloot

Assistant director

Ferenc Soeteman

Video editing

Bas Wielenga

Shading

Wouter van Teerling

Technical assistance

Mart van Bree

Producer concert

Imke Deters

Producer film

Jessie Verbrugh
Violin Concerto in D minor
Two versions of the Violin Concerto in D minor have been recorded for All of Bach. You can view both recordings here.
Help us to complete All of Bach
There are still many recordings to be made before the whole of Bach's oeuvre is online. And we can't complete the task without the financial support of our patrons. Please help us to complete the musical heritage of Bach, by supporting us with a donation!