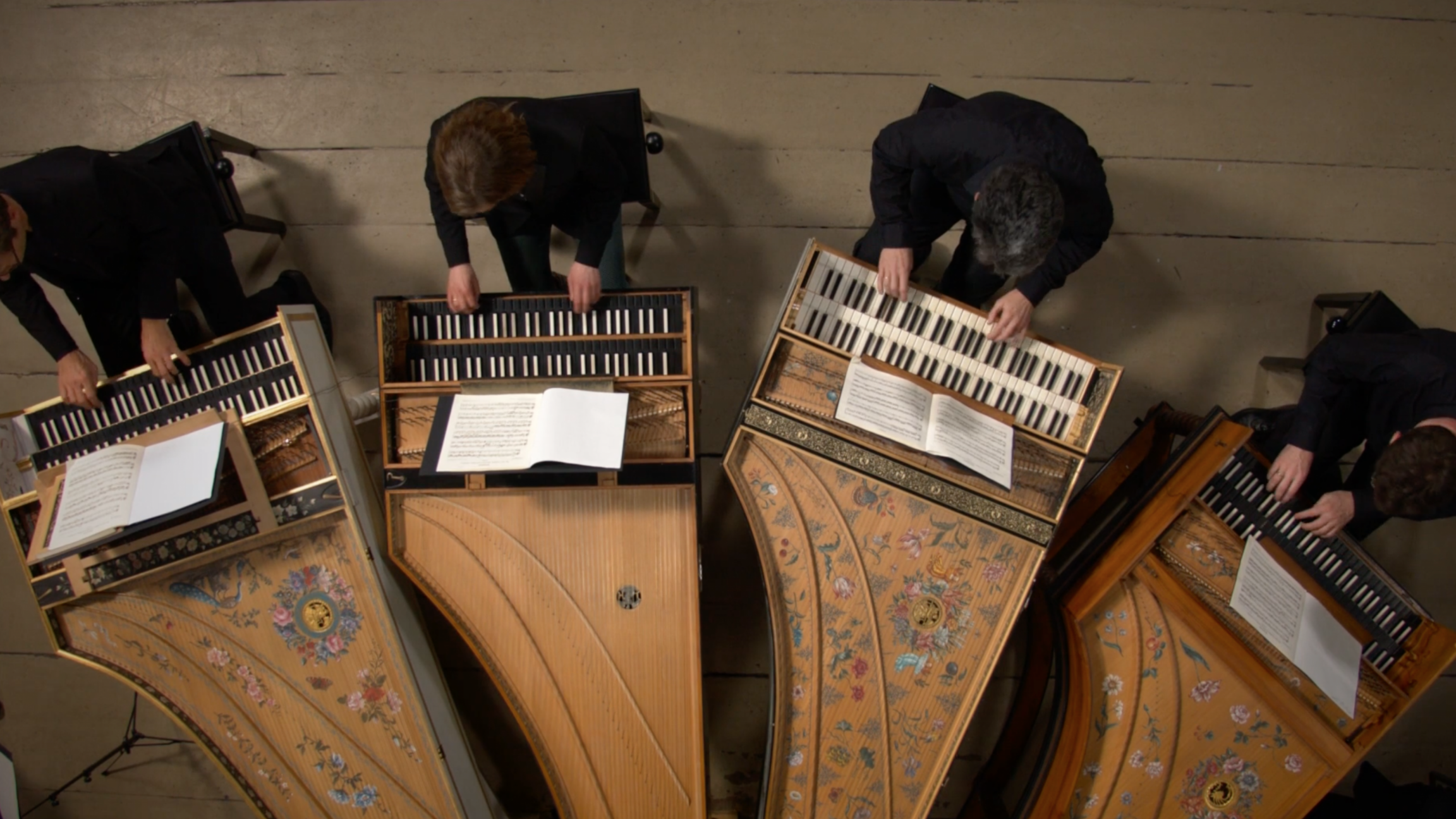 Concerto for four harpsichords in A minor
BWV 1065 performed by Siebe Henstra, Menno van Delft, Pieter-Jan Belder, Tineke Steenbrink and the Netherlands Bach Society
Ottone, Utrecht
Menu
1. [...]
2. Largo
3. Allegro
Story
Extra videos
Credits
More and better
Fascinated by Vivaldi, Bach far outstrips his idol.
Everyone has their own specialism. Whereas Bach excelled on the keyboard, Vivaldi ruled on the violin. Even more importantly, Vivaldi was the composer par excellence of the solo concerto. His music travelled throughout Europe and all the way to Bach's home. Johann Sebastian Bach arranged various Vivaldi concertos (sometimes thoroughly) from opus 3, 4 and 7, for organ and harpsichord. He used one of them – the Concerto in B minor from L'estro armonico (opus 3) for four violins and orchestra – more or less in its entirety. But of course he gave it an exciting twist, as in Bach's version the soloists play harpsichords and B minor changed to A minor.
Unfortunately, we do not know how the Concert for four harpsichords in A minor originated, although we can hazard a guess. If it was 'born' around 1730, Bach could have arranged the concerto for (or improvised it in) the Zimmermannsches Kaffeehaus, where he led the Leipziger Collegium Musicum. And with no fewer than five harpsichords at home, it could also have been a family affair, with father Bach sharing the stage with three of his children.
It was most probably an exciting challenge to expand four single solo lines into four complete keyboard parts for two hands; from four strings to dozens of them. Bach's extra notes often supplement those of Vivaldi, but where the accompaniment permits, he likes to use them in dialogue. This is very clear in the closing phase of the first movement, as repeated chords explode in Bach's hands in a crisscross of melodic motifs. The most impressive movement – and the most faithful to the original – is the second, which is full of broken chords that gain incredible power and richness when transposed from violin to harpsichord.
BWV

1065

Title

Concerto in A Minor

Instrument

Harpsichord

Genre

harpsichord works, orchestral works

Year

around 1730

City

Leipzig

Special notes

Arrangement of Vivaldi's Concerto in B minor, opus 3 no. 10.
Extra videos
Credits
Release date

7 October 2016

Recording date

16 April 2016

Location

Ottone, Utrecht

Harpsichord 1

Titus Crijnen, 1992 after Johannes Ruckers, 1638

Harpsichord 2

Bruce Kennedy, 1989 after Michael Mietke

Harpsichord 3

Titus Crijnen, 2013 after Blanchet

Harpsichord 4

Lutz Werum, 2003 after Johannes Ruckers

Harpsichordists

Siebe Henstra (1), Menno van Delft (2), Pieter-Jan Belder (3), Tineke Steenbrink (4)

Violin 1

Shunske Sato

Violin 2

Sayuri Yamagata

Viola

Staas Swierstra

Cello

Lucia Swarts

Double bass

Margaret Urquhart

Film director and editor

Lucas van Woerkum

Music recording producers

Guido Tichelman, Bastiaan Kuijt

Music edit and mix

Guido Tichelman

Camera

Maarten van Rossem, Robert Berger, Richard Spierings

Camera assistant

Luuk Walschout

Gaffer

Zen Bloot

Concert producer

Imke Deters

Producer

Jessie Verbrugh
Help us to complete All of Bach
There are still many recordings to be made before the whole of Bach's oeuvre is online. And we can't complete the task without the financial support of our patrons. Please help us to complete the musical heritage of Bach, by supporting us with a donation!