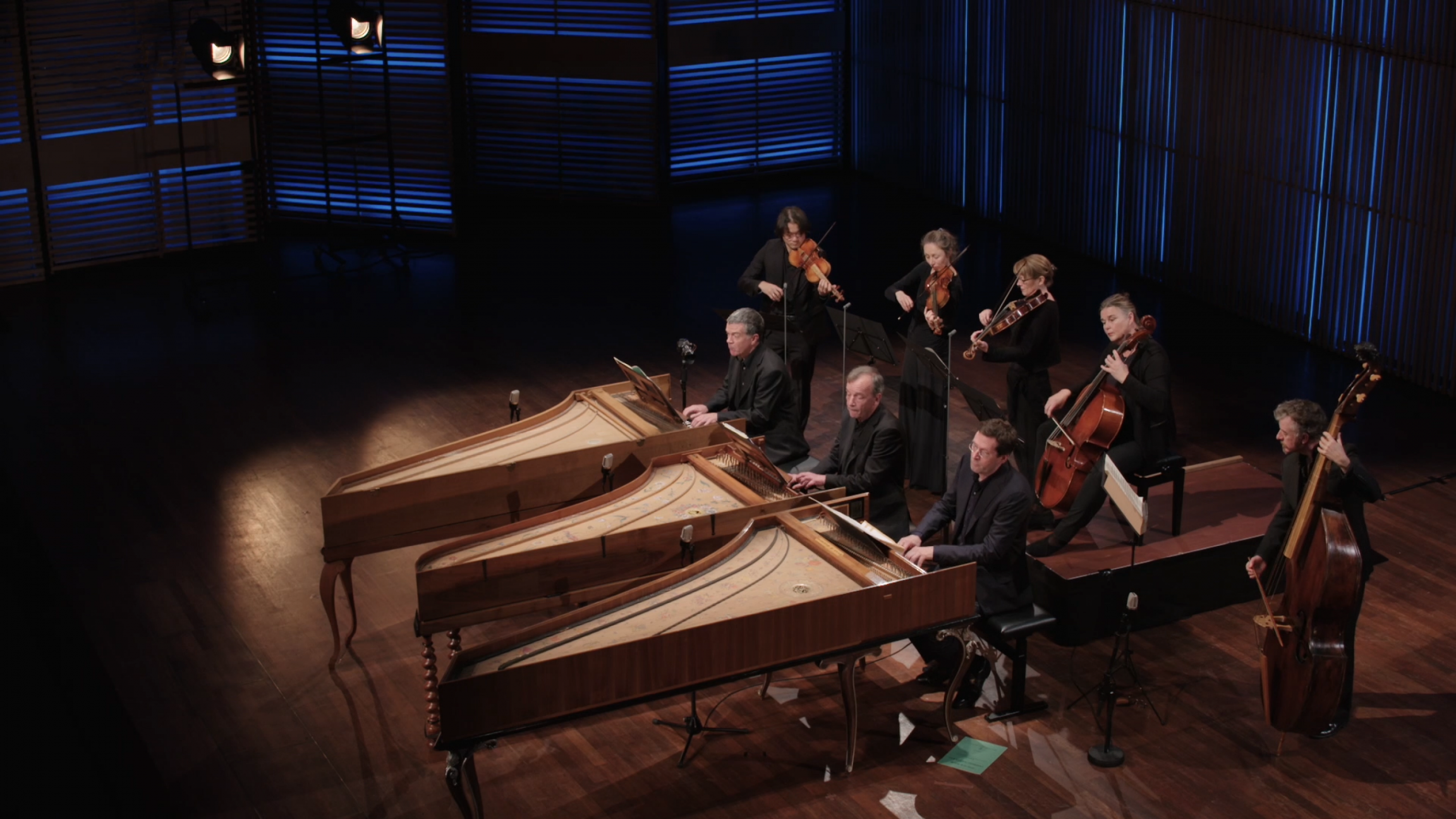 Concerto for three harpsichords in C major
BWV 1064 performed by Lars Ulrik Mortensen, Siebe Henstra, Menno van Delft and the Netherlands Bach Society
Muziekgebouw aan 't IJ, Amsterdam
Menu
1. Allegro
2. Adagio
3. Allegro
Story
Extra videos
Credits
Bach's most interesting concerto
Bach attracted attention to himself and his sons with this concerto.
The Concert in C major for three harpsichords is Bach's most interesting concerto, thinks harpsichordist Lars Ulrik Mortensen. "It's such a rich piece that I can work on it for ages. It's more integrated and contains more conversation than any of Bach's other concertos". The harpsichordists nearly always operate as a whole, even playing large parts the same in one hand or even both. Brief solo passages serve more as an effect. It is only in the closing movement that there is scope for true solos: first arpeggios, like in the 'Brandenburg' concerto no. 5, then a continuous bass line with jumpy accompaniment, and finally some dramatic chromaticism in the first keyboard. A return of the frivolous triplets brings this virtuoso party to a rather abrupt end. It is remarkable that there is no continuo in the first and third movement; only a 'bare' bass line - which is actually quite modern.
Performance material for father and sons
Like nearly all of Bach's other keyboard concertos, this concerto did not originate as a keyboard work, but was probably originally intended as a concerto for three violins. Prejudices against arranging ignore the fact that Bach deliberately created new versions of existing music. This concerto was probably created in the 1740's to be played at the Zimmermannsches Kaffeehaus, where the Leipziger Collegium Musicum brought together many musical stars of the day to play concerts of the very highest standard. All eyes were on Bach when he twice led the Collegium for a few years, alongside his cantorship at St Thomas Church. And he also knew that a dazzling concerto for three harpsichords would attract positive attention to himself and his two sons, Carl Philipp Emanuel and Wilhelm Friedemann, who had not quite left home yet. As his age was preventing him from playing so much violin, Bach's keyboard career could do with a boost.
BWV

1064

Title

Concerto for three harpsichords in C major

Instrument

harpsichord

Genre

harpsichord works

Year

around 1735-1745

City

Leipzig

Special notes

Probably an arrangement of a concerto for 3 violins (BWV 1064R)
Extra videos
Credits
Release date

22 June 2018

Recording date

15 October 2017

Location

Muziekgebouw aan 't IJ, Amsterdam

Harpsichord 1

Bruce Kennedy, 1989 after Michael Mietke

Harpsichord 2

Geert Karman after J.H. Gräbner, 1774

Harpsichord 3

Knud Kauffman, 1977 after Hildebrandt

Direction

Lars Ulrik Mortensen

Harpsichordists

Siebe Henstra (1), Menno van Delft (2), Lars Ulrik Mortensen (3)

Violin 1

Shunske Sato

Violin 2

Anneke van der Haaften

Viola

Deirdre Dowling

Cello

Lucia Swarts

Double bass

James Munro

Director

Lucas van Woerkum

Assistant director

Stijn Berkhouwer

Music recording

Guido Tichelman, Bastiaan Kuijt, Pim van der Lee

Music edit and mix

Guido Tichelman

Camera

Jochem Timmerman, Martin Struijf, Thijs Struick

Lights

Zen Bloot

Set technique

Dennis Hoek

Data handling

Jesper Blok

Project manager nep

Peter Ribbens

Interview

Onno van Ameijde, Marloes Biermans

Producer concert

Marco Meijdam

Producer film

Jessie Verbrugh
Help us to complete All of Bach
There are still many recordings to be made before the whole of Bach's oeuvre is online. And we can't complete the task without the financial support of our patrons. Please help us to complete the musical heritage of Bach, by supporting us with a donation!