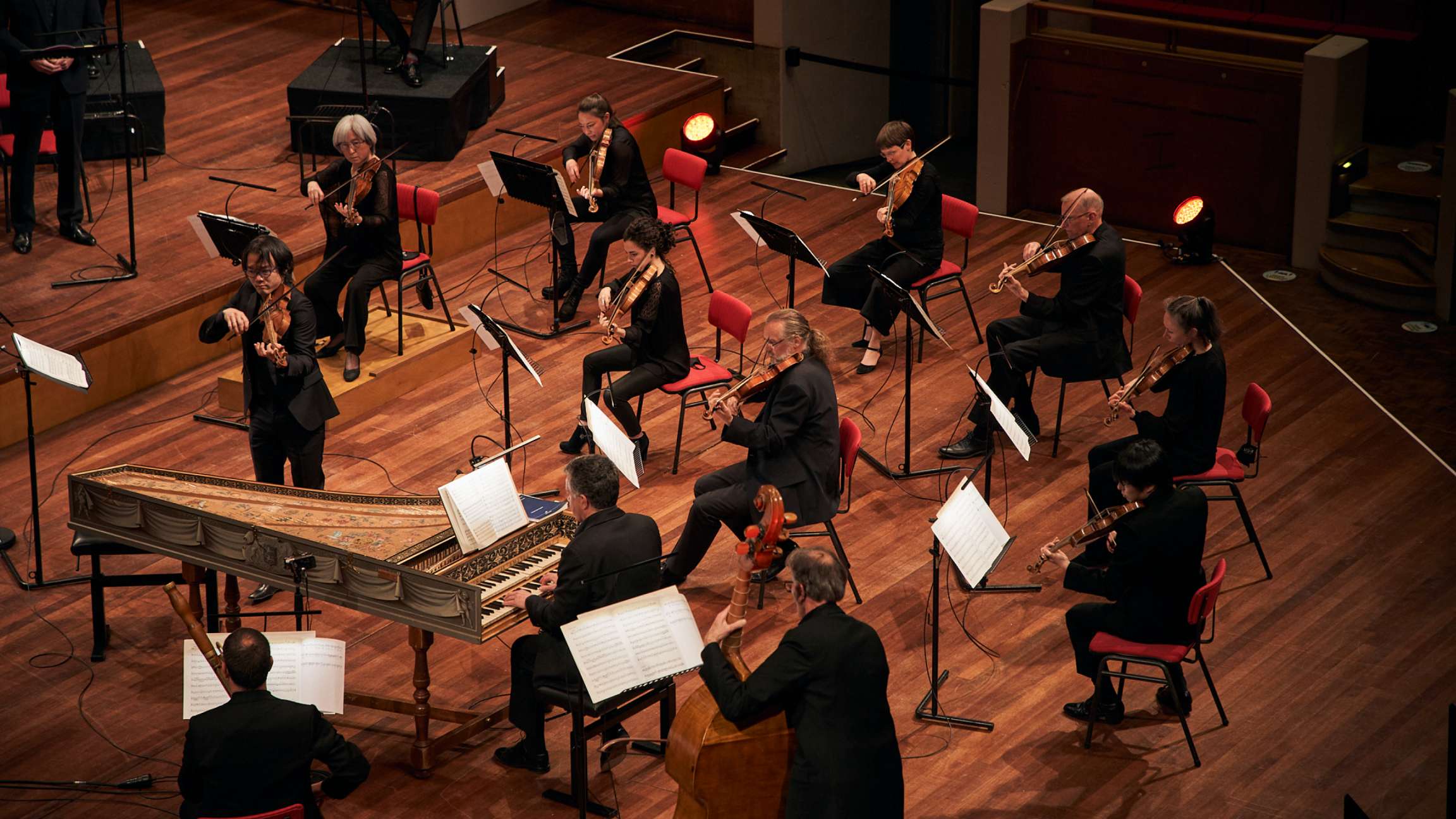 Ach Herr, mich armen Sünder
BWV 135 performed by the Netherlands Bach Society
conducted by Shunske Sato
TivoliVredenburg, Utrecht
Menu
1. Ach Herr, mich , armen Sünder (Chor)
2. Ach heile mich (Rezitativ)
3. Tröste mir, Jesu, mein Gemüte (Arie)
4. Ich bin von Seufzen müde (Rezitativ)
5. Weicht, all ihr Übeltäter (Arie)
6. Ehr sei ins Himmels Throne (Choral)
The doctor will see you
In the fourth cantata of the 'chorale year', the dramatic text is at its most expressive.
When he started out in Leipzig in 1723, Bach resolved to provide a new cantata for each Sunday and feast day. That's quite surprising when you think what was already in the music library of the combined churches of Leipzig. Bach's first cycle totalled around 60 new works and arrangements, often on a very ambitious scale. For 1724-25, Bach focused on the humble, yet omnipotent in Leipzig, chorale (hymn). It was no coincidence that this was two centuries after the publication of Luther's hymn book. The librettist and preacher delivered suitable hymns, while Bach made creative arrangements of the melodies, thus lending cohesion and power to the trio of gospel reading, cantata and sermon.
The six strophes of Ach Herr, mich armen Sünder from 1597 – on the theme of Psalm 6: a fearful plea for God's forgiveness – are interpreted in an equal number of movements; cited literally for the opening and the ending, and paraphrased for the rest. The melody will be familiar to many, mainly from O Haupt voll Blut und Wunden from the St Matthew Passion. Bach restricted his chorale tricks to the first movement, as follows: the melody is first heard in the violin/viola unison, and to this wonderful base in the middle register lines are added – first by the oboes and later by the soprano, alto and tenor – which are reminiscent of the start of the chorale melody. The bass voices (singers, strings and trombone) lay a foundation of longer lines below this.
In the middle movements, the Baroque is at its most expressive. In a profusion of rhetorical gestures, the tenor complains of his weakness and pain, which can only be healed by the doctor of souls, Jesus, should he be willing. Theologically, this image is doubly useful: the listener is spoken to personally in the cantata, and then the idea can be enlarged on in the sermon to include the church as a whole: the ideal vehicle for redemption. It is not until the bravura aria by the bass that a ray of hope dawns. Eventually, the ferment subsides on 'mein Jesus tröstet mich'. The lively chorale then sounds almost like a relief.
BWV

135

Title

Ach Herr, mich armen Sünder

Genre

cantatas

Year

1724

City

Leipzig

Text

based on a chorale by Cyriakus Schneegaß (1597, after Psalm 6), partly literal and partly in paraphrase

Occasion

Third Sunday after Trinity

First performance

25 June 1725
Vocal texts
Original
1. Chor
Ach Herr, mich armen Sünder
straf nicht in deinem Zorn,
dein ernsten Grimm doch linder,
sonst ists mit mir verlorn.
Ach Herr, wollst mir vergeben
mein Sünd und gnädig sein,
daß ich mag ewig leben,
entfliehn der Höllenpein.
2. Rezitativ (Tenor)
Ach heile mich,
du Arzt der Seelen,
ich bin sehr krank und schwach;
man möchte die Gebeine zählen,
so jämmerlich hat mich mein Ungemach,
mein Kreuz und Leiden zugericht;
das Angesicht Ist ganz von Tränen aufgeschwollen,
die, schnellen Fluten gleich,
von Wangen abwärts rollen.
Der Seelen ist von Schrecken angst und bange;
Ach, du Herr, wie so lange?
3. Arie (Tenor)
Tröste mir, Jesu, mein Gemüte,
sonst versink ich in den Tod,
hilf mir, hilf mir durch deine Güte
aus der großen Seelennot!
Denn im Tod ist alles stille,
Da gedenkt man deiner nicht.
Liebster Jesu, ists dein Wille,
so erfreu mein Angesicht!
4. Rezitativ (Alt)
Ich bin von Seufzen müde,
mein Geist hat weder Kraft noch Macht,
weil ich die ganze Nacht
oft ohne Seelenruh und Friede
in großem Schweiß und Tränen liege.
Ich gräme mich fast tot
und bin vor Trauern alt,
denn meine Angst ist mannigfalt.
5. Arie (Bass)
Weicht, all ihr Übeltäter,
mein Jesus tröstet mich!
Er läßt nach Tränen und nach Weinen
die Freudensonne wieder scheinen;
Das Trübsalswetter ändert sich,
die Feinde müssen plötzlich fallen
und ihre Pfeile rückwärts prallen.
6. Choral
Ehr sei ins Himmels Throne
mit hohem Ruhm und Preis
dem Vater und dem Sohne
und auch zu gleicher Weis
Dem Heilgen Geist mit Ehren
in alle Ewigkeit,
der woll uns alln bescheren
die ewge Seligkeit.
Translation
1. Chorus
O Lord, do not punish a poor sinner
in Thine anger;
moderate Thy fearful rage,
otherwise I am undone.
Ah, Lord, kindly forgive
my sins and show mercy,
that I may live eternally
and escape the torments of Hell.
2. Recitative
Ah, heal me,
Thou physician of souls,
I am very sick and weak;
one could count all my bones,
so grievously has my hardship,
my cross and suffering treated me;
my face is all swollen with tears
which, like torrents,
roll down my cheeks.
My soul is torn with fear and terror;
ah, my Lord, why art Thou so long in coming?
3. Aria
Bring comfort, Jesus, to my spirit,
or I shall founder and die,
help me, help me, through Thy goodness,
to conquer my soul's great distress!
For in death all is silence,
and there is no remembrance of Thee.
Dearest Jesus, if it be Thy will,
fill my countenance with joy!
4. Recitative
I am weary with sighing,
my spirit has neither strength nor power,
for all night long,
often without inward peace,
I lie bathed in sweat and tears.
I almost die with worry,
and sorrow has aged me,
for my fear is manifold.
5. Aria
Begone, all you evildoers,
my Jesus comforts me!
After tears and after weeping
He makes the sun of joy to shine again;
this gloomy weather changes now,
suddenly our enemies must fall
and their arrows recoil against them.
6. Chorale
Glory be to the throne of Heaven
with all laud and praise,
to God the Father and the Son
and in like wise
to the Holy Ghost
in all eternity;
and may He grant us all
everlasting happiness.
Credits
Release date

19 May 2022

Recording date

22 April 2021

Location

TivoliVredenburg, Utrecht

Violin and direction

Shunske Sato

Alto

Ulrike Malotta

Tenor

Guy Cutting

Bass

Felix Schwandtke

Ripieno soprano

Lauren Armishaw, Marta Paklar, Stefanie True

Ripieno alto

Bernadett Nagy, Sofia Gvirts

Ripieno tenor

João Moreira, Immo Schröder

Ripieno bass

Matthew Baker, Pierre-Guy Le Gall White

Violin 1

Sayuri Yamagata, Lucia Giraudo, Mayumi Sargent Harada

Violin 2

Pieter Affourtit, Anneke van Haaften, Kano Imada

Viola

Staas Swierstra, Femke Huizinga

Cello

Lucia Swarts, Carlos Leal

Double bass

Robert Franenberg

Oboe

Ivan Podyomov, Katharina Verhaar

Bassoon

Benny Aghassi

Trumpet

Robert Vanryne

Organ

Leo van Doeselaar

Harpsichord

Siebe Henstra

Director and editor

Onno van Ameijde

Music recording

Guido Tichelman, Bastiaan Kuijt, Pim van der Lee

Music edit and mix

Guido Tichelman

Camera

Martin Struijf, Bjorn Tiebout, Jesper Blok, Rieks Soepenberg

Lights

Zen Bloot

Set technique

Justin Mutsaers

Project manager team

Ron Vermeulen

Assistant music recording

Marloes Biermans

Producer concert

Imke Deters

Producer film

Jessie Verbrugh
Help us to complete All of Bach
There are still many recordings to be made before the whole of Bach's oeuvre is online. And we can't complete the task without the financial support of our patrons. Please help us to complete the musical heritage of Bach, by supporting us with a donation!