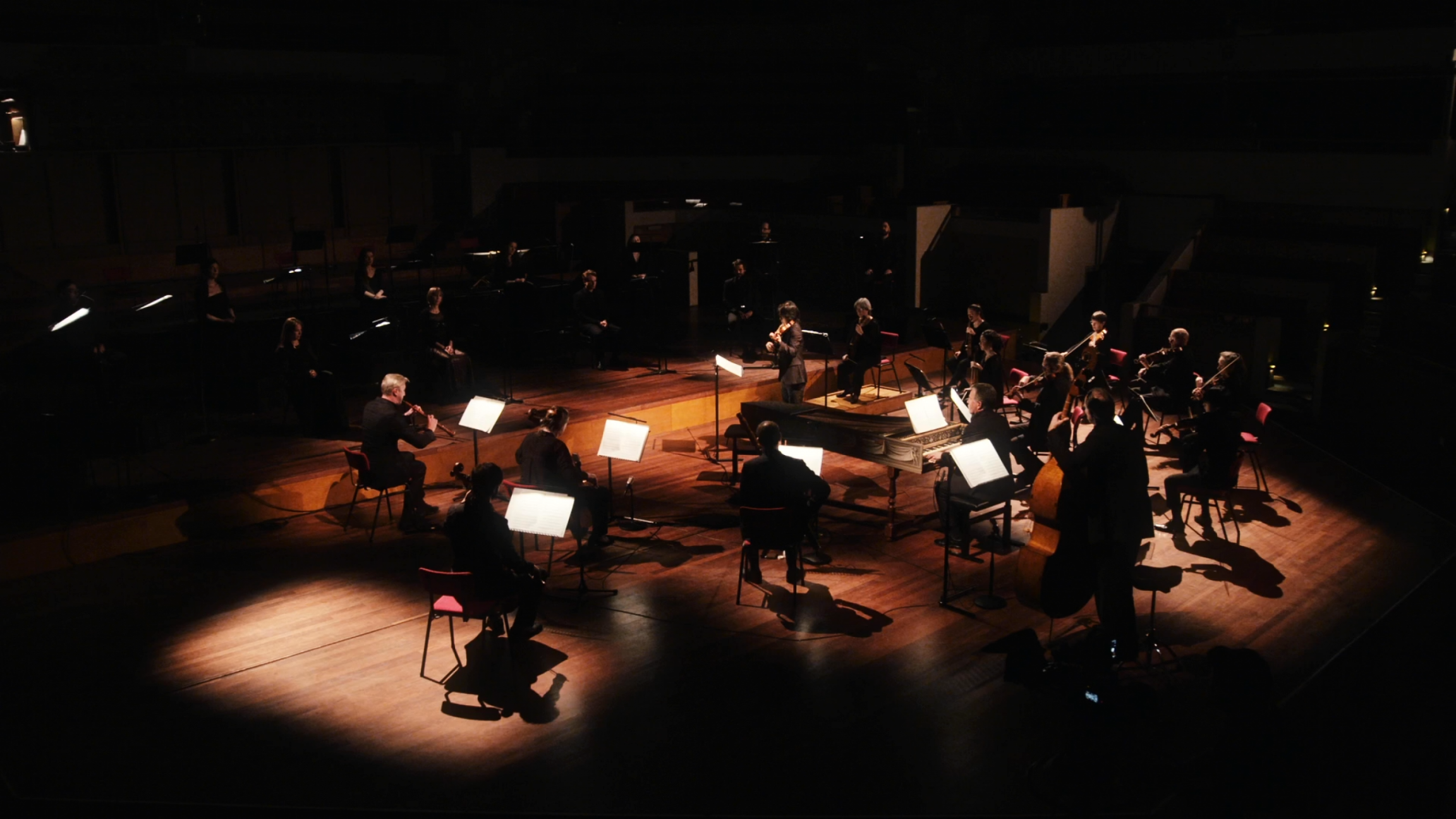 Ich hatte viel Bekümmernis
BWV 21 performed by the Netherlands Bach Society
conducted by Shunske Sato
TivoliVredenburg, Utrecht
Menu
1. Sinfonia
2. Ich hatte viel Bekümmernis (Chor)
3. Seufzer, Tränen (Arie)
4. Wie hast du dich (Rezitativ)
5. Bäche von gesalznen Zähren (Arie)
6. Was betrübst du dich (Chor)
7. Ach Jesu, meine Ruh (Rezitativ)
8. Komm, mein Jesu (Duett)
9. Sei nun wieder zufrieden (Chor)
10. Erfreue dich, Seele (Arie)
11. Das Lamm, das erwürget ist (Chor)
An unexpected farewell
Vivaldi's violin concerto is echoed in the opening chorus.
When Bach worked briefly at the court of Weimar, in 1703, a young prince was living there. The six-year-old Johann Ernst IV of Saxe-Weimar, born in 1696, was the son of Bach's employer. Maybe Bach already recognised his musical talent, as years later the two of them were connected through music.
In 1708, the prince was entering his teens, when Bach returned to Weimar in July of that year. Their shared love of music received a boost after the prince returned from a long trip to the Netherlands, in July 1713. He brought new music with him, including Vivaldi's L'estro armonico, which had been printed in Amsterdam in 1711. These violin concertos and Vivaldi's Italian style were enthusiastically played and arranged by Bach and by Johann Ernst himself.
The Italian influence could be heard immediately in Bach's own music of the period. In the opening chorus of this cantata, you can hear clear echoes of one of Vivaldi's concertos. An early version of the cantata probably originated in 1713, written for the funeral of the wife of a high court official, on 8 October. The theme of the sermon for this service was psalm 94, verse 19, which is precisely the text of the opening chorus of Bach's cantata. This early version consisted only of parts 2–6 and 9.
In March 1714, Bach was told that he must "monatlich neüe Stücke ufführen" for the court chapel. And so the church cantatas for Weimar were born. On 17 June, the third Sunday after Trinity, the longer version of this cantata was performed there. This was probably the last big work by Bach heard by Prince Johann Ernst. He was ill and travelled to a health resort. In the spring of 1714, a "holländische Kutsche" was procured and he set off on 4 July. One year later, he died without seeing Weimar or Bach again. So by chance, this cantata – with its Vivaldian opening chorus – was Bach's farewell to the prince.
BWV

21

Title

Ich hatte viel Bekümmernis

Genre

cantatas

Year

before December 1713

City

Weimar, later performances in Leipzig

Lyricist

Salomon Franck

Occasion

Third Sunday after Trinity

First performance

8 October 1713?, repeat performance on 17 June 1714

Special notes

repeat performances in Hamburg? (1720) and Leipzig (1723). In the opening chorus, Bach arranged the Allegro from Vivaldi's Concerto Grosso in D minor, RV 565
With support from
Marten and Catja van Til - de Raay
Vocal texts
Original
Erster Teil

1. Sinfonia

2. Chor
Ich hatte viel Bekümmernis in meinem Herzen;
aber deine Tröstungen erquicken meine Seele.

3. Arie (Sopran)
Seufzer, Tränen, Kummer, Not,
ängstlichs Sehnen, Furcht und Tod
nagen mein beklemmtes Herz,
ich empfinde Jammer, Schmerz.
Seufzer, Tränen, Kummer, Not!

4. Rezitativ (Tenor)
Wie hast du dich, mein Gott,
in meiner Not,
in meiner Furcht und Zagen
denn ganz von mir gewandt?
Ach! kennst du nicht dein Kind?
Ach! hörst du nicht das Klagen
von denen, die dir sind
mit Bund und Treu verwandt?
Du warest meine Lust
und bist mir grausam worden:
Ich suche dich an allen Orten;
ich ruf und schrei dir nach,
allein: mein Weh und Ach!
scheint itzt, als sei es dir ganz unbewußt.

5. Arie (Tenor)
Bäche von gesalznen Zähren,
Fluten rauschen stets einher.
Sturm und Wellen mich versehren,
und dies trübsalsvolle Meer
will mir Geist und Leben schwächen,
Mast und Anker wollen brechen,
hier versink ich in den Grund,
dort seh in der Hölle Schlund.

6. Chor
Was betrübst du dich, meine Seele,
und bist so unruhig in mir?
Harre auf Gott!
Denn ich werde ihm noch danken,
daß er meines Angesichtes Hülfe
und mein Gott ist.

Zweiter Teil

7. Rezitativ (Sopran, bass)
(S) Ach Jesu, meine Ruh,
mein Licht, wo bleibest du?
(B) O Seele, sieh! ich bin bei dir.
(S) Bei mir? Hier ist ja lauter Nacht.
(B) Ich bin dein treuer Freund,
der auch im Dunkeln wacht,
wo lauter Schalken seind.
(S) Brich doch mit deinem Glanz
und Licht des Trostes ein!
(B) Die Stunde kömmet schon,
da deines Kampfes Kron
dir wird ein süßes Labsal sein.

8. Duett (Sopran, bass)
(S) Komm, mein Jesu, und erquikke
(B) Ja, ich komme und erquikke
(S) und erfreu mit deinem Blikke!
(B) dich mit meinem Gnadenblikke.
(S) Diese Seele, die soll sterben
(B) Deine Seele, die soll leben
(S) und nicht leben,
(B) und nicht sterben,
(S) und in ihrer Unglückshöhle
(B) hier aus dieser Wunden Höhle
(S) ganz verderben.
(B) sollt du erben
(S) Ich muß stets in Kummer schweben,
(B) Heil durch diesen Saft der Reben,
(S) ja, ach ja, ich bin verloren,
(B) nein, ach nein, du bist erkoren,
(S) nein, ach nein, du hassest mich.
(B) ja, ach ja, ich liebe dich.
(S) Ach, Jesu, durchsüße mir Seele und Herze!
(B) Entweichet, ihr Sorgen, verschwinde, du Schmerze!
(S) Komm, mein Jesu, und erquikke
(B) Ja, ich komme und erquikke
(S) mich mit deinem Gnadenblicke!
(B) dich mit meinem Gnadenblicke

9. Chor
Sei nun wieder zufrieden, meine Seele,
denn der Herr tut dir Guts.

Was helfen uns die schweren Sorgen,
was hilft uns unser Weh und Ach?
Was hilft es, daß wir alle Morgen
beseufzen unser Ungemach?
Wir machen unser Kreuz und Leid
nur größer durch die Traurigkeit.

Sei nun wieder zufrieden, meine Seele,
denn der Herr tut dir Guts.«

Denk nicht in deiner Drangsalshitze,
daß du von Gott verlassen seist,
und daß Gott der im Schoße sitze,
der sich mit stetem Glücke speist.
Die folgend Zeit verändert viel
und setzet jeglichem sein Ziel.

10. Arie (Tenor)
Erfreue dich, Seele, erfreue dich, Herze,
entweiche nun, Kummer,
verschwinde, du Schmerze!
Verwandle dich, Weinen, in lauteren Wein!
Es wird nun mein Ächzen ein Jauchzen mir sein.
Es brennet und flammet die reineste Kerze
der Liebe, des Trostes in Seele und Brust,
weil Jesus mich tröstet mit himmlischer Lust.

11. Chor
Das Lamm, das erwürget ist,
ist würdig zu nehmen Kraft
und Reichtum und Weisheit und Stärke
und Ehre und Preis und Lob.
Lob und Ehre und Preis
und Gewalt sei unserm Gott
von Ewigkeit zu Ewigkeit,
Amen, alleluja!
Translation
Part One

1. Sinfonia

2. Chorus
My heart was deeply troubled;
but Thy comforting words revive my spirit.

3. Aria
Sighing, weeping, sorrow, care,
anxious yearning, fear and death
gnaw at my oppressed heart,
I feel affliction and pain.
Sighing, weeping, sorrow, care!

4. Recitative
Why hast thou, my God,
in my distress,
in my fear and trembling
thus quite forsaken me?
Ah, dost Thou not know Thy child?
Dost Thou not hear the wailing
of those who are bound to Thee
in faith and truth?
Thou wast my delight
but have now become cruel;
I seek Thee everywhere,
I call and cry to Thee, –
but my grief and woe
seem now quite unknown to Thee.

5. Aria
Streams of salt tears,
floods are flowing ever on.
Storms and waves are wounding me,
and this sorrow-laden sea
would seek to drain my life and spirit.
Mast and anchor are about to break;
here I sink into the depths,
there look into the jaws of Hell.

6. Chorus
Why art thou troubled, my spirit,
and so unquiet within me?
Wait upon God,
for I shall yet give Him thanks.
He is the help of my countenance
and is my God.

Part Two

7. Recitative (Soul, Jesus)
Ah, Jesus, my repose,
my light, where are Thou?
Behold, O soul! I am with you.
With me?
Here is naught but night.
I am your faithful friend,
who even watches over you at night,
when naught but fiends are found.
Comfort me with Thy radiance and light.
The hour draws nigh
when your struggle shall be crowned
with sweet refreshment.

8. Aria (Duet)
Come, my Jesus, and refresh
Yes, I come and refresh
and delight with Thy gaze
you with my gaze of grace.
this soul, which shall die
Your soul shall live
and not live
and not die;
and in its deep misfortune
here from deep wounds
shall perish quite.
you shall inherit
I am doomed to live in grief,
salvation through the juice of this vine.
yes, ah yes, I am lost!
No, ah no, you have been chosen!
No, ah no, Thou hatest me!
Yes, ah yes, I love you.
Ah Jesus, sweeten my soul and heart!
Give way, O sorrows, vanish, O pain!
Come, my Jesus, and refresh
Yes, I come and refresh
me with Thy gaze of grace
you with my gaze of grace.

9. Chorus
Be content now, my spirit;
the Lord comforts you.

What use to us are these heavy sorrows,
what use is all this grief and woe?
What use, that we each morning
bewail our hardship?
We only increase our cross and pain
through our unhappiness.

Be content now, my spirit;
the Lord comforts you.

Think not, in the heat of your ordeal,
that God has forsaken you,
and that he dwells in God's bosom
who feeds on constant happiness.
The future will transform much
and set an end for all of us.

10. Aria
Rejoice, my soul, rejoice, my heart,
give way, sorrows;
vanish, pain!
Transform yourself, tears, into pure wine,
my moaning shall turn to cries of joy!
The purest candle of love and comfort
burns and flames in my soul and heart,
for Jesus consoles me with heavenly joy.

11. Chorus
Worthy is the lamb
that was slain to receive power
and riches and wisdom and strength
and honour and glory and blessing.
Blessing and honour and glory
and power be to our God
for ever and ever.
Amen, alleluia!
Credits
Release date

2 December 2021

Recording date

22 April 2021

Location

TivoliVredenburg, Utrecht

Violin and direction

Shunske Sato

Soprano

Stefanie True

Alto

Ulrike Malotta

Tenor

Guy Cutting

Bass

Felix Schwandtke

Ripieno soprano

Lauren Armishaw, Marta Paklar

Ripieno alto

Bernadett Nagy, Sofia Gvirts

Ripieno tenor

João Moreira, Immo Schröder

Ripieno bass

Matthew Baker, Pierre-Guy Le Gall White

Violin 1

Sayuri Yamagata, Lucia Giraudo, Mayumi Sargent Harada

Violin 2

Pieter Affourtit, Anneke van Haaften, Kano Imada

Viola

Staas Swierstra, Femke Huizinga

Cello

Lucia Swarts, Carlos Leal

Double bass

Robert Franenberg

Oboe

Ivan Podyomov

Bassoon

Benny Aghassi

Trumpet

Robert Vanryne, Mark Geelen, Nicholas Emmerson

Timpani

Robert Kendell

Organ

Leo van Doeselaar

Harpsichord

Siebe Henstra

Director and editor

Onno van Ameijde

Music recording

Guido Tichelman, Bastiaan Kuijt, Pim van der Lee

Music edit and mix

Guido Tichelman

Camera

Martin Struijf, Bjorn Tiebout, Jesper Blok, Rieks Soepenberg

Lights

Zen Bloot

Set technique

Justin Mutsaers

Project manager team

Ron Vermeulen

Assistant music recording

Marloes Biermans

Producer concert

Imke Deters

Producer film

Jessie Verbrugh

With support from

Marten and Catja van Til - de Raay
Help us to complete All of Bach
There are still many recordings to be made before the whole of Bach's oeuvre is online. And we can't complete the task without the financial support of our patrons. Please help us to complete the musical heritage of Bach, by supporting us with a donation!