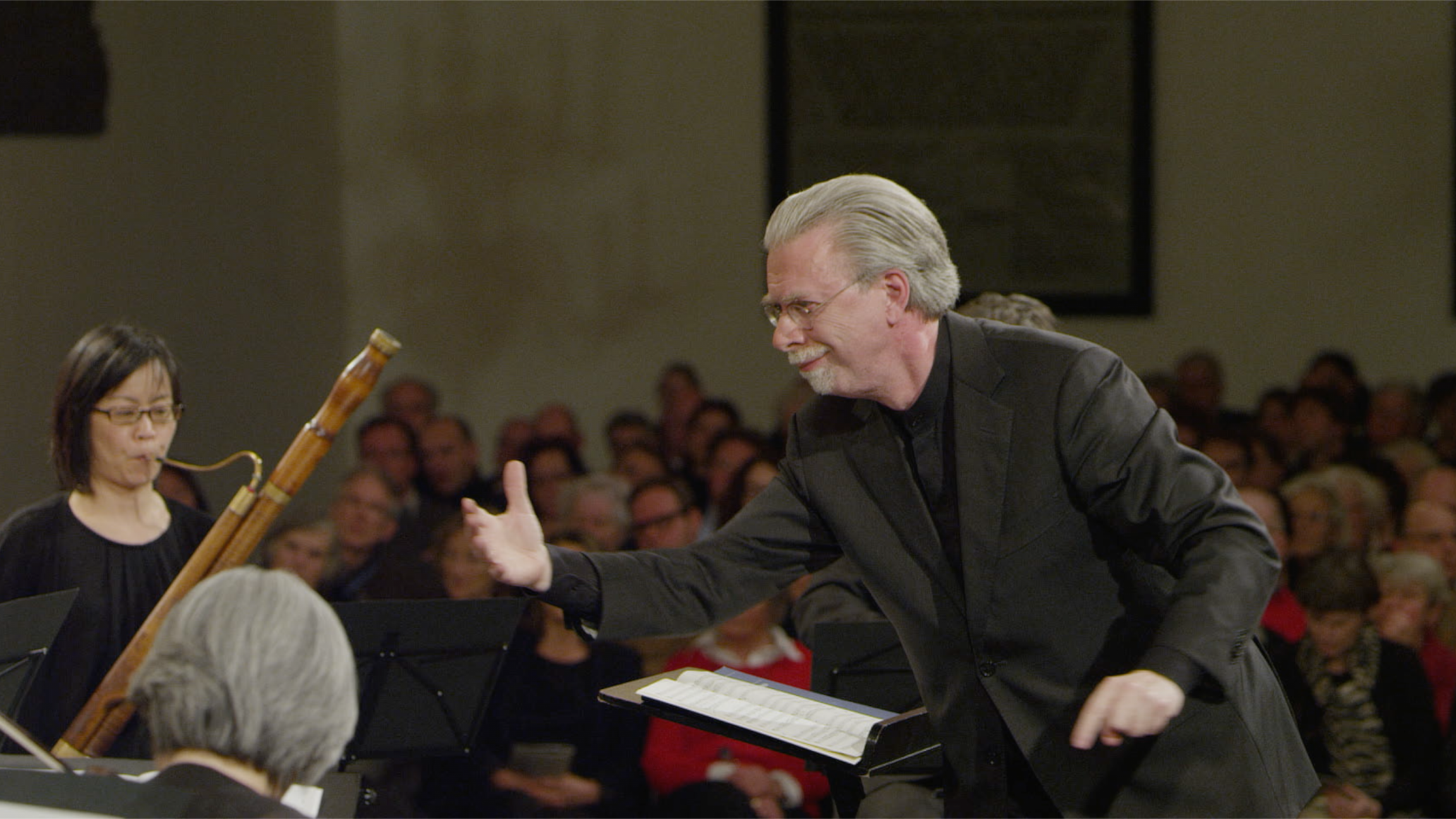 Nimm, was dein ist, und gehe hin
BWV 144 performed by the Netherlands Bach Society
conducted by Jos van Veldhoven
Grote Kerk, Naarden
Menu
1. Nimm, was dein ist (Chorus)
2. Murre nicht (Aria)
3. Was Gott tut, das ist wohlgetan (Chorale)
4. Wo die Genügsamkeit regiert (Recitative)
5. Genügsamkeit (Aria)
6. Was mein Gott will (Chorale)
Story
Extra videos
Texts
Credits
Don't complain and go away
Bach changes the mood with his favourite hymn.
It's amazing what you can do with a hymn that appeals to you! Bach used the chorale 'Was Gott tut, das ist wohlgetan' for no fewer than seven cantata arrangements. The optimism and faith in God exuded by it must have touched him deeply.
Here, Bach uses the first verse as a turning point. The words of the cantata talk about the dissatisfied workers in the parable in the Gospel according to St Matthew. The opening comes straight to the point: don't complain and go away is the strict message contained in a fugue, which is given to the men who think they have been underpaid. In the ensuing aria, a gentle alto encourages them to take satisfaction, although you still hear the echo of the workers' grumble in the lower regions. The second chorale 'Was Gott tut, das ist wohlgetan' forms the turning point, where the message is 'Have a little faith'. The tenor and soprano take the wise lesson to heart, following which the cantata closes aptly with the chorale that appears in the St Matthew Passion, among other works: 'Was mein Gott will, das g'scheh allzeit'.
The key line of that final chorale, 'Sein Will, der ist der beste', must have lingered in the mind of Severus Gastorius as well. When he wrote the words to 'Was Gott tut, das ist wohlgetan' for his friend Samuel Rodigast, the latter's life was hanging in the balance. However, he did not die and was able to set the words to music. Whether or not he was a great composer remains to be seen, as although he later became cantor in Jena, little of his music is known, and he based 'Was Gott tut, das ist wohlgetan' on a melody from a previously published collection of songs. We do know, however, that Rodigast was attached to the hymn, as his pupils sang it every week at his home. At his request, it was also performed at his funeral, when he died seven years later, in 1682.
BWV

144

Title

Nimm, was dein ist, und gehe hin

Epithet

Concerto

Genre

cantatas

Year

1724

City

Leipzig

Lyricist

unknown/Samuel Rodigast

Occasion

Septuagesima Sunday (Ninth Sunday before Easter)

First performance

6 February 1724

Special notes

Bach used the words and melody of 'Was Gott tut, das ist wohlgetan' no fewer than seven times in his cantatas.
Extra videos
Vocal texts
Original
1. Chor
Nimm, was dein ist, und gehe hin.

2. Arie (Alt)
Murre nicht,
lieber Christ,
wenn was nicht nach Wunsch geschicht;
sondern sei mit dem zufrieden,
was dir dein Gott hat beschieden,
er weiss, was dir nützlich ist.

3. Choral
Was Gott tut, das ist wohlgetan,
es bleibt gerecht sein Wille;
wie er fängt meine Sachen an,
will ich ihm halten stille.
Er ist mein Gott,
der in der Not
mich wohl weiss zu erhalten:
drum lass' ich ihn nur walten.

4. Rezitativ (Tenor)
Wo die Genügsamkeit regiert
und überall das Ruder führt,
da ist der Mensch vergnügt
mit dem, wie es Gott fügt.
Dagegen, wo die Ungenügsamkeit das Urtel spricht,
da stellt sich Gram und Kummer ein,
das Herz will nicht
zufrieden sein,
und man gedenket nicht daran:
was Gott tut, das ist wohlgetan.

5. Arie (Sopran)
Genügsamkeit
ist ein Schatz in diesem Leben,
welcher kann Vergnügung geben
in der grössten Traurigkeit,
genügsamkeit.
Denn es lässet sich in allen
Gottes Fügung wohl gefallen
genügsamkeit.

6. Choral
Was mein Gott will, das g'scheh allzeit,
sein Will, der ist der beste.
Zu helfen den'n er ist bereit,
die an ihn glauben feste.
Er hilft aus Not, der fromme Gott,
und züchtiget mit Massen.
Wer Gott vertraut, fest auf ihn baut,
den will er nicht verlassen.



Translation
1. Chorus
Take that thine is, and go thy way.

2. Aria
Do not murmur,
dear man of Christ,
when your wish is not fulfilled;
rather be contented
with what your God has apportioned you,
He knows what will help you.

3. Chorale
What God doth is well done,
His will is just and lasts forever;
however He acts on my behalf,
I shall stand by Him calmly.
He is my God,
who sustains me
when I am in distress;
that is why I let Him prevail.

4. Recitative
Wherever contentedness reigns
?and is at the helm,
there mankind is satisfied
with what God ordains.
But when discontent
passes judgement,
grief and worry ensue,
the heart is not satisfied
and it is forgotten that
what God doth is well done.

5. Aria
Contentedness
is a jewel in this life,
that can bring pleasure
amid the greatest sadness,
contentedness,
for it consents to all
that God ordains,
contentedness.

6. Chorale
May my God's will always be done,
His will is the best will,
He is prepared to help those
who steadfastly believe in Him.
He helps us in need, this righteous God,
and punishes with moderation.
Who trusts in God, relies on Him,
him shall He never abandon.





Credits
Release date

30 October 2015

Recording date

7 February 2015

Location

Grote Kerk, Naarden

Conductor

Jos van Veldhoven

Soprano

Gerlinde Sämann

Alto

Damien Guillon

Tenor

Charles Daniels

Bass

Peter Kooij

Ripieno soprano

Marjon Strijk, Hilde Van Ruymbeke

Ripieno alto

Elsbeth Gerritsen, Barnabás Hegyi

Ripieno tenor

Kevin Skelton, Endrik Üksvärav

Ripieno bass

Michiel Meijer, Drew Santini

Violin 1

Sayuri Yamagata, Pieter Affourtit, Hanneke Wierenga

Violin 2

Anneke van Haaften, Paulien Kostense, Lidewij van der Voort

Viola

Staas Swierstra, Jan Willem Vis

Cello

Lucia Swarts, Richte van der Meer

Double bass

Maggie Urquhart

Oboe

Martin Stadler

Bassoon

Yukiko Murakami

Harpsichord

Siebe Henstra

Positive organ

Leo van Doeselaar

Film director and editor

Lucas van Woerkum

Music recording producers

Guido Tichelman, Bastiaan Kuijt

Director of photography

Jorrit Garretsen

Camera

Jorrit Garretsen, Ruben van den Broeke, Diderik Evers, Maarten van Rossem

Gaffer

Zen Bloot, Harm Bredero

Score reader

Stijn Berkouwer

Best boy

Marcel Brugman

Music recording assistant

Micha de Kanter

Camera assistant

Wesley Westerhuis

Concert production

Erik van Lith, Marco Meijdam

Producers

JeanMarc van Sambeek, Jessie Verbrugh

Acknowledgements

Angela Mast, Marlo Reeders
Help us to complete All of Bach
There are still many recordings to be made before the whole of Bach's oeuvre is online. And we can't complete the task without the financial support of our patrons. Please help us to complete the musical heritage of Bach, by supporting us with a donation!