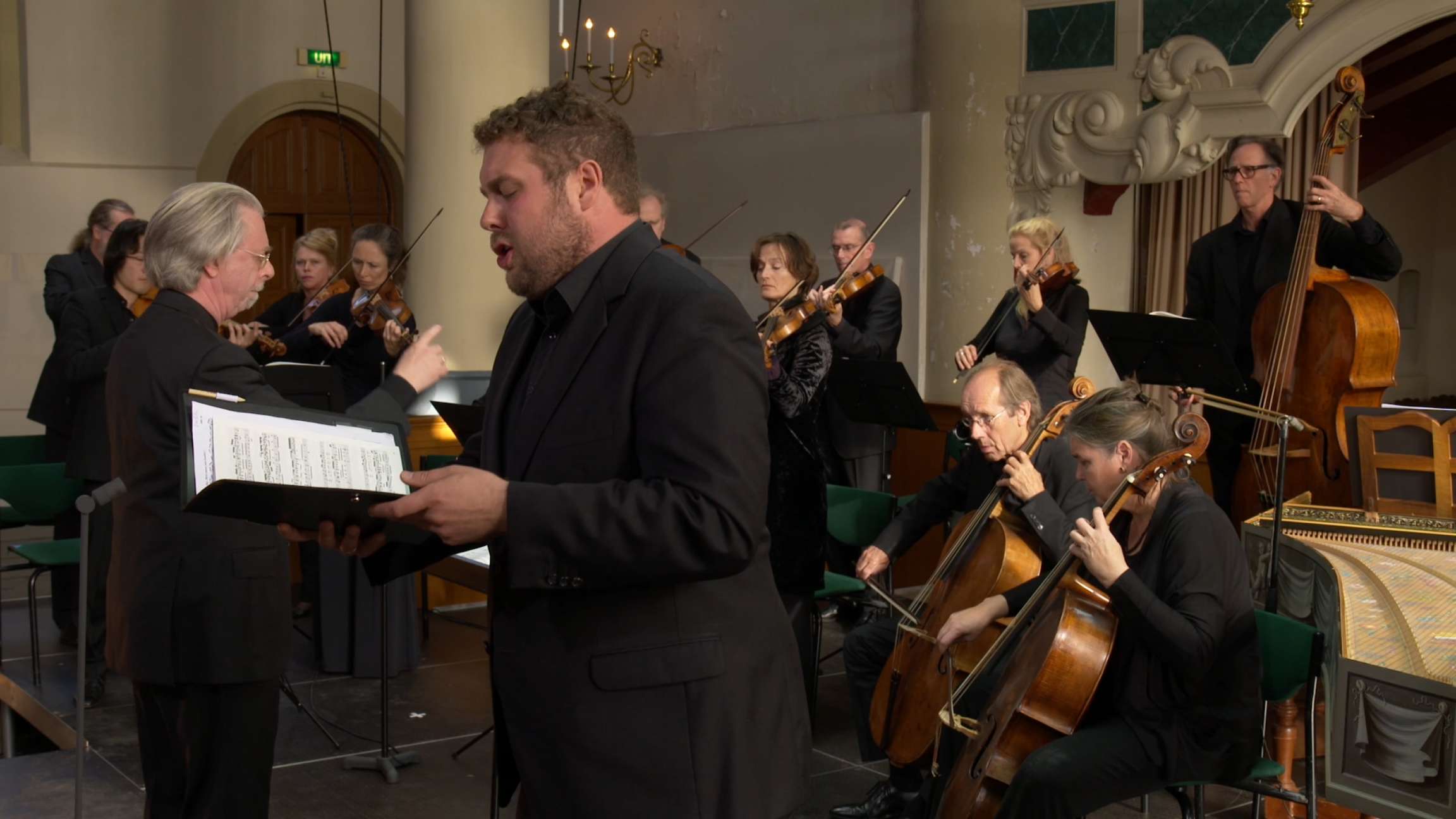 Vergnügte Ruh, beliebte Seelenlust
BWV 170 performed by the Nederlands Bach Society
conducted by Jos van Veldhoven
Walloon Church, Amsterdam
Menu
1. Vergnügte Ruh, beliebte Seelenlust (Aria)
2. Die Welt, das Sündenhaus (Recitative)
3. Wie jammern mich doch (Aria)
4. Wer sollte demnach wohl (Recitative)
5. Mir ekelt mehr zu leben (Aria)
Story
Extra videos
Texts
Credits
Subtext
Bach is more than just 'Classic FM'
Take any CD of collected alto arias and – bingo – you'll find the first aria from Vergnügte Ruh, beliebte Seelenlust on it. On a first hearing, it is a 'Classic FM' piece, and it sings of pleasant repose. "However", says alto soloist Alex Potter, "Bach is more than that. He shows how that heavenly peace is more of an ambition than an achievement. You hear it, for example, in the agitation of the semiquavers, which shows that Adam's curse still holds true: the sinfulness of the flesh is always present. It's no coincidence that this cantata was probably performed around the communion; the part of the church service that renews the bond between Christ and the congregation".
Main role for the organ
In the second aria, the singer is accompanied by solo organ, which is a rarity in the Bach cantatas. Here, the singer identifies with the worshipper, lamenting the many wicked hearts in the world. The organ supports him with short sighing motifs. "There are numerous challenges. I have to keep my coloraturas (long, virtuoso lines on one syllable) in pace with the organist and find the right expression at the same time. And I have to do so without lapsing into meaningless virtuosity. 'Rach und Hass' are words that you can't just sing nicely".
The closing aria, 'Mir ekelt mehr zu leben', should be interpreted metaphorically rather than literally, according to Alex Potter. "It doesn't concern a direct wish to die, but rather the wish to let the flesh die in order to come closer to God. The rather blundering organ accompaniment could represent the vanity of the world. Significantly, Bach chose here for the rhythmic structure of the Bourree – a court dance".
Location and organ
This recording was made in the Walloon Church in the heart of Amsterdam. Not only does the church have good acoustics, but it is also a place of pilgrimage for organists due to its Müller organ from 1739.
Organist Leo van Doeselaar: "This is one of the finest small Baroque organs in the Netherlands. Gustav Leonhardt was the organist at the Walloon Church from 1959 to 1982. He had the organ restored to its original state as early as the 1960's. It's a real pioneer's organ". For this performance, we are actually using this 'great' organ. A box organ is an anachronism, which was never used in Bach's day.
"In Bach's church music, the great church organ always played the continuo parts. In principle, it had the same soft registration as a box organ, but the much wider scaled pipes of the church organ form a more important component of the timbre of a Baroque ensemble. For chorales and choirs of the Baroque period, stronger registers were used and the bass line was played on the pedal, with a 16-foot double-bass register. The fact that it was never done like this before is actually one of the unintentional falsifications of the historical sound approach", says organist Leo van Doeselaar.
BWV

170

Title

Vergnügte Ruh, beliebte Seelenlust

Instrument

alto, oboe

Genre

cantatas

Year

1726

City

Leipzig

Lyricist

Georg Christian Lehms, 1711

Occasion

sixth Sunday after Trinity

First performance

28 July 1726

Special notes

Bach probably performed this cantata alongside Johann Ludwig Bach's cantata Ich will meinen Geist in euch geben.
Extra videos
Vocal texts
Original
1. Arie
Vergnügte Ruh, beliebte Seelenlust,
dich kann man nicht bei Höllensünden,
wohl aber Himmelseintracht finden;
du stärkst allein die schwache Brust.
Drum sollen lauter Tugendgaben
in meinem Herzen Wohnung haben.

2. Rezitativ
Die Welt, das Sündenhaus,
bricht nur in Höllenlieder aus
und sucht durch Hass und Neid
des Satans Bild an sich zu tragen.
Ihr Mund ist voller Ottergift
der oft die Unschuld tödlich trifft,
und will allein von Racha sagen.
Gerechter Gott, wie weit
ist doch der Mensch von dir entfernet;
du liebst, jedoch sein Mund
macht Fluch und Feindschaft kund
und will den Nächsten
nur mit Füssen treten.
Ach! diese Schuld ist
schwerlich zu verbeten.

3. Arie
Wie jammern mich doch
die verkehrten Herzen,
die dir, mein Gott, so sehr
zuwider sein;
ich zittre recht und fühle
tausend Schmerzen,
wenn sie sich nur an Rach
und Hass erfreun.
Gerechter Gott,
was magst du doch gedenken,
wenn sie allein mit
rechten Satansränken
dein scharfes Strafgebot
so frech verlacht.
Ach! ohne Zweifel
hast du so gedacht:
wie jammern mich doch
die verkehrten Herzen!

4. Rezitativ
Wer sollte sich demnach wohl
hier zu leben wünschen,
wenn man nur Hass und Ungemach
vor seine Liebe sieht?
Doch, weil ich auch den Feind
wie meinen besten Freund
nach Gottes Vorschrift lieben soll,
so flieht mein Herze Zorn und Groll
und wünscht allein bei Gott zu leben,
der selbst die Liebe heisst.
Ach, eintrachtvoller Geist,
wenn wird er dir doch nur
sein Himmelszion geben?

5. Arie
Mir ekelt mehr zu leben,
drum nimm mich, Jesu, hin!
Mir graut vor allen Sünden,
lass mich dies Wohnhaus finden,
wo selbst ich ruhig bin.



Translation
1. Aria
Contented rest, beloved inner joy,
you cannot be found amid hell's sins,
but rather in the harmony of heaven;
you alone strengthen the weak breast.
Thus shall naught but virtue's gifts
dwell in my heart.

2. Recitative
The world, that house of sin,
breaks only into songs of Hell
and seeks through hate and envy
to impress Satan's image on itself.
Its mouth is filled with viper's bane,
which often murders innocence,
and speaks of naught but Raca!
O righteous God, how far,
in truth, is man from Thee divided;
Thou dost love, and yet his lips
utter curses and hostility,
and he would merely
trample his neighbour.
Ah! such sin can scarce
be banished through prayer!

3. Aria
How those perverted
hearts grieve me,
who have, my God,
so offended Thee;
I tremble, in truth,
and feel a thousand torments,
when they merely rejoice
in revenge and hate.
O righteous God,
what might Thy thoughts be,
when they so boldly
flout Thy stern punishment
with veritable
Satanic scheming.
Ah! these were
doubtless your thoughts:
how those perverted
hearts grieve me!

4. Recitative
Who would, therefore,
ever wish to live here,
when love is countered
with naught but hate and hardship?
Yet since I am to love my foe
as well as my closest friend,
according to God's commandment,
so my heart shuns wrath and rancour
and seeks to dwell with God alone,
who is Himself called love.
Ah! peace-loving spirit,
when will He bring
you His heavenly Zion?

5. Aria
It sickens me to live longer;
therefore take me, Jesus, hence!
I have a horror of all sinning,
let me find that dwelling
wherein I may have rest.






Credits
Release date

3 March 2017

Recording date

22 October 2016

Location

Waalse Kerk, Amsterdam

Conductor

Jos van Veldhoven

Alto

Alex Potter

Organ

Leo van Doeselaar

Violin 1

Shunske Sato, Pieter Affourtit, Anneke van Haaften, Hanneke Wierenga

Violin 2

Sayuri Yamagata, Paulien Kostense, Annelies van der Vegt

Viola

Staas Swierstra, Jan Willem Vis

Cello

Lucia Swarts, Richte van der Meer

Double bass

Robert Franenberg

Oboe

Martin Stadler

Harpsichord

Siebe Henstra

Director

Bas Wielenga

Assistant director

Ferenc Soetman

Music recording

Guido Tichelman, Bastiaan Kuijt, Pim van der Lee

Music edit and mix

Guido Tichelman

Camera

Bart ten Hakel, Merijn Vrieling, Ivo Palmen, Chris Reichgelt

Camera stagiair

Klazina Westra

Lights

Zen Bloot

Lighting assistant

Patrick Galvin, Henry Rodgers

Video engineer

Vincent Nugteren

Set technique

Justin Mutsaers

Data handling

Jesper Blok

Projectmanager NEP

Jochem Timmerman

Project preparation nep

Peter Ribbens

Interview

Gijs Besseling, Marloes Biermans

Producer concert

Imke Deters

Producer film

Jessie Verbrugh
Help us to complete All of Bach
There are still many recordings to be made before the whole of Bach's oeuvre is online. And we can't complete the task without the financial support of our patrons. Please help us to complete the musical heritage of Bach, by supporting us with a donation!