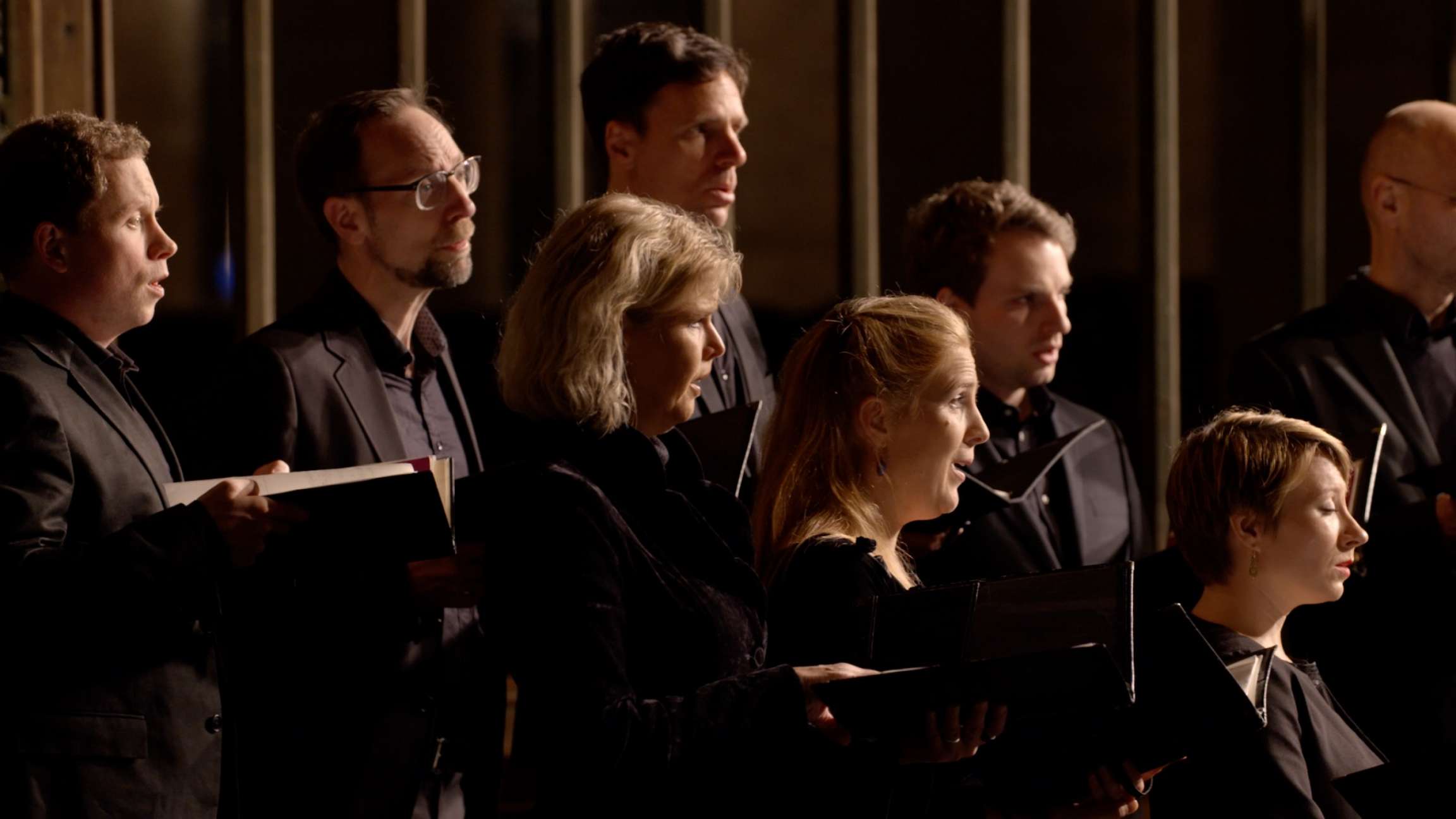 Jesu, meine Freude
BWV 358 performed by the Netherlands Bach Society
conducted by Christoph Prégardien
Grote Kerk, Alkmaar
Bach's favourite chorale?
How Heinrich Albert's sweetheart gained eternal fame.
You might know the German love song Flora meine Freude, meiner Seelen Weide (Flora, my joy, nourishment for my soul). Or probably not, but the words may sound vaguely familiar anyway. That's because the lines by composer and poet Heinrich Albert, published in 1641, form the basis for the text of the chorale Jesu, meine Freude, meines Herzens Weide. This chorale, set to the new melody by Johan Crüger with which we are more familiar, soon became much better known than the secular version by Heinrich Albert.
Bach seems to have had quite a preference for this chorale. It appears in various organ arrangements (like his early work BWV 1105) and he constructed a whole five-part motet around it (Jesu, meine Freude, BWV 227). It also turns up as the closing chorale in various cantatas (including BWV 81).
Simple four-part chorale harmonisations like the ones Bach made for his cantatas can, of course, be used for other purposes as well. That is why these individual chorales were often gathered together in collections. This still happens even today. One of the main sources from Bach's immediate circle is a manuscript copied by Johann Ludwig Dietel around 1735. Dietel studied with Bach and also did a lot of copying for him. Dietel's collection contains 149 four-part chorale harmonisations, including four different harmonisations of Jesu, meine Freude: the closing chorales from the cantatas BWV 64 and 87, those from the motet of the same name BWV 227, and also this 'independent' chorale BWV 358.
The source itself gives the music without any text. Christoph Prégardien chose the first verse. But maybe when you hear this music from now on, you'll spare a thought for Heinrich Albert and his Flora.
BWV

358

Title

Jesu, meine Freude

Genre

chorales

Lyricist

Johann Frank

Special notes

This chorale comes from a collection of separate chorales, compiled by Johann Ludwig Dietel. Some of them come from surviving cantatas or oratorios. However, we cannot ascertain whether the rest originate from compositions that have been lost.
Vocal texts
Original
Jesu, meine Freude,
meines Herzens Weide,
Jesu, meine Zier,
ach wie lang, ach lange
ist dem Herzen bange
und verlangt nach dir!
Gottes Lamm, mein Bräutigam,
außer dir soll mir auf Erden
nichts sonst Liebers werden.
Translation
Jesus, priceless treasure,
source of purest pleasure,
friend most sure and true:
long my heart was burning,
fainting much and yearning,
thirsting, Lord, for you.
Yours I am, O spotless Lamb,
so will I let nothing hide you,
seek no joy beside you!

translation © Catherine Winkworth
Credits
Release date

19 September 2019

Recording date

28 February 2019

Location

Grote Kerk, Alkmaar

Conductor

Christoph Prégardien

Soprano

Lucia Caihuela, Maria Valdmaa, Klaartje van Veldhoven, Lauren Armishaw, Orlanda Velez Isidro, Marjon Strijk

Alto

Marine Fribourg, Elsbeth Gerritsen, Eimi Witmer, Inga Schneider, Bart Uvyn, Laura Lopes

Tenor

Guy Cutting, Immo Schröder, David Lee, Adriaan de Koster, Yves Van Handenhove, Diederik Rooker

Bass

Drew Santini, Matthew Baker, Martijn de Graaf Bierbrauwer, Donald Bentvelsen, Michiel Meijer, Joep van Geffen

Organ

Siebe Henstra

Director and editor

Bas Wielenga

Music recording

Guido Tichelman, Bastiaan Kuijt, Pim van der Lee

Music edit and mix

Guido Tichelman

Camera

Martin Struijf, Jesper Blok, Wesley Schipper

Lights

Zen Bloot, Patrick Galvin, Fiona Verkleij, Henry Rodgers

Assistant director

Stefan Ebels

Video engineer

Justin Mutsaers

Project manager team

Ron Vermeulen

Assistant music recording

Marloes Biermans

Producer concert

Imke Deters, Marco Meijdam

Producer film

Jessie Verbrugh
Help us to complete All of Bach
There are still many recordings to be made before the whole of Bach's oeuvre is online. And we can't complete the task without the financial support of our patrons. Please help us to complete the musical heritage of Bach, by supporting us with a donation!