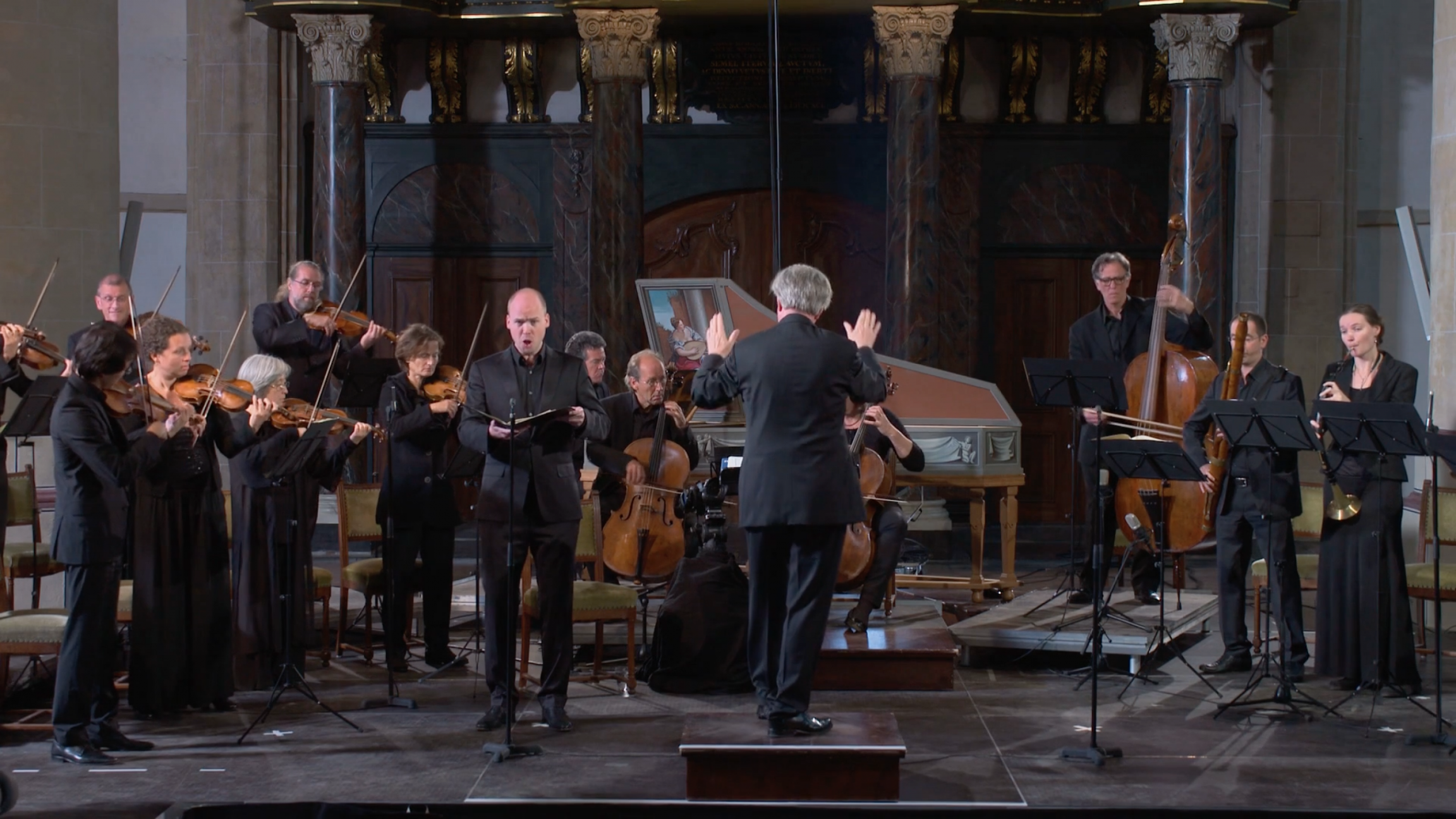 Geist und Seele wird verwirret
BWV 35 performed by the Netherlands Bach Society
conducted by Jos van Veldhoven
St Martin's Church, Groningen
Menu
1. Concerto
2. Geist und Seele (Aria)
3. Ich wundre mich (Recitative)
4. Gott hat alles wohlgemacht (Aria)
5. Sinfonia
6. Ach, starker Gott (Recitative)
7. Ich wünsche nur (Aria)
Story
Extra videos
Texts
Credits
Daredevil feats
From amazement and wonder to a spectacular ending.
Straight away, the beautiful instrumental introduction creates a sense that Bach is doing something special here. And this solo cantata for alto is indeed very festive and unusually long. Bach wrote the piece in 1726 for his third series of cantatas. He had already tried out various concepts in detail, and was clearly in need of new impulses, such as a greater instrumental contribution. So both parts begin with a sinfonia, which is exceptional, as Bach did not do this anywhere else. The first part was performed before the sermon and the second part afterwards. Another new element was the obbligato organ part. Bach most probably derived the material for these additions from earlier compositions, and thus breathed new life into them.
The text is about the healing of a deaf mute man by Jesus, and about the joy that ensues. The virtuoso organ part is present right from the start, whereas the oboe trio plays a much less prominent role. Following a dazzling instrumental opening with a starring role for the organ, a warm aria unfolds in a slow dance rhythm, in which the alto joins the organ in expressing amazement at God's wonders. When the alto has recovered a little in the recitative, it bursts into a coloratura-strewn eulogy against a backdrop of feather-light organ notes. The quick second sinfonia, like the recitative that follows it, is the pre-announcement of the union with God. In a fervent closing song of joy, it appears that the alto aspires above all to break into a hallelujah with the choir of angels. To illustrate this, Bach has lavishly dished out the daredevil vocal feats. There can be no doubt he had a specific talented singer in mind for this cantata. And he would probably have played the virtuoso organ part himself.
BWV

35

Title

Geist und Seele wird verwirret

Instrument

alto

Genre

cantatas

Year

1726

City

Leipzig

Lyricist

Georg Christian Lehms, 1711

Occasion

Twelfth Sunday after Trinity

First performance

8 September 1726

Special notes

BWV 35 is the only cantata with two sinfonias. The material was probably derived from earlier compositions. Movements 1, 2 and 5 may come from a harpsichord concerto, of which only a fragment has survived (BWV 1059).
Extra videos
Vocal texts
Original
Erster Teil

1. Concerto

2. Arie
Geist und Seele wird verwirret,
wenn sie dich, mein Gott, betracht'.
Denn die Wunder, so sie kennet
und das Volk mit Jauchzen nennet,
hat sie taub und stumm gemacht.

3. Rezitativ
Ich wundre mich;
denn alles, was man sieht
muss uns Verwundrung geben.
Betracht ich dich,
du teurer Gottessohn,
so flieht Vernunft und auch Verstand davon.
Du machst es eben,
dass sonst ein Wunderwerk
vor dir was Schlechtes ist.
Du bist dem Namen,
Tun und Amte nach erst wunderreich,
dir ist kein Wunderding
auf dieser Erde gleich.
Den Tauben gibst du das Gehör,
den Stummen ihre Sprache wieder,
Ja, was noch mehr,
du öffnest auf ein Wort
die blinden Augenlider.
Dies, dies sind Wunderwerke,
und ihre Stärke
ist auch der Engel Chor
nicht mächtig auszusprechen.

4. Arie
Gott hat alles wohlgemacht.
Seine Liebe, seine Treu
wird uns alle Tage neu.
Wenn uns Angst und Kummer drücket,
hat er reichen Trost geschicket,
weil er täglich für uns wacht.
Gott hat alles wohlgemacht.

Zweiter Teil

5. Sinfonia

6. Rezitativ
Ach, starker Gott, lass mich
doch dieses stets bedenken,
so kann ich dich
vergnügt in meine Seele senken.
Lass mir dein süsses Hephata
das ganz verstockte Herz erweichen;
ach! lege nur den Gnadenfinger
in die Ohren,
sonst bin ich gleich verloren.
Rühr auch das Zungenband
mit deiner starken Hand,
damit ich diese Wunderzeichen
in heilger Andacht preise
und mich als Erb und Kind erweise.

7. Arie
Ich wünsche nur bei Gott zu leben.
Ach! wäre doch die Zeit schon da,
ein fröhliches Halleluja
mit allen Engeln anzuheben.
Mein liebster Jesu, löse doch
das jammerreiche Schmerzensjoch
und lass mich bald in deinen Händen
mein martervolles Leben enden.
Translation
Part One

1. Sinfonia

2. Aria
Spirit and soul become confused,
when they gaze on Thee, my God.
For the miracles they know,
And which the people tell with joy,
have made them deaf and dumb.

3. Recitative
I marvel;
for everything that one sees
must fill us with amazement.
If I look on Thee,
Thou precious Son of God,
Both reason and sense take flight.

For Thou art the cause
that even a miracle seems
wretched next to Thee.
Thou art in name,
deed and office wonderful;
no wonder
on earth resembles Thee.
To the deaf Thou givest hearing,
to the dumb the gift of speech again,
yea, more than this,
Thou dost open, at a word,
the eyelids of the blind.
These, these are works of wonder,
and their power
cannot be expressed even by the choir of angels.

4. Aria
God has done all things well.
His love, his faith
are new every morning.
When fear and sorrow oppress us,
He hath always sent us ample comfort,
for He watches over us each day.
God has done all things well.

Part Two

5. Sinfonia

6. Recitative
Ah, mighty God, let me
always remember this,
and then I can
happily immerse Thee in my soul.
Let Thy sweet Ephphatha
soften my so stubborn heart;
ah, lay but Thy gracious finger
on my ear,
or else I shall quickly perish.
Touch too my tongue
with Thy mighty hand,
that I may praise these signs of wonder
in sacred worship
and show myself to be Thy child and heir.

7. Aria
I only wish to live with God,
ah! would the time were already there
to raise a happy alleluia
with all the angels.
My dearest Jesus, free me
from this sorrow-laden yoke of pain
and let me soon in Thine arms
end my life so full of torment.
Credits
Release date

6 May 2016

Recording date

26 September 2015

Location

St. Martin's Church, Groningen

Conductor

Jos van Veldhoven

Alto

Maarten Engeltjes

Organ

Leo van Doeselaar

Violin 1

Shunske Sato, Annabelle Ferdinand, Anneke van Haaften, Annelies van der Vegt

Violin 2

Sayuri Yamagata, Pieter Affourtit, Paulien Kostense

Viola

Staas Swierstra, Deirdre Dowling

Cello

Lucia Swarts, Richte van der Meer

Double bass

Robert Franenberg

Oboe

Martin Stadler, Peter Frankenberg, Hanna Lindeijer

Bassoon

Benny Aghassi

Harpsichord

Siebe Henstra

Film director and editor

Simon Aarden

Music recording producers

Guido Tichelman, Bastiaan Kuijt, Micha de Kanter

Music editor

Guido Tichelman

Camera

Jorrit Garretsen, Bart Ten Harkel, Chris Reichgelt, Jochem Timmerman

Gaffer

Daan de Boer, Gijs 't Hoen

Score reader

Niek Wijns

Data handler

Niels Cnossen

Editor

Pjotr 's Gravesande

Project manager

Marco Korzelius

Interview

Onno van Ameijde

Producer concert

Marco Meijdam, Imke Deters

Producer film

Jessie Verbrugh

Acknowledgements

Jan Haak
Help us to complete All of Bach
There are still many recordings to be made before the whole of Bach's oeuvre is online. And we can't complete the task without the financial support of our patrons. Please help us to complete the musical heritage of Bach, by supporting us with a donation!