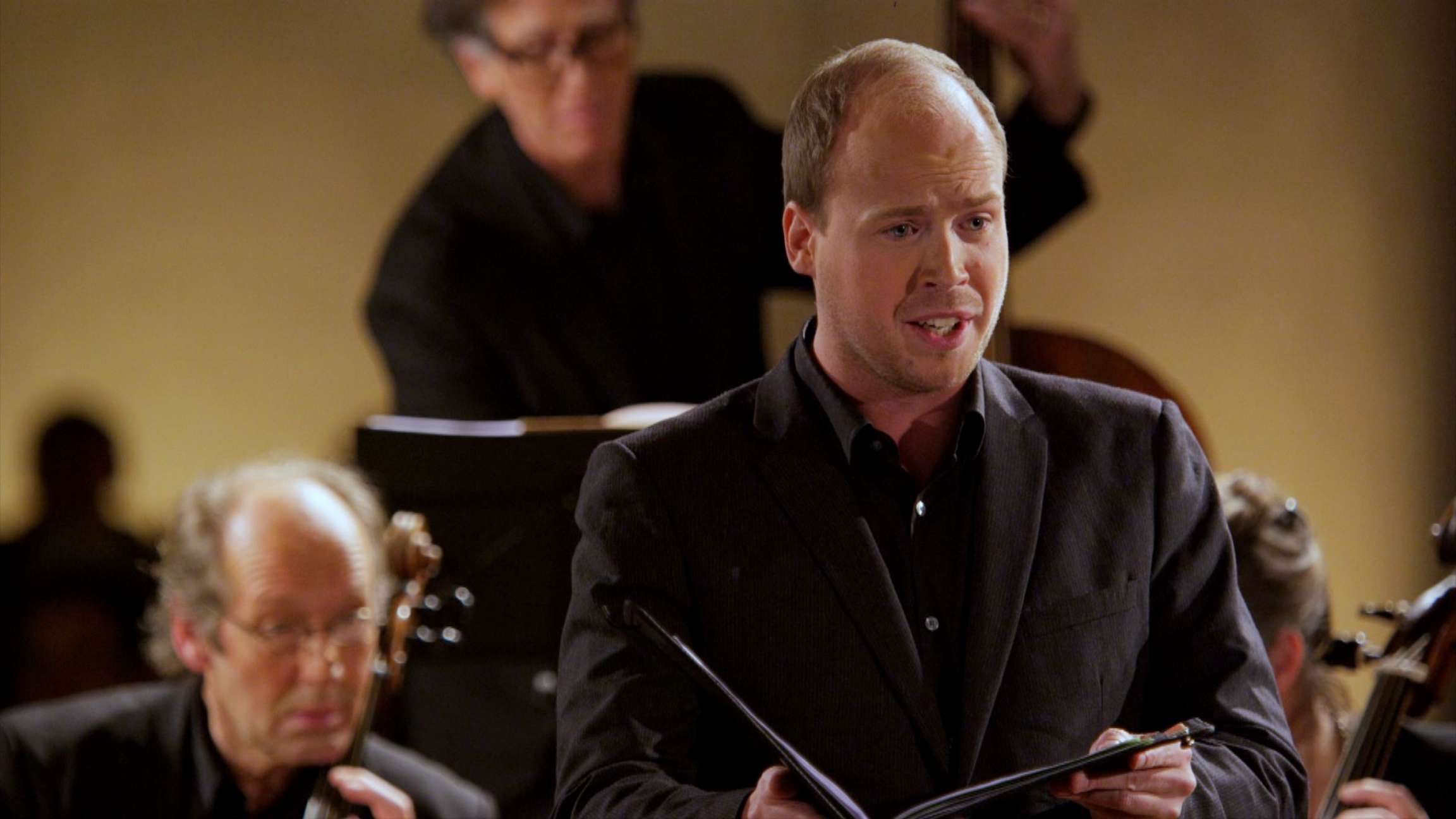 Widerstehe doch der Sünde
BWV 54 performed by the Netherlands Bach Society
conducted by Lars Ulrik Mortensen
Geertekerk, Utrecht
Menu
1. Widerstehe doch der Sünde (Aria)
2. Die Art verruchter Sünden (Recitative)
3. Wer Sünde tut (Aria)
Story
Extra videos
Texts
Credits
Compact and illustrative
Bach probably stood an excellent chance with this cantata during his first official Sunday as concert master in Weimar.
For a long time, this cantata was thought to be incomplete. There are only three parts: two arias with a recitative in the middle. And yet it forms a beautiful whole. In 1970, it became apparent that nothing was missing at all, when a volume of libretti by Christian Lehms from 1711 came to light, containing the text used by Bach for this cantata. It also clarified the occasion of the piece. Lehms indicates that the text was intended for Oculi, the fourth Sunday before Easter, rather than the fourth Sunday after Trinity, as had been presumed up to then. Oculi occurs in Lent, a period when although no cantatas were sung in Leipzig, they were sung in Weimar. So the first performance of Widerstehe doch der Sünde probably took place as early as 4 March 1714 in Weimar. Two days before that, Bach had been officially appointed concert master, and he thus proved straight away that he was fully capable of meeting his new obligations – delivering a new piece of church music every month.
Lehms' words – 'Widerstehe doch der Sünde', 'Die Art verrüchter Sünden' and 'Wer Sünde tut, der ist vom Teufel' – leave us in no doubt that this is about casting out the devil. In order to enter the next world, man must resist earthly temptations. This is not easy, as Bach shows us through many musical illustrations of the text. The driving rhythmic pattern in the first aria, combined with tense harmonies and a sustained rising melodic line, anyway points to a great deal of toil and trouble. The recitative explains what awaits us if we do not succeed: the grave, accompanied by very low droning notes, and the sharp sword, with which Bach gives us a talking to. The second aria, on the other hand, sketches a rosy picture of the future if we resist evil. The devil swiftly takes to his heels, hotly pursued by only fast notes. Bach must have stood an excellent chance with this work.
BWV

54

Title

Widerstehe doch der Sünde

Instrument

Alto

Genre

cantatas

Year

1714

City

Weimar

Lyricist

Georg Christian Lehms

Occasion

Oculi (the fourth Sunday before Easter), seventh Sunday after Trinity

First performance

4 March 1714

Special notes

Bach used the first aria in the St Mark Passion, BWV 247, as 'Falsche Welt, dein schmeichelnd Küssen
Extra videos
Vocal texts
Original
1. Arie
Widerstehe doch der Sünde,
sonst ergreifet dich ihr Gift.
Lass dich nicht den Satan blenden;
denn die Gottes Ehre schänden,
trifft ein Fluch, der tödlich ist.

2. Rezitativ
Die Art verruchter Sünden
ist zwar von aussen wunderschön;
allein man muss
hernach mit Kummer und Verdruss
viel Ungemach empfinden.
Von aussen ist sie Gold;
doch, will man weiter gehn,
so zeigt sich nur ein leerer Schatten
und übertünchtes Grab.
Sie ist den Sodomsäpfeln gleich,
und die sich mit derselben gatten,
gelangen nicht in Gottes Reich.
Sie ist als wie ein scharfes Schwert,
das uns durch Leib und Seele fährt.

3. Arie
Wer Sünde tut, der ist vom Teufel,
denn dieser hat sie aufgebracht.
Doch wenn man ihren schnöden Banden
mit rechter Andacht widerstanden,
hat sie sich gleich davon gemacht.
Translation
1. Aria
Stand firm against all sinning,
or its poison will possess you.
Be not blinded by Satan;
for those who violate God's majesty
shall be felled by a deadly curse.

2. Recitative
Vile sinning seems,
in truth, outwardly wonderful;
but one must
thereafter, with sorrow and dismay,
experience much misery.
Outwardly sin is golden;
but if one looks more closely,
we see it is but an empty shadow,
a whited sepulchre.
It resembles Sodom's apples,
and those who wed themselves to sin
shall never dwell in God's realm.
Sin is like a sharpened sword,
that pierces us through body and soul.

3. Aria
Those who commit sin are of the devil,
for he has invented sin,
but if one resists his vile shackles
with true devotion,
sin will straightaway take flight.
Credits
Release date

4 July 2014

Recording date

1 February 2014

Location

Geertekerk, Utrecht

Harpsichord and direction

Lars Ulrik Mortensen

Alto

Maarten Engeltjes

Violin 1

Shunske Sato, Sayuri Yamagata, Anneke van Haaften

Violin 2

Pieter Affourtit, Paulien Kostense, Annelies van der Vegt

Viola

Staas Swierstra, Femke Huizinga

Cello

Lucia Swarts, Richte van der Meer

Double bass

Robert Franenberg

Positive organ

Siebe Henstra

Concert production

Marco Meijdam, Imke Deters

Producer

Frank van der Weij

Film director

Lucas van Woerkum

Director of photography

Sal Kroonenberg

Camera

Sal Kroonenberg, Jorrit Garretsen, Robert Berger, Benjamin Sparschuh

Film editors

Lucas van Woerkum, Frank van der Weij

Music recording producer

Leo de Klerk

Gaffer

Roel Ypma

Best boy

Chris Uitenwijk

Production assistent

Zoë de Wilde

Score reader

Jan Van den Bossche

Make up

Marloes Bovenlander, Jamila el Bouch

Trainees camera

Izak de Dreu, Indy Hamid

Music producer's assistant

Mieneke van der Velden

Music recording assistants

Jaap van Stenis, Gilius Kreiken, Jaap van Firet

Data handler

Joep Bannenberg

Music edit and mix

Leo de Klerk, Frank van der Weij

Music edit and mix asssistant

Martijn Snoeren

Colorist

Petro van Leeuwen

Interviews

Onno van Ameijde

Acknowledgements

Rob van Stek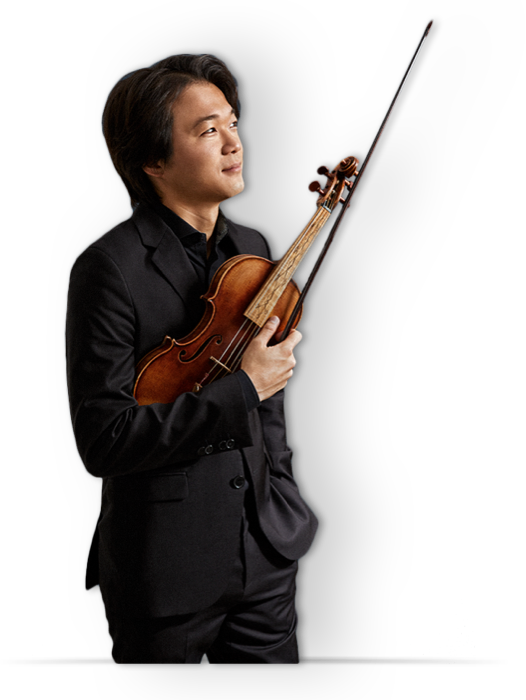 Help us to complete All of Bach
There are still many recordings to be made before the whole of Bach's oeuvre is online. And we can't complete the task without the financial support of our patrons. Please help us to complete the musical heritage of Bach, by supporting us with a donation!