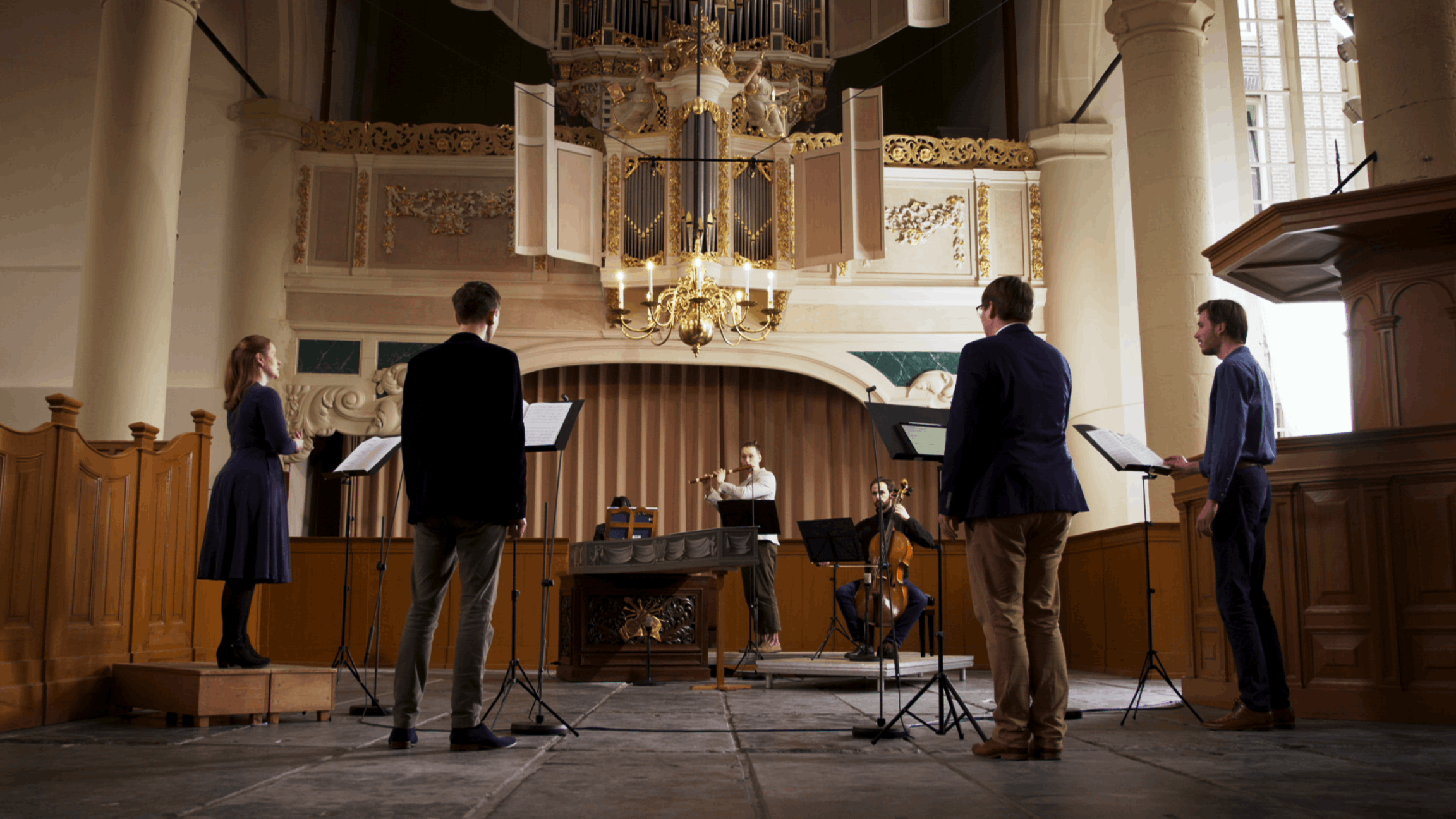 Nun ruhen alle Wälder
BWV 392 performed by the Young Bach Fellows
from the Netherlands Bach Society
Walloon Church, Amsterdam
A musical double
What does this chorale remind us of?
Sometimes our musical memory immediately kicks in, without us being able to make the connection right away. The cogs will start turning in the minds of many Bach enthusiasts as soon as they hear this chorale: it sounds familiar, but what is it? And the words are no help either:
Nun ruhen alle Wälder, Vieh, Menschen, Städt und Felder…
(Now all the forests, cattle, people, city and fields are at rest…)
That sounds more like a Romantic nature poem in the style of Goethe than a chorale, although Paul Gerhardt's text really does come from the mid-seventeenth century and originally belonged to this melody. BWV 392 is one of the individual four-part chorale arrangements that were published – without text – in a big collection after Bach's death.
The melody is much older than Gerhardt's text and was better known to the words 'O Welt ich muss dich lassen'. Bach used this chorale melody in various places, with a variety of texts and always in different harmonic versions.
One of the places Bach used this chorale is in the St John Passion: 'Wer hat dich so geschlagen?'. Voilà, there's the answer! And it's no coincidence that thoughts immediately turn to this version. The pitch, for example, is almost identical in both settings. But there's more to it than that. For instance, in both versions Bach used the same ascending chromatic line in the bass, in the transition to the second movement (here to the words: 'Ihr aber meine Sinnen'). Along with some other details, this is sufficient to ensure that this practically unknown version keeps pointing intuitively yet inseparably towards that much more familiar chorale in the St John.
BWV

392

Title

Nun ruhen alle Wälder

Genre

chorales

Year

unknown

City

Leipzig

Lyricist

Paul Gerhard
Vocal texts
Original
Nun ruhen alle Wälder,
Vieh, Menschen, Städt' und Felder,
Es schläft die ganze Welt;
Ihr aber, meine Sinnen,
Auf, auf, ihr sollt beginnen,
Was eurem Schöpfer wohlgefällt!
Der Tag ist nun vergangen,
Die güldnen Sternlein prangen
Am blauen Himmelssaal;
So, so werd' ich auch stehen,
Wenn mich wird heißen gehen,
Mein Gott, aus diesem Jammertal.
Der Leib eilt nun zur Ruhe,
Legt ab das Kleid und Schuhe,
Das Bild der Sterblichkeit,
Die zieh ich aus, dagegen
Wird Christus mir anlegen
Den Rock der Ehr' und Herrlichkeit.
Translation
Now all the woods are resting;
Fields, towns, and creatures nesting,
The whole world is asleep;
But you, my heart, obeying,
Arise, begin your praying,
And with your praise your Maker please.
The day draws to its ending,
The golden stars in splendor
In heaven's blue hall appear;
And there I'd stand among them
When you, my God, come calling,
To go home from this vale of tears.
The body endwards heading,
Its shoes and clothing shedding,
Marks of mortality,
I give these up for glory,
For Christ will now adorn me
In honor for eternity.
translation © Ruth van Baak Griffioen, 2023
Credits
Release date

6 July 2023

Recording date

11 May 2021

Location

Walloon Church, Amsterdam

Soprano

Bethany Shepherd

Alto

Oscar Verhaar

Tenor

Jasper Dijkstra

Bass

Jaap van der Wel

Cello

Carlos Leal

Traverso

David Westcombe

Harpsichord

Masako Awaji

Director and editor

Bas Wielenga

Music recording

Guido Tichelman, Bastiaan Kuijt

Music edit and mix

Guido Tichelman

Camera & lights

Onno van Ameijde, Rieks Soepenberg

Assistant music recording

Marloes Biermans

Producer concert

Hilde Van Ruymbeke

Producer film

Jessie Verbrugh
Help us to complete All of Bach
There are still many recordings to be made before the whole of Bach's oeuvre is online. And we can't complete the task without the financial support of our patrons. Please help us to complete the musical heritage of Bach, by supporting us with a donation!