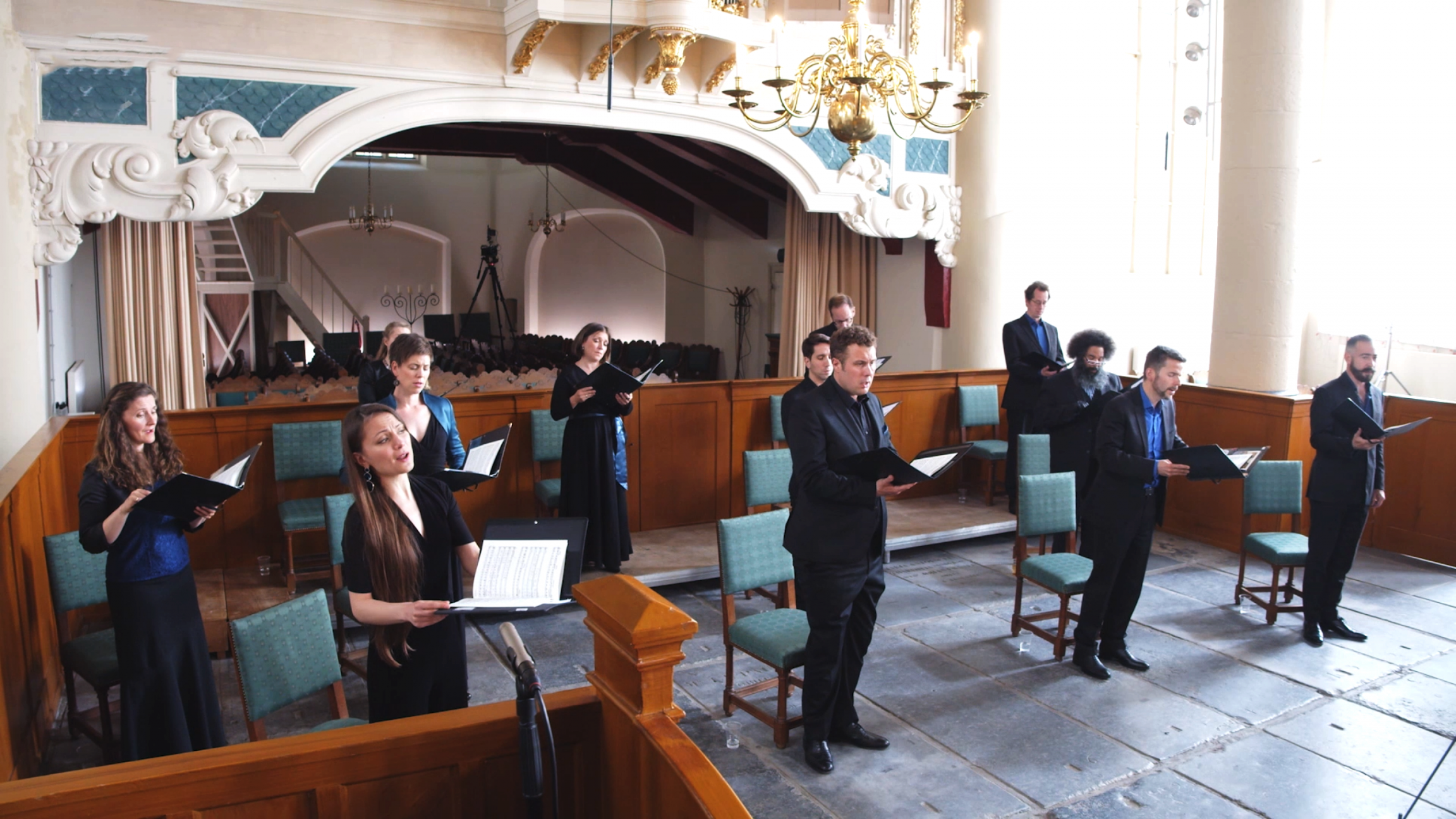 Ich elender Mensch, wer wird mich erlösen
BWV 48 performed by the Netherlands Bach Society
conducted by Shunske Sato
Walloon Church, Amsterdam
Menu
1. O elender Mensch (Chor)
2. O Schmerz (Rezitativ)
3. Solls ja so sein (Choral)
4. Ach lege das Sodom (Arie)
5. Hier aber tut (Rezitativ)
6. Vergibt mir Jesus (Arie)
7. Herr Jesu Christ (Choral)
Music for a troubled and sorrowful heart
How Bach still managed to rival Telemann as Thomascantor.
Bach officially took up his new position as Cantor of the Thomasschule, in Leipzig, on 5 May 1723. Later that year, the Thomasschule made a list of over a hundred musical scores with the footnote "these matters are in the custody of the cantor Johann Kuhnau Sebastian Bach". Oops. The mistake is understandable, however, as Bach's predecessor Johann Kuhnau had worked as Thomascantor for over twenty years. Moreover, Bach was nowhere near the top of the list of sought-after successors to Kuhnau. The city council would have preferred Georg Philipp Telemann, but he used the Leipzig offer as leverage for a big pay rise in Hamburg, where he then remained as Kapellmeister. Eventually, after some other options fell through, they ended up with Bach. History could therefore easily have been – and have sounded – very different. The cantata BWV 48, which was heard for the first time on 3 October 1723, provides a good starting point for imagining an alternative history.

In Bach's cantata, a central role is played by the chorale Herr Jesu Christ, ich schrei zu dir. Already from the first time it appeared in print, in 1620, it was described as a hymn "of a troubled and sorrowful heart". It is only sung once in the cantata, namely at the end, in a four-part harmony and with another strophe. But the chorale melody is also heard in the opening chorus, where it is woven through the other parts as a two-part canon, between the slide trumpet and the oboes. Typically Bach, you might think. Telemann, however, does something very similar in his cantata Erhöre mich, wenn ich rufe (TWV 1:459) from 1717. In the third aria, where the tenor calls out day and night in vain, the brass instruments play a three-part version of Herr Jesu Christ, ich schrei zu dir through the other parts. The effect is the same in both Telemann and Bach: while the singing voices are still in despair, the instruments already give the answer.

In both cantatas, we move step by step towards that answer. In Bach's case, it proceeds from the plaintive despair in the opening chorus and the alto's recitative to the beginnings of hope in the alto's aria. After the turning point of the penance chorale, the tenor gives the answer: Jesus the Saviour gives strength and heals, which is underlined by the closing chorale. And Telemann? He also ends with a four-part chorale: Und was der ewig gütig Gott. One year after his appointment as Thomascantor, Bach also used the same words and melody, in the cantata BWV 86. So maybe things would not have been so very different after all with Telemann in Leipzig.
BWV

48

Title

Ich elender Mensch, wer wird mich erlösen

Genre

cantatas

Year

1723

City

Leipzig

Lyricist

unknown

Occasion

Nineteenth Sunday after Trinity

First performance

3 October 1723
With support from
Vocal texts
Original
1. Chor
Ich elender Mensch,
wer wird mich erlösen
vom Leibe dieses Todes?

2. Rezitativ (Alt)
O Schmerz, o Elend, so mich trifft,
indem der Sünden Gift
bei mir in Brust und Adern wütet:
die Welt wird mir
ein Siech- und Sterbehaus,
der Leib muß seine Plagen
bis zu dem Grabe mit sich tragen.
Allein die Seele fühlet den stärksten Gift,
damit sie angestecket;
drum, wenn der Schmerz
den Leib des Todes trifft,
wenn ihr der Kreuzkelch
bitter schmecket,
so treibt er ihr ein brünstig Seufzen aus.

3. Choral
Solls ja so sein,
daß Straf und Pein
auf Sünde folgen müssen,
so fahr hie fort
und schone dort
und laß mich hie wohl büßen.

4. Arie (Alt)
Ach, lege das Sodom der sündlichen Glieder,
wofern es dein Wille, zerstöret darnieder!
Nur schone der Seele und mache sie rein,
um vor dir ein heiliges Zion zu sein.

5. Rezitativ (Tenor)
Hier aber tut des Heilands Hand
auch unter denen Toten Wunder.
Scheint deine Seele gleich erstorben,
der Leib geschwächt und ganz verdorben,
doch wird uns Jesu Kraft bekannt.
Er weiß im geistlich Schwachen
den Leib gesund, die Seele stark zu machen.

6. Arie (Tenor)
Vergibt mir Jesus meine Sünden,
so wird mir Leib und Seel gesund.
Er kann die Toten lebend machen
und zeigt sich kräftig in den Schwachen;
er hält den längst geschloßnen Bund,
daß wir im Glauben Hilfe finden.

7. Choral
Herr Jesu Christ, einiger Trost,
zu dir will ich mich wenden;
mein Herzleid ist dir wohl bewußt,
du kannst und wirst es enden.
In deinen Willen seis gestellt,
machs, lieber Gott, wie dirs gefällt:
Dein bin und will ich bleiben.
Translation
1. Chorus
O wretched man that I am!
who shall deliver me
from the body of this death?

2. Recitative
O pain, O misery that strikes at me,
while the poison born of sin
rages in my breast and veins:
my world becomes
a house of infirmity and death,
my body must bear all its torments
into the very grave.
But the soul perceives the most lethal poison
with which it is infected;
thus, when pain
strikes the body of death,
when the cross's chalice tastes
bitter to the soul,
it forces from it a fervent sigh.

3. Chorale
If it has to be
that punishment and agony
must follow after sin,
then continue here on earth
and spare me there in heaven
and let me here do penance.

4. Aria
Ah, lay low the Sodom of sinful members,
if that be Thy will!
Spare, though, the soul and make it pure,
to be a hallowed Zion before Thee.

5. Rezitative
But here the hand of the Saviour
shows wonders also to the dead.
Though your soul appears dead,
the body weakened and corrupted,
the power of Jesus is made known to us:
those who are weak in spirit,
He can make their body sound, their soul strong.
6. Aria
If Jesus forgives me my sins,
my body and soul shall be healed.
He can bring the dead to life
and shows His power to the weak;
He keeps the long contracted covenant
that we shall find help in faith.

7. Chorale
Lord Jesus Christ, my only comfort,
to Thee will I turn;
my heart's distress is known to Thee,
Thou canst and shalt dispel it.
Upon Thy will let all depend,
act, dear God, as it pleases Thee:
I am Thine and shall remain so.
Credits
Release date

2 February 2023

Recording date

27 mei 2021

Location

Walloon Church, Amsterdam

Direction

Shunske Sato

Alto

Alex Potter

Tenor

Daniel Johannsen

Ripieno soprano

Lauren Armishaw, Marta Paklar, Amelia Berridge

Ripieno alto

Sofia Gvirts, Bernadett Nagy, Adriaan de Koster

Ripieno tenor

Adriaan de Koster, Immo Schröder

Ripieno bass

Matthew Baker, Pierre-Guy Le Gall White, Michiel Meijer

Violin 1

Sayuri Yamagata, Annelies van der Vegt, Andrew Wong

Violin 2

Pieter Affourtit, Anneke van Haaften, Manja Kruidhof-Okkerse

Viola

Staas Swierstra, Deirdre Dowling

Cello

Lucia Swarts, Barbara Kernig

Double bass

Robert Franenberg

Oboe

Rodrigo Lopez Paz, Katharina Verhaar

Bassoon

Benny Aghassi

Trompet

Robert Vanryne

Harpsichord

Siebe Henstra

Organ

Leo van Doeselaar

Director

João MB Costa

Music recording

Guido Tichelman, Bastiaan Kuijt, Pim van der Lee

Music edit and mix

Guido Tichelman

Camera

Santiago Rodriguez, Milo McCafferty, Oscar Widl, Enzo Dumettier

Lights

Zen Bloot

Grip

Patrick Galvin, Harm Bredero, Sven Deen

Assistant director

Santiago Rodriguez

Video editing

Rob Gradisen, Robin van Erven Dorens

Assistent music recording

Marloes Biermans

Producer concerrt

Imke Deters

Producer film

Jessie Verbrugh

With support from

MWH4impact
Help us to complete All of Bach
There are still many recordings to be made before the whole of Bach's oeuvre is online. And we can't complete the task without the financial support of our patrons. Please help us to complete the musical heritage of Bach, by supporting us with a donation!