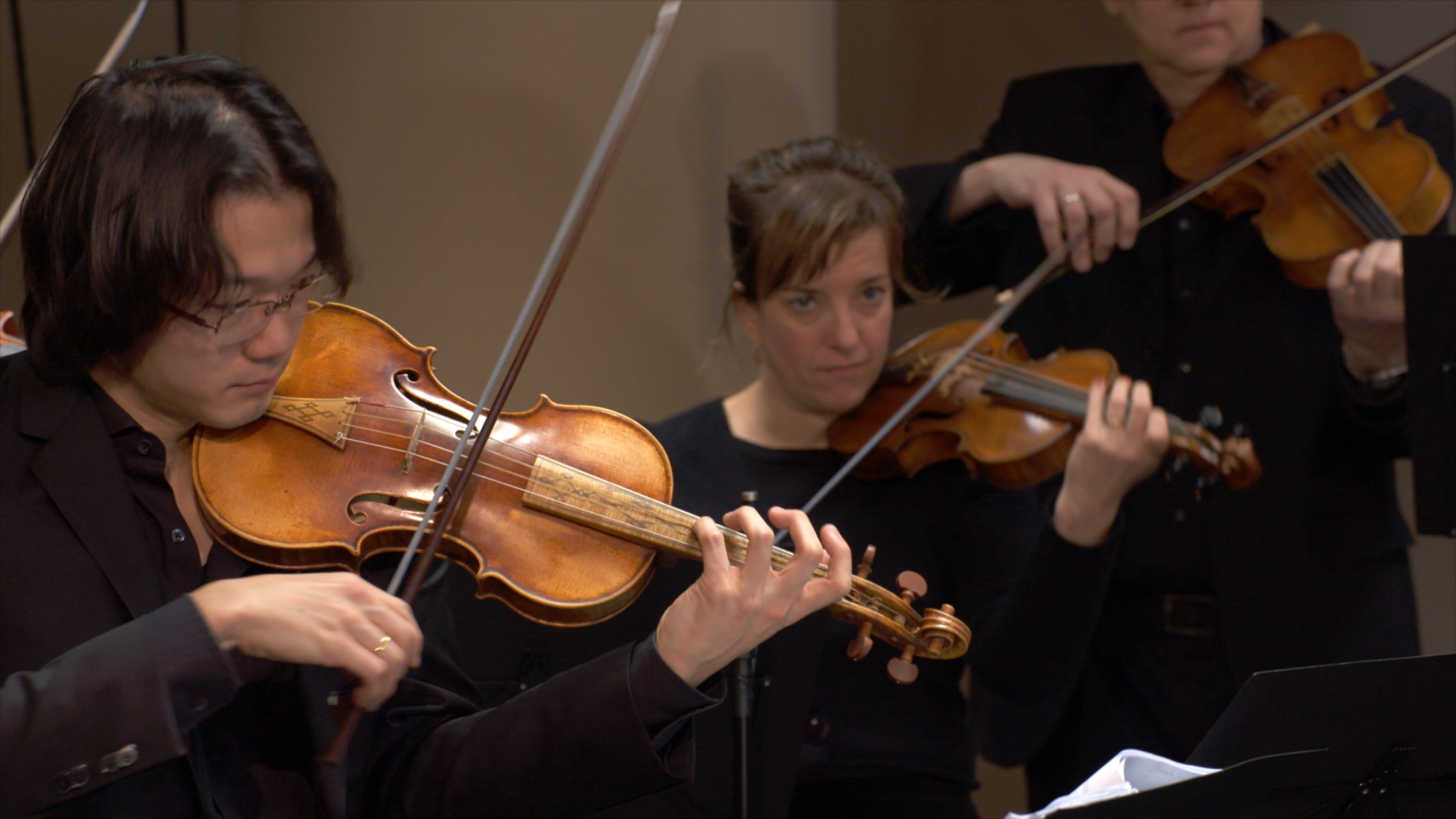 Erfreute Zeit im neuen Bunde
BWV 83 performed by the Netherlands Bach Society
conducted by Shunske Sato
Walloon Church, Amsterdam
Menu
1. Erfreute Zeit im neuen Bunde (Aria)
2. Herr, nun lässest du deinen Diener (Aria)
3. Eile, Herz, voll Freudigkeit (Aria)
4. Ja, merkt dein Glaube (Recitative)
5. Er ist das Heil und selig Licht (Chorale)
Story
Extra videos
Texts
Credits
The violin of Pisendel?
Extraordinary virtuosity in a cantata from 1724.
During his first year as cantor of the Thomaskirche in Leipzig, Bach wrote relatively simple violin parts in his cantatas. This changed drastically on 2 February 1724, the feast of Candlemas. The cantata Erfreute Zeit im neuen Bunde opens with a triumphant alto aria, in which Bach opts for a strikingly rich orchestral setting. Besides the string ensemble, there are two oboes, two horns and a solo violin that has to cope with an extremely active part. Which violinist could have played this demanding music? The Dutch musicologist Pieter Dirksen investigated this question and put forward the hypothesis that it could have been Johann Georg Pisendel (1687-1755). Dirksen's view is supported by violinist Shunske Sato, who says, "It's a gut feeling, a bit like recognising a good pasta sauce". For the greater part of his life, Pisendel worked as Kapellmeister at the court of Dresden, and his virtuoso violin playing was the musical pride of Germany.
The opening aria sounds almost like an instrumental sinfonia with an added singing voice. If you imagine it without the alto, it becomes a 'Brandenburg' concerto. In his later cantatas for Candlemas, such as Ich habe genung, BWV 82, Bach adopted a milder tone. Rather than focusing on the purification of the Virgin Mary, the gospel of the day talked about the presentation of Jesus in the temple and old Simeon, who was ready to die after holding the blessed child in his arms (Luke 2). The Lutheran congregation liked to identify with this willingness to die.
In the third aria, Eile, Herz, voll Freudigkeit, for tenor, the solo violin plays a prominent role again, with racing passage work that illustrates the words in great detail. Here, the strings form the accompaniment and the wind instruments are silent. The solo violin plays a version of the first violin part ornamented with skipping triplets. Or in other words, the first violins play just the main notes of the solo violin (each first note of the triplet).
The intervening bass aria is quite unusual in Bach's oeuvre. The soloist sings verses of the Song of Simeon, switching to a recitative in between. The accompaniment is for strings in unison and basso continuo. The cantata closes with a short recitative and a chorale.
location and organ
This recording was made in the Walloon Church in the heart of Amsterdam. Not only does the church have good acoustics, but it is also a place of pilgrimage for organists due to its Müller organ from 1739.
Organist Leo van Doeselaar: "This is one of the finest small Baroque organs in the Netherlands. Gustav Leonhardt was the organist at the Walloon Church from 1959 to 1982. He had the organ restored to its original state as early as the 1960's. It's a real pioneer's organ". For this performance, we are actually using this 'great' organ. A box organ is an anachronism, which was never used in Bach's day.
"In Bach's church music, the great church organ always played the continuo parts. In principle, it had the same soft registration as a box organ, but the much wider scaled pipes of the church organ form a more important component of the timbre of a Baroque ensemble. For chorales and choirs of the Baroque period, stronger registers were used and the bass line was played on the pedal, with a 16-foot double-bass register. The fact that it was never done like this before is actually one of the unintentional falsifications of the historical sound approach", says organist Leo van Doeselaar.
BWV

83

Title

Erfreute Zeit im neuen Bunde

Genre

cantatas

Year

1724

City

Leipzig

Lyricist

Lyricist unknown, final chorale from Martin Luther's Mit Fried und Freud (1524)

Occasion

Candlemas

First performance

2 February 1724

Special notes

Violin part written for star violinist Pisendel?
Extra videos
Vocal texts
Original
1. Arie (Alt)
Erfreute Zeit im neuen Bunde,
da unser Glaube Jesum hält.
Wie freudig wird zur letzten Stunde
die Ruhestatt,
das Grab bestellt!

2. Arie (Bass)
Herr, nun lässest du deinen Diener
in Friede fahren,
wie du gesaget hast.
Was uns als Menschen
schrecklich scheint,
ist uns ein Eingang zu dem Leben.
Es ist der Tod ein Ende
dieser Zeit und Not,
ein Pfand, so uns der Herr gegeben
zum Zeichen,
dass er's herzlich meint
und uns will nach vollbrachtem Ringen
zum Frieden bringen.
Und weil der Heiland nun
der Augen Trost,
der Herzen Labsal ist,
was Wunder, dass ein Herz
der Todesfrucht vergisst!
Es kann erfreut den Ausspruch tun:
denn meine Augen haben
deinen Heiland gesehen,
welchen du bereitet hast
vor allen Völkern.
Lucas 2:29-31

3. Arie (Tenor)
Eile, Herz, voll Freudigkeit
vor den Gnadenstuhl zu treten.
Du sollst deinen Trost empfangen
und Barmherzigkeit erlangen,
ja, bei kummervoller Zeit,
stark am Geiste, kräftig beten.

4. Rezitativ (Alt)
Ja, merkt dein Glaube
noch viel Finsternis,
dein Heiland kann der Zweifel
Schatten trennen;
ja, wenn des Grabes Nacht
die letzte Stunde schrecklich macht,
so wirst du doch gewiss
sein helles Licht
im Tode selbst erkennen.

5. Choral
Er ist das Heil und selig Licht
für die Heiden,
zu erleuchten die dich kennen nicht,
und zu weiden.
Er ist deins Volks Israel
der Preis, Ehr, Freud und Wonne.
Martin Luther, 1524



Translation
1. Aria
Joyous time of the new order,
when our faith keeps Jesus in our midst.
How joyfully at the final hour
will the place of rest, the grave,
be prepared!

2. Aria
Lord, now lettest Thou Thy servant
depart in peace,
according to Thy word.
What seems dire
to us mortals
gives us an entrance into life.
Death brings
this time of woe to an end,
a pledge the Lord has given us,
as a token that He means well
and will lead us, when the fight is over,
to peace.
And since the Saviour
now is the eyes' comfort,
the heart's refreshment,
small wonder that a heart
forgets the fear of death!
With joy it can say:
For my eyes have seen
Thy salvation,
which Thou hast prepared
before the face
of all people.


3. Aria
Hasten, heart, full of joy
before the throne of grace!
You must receive your comfort
and obtain mercy,
yea, in times of need,
pray with vigour, strong in spirit.

4. Recitative
Yea, though your faith
still sees much darkness,
your Saviour can scatter
the shadows of doubt;
yea, when the grave's night
fills the final hour with dread,
then you shall
certainly encounter
His radiant light in death.

5. Chorale
He is the salvation and the blessèd light
for the gentiles,
to illumine those who know Thee not,
and to nurture them.
He is the praise, glory, joy and rapture
of Thy people Israel.




Credits
Release date

2 February 2018

Recording date

21 January 2017

Location

Walloon Church, Amsterdam

Violin and direction

Shunske Sato

Alto

Robin Blaze

Tenor

Daniel Johannsen

Bass

Stephan MacLeod

Ripieno soprano

Marjon Strijk

Violin 1

Sayuri Yamagata, Lidewij van der Voort

Violin 2

Annelies van der Vegt, Paulien Kostense, Anneke van Haaften

Viola

Staas Swierstra, Jan Willem Vis

Cello

Lucia Swarts, Ruth Verona

Double bass

Robert Franenberg

Oboe

Martin Stadler, Peter Frankenberg

Bassoon

Benny Aghassi

Horn

Anneke Scott, Jocelyn Lightfoot

Organ

Leo van Doeselaar

Harpsichord

Siebe Henstra

Director and editor

Bas Wielenga

Music recording

Guido Tichelman, Bastiaan Kuijt, Pim van der Lee

Music edit and mix

Guido Tichelman

Camera

Merijn Vrieling, Martin Struijf, Chris Reichgelt, Thijs Struick

Camera trainee

Klazina Westra

Lights

Zen Bloot

Lighting assistant

Henry Rodgers, Teun Pulles

Assistant director

Ferenc Soeteman

Video engineer

Vincent Nugteren

Video engineer trainee

Jildert Hof

Set technique

Justin Mutsaers

Data handling

Jesper Blok

Projectmanager NEP

Peter Ribbens

Interview

Onno van Ameijde, Marloes Biermans

Producer concert

Imke Deters

Producer film

Jessie Verbrugh
Help us to complete All of Bach
There are still many recordings to be made before the whole of Bach's oeuvre is online. And we can't complete the task without the financial support of our patrons. Please help us to complete the musical heritage of Bach, by supporting us with a donation!