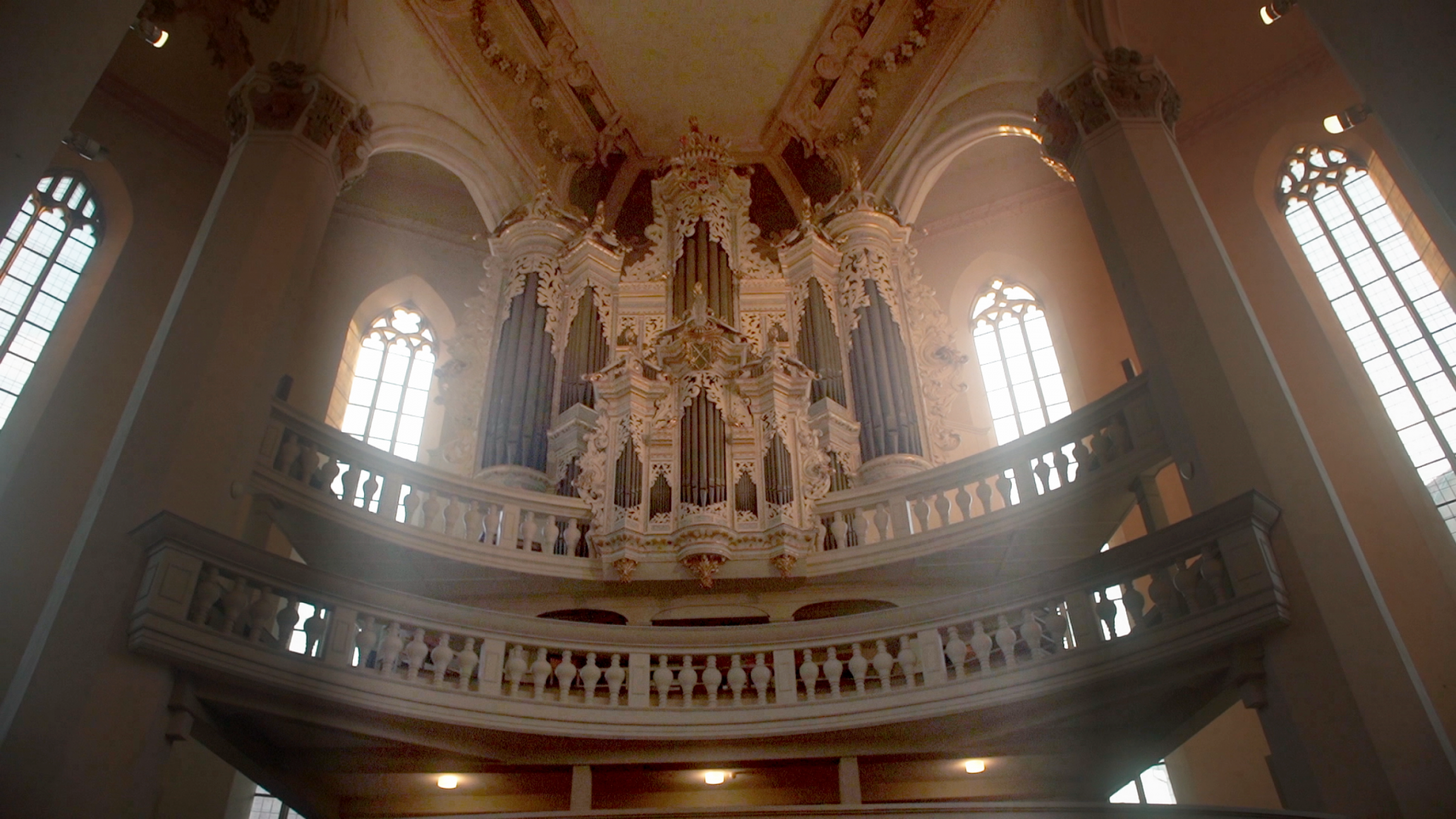 Sonata no. 5 in C major
BWV 529 performed by Ton Koopman
Stadtkirche St Wenzel, Naumburg, Germany
Menu
1. Allegro
2. Largo
3. Allegro
Story
Extra videos
Credits
So schön, so neu
By mastering Bach's supremely difficult work, an organist could tackle anything.
With his son Wilhelm Friedemann in mind – or maybe for a prestigious publication – Bach put together six magnificent sonatas for organ in the late 1720's. The organ was probably the instrument on which he excelled the most. In this Sonata in C major, he reused a short slow work from his Weimar period, now surrounded by newly composed fast outer movements, each with an equally impressive structure. In addition, Bach cleverly integrated a variety of styles that should be mastered by a modern organist of the day.
The dynamic Allegro with an ABA structure and two themes filled with quick runs would work well as a galant trio for two flutes and a bass. The slow movement, which according to various early copies was often slipped between the very short Prelude and fugue, BWV 545, shifts the emphasis from rhythm to harmony. A sigh motif and a sort of implicit crescendo on repeated notes turn the first theme into intense basic material for what follows, while tension is provided by the chromatic counter-theme, filled with small harmonic steps. Bach may have taken inspiration for the theme of the last movement from Corelli, whose music had an immense impact. Even more so than in the first movement, the atmosphere here is determined by 'fugal tricks'. Listen, for example, to how the 'head' of the theme regularly pokes through the musical web like a signal.
Six sonatas, BWV 525-530
Around 1727-1730, Bach introduced a new organ genre: the trio sonata. This type of sonata –with two melodic instruments and bass, or a soloist and keyboard – had long been a fixture in Baroque chamber music, but the three parts had never been heard before on one instrument. Through clever registration, it is possible to attain a wealth of sounds on the organ, but this is merely the beginning, as the six sonatas are regarded as extremely difficult. Schweitzer, for instance, says that "those who have practiced these sonatas thoroughly will not actually encounter any more problems in either the old or the modern organ literature. [...] He has achieved absolute precision in his playing – the ultimate condition of the true art of organ-playing. In this complicated trio piece, even the smallest irregularity can be heard with terrifying clarity".
Biographer Forkel remarked that Bach wrote the collection (or transcribed it from earlier material) for the studies of Wilhelm Friedemann, whom he "thus trained to be the great organist he later became". Maybe this context is also the reason he adds galant touches to the Italian concerto style here and there, inspired by the operas in Dresden of which Friedemann was apparently a great fan. The sonatas remained influential for a long time, also on the young Mendelssohn, for example. Notwithstanding its chamber music origins, this is out-and-out keyboard music, with a unique interaction between both hands. The almost endless variation of form makes the collection a world of its own.
BWV

529

Title

Sonata no. 5 in C major

Instrument

Organ

Genre

organ works

Serie

Six sonatas (organ)

Year

1727-1732

City

Weimar/Leipzig

Special notes

Probably an arrangement of a lost trio sonata.
Extra videos
Credits
Release date

9 June 2022

Recording date

14 September 2020

Location

Stadtkirche St Wenzel, Naumburg, Germany

Organist

Ton Koopman

Organ

Zacharias Hildebrandt, 1746

Director and editor

Robin van Erven Dorens

Music recording

Guido Tichelman, Bastiaan Kuijt

Music edit and mix

Guido Tichelman

Camera

Robin van Erven Dorens, Onno van der Wal

Lights

Ernst-Jan Thieme

Assistant music recording

Marloes Biermans

Interview

Robin van Erven Dorens, Marloes Biermans

Producer

Jessie Verbrugh

Supported by

Howard Fee
Help us to complete All of Bach
There are still many recordings to be made before the whole of Bach's oeuvre is online. And we can't complete the task without the financial support of our patrons. Please help us to complete the musical heritage of Bach, by supporting us with a donation!