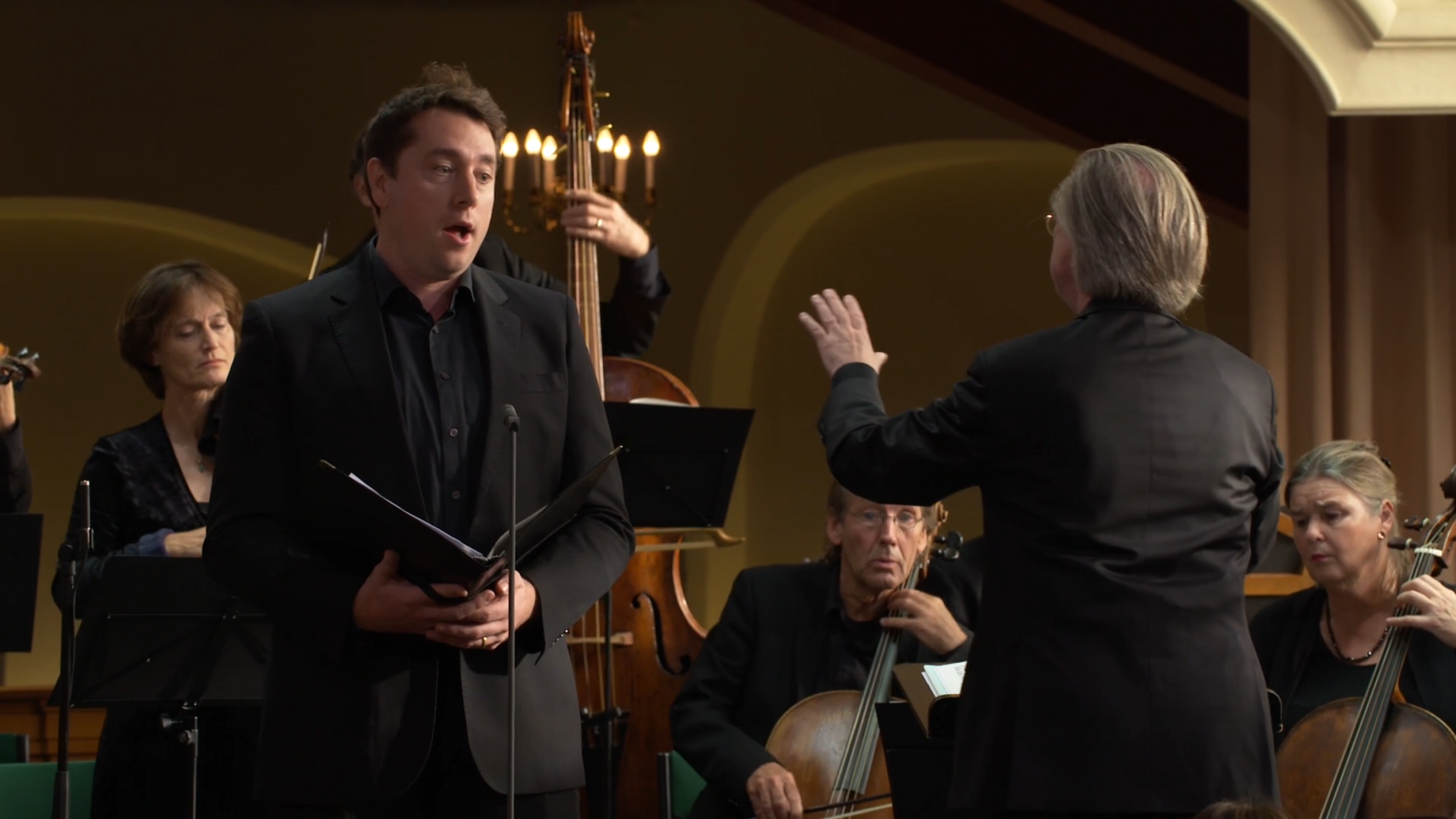 Ich armer Mensch, ich Sündenknecht
BWV 55 performed by the Netherlands Bach Society
conducted by Jos van Veldhoven
Walloon Church, Amsterdam
Menu
1. Ich armer Mensch (Aria)
2. Ich habe wider Gott gehandelt (Rezitative)
3. Erbarme dich (Aria)
4. Erbarme dich! (Rezitative)
5. Bin ich gleich von dir gewichen (Chorale)
Story
Extra videos
Texts
Credits
Very personal
Bach's only solo cantata for tenor conceals a second 'Erbarme dich'.
The only surviving Bach cantata for solo tenor displays striking similarities to the St Matthew Passion. Just like St Peter realises he has sinned after denying Jesus three times in the Passion, here the tenor resigns himself to penance as 'Sündenknecht'. His chromatically descending phrase on 'ich armer Mensch' at the end of the opening aria is in itself testimony to a searing sense of guilt. Tenor Thomas Hobbs thinks it is extra special that it is written in the first person. "It makes it easier to identify with what you are singing about".
The first part, which is filled with self-pity, is followed by a cry for mercy, an 'Erbarme dich', just like after St Peter's denial in the St Matthew Passion. The aria begins with the same desperate upward leap (a sixth), played here by the flute. To complete the similarity, the cantata closes with the same chorale that follows the 'Erbarme dich' in the Passion.
Final chorale
In this performance, the final chorale is sung by four soloists. This makes the lines more expressive and you hear more detail. "For a two or three-part section in Bach's music, nobody would think of using more voices for each part. But if there are four parts, then it suddenly has to become a choir. I think the decision to use just four singers is well justified for a solo cantata like this", says artistic director and conductor Jos van Veldhoven.
BWV

55

Title

Ich armer Mensch, ich Sündenknecht

Instrument

Tenor

Genre

cantatas

Year

1726

City

Leipzig

Lyricist

unknown

Occasion

twenty-second Sunday after Trinity

First performance

17 November 1726
Vocal texts
Original
1. Arie (Tenor)
Ich armer Mensch, ich Sündenknecht,
ich geh vor Gottes Angesichte
mit Furcht und Zittern zum Gerichte.
Er ist gerecht, ich ungerecht,
Ich armer Mensch, ich Sündenknecht!

2. Rezitativ (Tenor)
Ich habe wider Gott gehandelt
und bin demselben Pfad
den er mir vorgeschrieben hat,
nicht nachgewandelt.
Wohin?
Soll ich der Morgenröte Flügel
zu meiner Flucht erkiesen,
die mich zum letzten Meere wiesen,
so wird mich doch die Hand
des Allerhöchsten finden
und mir die Sündenrute binden.
Ach ja! Wenn gleich die Höll ein Bette
vor mich und meine Sünden hätte,
so wäre doch der Grimm
des Höchsten da.
Die Erde schützt mich nicht,
Sie droht mich Scheusal
zu verschlingen;
Und will ich mich
zum Himmel schwingen,
Da wohnet Gott,
der mir das Urteil spricht.

3. Arie (tenor)
Erbarme dich!
Lass die Tränen dich erweichen,
lass sie dir zu Herzen reichen;
lass um Jesu Christi willen
deinen Zorn des Eifers stillen!
Erbarme dich!

4. Rezitativ (Tenor)
Erbarme dich!
Jedoch nun tröst ich mich,
ich will nicht für Gerichte stehen
und lieber vor dem Gnadenthron
zu meinem frommen Vater gehen.
Ich halt ihm seinen Sohn,
sein Leiden, sein Erlösen für,
Wie er für meine Schuld
bezahlet und genung getan,
und bitt ihn um Geduld:
hinfüro will ichs nicht mehr tun.
So nimmt mich Gott
zu Gnaden wieder an.

5. Choral
Bin ich gleich von dir gewichen,
Stell ich mich doch wieder ein.;
Hat uns doch dein Sohn verglichen
durch sein Angst und Todespein.
Ich verleugne nicht die Schuld,
aber deine Gnad und Huld
Ist viel grösser als die Sünde,
die ich stets bei mir befinde.




Translation
1. Aria
I, wretched man, a slave to sin,
I come before God's presence
with fear and trembling to be judged.
He is just; unjust am I.
I, wretched man, a slave to sin!

2. Recitative
I have offended against God,
and on the path
that He hath prescribed for me
I have not travelled.
Where now?
If I choose the wings of the morning
for my flight, which would
take me to the uttermost parts of the sea,
the hand of the Almighty
would still find me
and chastise me with the rods of sin.
Ah yes! Even if hell had a bed
for me and my sins,
the wrath of God
would still be there.
The earth does not protect me,
it threatens to devour
that monster that I am;
and if I soar
to heaven,
God is there,
who judges me.

3. Aria
Have mercy!
Let my tears move Thee,
let them reach into Thy heart;
let, for the sake of Jesus Christ,
Thy zealous wrath grow calm!
Have mercy!

4. Recitative
Have mercy!
However, I console myself
that I shall not stand trial,
but rather go before the throne of grace
to my righteous Father.
I shall hold up to Him His Son,
His Passion, His redemption,
and how He paid for my sin
and did all he could,
and I shall beg Him to forbear,
I shall henceforth sin no more.
Thus shall God
take me again into His grace.

5. Chorale
Though I have turned aside from Thee,
yet shall I return;
for Thy Son hath saved us
through His fear and pain of death.
I do not deny my guilt,
but Thy mercy and Thy grace
is much greater than my sins,
which I always find within me.


Credits
Release date

14 July 2017

Recording date

22 October 2016

Location

Walloon Church, Amsterdam

Conductor

Jos van Veldhoven

Soprano

Miriam Feuersinger

Alt

Alex Potter

Tenor

Thomas Hobbs

Bass

Stephan MacLeod

Violin 1

Shunske Sato, Pieter Affourtit, Anneke van Haaften, Hanneke Wierenga

Violin 2

Sayuri Yamagata, Paulien Kostense, Annelies van der Vegt

Viola

Staas Swierstra, Jan Willem Vis

Cello

Lucia Swarts, Richte van der Meer

Double bass

Robert Franenberg

Flute

Marten Root

Oboe

Martin Stadler

Organ

Leo van Doeselaar

Harpsichord

Siebe Henstra

Director

Bas Wielenga

Assistant director

Ferenc Soetman

Music recording

Guido Tichelman, Bastiaan Kuijt, Pim van der Lee

Music edit and mix

Guido Tichelman

Camera

Bart ten Hakel, Merijn Vrieling, Ivo Palmen, Chris Reichgelt

Camera stagiair

Klazina Westra

Lights

Zen Bloot

Lighting assistant

Patrick Galvin, Henry Rodgers

Video engineer

Vincent Nugteren

Set technique

Justin Mutsaers

Interview

Gijs Besseling

Data handling

Jesper Blok

Projectmanager NEP

Jochem Timmerman

Project preparation nep

Peter Ribbens

Producer concert

Imke Deters

Producer film

Jessie Verbrugh
Help us to complete All of Bach
There are still many recordings to be made before the whole of Bach's oeuvre is online. And we can't complete the task without the financial support of our patrons. Please help us to complete the musical heritage of Bach, by supporting us with a donation!