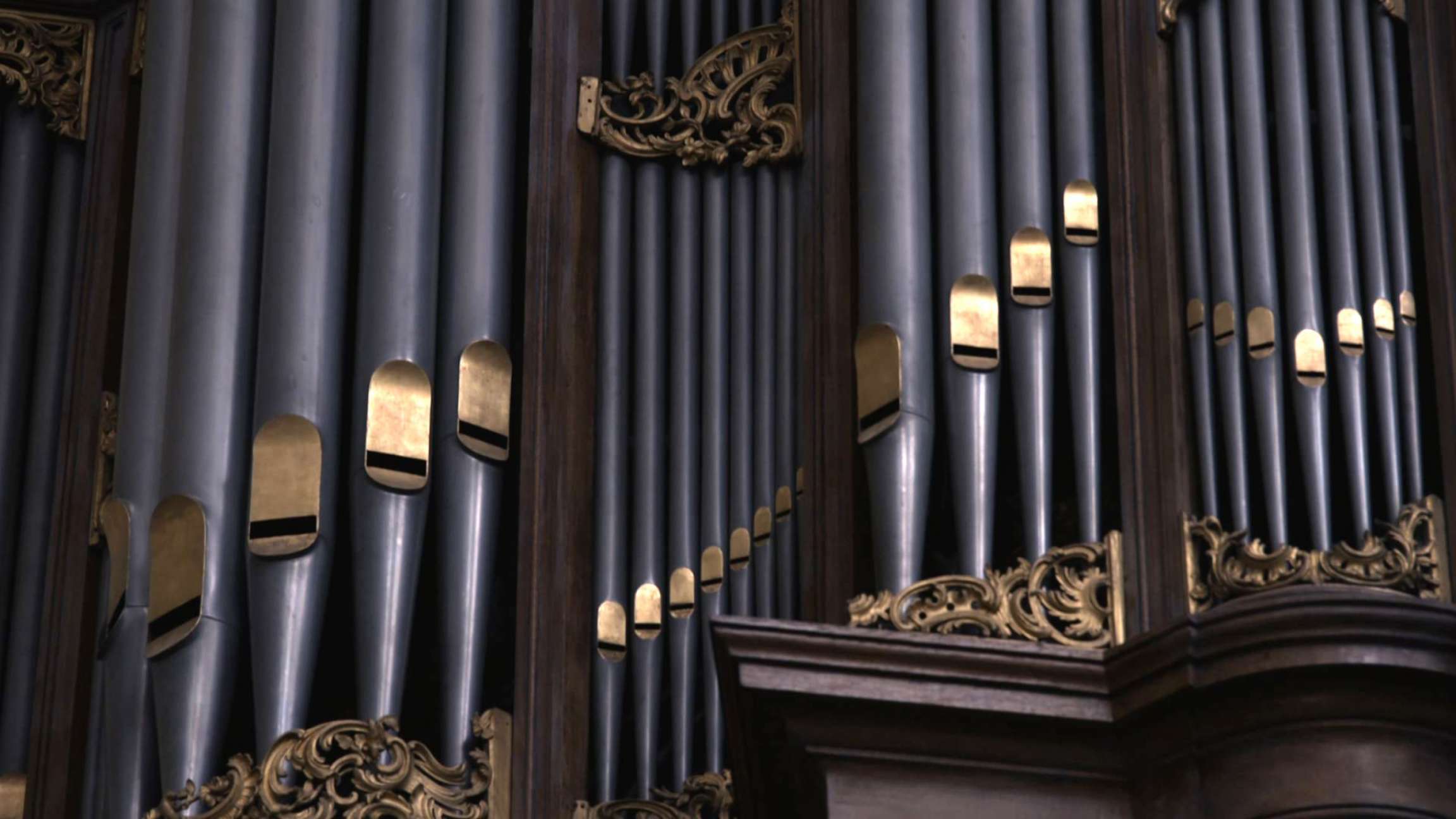 Concerto in A minor
BWV 593 performed by Reitze Smits
Lutheran church, The Hague
Menu
1. Allegro
2. Adagio
3. Allegro
Story
Extra videos
Credits
Bach transcribes Vivaldi
Although Bach never lived outside Germany, he was still well aware of what was happening in the music world abroad.
Although Bach never lived outside Germany, he was still well aware of what was happening in the music world abroad. When Vivaldi's volume of revolutionary new concertos L'estro armonico was published in Amsterdam in 1711, it was not long before Bach got a look at it. He was probably introduced to the volume by Prince Johann Ernst, the young nephew of his employer Duke Wilhelm Ernst of Weimar. The prince was Bach's pupil and a promising musician and composer. Between 1711 and 1713, he studied at Utrecht University, and took home a considerable amount of new music on his return to Weimar. Bach, who was employed by the duke as an organist and chamber musician, transcribed six of the twelve concertos from L'estro armonico for different instruments, arranging the three-part Concerto in A minor for two violins, strings and basso continuo for solo organ.
For Bach, making such a transcription was an ideal way of getting to the essence of what he regarded (according to his biographer Forkel) as a new manner of 'musical thinking'. Vivaldi's concertos excel at blending clever short-term and long-term strategies. Driving rhythms and catchy melodic lines are underpinned by a tight structure, while displaying a striking contrast between tutti and solo sections.
The first section of the Concerto in A minor has an energetic drive, the second is dreamy and enchanting, and the third is shrill and infectious. As an arranger, Bach remained surprisingly true to the original. Even passages that were written specifically with the violin in mind – such as big intervals and rapidly repeated notes – were transferred to the organ unabridged. Yet Bach did manage to put his own mark on the transcription, besides taking necessary measures like shifting notes where the organ's register was inadequate or in passages where the two violins double one another. He did so mainly by adding ornaments, complementing the middle voice and completing chords to reinforce the harmony. The tutti sections are played on the great organ (the largest part of the organ) and the solo sections on the choir organ (the smaller part behind the organist's back).
It stands to reason that Bach's experiences with transcriptions like this one gave an important boost to the development of his own musical style. More and more often, he joined up the solid German style with the Italian musical architecture, thus enriching solidity with sophistication and straightforwardness with passion.
BWV

593

Title

Concerto in A minor

Instrument

Organ

Genre

organ works

Year

ca. 1713

City

Weimar

Special notes

After Vivaldi, Concerto in A minor for 2 violins, strings and basso continuo, op. 3 no. 8, RV 522 .
Extra videos
Credits
Release date

2 May 2014

Recording date

29 November 2013

Location

Lutheran Church, The Hague

Organist

Reitze Smits

Organ registration

Arjan de Vos

Organ

Johann Heinrich Hartmann Bätz, 1762

Producer

Frank van der Weij

Film director

Jan Van den Bossche

Director of photography

Jorrit Garretsen, Sal Kroonenberg

Music production, editing and mix

Holger Schlegel

Film editor

Dylan Glyn Jones

Colorist

Petro van Leeuwen

Production assistants

Imke Deters, Zoë de Wilde
Help us to complete All of Bach
There are still many recordings to be made before the whole of Bach's oeuvre is online. And we can't complete the task without the financial support of our patrons. Please help us to complete the musical heritage of Bach, by supporting us with a donation!