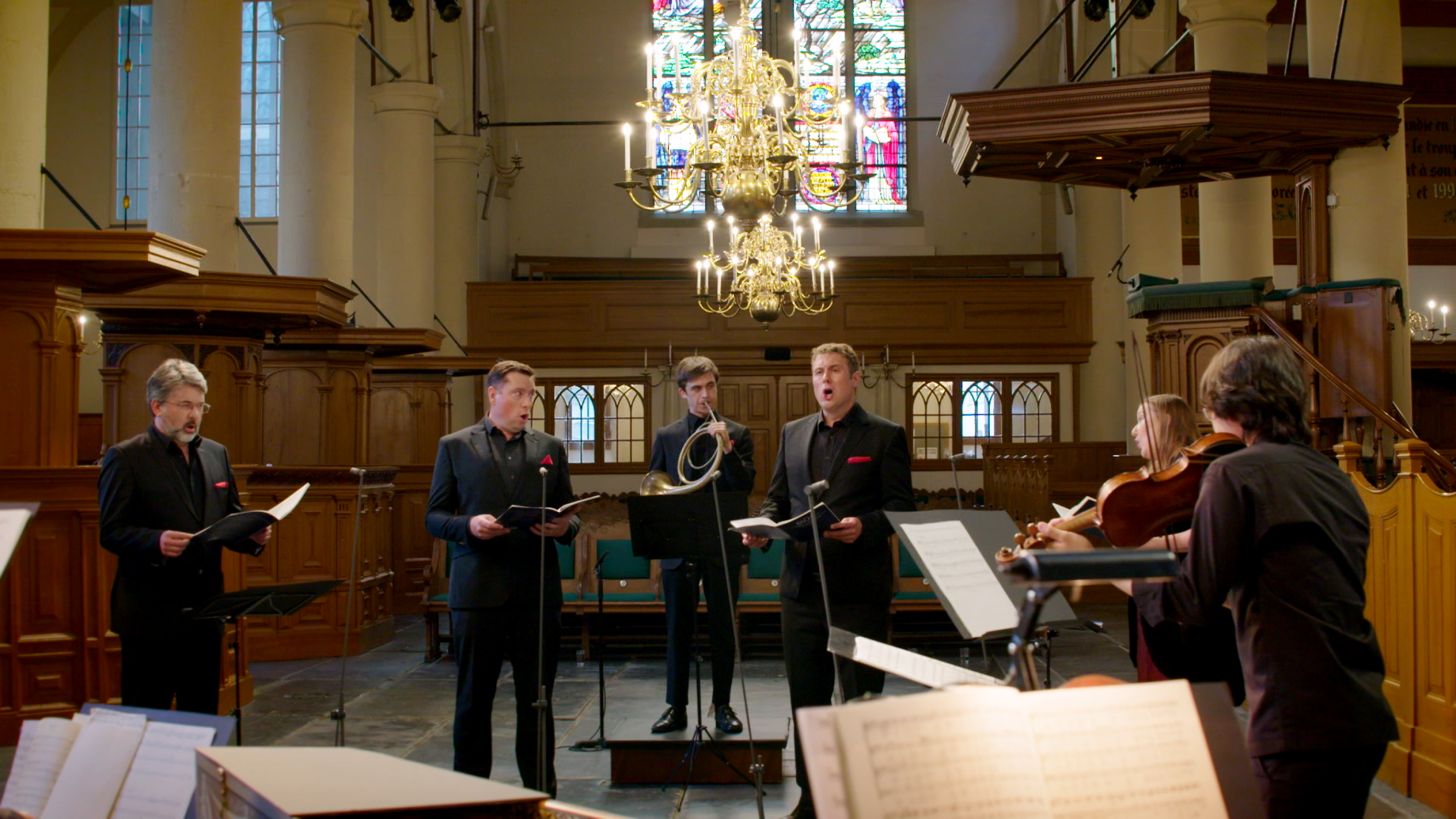 O Ewigkeit, du Donnerwort
BWV 60 performed by the Netherlands Bach Society
conducted by Shunske Sato
Walloon Church, Amsterdam
Menu
1. O Ewigkeit (Arie)
2. O schwerer Gang (Rezitativ)
3. Mein letztes Lager (Arie)
4. Der Tod bleibt (Rezitativ)
5. Es ist genung (Choral)
Between hope and fear
In this dialogue cantata, only the Bible can bring peace to the soul.
There was plenty to fear in the Lutheran faith of Bach's day. Life on earth was a cesspit of afflictions – one long string of laments, complaints, worries and moans. At the end, a heavenly reward awaited you, if you were lucky. But how could you be sure you would receive it? This question instilled great fear in the congregations of Bach's time. Believers faced the challenge of retaining hope throughout those fears.
In this dialogue cantata, Fear and Hope literally battle it out. Both emotions are represented by a singer: Fear by an alto (a boy's voice in Bach's day) and Hope by a tenor.

The chorale O Ewigkeit du Donnerwort forms a blood-curdling beginning. The accompaniment sounds nervy and agitated. Above this accompaniment, the alto sings the chorale melody, supported by a Baroque horn, solemnly, yet made vague by the accompaniment. While Fear sings about "great sadness" and an "anxious heart", Hope keeps interrupting with the biblical words "I await your salvation". Fear is not reassured, however. Also in the following recitative and the ensuing duet, Hope continues to fight in vain against Fear. It is only in the fourth movement, the last one before the closing chorale, that words from the Book of Revelation have a calming effect on Fear: "Blessed are the dead which die in the Lord from henceforth". The most terrifying book of the Bible, with its description of the end of time, turns out to give the greatest comfort, as well.

In the closing chorale, all the ordeals of the cantata are over. The fear of death has completely disappeared and is replaced by an actual desire for death: "It is enough, my Lord... I go to heaven's house... my great misery remains here on earth. It is enough." All of this takes place in what is probably Bach's most adventurous chorale harmonisation. The first three notes of the chorale each ascend a whole tone, thus ending up with a tritone: an intensely dissonant interval. But whereas this interval is now often feared as the devil in music, here you can read it as a strong desire that breaks open all the earthly rules in order to ascend to heaven.
BWV

60

Title

O Ewigkeit, du Donnerwort

Instrument

alto, bass, soprano, tenor

Genre

cantatas

Year

1723

City

Leipzig

Lyricist

unknown

Occasion

24th Sunday after Trinity

First performance

7 November 1723
With support from
Vocal texts
Original
1. Arie (Alt, Tenor)
O Ewigkeit, du Donnerwort,
o Schwert, das durch die Seele bohrt,
o Anfang sonder Ende!
O Ewigkeit, Zeit ohne Zeit,
ich weiß vor großer Traurigkeit
nicht, wo ich mich hinwende;
mein ganz erschrocknes Herze bebt,
daß mir die Zung am Gaumen klebt.
Herr, ich warte auf dein Heil.

2. Rezitativ (Alt, Tenor)
O schwerer Gang zum letzten Kampf und Streite!
Mein Beistand ist schon da,
mein Heiland steht mir ja
mit Trost zur Seite.
Die Todesangst, der letzte Schmerz
ereilt und überfällt mein Herz
und martert diese Glieder.
Ich lege diesen Leib vor Gott zum Opfer nieder.
Ist gleich der Trübsal Feuer heiß,
genung, es reinigt mich zu Gottes Preis.
Doch nun wird sich der Sünden große Schuld
vor mein Gesichte stellen.
Gott wird deswegen doch
kein Todesurteil fällen.
Er gibt ein Ende den Versuchungsplagen,
daß man sie kann ertragen.

3. Arie (Alt, Tenor)
Mein letztes Lager will mich schrecken,
mich wird des Heilands Hand bedecken,
des Glaubens Schwachheit sinket fast,
mein Jesus trägt mit mir die Last.
Das offne Grab sieht greulich aus.
Es wird mir doch ein Friedenshaus.

4. Rezitativ (Alt, Bass)
Der Tod bleibt doch
der menschlichen Natur verhaßt
und reißet fast die Hoffnung ganz zu Boden.
Selig sind die Toten;
Ach! aber ach, wieviel Gefahr
stellt sich der Seele dar,
den Sterbeweg zu gehen!
Vielleicht wird ihr der Höllenrachen
den Tod erschrecklich machen,
wenn er sie zu verschlingen sucht;
vielleicht ist sie bereits verflucht
zum ewigen Verderben.
Selig sind die Toten,
die in dem Herren sterben;
Wenn ich im Herren sterbe,
ist denn die Seligkeit mein Teil und Erbe?
Der Leib wird ja der Würmer Speise!
Ja, werden meine Glieder
zu Staub und Erde wieder,
da ich ein Kind des Todes heiße,
so schein ich ja im Grabe zu verderben.
Selig sind die Toten,
die in dem Herren sterben,
von nun an.
Wohlan! soll ich von nun an selig sein:
so stelle dich, o Hoffnung, wieder ein!
Mein Leib mag ohne Furcht im Schlafe ruhn,
der Geist kann einen Blick in jene Freude tun.

5. Choral
Es ist genung;
Herr, wenn es dir gefällt,
so spanne mich doch aus!
Mein Jesus kömmt;
nun gute Nacht, o Welt!
Ich fahr ins Himmelshaus,
ich fahre sicher hin mit Frieden,
mein großer Jammer bleibt danieden.
Es ist genung.


Translation
1. Aria (Alt, Tenor)
Eternity, you thundrous word,
piercing the soul sharp as a sword
begun but never ending!
Eternity, you timeless time,
where can I flee, where can I climb
from sorrow's greatest rending?
My heart is deep in terror led;
my mouth is stopped in speechless dread.
Lord, I wait for your salvation.

2. Recitative (Alt, Tenor)
How hard a road to our last strife and battle!
My help's already here,
my Savior stands with me
and gives me comfort.
The fear of death's last painful part
attacks and overwhelms my heart
and tortures all my being.
I lay this body down before my God as offering.
And though this fire of sorrow blaze enough.
It cleanses me, to God be praise.
But now my sins' great and tremendous guilt
appears before my eyes.
But God will not thus
a death sentence utter.
He sets an end to all temptation's tortures,
so that we can endure them.

3. Aria (Alt, Tenor)
My final resting place brings terror,
but my Lord's hand will grant me cover,
my faith, so weak, sinks like a stone,
but Jesus carries now my load.
The open grave with terror reeks.
But it will be my house of peace.

4. Recitative (Alt, Bass)
Yet Death remains a horror to
our very core
and what is more it dashes hope to pieces.
Blessed are the dead;
Oh! and but oh, such danger does
the soul imagine thus,
to walk that road to dying!
Perhaps the jaws of Hell, with terror
will make of death a horror,
when to devour the soul they slam;
perhaps it is already damned
to an eternal ruin.
Blessed are the dead,
who die in the Lord.
If I die in the Lord
do I inherit bliss as my reward?
As food for worms are we all destined!
My body, when it passes,
returns to dust and ashes,
for as a child of death I'm reckoned,
once in the grave, it seems, we all are ruined.
Blessed are the dead,
who die in the Lord,
from now on.
Well, then! If I'll be blest from now on in,
then Hope, return and live in me again!
My body rest in sleep, and free from fear,
my spirit sees a glimpse of joys that will appear.

5. Choral
It is enough;
Lord, when my time is done,
unhitch me from my load.
My Jesus comes;
good night to you, o world!
I'm traveling heaven's road.
in joy and confidence unbind me;
my sweat and misery behind me.
It is enough.

translation © Ruth van Baak Griffioen
Credits
Release date

24 November 2022

Recording date

26 August 2021

Location

Waalse Kerk, Amsterdam

Violin and direction

Shunske Sato

Soprano

Dorothee Mields

Alto

Alex Potter

Tenor

Thomas Hobbs

Bass

Stephan MacLeod

Violin 2

Pieter Affourtit

Viola

Femke Huizinga

Cello

Lucia Swarts

Double bass

Robert Franenberg

Oboe d'amore

Marcel Ponseele, Nienke van der Meulen

Bassoon

Benny Aghassi

Horn

Chris Price

Harpsichord

Siebe Henstra

Organ

Matthias Havinga

Director and editor

Bas Wielenga

Music recording

Guido Tichelman, Bastiaan Kuijt, Pim van der Lee

Music edit and mix

Guido Tichelman

Camera

Martin Struijf, Jesper Blok, Bjorn Tiebout

Lights

Emile Groenewoud

Grip

Tommie Janssen, Thomas Leur

Assistent director

Lilita Dunska

Set technique

Renger Hartog

Project manager nep

Marco Korzelius

Assistant music recording

Marloes Biermans

Producer concert

Marco Meijdam

Producer film

Jessie Verbrugh

With support from

MWH4impact
Help us to complete All of Bach
There are still many recordings to be made before the whole of Bach's oeuvre is online. And we can't complete the task without the financial support of our patrons. Please help us to complete the musical heritage of Bach, by supporting us with a donation!