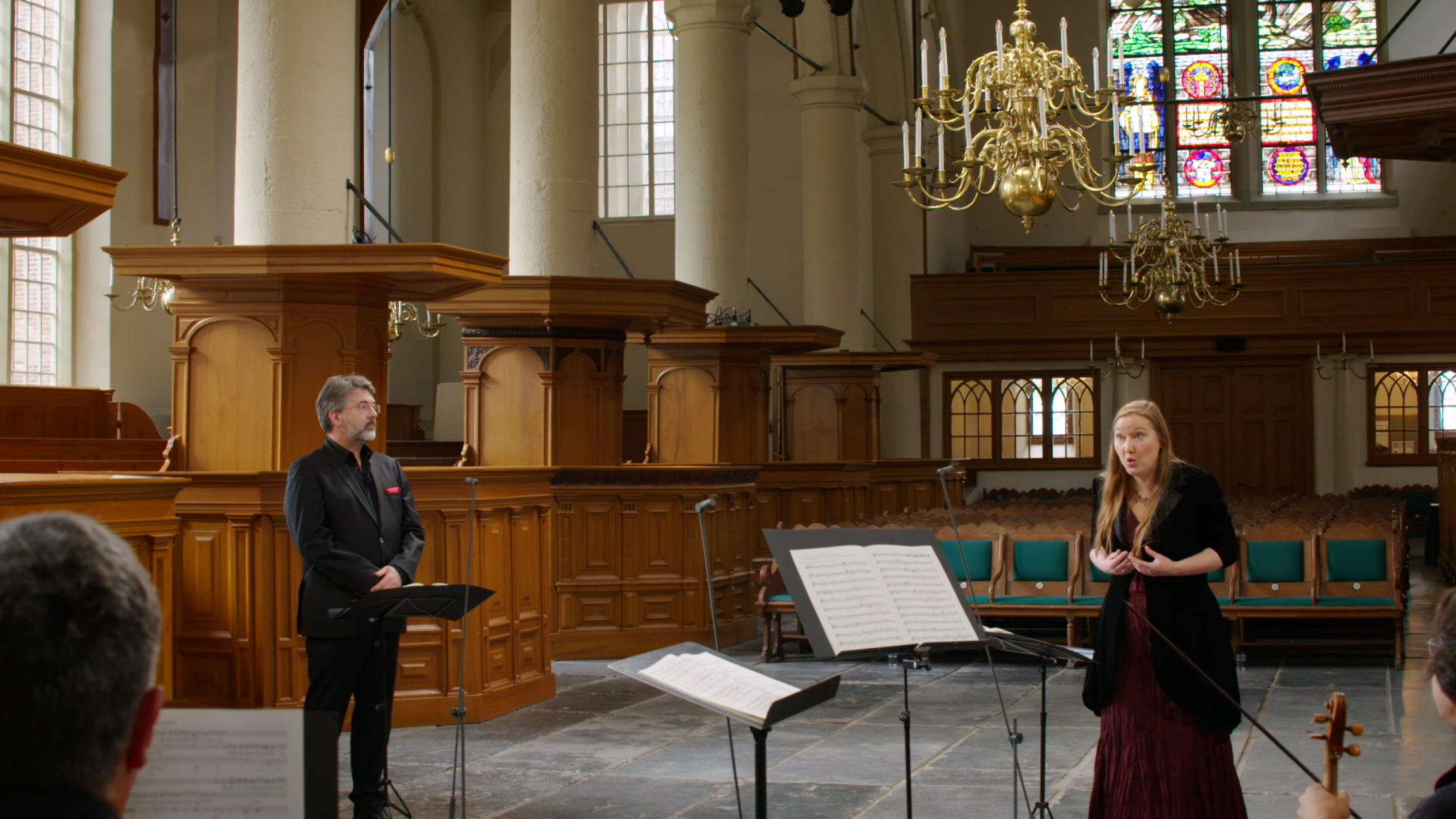 Ich geh und suche mit Verlangen
BWV 49 performed by the Netherlands Bach Society
conducted by Shunske Sato
Walloon Church, Amsterdam
Menu
1. Sinfonia
2. Ich geh und suche mit Verlangen (Arie)
3. Mein Mahl ist zubereit (Rezitativ)
4. Ich bin herrlich (Arie)
5. Mein Glaube (Rezitativ)
6. Dich hab ich je und je geliebet (Arie)
Dialogue
A conversation between the soul and Christ, with a festive opening.
The cantata Ich geh und suche mit Verlangen is one of several dialogue cantatas written by Bach. As in the case of the other dialogues, the lyrics Bach used were already suited to the form beforehand. Bach underlines the form musically: a characteristic element in nearly all his dialogue cantatas is the choice of soprano and bass as the only soloists. The underlying idea is always the same. The soul (soprano) and Christ (bass) converse together and eventually declare their love for one another.
Sometimes, the dialogue consists of a strict alternation between bass and soprano, as in BWV 57. In other dialogue cantatas, the dialogue results in a duet, as here, for example, and in BWV 32 and BWV 58. Usually, a chorale melody also emerges somewhere near the ending. Sometimes, that is the usual four-part setting, or else (as in this case) Bach gives a chorale melody to the soprano, with decoration from the orchestra and commentary from the bass.
Within the parameters of the dialogue form, Bach searches for variation in a variety of ways. In this cantata, he does so by starting with an instrumental sinfonia, for example, with a starring role for the organ. Two other striking instruments are not immediately apparent in the foreground: the oboe d'amore and the violoncello piccolo. Bach chose the first of these for its name, as a "love oboe" belongs in a love dialogue. The violoncello piccolo ("small violoncello") has always been a mysterious instrument. Was it a slightly smaller cello (with or without an extra string)? Or was it the same as the violoncello da spalla (the "shoulder cello"), as used by Sigiswald Kuijken in BWV 22? For this performance, cellist Lucia Swarts chose the former instrument.
In the aria Ich bin herrlich ich bin schön, both instruments eventually come to the fore together. The opening theme continually circulates between the oboe, violincello and soprano in a balanced, three-voiced conversation. It is as if the soul, besides entering into dialogue with Christ, also consults the orchestra around her.
BWV

49

Title

Ich geh und suche mit Verlangen

Instrument

Bass, Soprano

Genre

cantatas

Year

1726

City

Leipzig

Lyricist

Christoph Birkmann

Occasion

twentieth Sunday after Trinity

First performance

3 November 1726

Special notes

The sinfonia is an arrangement of an early version of the third movement of the Harpsichord Concerto in E Major, BWV 1053
Thanks to
Vocal texts
Original
1. Sinfonia
2. Arie (Bass)
Ich geh und suche mit Verlangen
dich, meine Taube, schönste Braut.
Sag an, wo bist du hingegangen,
dass dich mein Auge nicht mehr schaut?
3. Rezitativ (Sopran - Seele, Bass - Jesus)
Jesus
Mein Mahl ist zubereit'
und meine Hochzeittafel fertig,
nur meine Braut ist noch nicht gegenwärtig.
Seele
Mein Jesu redt von mir;
O Stimme, welche mich erfreut!
Jesus
Ich geh und suche mit Verlangen
dich, meine Taube, schönste Braut.
Seele
Mein Bräutigam, ich falle dir zu Füßen.
Jesus
Komm, Schönste, komm und lass dich küssen,
du sollst mein fettes Mahl genießen.
Komm, liebe Braut, und eile nun,
die Hochzeitkleider anzutun.
Seele
Komm, Schönster, komm und lass dich küssen,
lass mich dein fettes Mahl genießen.
Mein Bräutigam! ich eile nun,
die Hochzeitkleider anzutun.
4. Arie (Sopran)
Ich bin herrlich, ich bin schön,
meinen Heiland zu entzünden.
Seines Heils Gerechtigkeit
|ist mein Schmuck und Ehrenkleid;
und damit will ich bestehn,
wenn ich werd in'n Himmel gehn.
5. Rezitativ (Sopran - Seele, Bass - Jesus)
Seele
Mein Glaube hat mich selbst so angezogen.
Jesus
So bleibt mein Herze dir gewogen,
so will ich mich mit dir
in Ewigkeit vertrauen und verloben.|
Seele
Wie wohl ist mir!
Der Himmel ist mir aufgehoben:
Die Majestät ruft selbst und sendet ihre Knechte,
dass das gefallene Geschlechte
im Himmelssaal
bei dem Erlösungsmahl
zu Gaste möge sein,
hier komm ich, Jesu, lass mich ein!
Jesus
Sei bis in Tod getreu,
so leg ich dir die Lebenskrone bei.
6. Duett (Sopran - Seele, Bass - Jesus)
Jesus, Seele
Dich hab ich je und je geliebet,
Wie bin ich doch so herzlich froh,
dass mein Schatz ist das A und O,
der Anfang und das Ende.
und darum zieh ich dich zu mir.
Er wird mich doch zu seinem Preis
aufnehmen in das Paradeis;
des klopf ich in die Hände.
Ich komme bald,
Amen! Amen!
ich stehe vor der Tür:
Komm, du schöne Freudenkrone, bleib nicht lange!
Mach auf, mein Aufenthalt!
Deiner wart ich mit Verlangen.
Dich hab ich je und je geliebet,
und darum zieh ich dich zu mir.
Translation
1. Sinfonia
2. Aria
I go and seek with longing
thee, my dove, my fairest bride.
Tell me, where hast thou gone,
that I can no longer see thee?
3. Recitative and Arioso
Jesus
My feast is prepared
and my marriage-table ready,
only my bride is not yet present.
Soul
My Jesus speaks of me;
O voice, that makes me glad!
Jesus
I go and seek with longing
thee, my dove, my fairest bride.
Soul
My bridegroom, I fall at Thy feet.
Jesus
Come, fairest, come and let me kiss thee,
thou shalt enjoy my sumptuous meal.
Come, my bride, and hasten now
to put on the wedding raiment.
Soul
Come, fairest, come and let me kiss Thee,
let me enjoy Thy sumptuous meal.
My bridegroom! I hasten now
to put on the wedding raiment.
4. Aria
I am glorious, I am fair,
to kindle my Saviour.
The righteousness of His salvation
is my adornment and cloak of honour;
and I shall wear it
when I go to heaven.
5. Recitative (Dialogue)
Soul
My faith itself has dressed me so.
Jesus
My heart is well disposed towards you,
thus shall I plight to you
my troth and pledge for ever more.
Soul
How well I feel!
Heaven is in my keeping:
its majesty itself calls and sends its servants,
that the fallen generations
might be guests
in the hall of heaven
at our Salvation's meal.
Here I am, Jesus, let me in!
Jesus
Be faithful unto death,|
and I will bequeath you the crown of life.
6. Aria and Chorale
Jesus, Soul
I have always loved you,
How truly glad I am
that my treasure is the A and O,
the beginning and the end.
and so I draw you to me.
He shall, for His praise,
receive me in paradise;
for which I clap my hands.
I'm coming soon,
Amen! Amen!
I stand before the door,
Come, O lovely crown of joy, tarry not!
open up, my abode!
I wait for Thee with longing.
I have always loved you,
and so I draw you to me.
Credits
Release date

3 March 2022

Recording date

26 August 2021

Location

Walloon Church, Amsterdam

Violin and direction

Shunske Sato

Soprano

Dorothee Mields

Bass

Stephan MacLeod

Violin 2

Pieter Affourtit

Viola

Femke Huizinga

Violoncello piccolo

Lucia Swarts

Double bass

Robert Franenberg

Oboe d'amore

Marcel Ponseele

Bassoon

Benny Aghassi

Harpsichord

Siebe Henstra

Organ

Matthias Havinga

Director and editor

Bas Wielenga

Music recording

Guido Tichelman, Bastiaan Kuijt, Pim van der Lee

Music edit and mix

Guido Tichelman

Camera

Martin Struijf, Jesper Blok, Bjorn Tiebout

Lights

Emile Groenewoud

Grip

Tommie Janssen, Thomas Leur

Assistant director

Lilita Dunska

Set technique

Renger Hartog

Project manager nep

Marco Korzelius

Assistant music recording

Marloes Biermans

Producer concert

Marco Meijdam

Producer film

Jessie Verbrugh

Supported by

MWH4impact
Help us to complete All of Bach
There are still many recordings to be made before the whole of Bach's oeuvre is online. And we can't complete the task without the financial support of our patrons. Please help us to complete the musical heritage of Bach, by supporting us with a donation!