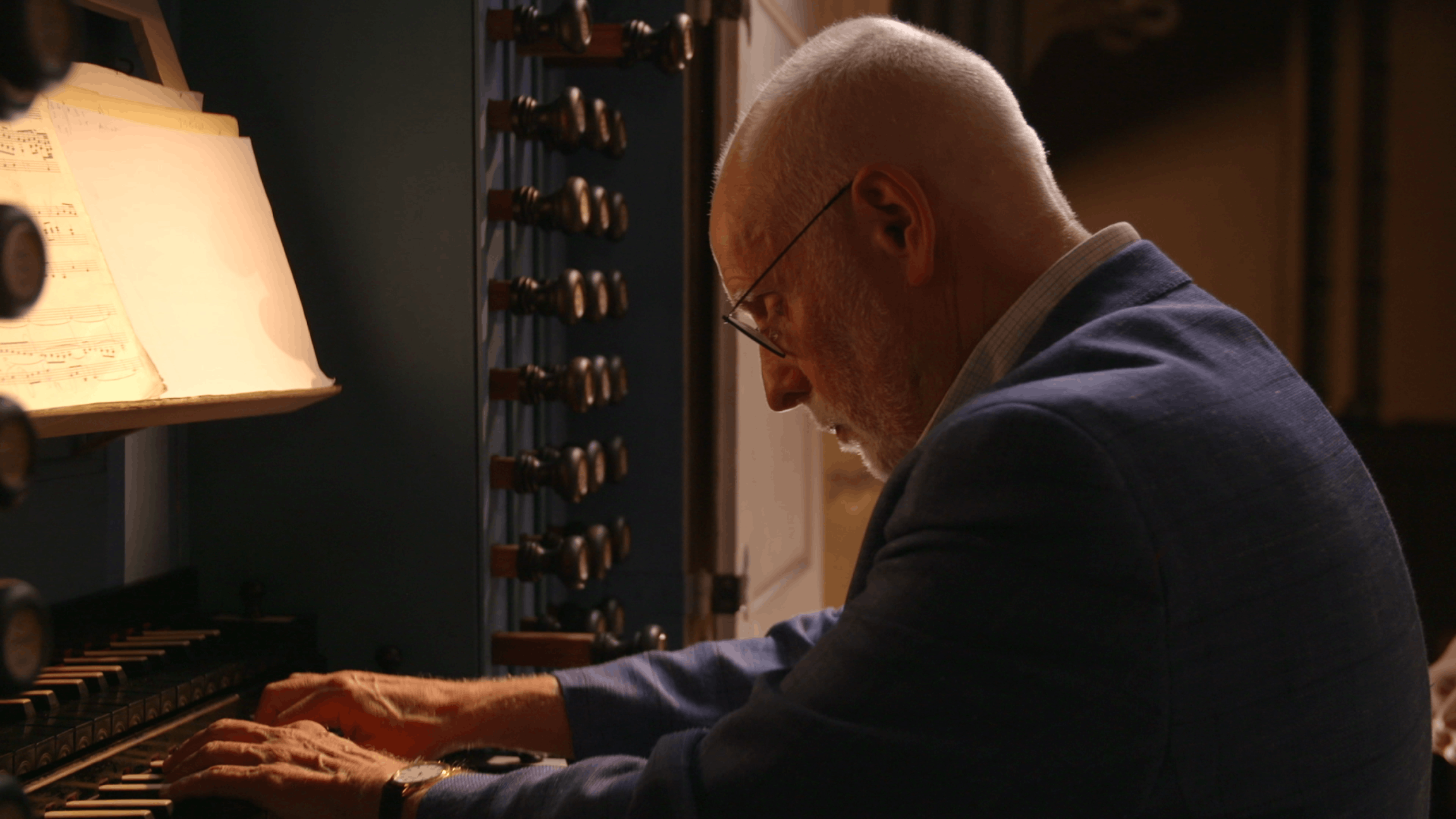 Schmücke dich, o liebe Seele
BWV 654 performed by Ton Koopman
at the Stadtkirche St Wenzel, Naumburg
Story
Extra videos
Credits
Restored hope
A chorale that offers the organist endless possibilities.
The organ built by Zacharias Hildebrandt in Naumburg is the only big organ on which Bach had direct influence. Bach's recommendation helped Hildebrandt get the commission, and later on the composer approved the organ himself when it was completed. Nowhere else do we find such a direct account of his ideas about how an organ should sound. The specific timbre possibilities offered by a particular organ are just the first step for an organist. How the musician uses these possibilities is always an individual decision. The choice of a combination of timbres is called registration, and it determines the sound of a piece to a large extent.
Schmücke dich, o liebe Seele ("adorn yourself, oh dear soul") is one of Bach's organ works that has been popular for almost two centuries. The richly ornamented chorale melody does exactly what is demanded by the words: it adorns itself. Bach wrote the piece in Weimar. When he reworked it later in Leipzig, the main change was the addition of even more ornamentation to the chorale melody.
After Bach's death, Felix Mendelssohn became acquainted with the work around 1830, and one year later he found the perfect registration for the piece on the organ in St Peter's Church, in Munich. For the accompanying parts, he chose an 8-foot flute and "a very soft 4-foot", and "for the chorale there is a manual with nothing but reed stops and there I opt for a soft oboe, a clarion 4-foot, very soft, and a viola". He told Robert Schumann later that "if life has taken away your faith and hope, then this single chorale will restore everything".
In 1922, Arnold Schoenberg went one step further in choosing timbres for BWV 654, arranging the piece for orchestra. He hardly changed the notes at all, only giving instrumental colour to Bach's composition, as organists always have to do. In Naumburg, Ton Koopman can choose from the possibilities provided by Bach himself (via Hildebrandt).
18 Choräle/Leipziger Choräle, BWV 651-668
In the last ten years of his life, Bach gathered together and completed a series of chorale arrangements, presumably planning to have them published, just like the third part of the Clavier-Übung in 1739. It concerns a selection of his compositions from much earlier years, when he was working as an organist in Weimar, Arnstadt and Mühlhausen. The collection became known as the 18 Choräle or Leipziger Choräle. Incidentally, 18 Choräle is a misleading title, as the set originally comprised 17 pieces. The eighteenth, Vor deinen Thron tret ich (BWV 668), was added to Bach's manuscript later on.
BWV

654

Title

Schmücke dich, o liebe Seele

Instrument

organ

Genre

organ works

Serie

18 Choräle (organ)

Year

1708-1717/1739-1742

City

Weimar/Leipzig

Special notes

There is an earlier, more sober version of this composition from the Weimar period: BWV 654a.
Extra videos
Credits
Release date

27 April 2023

Recording date

15 April 2020

Location

Stadtkirche St. Wenzel, Naumburg, Germany

Organist

Ton Koopman

Organ

Zacharias Hildebrandt, 1746

Director and editor

Robin van Erven Dorens

Music recording

Guido Tichelman, Bastiaan Kuijt

Music edit and mix

Bastiaan Kuijt

Camera

Onno van der Wal

Lights

Ernst-Jan Thieme

Assisant music recording

Marloes Biermans

Interview

Robin van Erven Dorens, Marloes Biermans

Producer

Jessie Verburgh

With support from

Andrew S. Lim, in honor of Elena Y. and Terrence T. Lim
Help us to complete All of Bach
There are still many recordings to be made before the whole of Bach's oeuvre is online. And we can't complete the task without the financial support of our patrons. Please help us to complete the musical heritage of Bach, by supporting us with a donation!