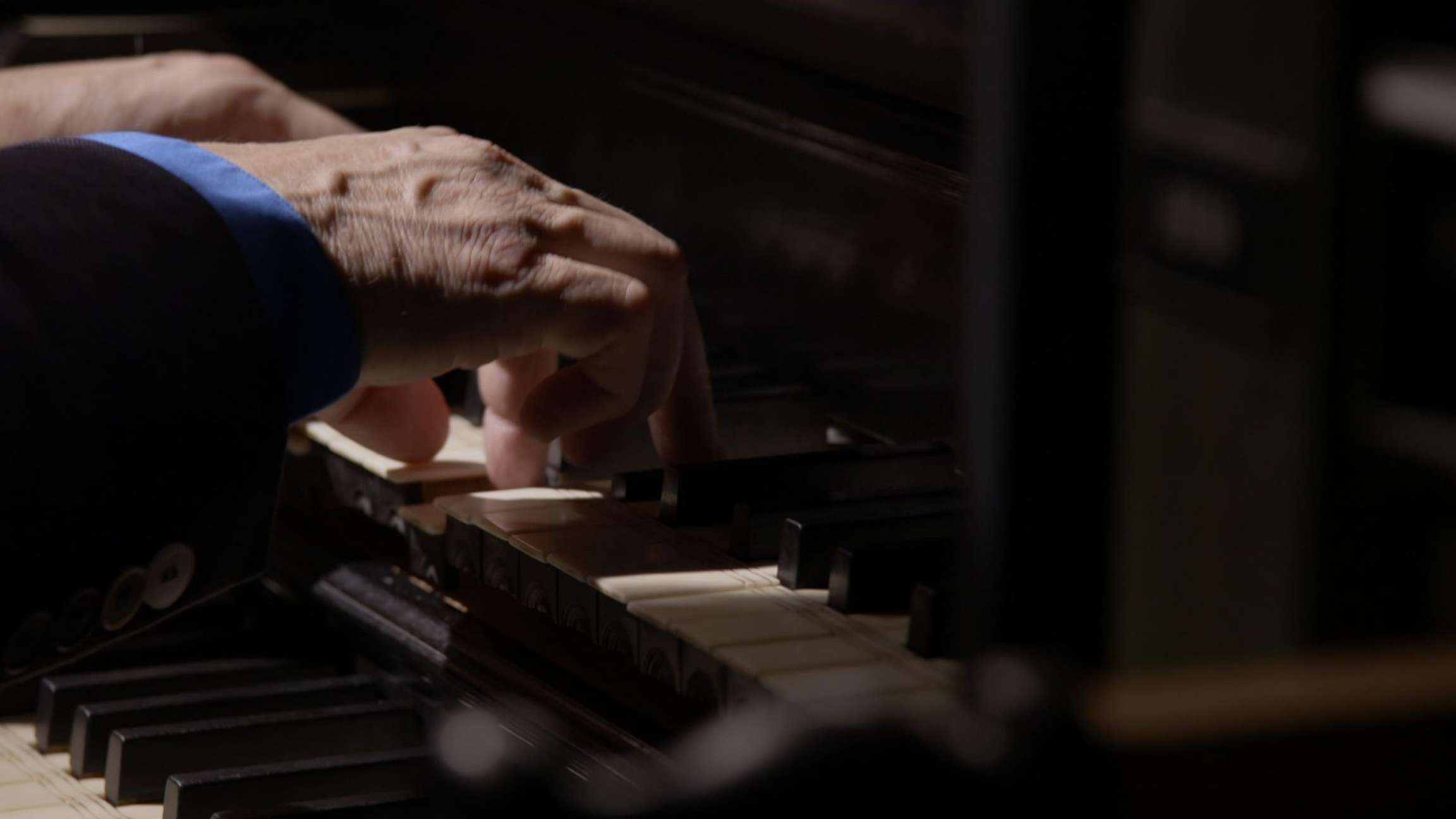 Erbarm dich mein, o Herre Gott
BWV 721 performed by Leo van Doeselaar
St. Martin's Church, Groningen
Story
Extra videos
Credits
Simply unique
Bach caught with his ears wide open
On his career journey from city to city – Lüneburg, Arnstadt, Mühlhausen, Weimar, Köthen, Leipzig – Bach's fame as an organist grew steadily. This reputation is probably best illustrated by an episode from 1717, when he was to compete against the internationally renowned virtuoso Louis Marchand, in Dresden. The Frenchman took to his heels before anyone had even played a note, so the German won this home match hands down.
Even for a natural genius like Bach, it was not easy, as shown in this straightforward chorale arrangement from ca. 1704. He set the melody in minims in the upper voice to an accompaniment of repeated four and five-voice chords in quavers. There is no more to it than that, which was enough for the great Bach connoisseur Albert Schweitzer to suggest in the early 20th century that such a simple piece could never have flowed from Bach's pen. Although nowadays the work (which has survived in a copy by 'chorale man' Walter) is attributed to Bach, we know of no other example of this style in his oeuvre.
So it was an experiment, for which we see no models in the complex North-German style of Buxtehude and his circle, although we do in the case of Kuhnau, who was widely known following his recent appointment as cantor at the Thomasschule. In his first 'biblical' keyboard sonata (1700), he has the oppressed Israelites 'sing' the chorale Aus tiefer Not to just such an accompaniment of quavers. Incidentally, this too was a penitential psalm. Other examples, also harmonic ones, are the slow sections of Corelli's sonatas from 1694. Later, Bach was to continue developing this Italian inspiration, in the Concerto nach Italianischem Gusto, BWV 971, as well as in numerous cantatas and concertos.
BWV

721

Title

Erbarm dich mein, o Herre Gott

Instrument

organ

Genre

organ works

Year

ca. 1704?

Special notes

The only source is an early 18th-century manuscript with works by Buxtehude, Pachelbel, Weckmann and others, besides music by Bach. The handwriting of J.G. Walter (he probably noted 'J.S.B.' himself on his copy of BWV 721) and Krebs senior and junior can be identified.
Extra videos
Credits
Release date

19 September 2014

Recording date

8 October 2013

Location

St. Martin's Church, Groningen

Organist

Leo van Doeselaar

Organ

Arp Schnitger, 1692

Producer

Frank van der Weij

Film directors

Jan Van den Bossche, Frank van der Weij

Directors of photography

Jorrit Garretsen, Sal Kroonenberg

Music production, editing and mix

Holger Schlegel

Film editor

Dylan Glyn Jones

Colorist

Jef Grosfeld

Production assistants

Marco Meijdam, Zoë de Wilde

Interview

Onno van Ameijde

Acknowledgements

Jan Haak
Help us to complete All of Bach
There are still many recordings to be made before the whole of Bach's oeuvre is online. And we can't complete the task without the financial support of our patrons. Please help us to complete the musical heritage of Bach, by supporting us with a donation!