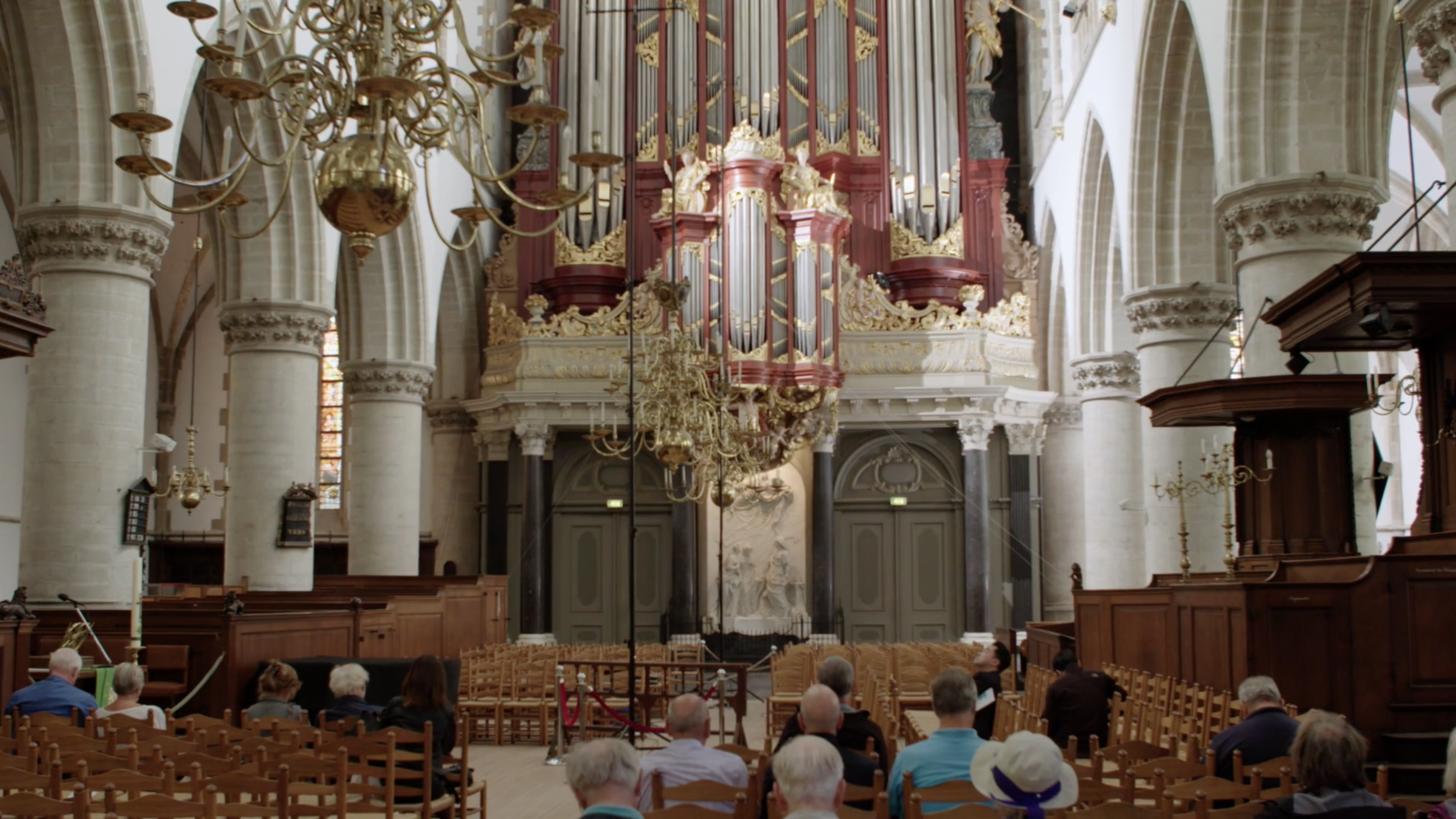 Herzlich tut mich verlangen
BWV 727 performed by Matthias Havinga
St-Bavokerk, Haarlem
Story
Extra videos
Credits
Saved!
This piece is known to us partly because of the Highway Patrol.
This chorale arrangement is compact and multifaceted, yet expressive as well. The title is Herzlich tut mich verlangen, which is one of about 24 chorale texts that were sung to this melody around 1739. Bach reinforces the plaintive character of the hymn with sighing dissonants and expressive harmonic timbres, without focusing on one particular text.
There must have been many more examples of this sort of concise chorale arrangement, but the survival of music that was not printed often hung in the balance in times of war and other tumultuous developments in European history. This piece by Bach has survived in two manuscript collections, in Berlin and the Netherlands. The one in Berlin could easily have been destroyed during World War II. The manuscript in the Netherlands Music Institute was bought at an auction in 1902 by a Dutch collector, who made it available to researchers. But then things almost went wrong in World War I, when the manuscript was borrowed by the French musicologist André Pirro for his studies of Bach and other German Baroque music. In 1914, Pirro wrote a card to the owner, saying that he had "placed the manuscript for safekeeping for a few days in September 1914 at a post of the Highway Patrol in Curel (Haute-Marne). This precious monument of German art narrowly escaped destruction by the Germans, as had happened earlier with no military reason whatsoever to the family portraits and memoirs that the undersigned biographer of Bach, Schütz and Buxtehude had so carelessly left behind in his parental home in Wustweiler, near Saargemünd, where he believed that German sincerity and justice should have protected his most precious possessions". Fortunately, he had learned from this lesson, and the Highway Patrol managed to protect the precious manuscript, so that it is now kept safely in The Hague.
Organ
This recording was made on the famous Müller organ in the Great or St. Bavo Church, in Haarlem. It is a very special instrument from 1738. Both Georg Friedrich Händel and Wolfgang Amadeus Mozart travelled to Haarlem to play this organ! Händel was particularly delighted by the unusual Vox Humana register. The organ has over 5000 pipes, divided over 64 registers, with three manuals and a pedal.
BWV

727

Title

Herzlich tut mich verlangen

Instrument

organ

Genre

organ works

Year

ca. 1708-1714

City

Weimar
Extra videos
Credits
Publication date

7 April 2017

Recording date

21 September 2016

Location

St Bavo's Church, Haarlem

Organist

Matthias Havinga

Organ

Christian Müller, 1738

Director

Bas Wielenga

Music recording

Guido Tichelman, Bastiaan Kuijt

Music edit and mix

Guido Tichelman

Camera

Bas Wielenga, Jeroen Simons

Lights

Gregoor van de Kamp

Interview

Onno van Ameijde, Marloes Biermans

Producer

Jessie Verbrugh
Help us to complete All of Bach
There are still many recordings to be made before the whole of Bach's oeuvre is online. And we can't complete the task without the financial support of our patrons. Please help us to complete the musical heritage of Bach, by supporting us with a donation!