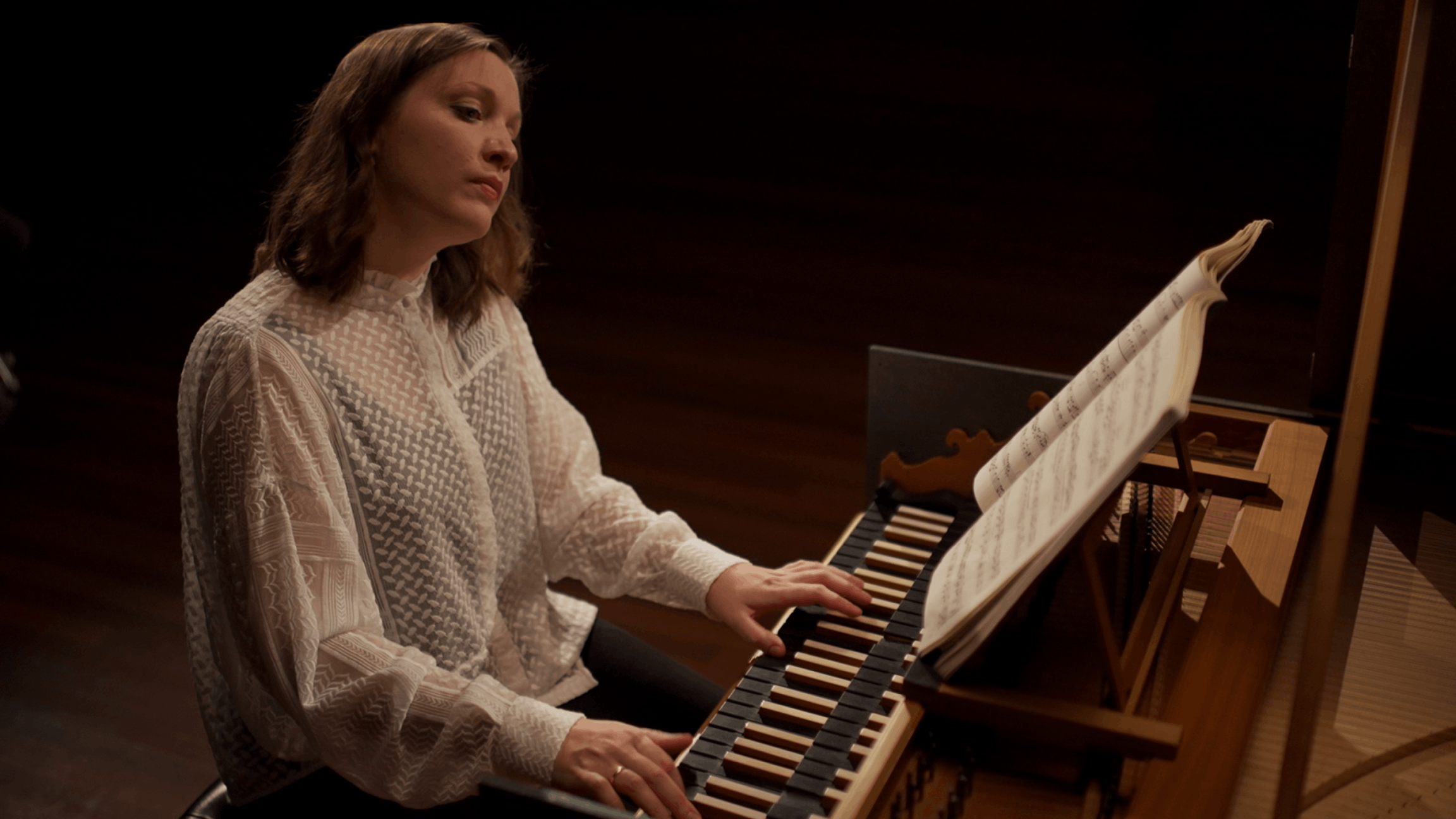 Partita no. 4 in D major
BWV 828 performed by Elina Albach
Philharmonie, Haarlem
Menu
1. Ouverture
2. Allemande
3. Courante
4. Sarabande
5. Aria
6. Menuet
7. Gigue
Music for eternity
A polyphonic structure that Bach wants to pass on to future generations.
The cliché goes that Bach was immensely undervalued during his life and quickly forgotten after his death. The truth is more nuanced, however. During his life, Bach was famous in his region, and also further afield he was held in high regard as an organist and harpsichordist. He was also to remain esteemed after his death for his ingenious keyboard works – something that contemporaries like Telemann or Vivaldi could only dream of.
Bach himself was also well aware of his abilities. In the last twenty-five years of his life, he wrote several works that were to serve as his musical testament: works that conveyed his vision of music-making and composing. He also had these works printed, so they would not be lost. It was a self-assured move, as composers in Bach's day seldom wrote for eternity.
Between 1731 and 1741, Bach wrote his Clavier-Übung: four books in which he focuses on different sorts of keyboard music. The first book is devoted to the suite, here referred to by its Italian name: 'partita'. Years earlier, Bach had already composed his English and French suites. Compared to these earlier suites, the partitas are more serious in character. At a riper age, Bach appears to be less interested in dance rhythms and more in polyphonic structures that actively involve both listener and performer in the music and give them food for thought. This is the sort of music Bach wants to pass on to future generations.
BWV

828

Title

Partita no. 4 in D major

Instrument

harpsichord

Genre

harpsichord works

Serie

Clavier-Übung I, II, IV, Six keyboard partitas

Year

ca. 1725-1731

City

Leipzig
Credits
Release date

21 September 2023

Recording date

2 June 2021

Location

Philharmonie, Haarlem

Harpsichordist

Elina Albach

Harpsichord

Markus Krebs, 2009 after Michael Mietke

Director, camera

Robin van Erven Dorens

Music recording

Guido Tichelman, Bastiaan Kuijt

Music edit and mix

Guido Tichelman

Camera

Onno van der Wal

Lights

Ernst-Jan Thieme

Best boy

Jordi Kooij

Data handling

Stefan Ebels

Assistant music recording

Marloes Biermans

Producer

Jessie Verbrugh
Help us to complete All of Bach
There are still many recordings to be made before the whole of Bach's oeuvre is online. And we can't complete the task without the financial support of our patrons. Please help us to complete the musical heritage of Bach, by supporting us with a donation!